Lunch on the 4th April 2010 was at
Restaurante Echaurren
(1 Michelin star; Calle del Padre José García 19 26280
Ezcaray
, Spain, Tel: 941 354 047). Ezcaray is a small, old town approximately 60 kms. west-southwest of Logroño, so it was a relatively easy drive for our 2pm reservation.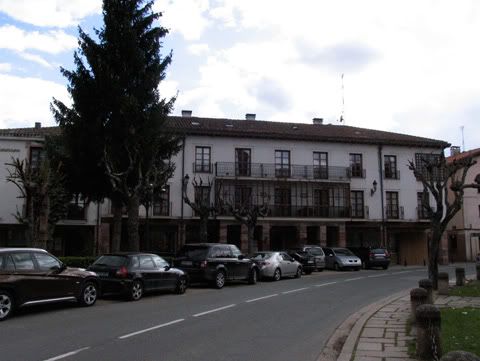 Hotel-Restaurante Echaurren
Situated on the left side of the main street as one enters the town proper, Echaurren lies across
la Iglesia Parroquial de Santa María la Mayo
.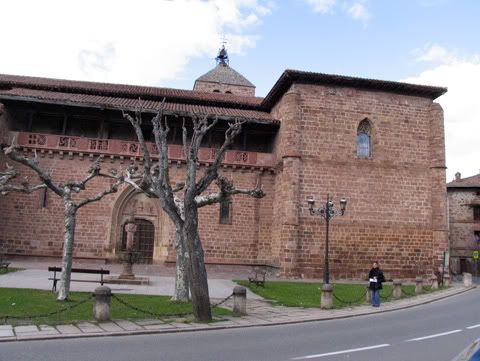 The Paniego family has owned and run this hotel-restaurant for over 150 years, spanning 4 generations. Matriarch
Marisa Sánchez
is a living legend in traditional Spanish cuisine and runs the main dining room where we had lunch. She shares the kitchen with her more
avant garde
chef-son,
Francis Paniego
, who runs the modern and more casual
El Portal
in the same hotel. Francis also happens to be the very first Michelin-starred chef of Rioja and is also the consultant of the restaurant of the elaborate Marqués de Riscal Hotel in Elciego. The restaurant's impressive wine cellar is most ably managed by her other son,
José Felix
, who also acts as
sommelier
.
It was Easter Sunday that day, so the streets were packed with locals and visitors from nearby towns. I dropped Catha off at the restaurant and spent a few minutes looking for a parking slot - eventually settling on one in the outskirts of the small medieval-looking town. She was already seated at our table in the main dining room when I walked in.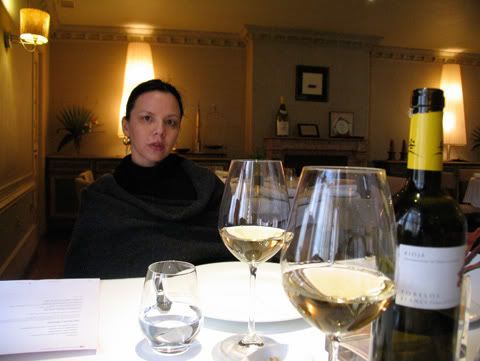 We both had the
Menú de la Memoria
- a traditional meal - the kind I love most. As an apéritif and to go with the "snacks" and first few courses, we had some
2008 Bodegas y Viñedos La Encina "Tobelos" Blanco Fermentado en Barrica
- This winery itself is located in the village of Briñas (Rioja Alta; a short drive north of Haro) and the fruit that goes into this bottling comes from their vineyards in Briñas and San Vicente de la Sonsierra (75% viura and 25% garnacha blanca).
From old vines averaging 80 years old, the fruit flavors are quite ripe, deeply-veined, slightly honeyed, plumply round and seems slightly low on acid balance (to my own taste). There is good enough freshness and purity to the creamy fruit, though, despite the slightly tangy vanilla and clove notes from 16 days of fermentation in oak cask with twice daily
battônage
and 6 months' ageing in new French oak casks.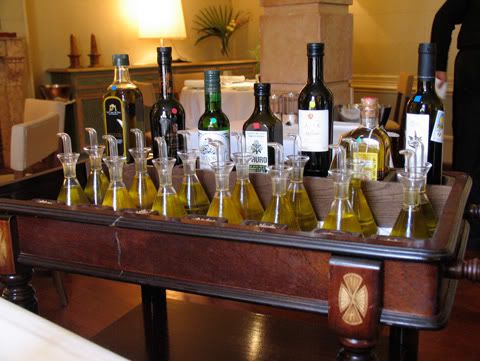 Choices of many artisanal olive oils from different Spanish regions.
Choices of 3 special salts on the table.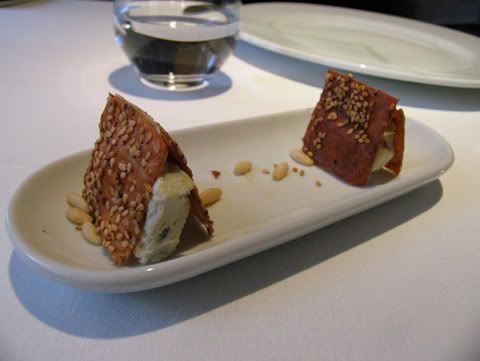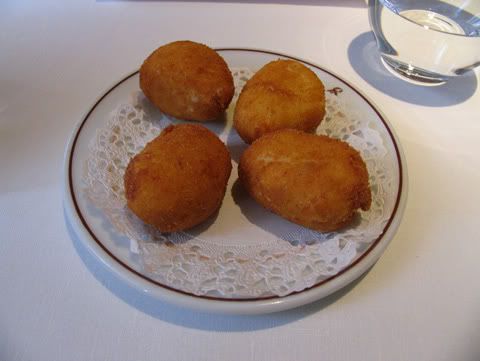 Las Croquetas que le Quitamos a mi Madre (The Croquetos We Filch from my Mother)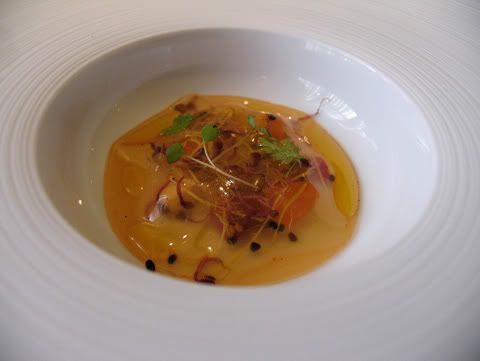 Queso de Cabra y Germinados Bajo un Velo de Nectar de Pimiento
(Goat Cheese and Sprouts Under a Veil of Pepper Nectar)
Tartar de Tomate con Cigala y Ajo Blanco
(Tomato Tartar with Crayfish and White Garlic)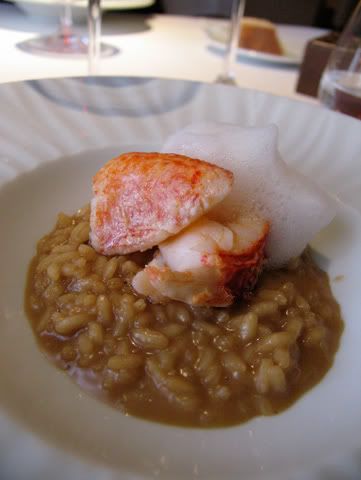 Arroz Cremoso con Bogavante con Setas y Aliñado con un Aire de Almendras
(Creamy Rice with Lobster Flavored with Almond Foam)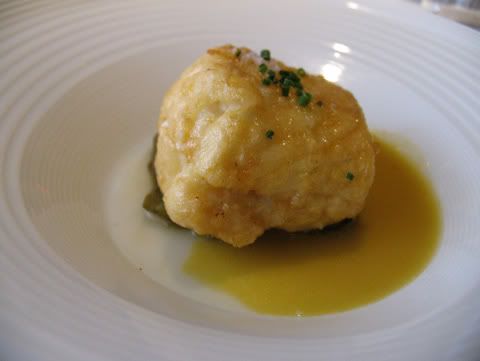 Merluza a la Romana Confitada a 45º sobre Pimientos Asados y Sopa de Arroz
(Hake Confit at 45º in Batter atop Roasted Peppers and Rice Soup)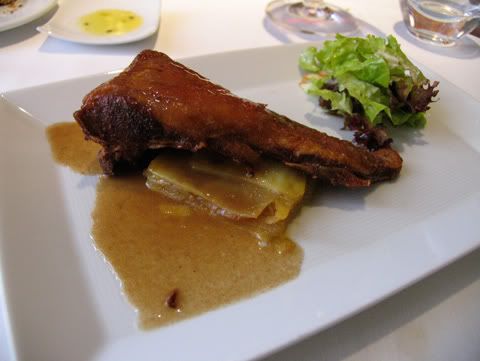 Costillar de Cordero Lechal Cocinado a Baja Temperatura con Patatas Panadera y Ensalada
(Rack of Suckling Lamb Roasted at Low Temperature with Baker's Potatoes and Salad)
By the time we reached the above depicted meat course, our bottle of fine Rioja red had been opened and breathing in its cradle for over 1-½ hours.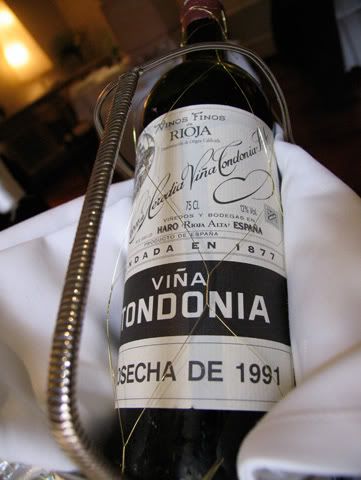 1991 López de Heredia Viña Tondonia Gran Reserva
- I figured the previous night's bottle of 1982 CVNE Imperial Gran Reserva would be an extremely tough act to follow. Ordinarily, it would have been, but
not
for this wine. Incredibly deep, smoldering power and character marked this wine. Wonderful perfumed bouquet of book-pressed violets, dried berries, cedar and dark spices. Rich, complex, multi-faceted and layered with black cherry, raspberry compote, dried plums and red currants, violets, hint of well-worn leather, truffle, cedar, licorice and a precise touch of toasty oak. Generous mid-palate, long and confident finish, this was sheer seduction; never heavy or loudly demanding on the palate.
Catha and I were almost speechless. All we could do was intermittently murmur how wonderful it was. I've had it again, I'll have more in the future, but I'll never forget this bottle.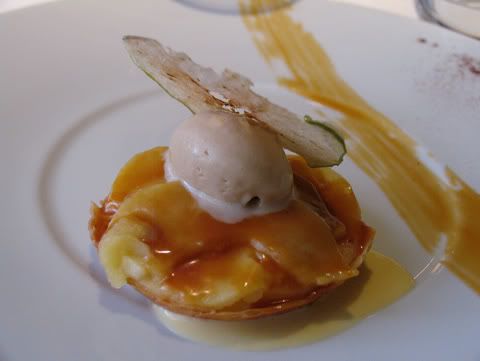 Tosta Templada con Queso de Cameros, Manzana y Helado de Miel
(Warm Cameros Cheese Tart with Granny Smith Apple and Honey Ice Cream)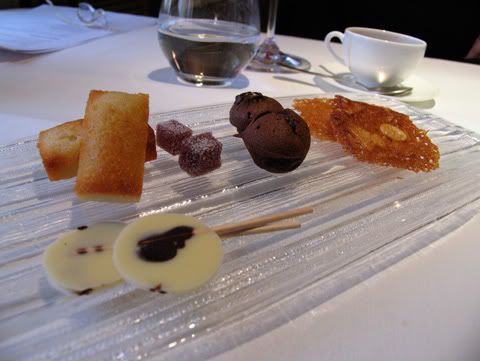 Petits Fours
with Double Espresso for me and Coffee for Catha.
Incredible meal and a most memorable wine. This was one of the best 3 meals of the whole trip. I'll take it any day and twice on Sundays over the lunch we had at Martín Berasategui's 2 Michelin starred Lasarte in Barcelona.