Not 2 weeks after my vacation, I was missing Spain badly. Good thing Miguel and Aaron thought to organize a dinner at
La Tienda
for the 21st April 2010. The meal was to feature Javi Lecumberri's authentic
pintxos
(he is a chef from San Sebastian, after all) and Aaron's bottles of vintages 1981 and 1991 Bodegas López de Heredia Viña Tondonia Gran Reserva courtesy of Victor Quinson of Bodegas López de Heredia.
It just so happened I had brought home some bottles of the just-released 1994 Bodegas López de Heredia Viña Tondonia Gran Reserva and 1987 Bodegas López de Heredia Viña Tondonia Reserva Blanco from Spain, so I brought one of each along. Naturally, there were several more bottles for the 6 of us that night.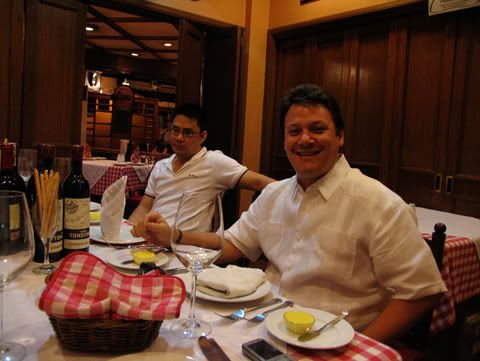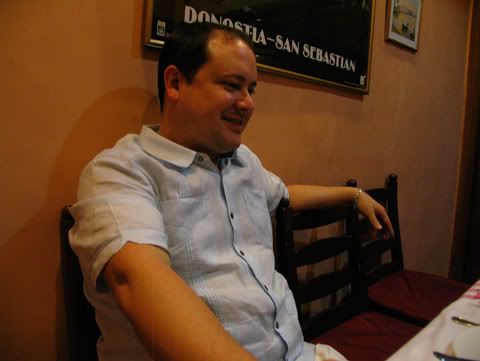 Javi came out to chat and briefly gave us a run-down of the evening's delights he had in store for us as the bubblies whites were set aside in ice buckets.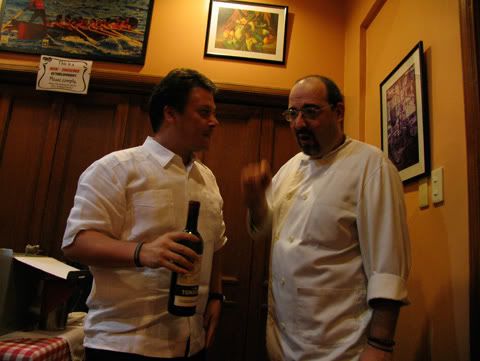 While awaiting Doc and Johnny (unfortunately J-Lab was unavailable and the Stockbroker got stuck at a wine lecture he was giving at the Ayala Museum), we had some chorizos, warm bread and started off with some nice cava.
The 1987 López de Heredia Viña Tondonia Reserva Blanco was, unfortunately, corked and, thus, discarded.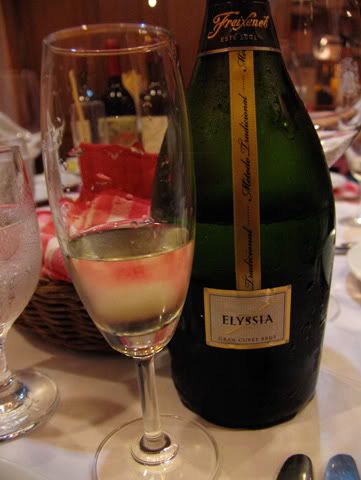 Freixenet Elyssia Gran Cuvée Brut
- From Aaron of course. I've written about this old-reliable, bright, refreshing and appetite-whetting cava. From Manila until Freixenet's own winery in Sant Sadurni d'Anoi in the outskirts of Barcelona, this cava is a consistent pleasure as an
apéritif
and to accompany various pica-picas. My notes from
tasting the same cava in the Freixenet winery
:
A cava I am very familiar with as I've had this several times from Aaron (in fact, I had it again just last night at La Tienda). My recent notes are as follows:

"By the giant Freixenet firm, this is a méthode champenoise sparkling wine which tastes and feels much more like a champagne blend than the usual cavas I encounter in that it is comparatively heftier, creamier, rounder on the palate and not "grassy", sharply minerally or acidic. The dominant, dry fresh apple, crisp pear and second-tier lemon/orange flavors have a very subtle white chocolate undertone mid-mouth and the merest hint of almond bitterness towards the back (but not in the finish).

"Lively, bright and thirst-quenching, I'd say it would be more approachable to those not familiar with the more traditional cavas (I am assuming here that this is not a traditional blend of cava grapes). I made a mental note to save some of this for the Steamed Lapu-Lapu in Special Soy Sauce."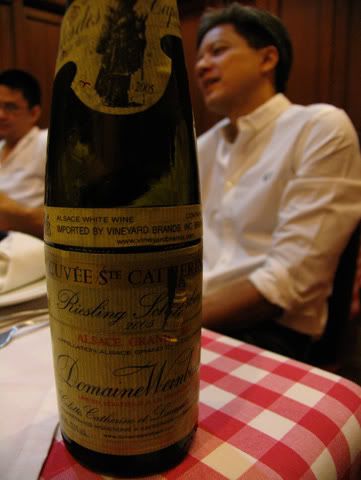 2005 Domaine Weinbach Cuvée Ste-Catherine Riesling Grand Cru Schlossberg
- From the Doc who had finally arrived, greeting Miguel and I with "So apparently you guys didn't get enough of Spain yet." I actually got to try this same wine
with Catherine Faller at Domaine Weinbach in Kaysersberg, Alsace, on the 28th September 2007
. My notes back then were:
2005 Riesling Grand Cru Schlossberg Cuvée Ste Catherine - Floral in the nose, fair attack and expands mid-mouth. Pretty, young, sweetish, ripe tropical fruits in a sturdy, taut medium body, fair depth and acidity.
Now, almost 3 years later, the wine has fleshed out and opened up nicely. The wild honeyed, honeysuckle-touched peach-led, slightly minerally fruit was curvy and languidly pliant, slightly off-dry and attractively feminine. Very nice. The boys quickly drained this bottle.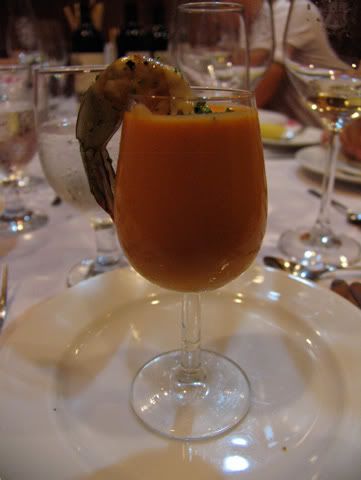 By this time, Javi's creations started hitting the table.
This is called
Salmorejo
- per Javi, it is an Andalucían (particularly Córdoba) type of gazpacho except it is made purely with tomato (without cucumbers, celery, etc.). It came adorned with a single, fresh, perfectly yielding prawn "cooked" in vinegar. I loved it. Perfect for summer.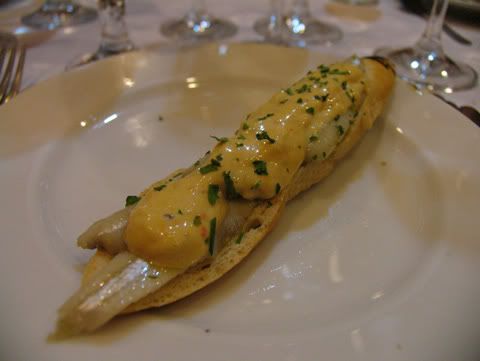 Anchoas con Crema de Centollo
(Anchovies with Cream of Spider Crab)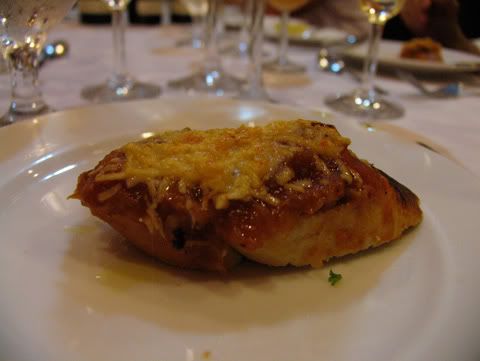 Escalivadas
, an old favorite in La Tienda which I've written several times of before.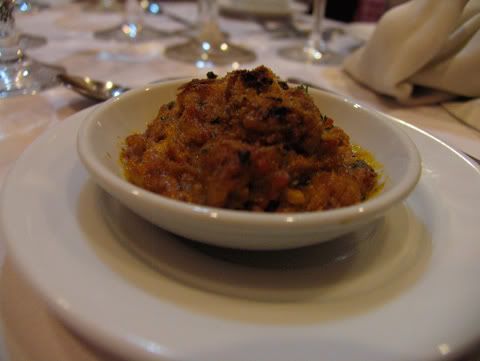 Txangurro
- per Miguel, this is "a very typical Basque dish made out of Crab Meat, Onions, Peppers, Garlic, all baked and normally served on bread, although this one was served in a small bowl". I remember eating this in Spain, but can't recall exactly where.
Meanwhile, Miguel poured the txakoli at a height, as is traditional in the País Vasco.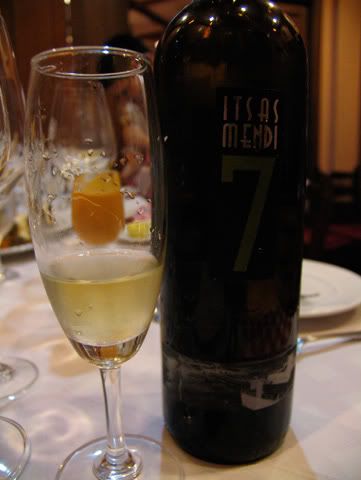 2008 Bodegas Itsasmendi Nº7 Txakoli
- Miguel's bottle, one of many we've enjoyed as he brought back a bunch of it from Spain several months ago. Many thanks to Douglas Smith, a New Yorker who spends much time in the Basque country, who recommended this wine to me. My progression of notes are as follows:
2008 Itsas Mendi 7 Txakolí - My bottle, from a batch that Miguel brought in for me from Spain. Txakolí is a traditional Basque wine (made of hondarrabi zuri grapes) from the D.O. Bizkaiko Txakolina, particularly from Guernica (or "Gernika" as the Basques spell it). The only other txakolí I've tried was the 2008 Txomin Etxaniz (24 June 2009, lunch at La Tienda). Of the 2008 Itsas Mendi 7, this is the second bottle I've opened, the first one very recently at Miguel A's (why are so many Spanish-mestizo friends named "Miguel"?) 12 September 2009 dinner at Elbert's Steak Room. My notes of that bottle, still applicable, are as follows:

Txakolí is a very dry, light, vaguely spritzy white wine that is meant to be enjoyed casually and young. This particular one was not as spritzy as the Txomin Etxaniz of the same vintage and was notably fruitier, with a more pronounced and rounded middle. The dominant flavors are bone dry ripe grapefruit, green apple, bit of citrus with nuances of fresh grass and white seashell. There is a lip-smacking faint bitterness towards the back and in the somewhat abrupt, dry finish that makes me want to take the next sip as fast as possible. Very recommendable as an apéritif with, I imagine, fresh shellfish.

Probably due to its fruitier and rounder character, Javi opined that it resembled an albariño and, noting that Itsas Mendi is located in inland Guernica, explained that txakolí is traditionally made in areas closer to the sea - such as in the case of the aforementioned Txomin Etxaniz (located in seaside Getaria, D.O. Getariako Txakolina, which, incidentally, is a mere 30-35 kilometers west of Javi's hometown of San Sebastián). I could easily be wrong, but perhaps the inland terroir of Guernica gives less stress to the vines and, hence, makes the Itsas Mendi fruitier and rounder? I'll have to consult PhD in Oenology JC de Terry (expert in all edible/drinkable things Spanish) about this.

Well, Javi obviously favored the Txomin Etxaniz over the Itsas Mendi. I thought it was maybe because the Getariako Txakolina wines are "closer to home"? Well, I know Jancis Robinson thinks Txomin Etxaniz is the best producer of its area, for whatever that is worth. Personally, I agree with Javi in that the fruitier Itsas Mendi 7 resembles an albariño, but think that it is more easily approachable for it. I do like both, though. Problem is, Miguel and I have no more of the Txomin Etxaniz.

Last night, however, the wine came off notably less fruit-forward, a bit firmer and even drier than before. There also seemed to be a bit of a saline note to it. Closer in character than before to the 2008 Bodegas del Palacio de Fefiñanes Albariño de Fefiñanes, but not quite as dry, acidic or minerally. Very good pairing with the clams, even more than with the crabs (but good enough with the latter). Nice. I have just one more bottle of this, so I'll probably save it for some fresh oysters.

As regards that last mentioned bottle of mine, well, it's gone. I served it on my birthday dinner over a week ago to pair with steamed slipper lobsters. Now, I am officially bereft of txakoli, so I'll have to order more right away.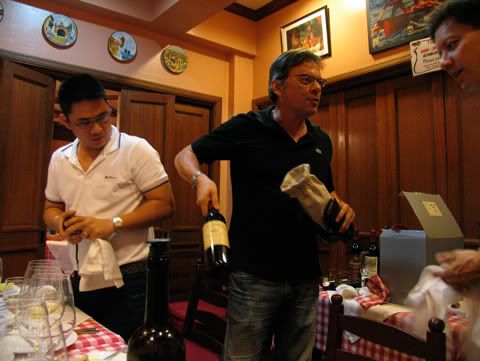 Johnny arrived as Aaron and Miguel started opening the reds chosen for the night...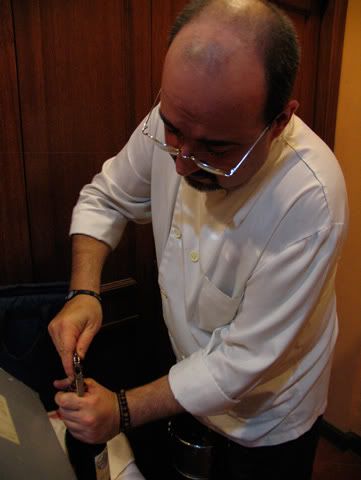 ...and even Javi lent a helping hand.
Miguel, Johnny & Aaron dig in.
I had meant for my bottle of
1987 Bodegas López de Heredia Viña Tondonia Reserva Blanco
to go with the next 2 pintxos, but, tragically, as mentioned earlier, it was
corked
. Thus, I stuck to the txakoli and more of the cava for pairing, which were plenty good enough.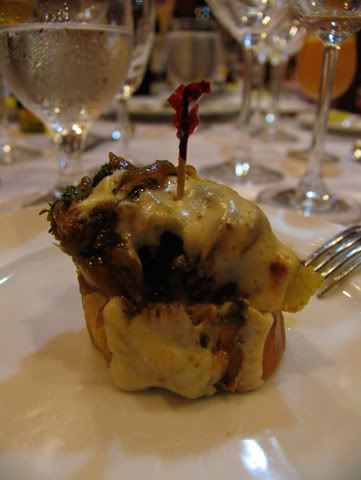 Bacalao Encebollado
(Bacalao with Onions)
Pies de Cerdo con Foie
(Pig's Trotters with Foie Gras); Doc, health-conscious fellow that he his, doesn't eat foie (or bone marrow either), so Mig, Rene and I ate his share for him. After all, what are friends for?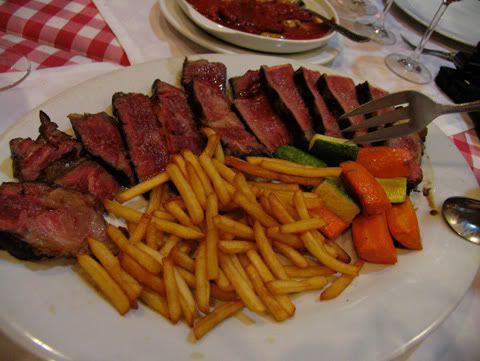 With the
Chuletón
came...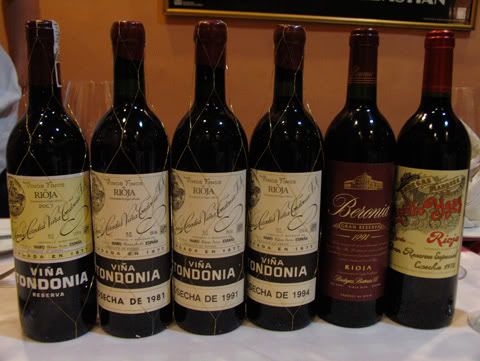 ...the evening's reds.
Since we were only six for that work-week dinner, Miguel's
1991 Bodegas Beronia Gran Reserva
, Rene's
1978 Marqués de Murrieta Castillo Ygay Gran Reserva Especial
and Aaron's
2000 López de Heredia Viña Tondonia Reserva
were handed down suspended sentences - to be meted out on a later date.
1981 López de Heredia Viña Tondonia Gran Reserva
- Aaron's bottle. The vintage did not bode well at first as snow during May 1981 froze some vineshoots. Autumn, however, was mild - with neither rain nor snow - allowing those with patience to harvest later and make up for the time lost during the snows of May (
nb
: translated
website weather notes
). 80% tempranillo/15% grenache/5% graciano and mazuelo; 8 years in barrel racked twice a year; clarified, no fining, 12.5% abv.
This elder one was the least in body and crescendo compared to the '91 and '94 but showed an aged LdH Viña Tondonia's hallmark tertiary complexity in fine cedar, worn leather, balsamico, walnut, hint of dill and pressed violet notes. The moderately confited fruit is there but definitely takes a backseat. Very nice, a contemplative sort to be sure, but, considering the performances of the '91 and '94, this 1981 vintage would be on the least of my LdH Viña Tondonia Gran Reserva purchase hierarchy. That doesn't necessarily mean I wouldn't buy any if I found any of the 1981 at a good price though. I probably would.
1991 López de Heredia Viña Tondonia Gran Reserva
- Aaron's bottle. Hands down the favorite of everyone at the dinner. Graceful, complex, deeply seductive, incredibly balanced, you name it. I had this just over 2 weeks ago
during a lunch at Restaurante Echaurren in Ezcaray
and it was superb. My notes then were as follows:
I figured the previous night's bottle of 1982 CVNE Imperial Gran Reserva would be an extremely tough act to follow. Ordinarily, it would have been, but not for this wine. Incredibly deep, smoldering power and character marked this wine. Wonderful perfumed bouquet of book-pressed violets, dried berries, cedar and dark spices. Rich, complex, multi-faceted and layered with black cherry, raspberry compote, dried plums and red currants, violets, hint of well-worn leather, truffle, cedar, licorice and a precise touch of toasty oak. Generous mid-palate, long and confident finish, this was sheer seduction; never heavy or loudly demanding on the palate.

Catha and I were almost speechless. All we could do was intermittently murmur how wonderful it was. I've had it again, I'll have more in the future, but I'll never forget this bottle.
1994 López de Heredia Viña Tondonia Gran Reserva
- My bottle. Many consider 1994 as one of the best years for Rioja for the decade. A fairly dry winter, slight cold in April, a friendly summer with just enough fattening rain in September brought ripe grapes in the first 2 weeks of the latter month.
Obviously the youngest of the bunch, just newly-released by the winery to Spain's Corte Inglés shops at almost 16 years from vintage. Alongside the '81 and '91, this comes off as lusher, bolder and even comparatively slightly hard and over-eager (it's very young of course), but it's remarkably sturdy structure, deep and quietly powerful darkly spiced fruit are undeniable. I believe this will grow up to be similar to the 1991. We will see. Great potential in this.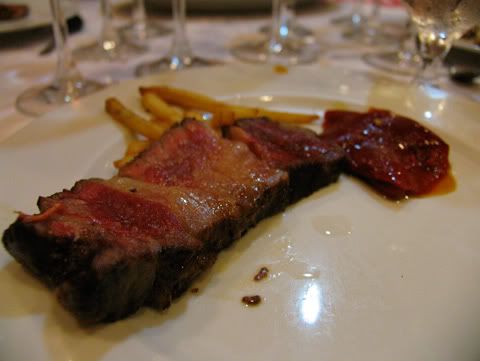 We were then treated to a "mystery bottle" by the Doc - one he brought along already decanted. I believe someone nailed it as a right-bank Bordeaux, but I cannot remember who it was (I was still busy with the Riojas). Big, full-bodied, rich, very ripe and opulently fruited with dark plum compote, black cherry, kirsch, raspberry, violets, chocolate, moderate dark minerality, licorice, creamy vanilla/oak - even Doc admitted that it was a bit of a difficult switch after the "elegant aged Riojas". Doc's bottle of red turned out to be a
1998 Château Angelus
.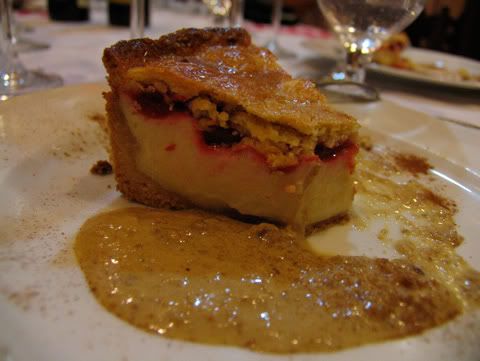 With Javi's deliciously rustic
Gâteau Basque
...

2004 Domaine des Baumard Quarts de Chaume
- Doc's bottle. It's distinctively clean, bright zippy acidity and remarkably fresh purity in the light-bodied, laser-focused, moderately honeyed lemon, citrus, slight peach, melon made me immediately guess it to be a chenin blanc and almost certainly from the Loire. I was right. I've had several of these from the Doc over the years, and they have
never
disappointed. It was a big hit with the group.
What a wonderful evening: great food, wine and the company of good friends. I was glad to be home.