Last night, the 7th August 2010, was at the spouses Vigneron's place for a relatively small
La Commanderie de Bordeaux Manila
dinner/get-together with some members and guests.
Restaurant
Ciçou's Cyrille Soenen
personally prepared the meal which was impeccably served by his team. We were 16 (members and guests) in all, including the evening's hosts.
The evening started with some glasses of chilled
2007 Château Carbonnieux Blanc
, a rather ripe, though still bright and well-defined white from Pessac-Léognan that showed notes of guava and slight peach in its grapefruit and pear base. With this we enjoyed several pass-arounds, including Cyrille's signature
Pork Rillettes on Pain de Campagne
and
Beef Tartare
. Dinner proper followed after around a hour.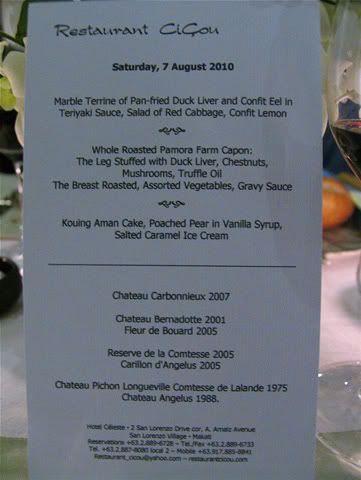 The Menu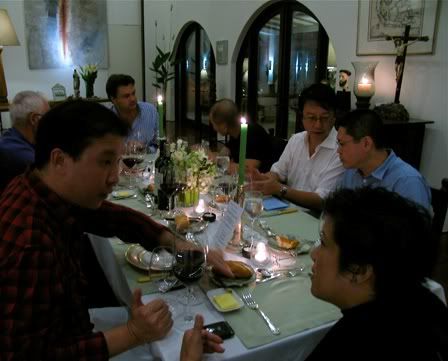 The Anticipation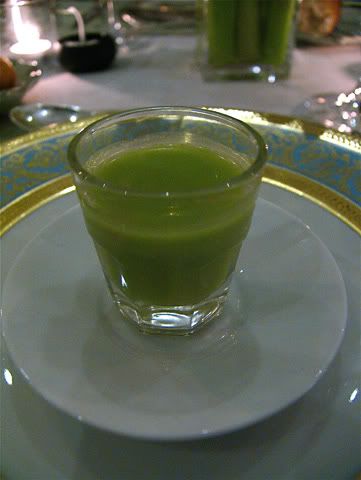 Amuse bouche-sized soup course.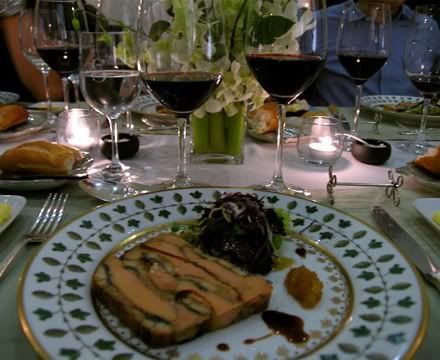 This course of
Marble Terrine of Pan-Fried Duck Foie Gras and Unagi with Teriyaki Sauce, a side of Red Cabbage Salad and Lemon Confit
was absolutely and sinfully good: creamy, rich, but not heavy or tiring on the palate; the red cabbage salad and lemon confit adding precise counterpoint and balancing contrast.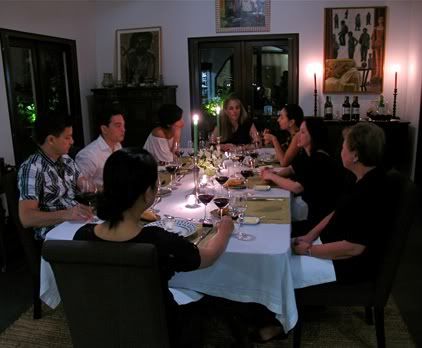 This was an excellent and indulgent course which everybody loved - and that's saying a lot given the particularly well-traveled, discriminating and experienced palates of the evening's diners.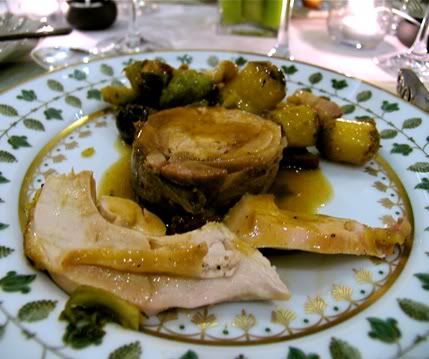 The main course was
Whole Roasted Pamora Farms Capon with Assorted Vegetables & Gravy; the Leg Stuffed with Duck Liver, Chestnuts, Mushrooms and Truffle Oil
. Close friends know my general aversion to chicken dishes, but there are a few exceptions. This dish was one of them. The capon breast was virtually every bit as moist and succulent as the stuffed dark meat (which I prefer) and the stuffing itself was nice and earthy, the duck liver subtle and the chestnuts' earthiness picked up by the rustic potatoes.
The night's red wines, served in 3 flights of 2, were the same as those featured at
the last Commanderie Manila dinner at RED
(28th May 2010), namely:
2001 Château Bernadotte
2005 La Fleur de Boüard
2005 Réserve de la Comtesse
2005 Carillon de l'Angélus
1988 Château l'Angélus
1975 Château Pichon Longueville Comtesse de Lalande
Those who wish to read my previous/recent notes on the listed wines may click on the highlighted link above. At the subject dinner, I took particular note of only the last 2 wines: the 1975 Pichon Lalande
vis-a-vis
the 1988 Angelus.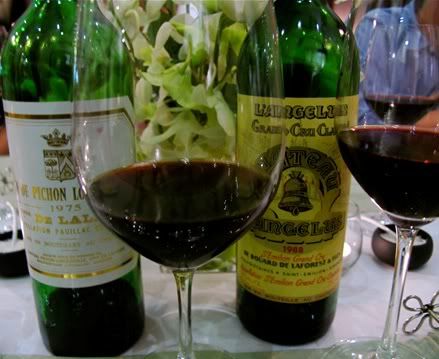 1975 Château Pichon Longueville Comtesse de Lalande
- In my post on the immediately previous Commanderie dinner, I opined that the bottle that night was the best '75 Pichon Lalande I've had. Well, the ones
last
night seemed even better. The bouquet presented a stunning array of ceps, earth, slight rust and iodine, old, book-pressed violet petals, cedar and a bit of compost (in a good way - like in an old Burgundy rouge). Excellent strike. It's palate presence was commanding yet dignified showing remarkable depth, elegance and balance - all the way through to its long, confident finish. Superb.
I noted with Maja Olivares-Co that, in the previous dinner, the Angelus wines seemed to have overshadowed those of Pichon Lalande - and agreed that such was not the case last night. At the subject dinner, the '75 Pichon Lalande was easily our wine of the night. Compared to the latter, the
1988 Château Angelus
' full-bodied, vanilla, chocolate and pipe tobacco-infused, very extracted/concentrated/ripe dark plum, kirsch, loam, preserved raspberry and slight craisin notes, to me, seemed a bit clunky, blocky and over-wrought. The '88 Angelus was not bad at all, mind you, it's just that, that evening, the '75 Pichon Lalande showed much more elegance, refinement and balance.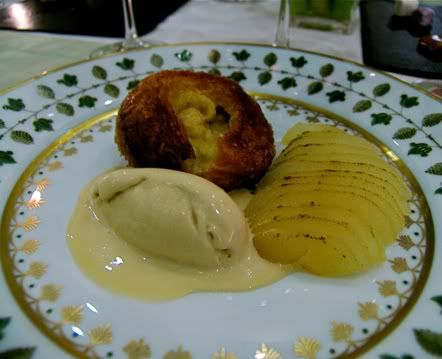 The dessert course of
Kouing Aman Cake with Poached Pear in Vanilla Syrup & Salted Caramel Ice Cream
followed. Many, including my wife and I expressed notable compliments for this - but none as deeply appreciative as Louis-Paul's.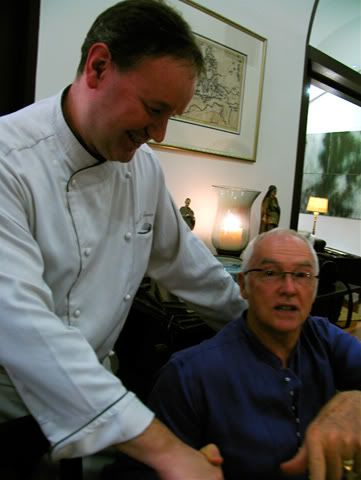 Louis-Paul explained that the
Kouing Aman Cake
is native to and hails from his hometown in France's Brittany region. As such, he is more than familiar with this dish, and, declared he, in all his years of travel and fine dining, he has never had one as authentically delicious as that which Cyrille served us last night - a great compliment indeed. Cyrille received a host of accolades and a well-deserved round of applause for his great efforts.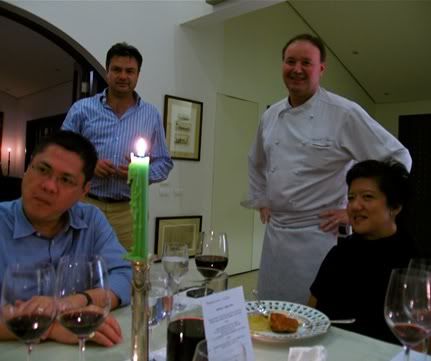 Most took their respective leaves way before midnight, leaving a few of us lingering over more stories and a few cigarettes outdoors at the hosts' lanai. Excellent evening.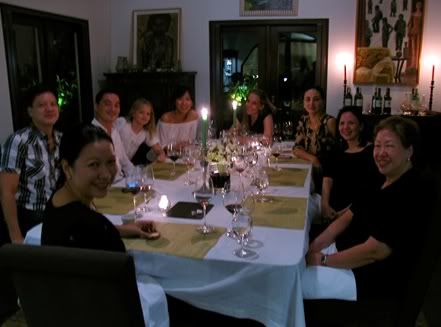 Christine, Doc, Alfred, little Annabelle, Felicia, Mrs. Vigneron, Mrs. Doc, Catha & Lucy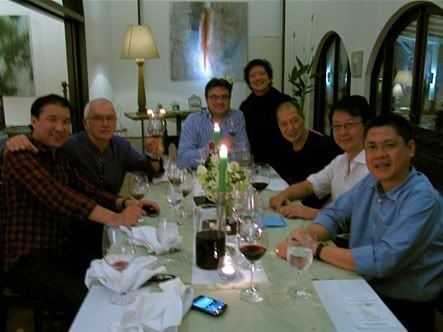 Romy, Louis-Paul, the Vigneron, Maja, Bernie, Keiichi & Rombit
Until the next!