Some think the Usual Suspects drink
only
Old World wines. Not true. I, personally, happen to like several sauvignon blancs from New Zealand, for example. While we do favor French, Spanish and Italian wines and drink them most often, we do not shun trying anything else. After all, how can one make any informed judgment about any wine without trying it out? The proof, as I say, is always in the drinking.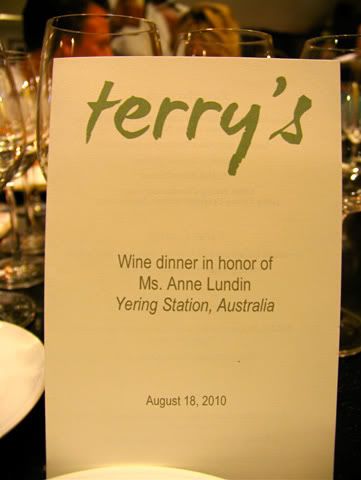 Last Wednesday, the 18th August 2010, was one such occasion: a dinner hosted by JC de Terry at
Terry's 2º Piso
in honor of visiting
Rathbone Wine Group (RWG) Brand Manager for Asia, Annie Lundin
. RWG is an Australian group of companies owned by the Rathbone family, which group includes Yering Station, Mount Langi Ghiran, Parker Coonawarra Estate and Xanadu Margaret River. Terry's carries wines of Yering Station.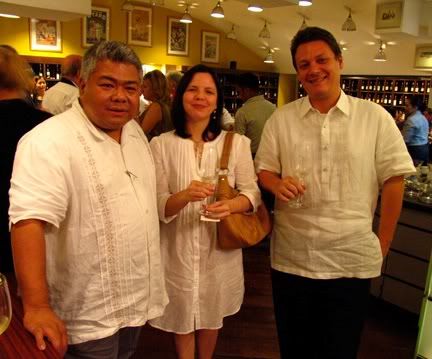 Dinner was for 30 persons, Usual Suspects J-Lab and Miguel included. Aaron was also invited, but, unfortunately, couldn't make it. Catha and I arrived at around 7:45pm and were greeted by glasses of chilled...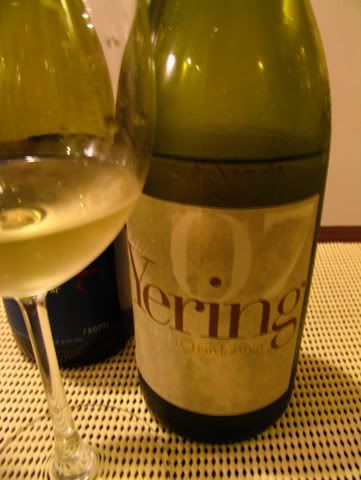 2007 Little Yering Chardonnay
~ and ~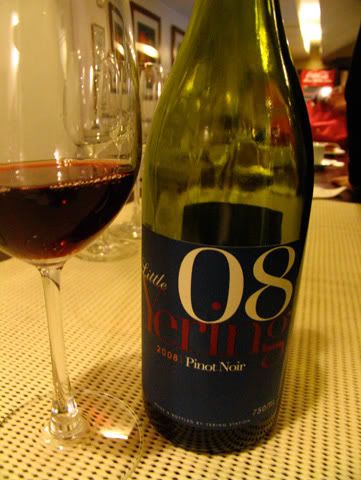 2008 Little Yering Pinot Noir
Both these wines were easily drinkable and charmingly straightforward. I noted that the chardonnay in particular showed nice purity in fruit and good focus and acid balance (likely no malolactic fermentation). The oak notes were quite subtle (I'd say no new oak) - which is a good thing for me. As I told Annie later on, if I want to taste oak, I'd chew on a piece of the wood - so this chardonnay was fine for me.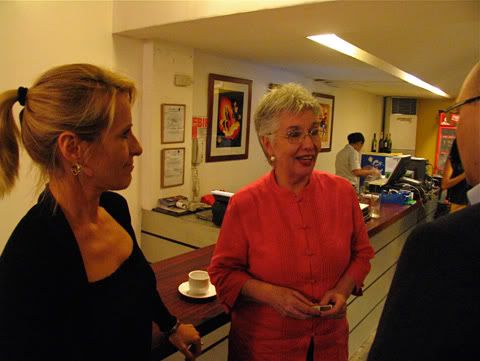 Annie Lundin with Mari de Terry.
The 2008 pinot noir was comparatively deeper-veined and the fruit (cherry, dark raspberry, very ripe strawberry with slight hints of kirsch and cola) seemed more of a hotter climate with a macerated, confited character to the very ripe fruit. The wood notes, though more apparent, were fairly well integrated. Since I prefer starting an evening off with bubbly or whites, I stuck with the chardonnay with the pass-arounds of...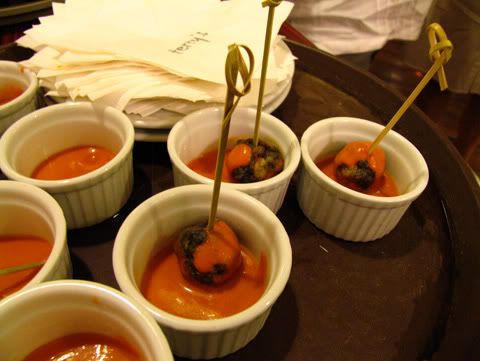 Seafood Balls with Tomato-Oregano Sauce
&...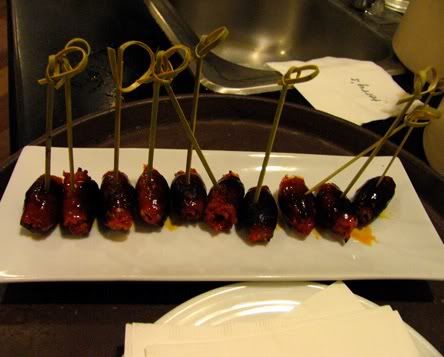 Grilled Baby Chorizos
(our favorite)
The other pass-arounds were
Deep-Fried Queen Olives Stuffed with a Mahón and La Corrala Cheese Bechamel
(fantastic) and
Almond-Crusted Scallops
- both of which I failed to take photos of. JC de Terry was bustling around so busily chatting and welcoming guests, checking the dishes in the kitchen, making sure the wines were at proper temperature, etc. - he was literally a blur of motion - as far as my camera was concerned anyway.
Eventually, we were called to our respective tables so that dinner proper could begin.
The Menu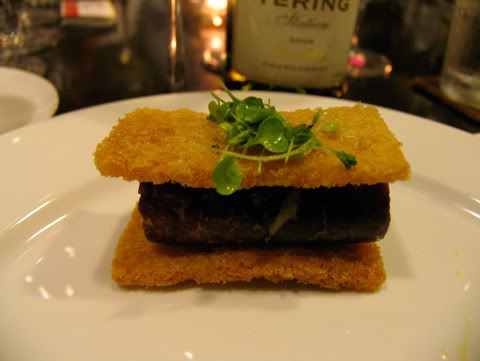 Cecina de León Stuffed with Ostrich Pâté and Cashew Nuts
paired with...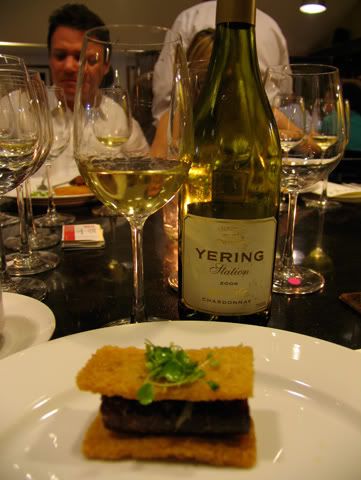 2006 Yering Station Chardonnay
I recall Annie telling me this was a comparatively cooler-climate chardonnay without malolactic fermentation, with battonnage (i.e., lees stirring), and from a warm vintage so picking started very early to avoid over-ripeness and preserve freshness and acid balance. All this information showed in the wine - though the pear, slight white peach and ripe apple did have apparent ripeness (and a nice creamy-leesy character from the battonage), acid balance and freshness were quite apparent. In addition, the oak notes were discreet. I liked this wine, and it was a precise pairing with the first course.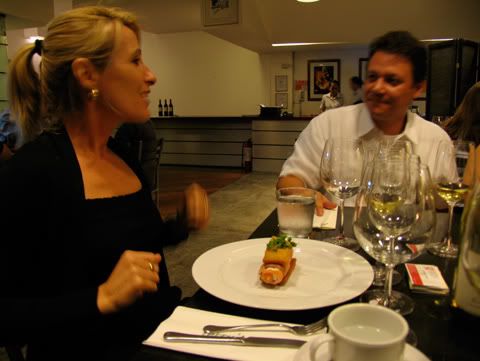 Annie explained that she eats nothing that has 4 legs (due to digestion issues) and so couldn't really eat her first dish. Miguel and I would have quickly offered to take hers, but JC promptly whisked it away and replaced it with a salmon rolled over a creamy white cheese.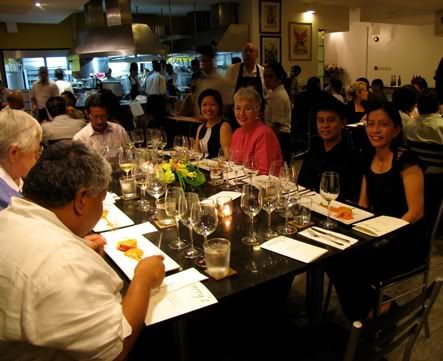 The second course was my favorite of the evening:
Red Bell Pepper with Gribiche and Capsicum Foam
.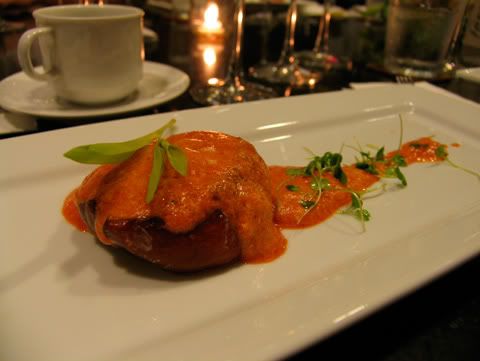 With this delight, we continued with the
2006 Yering Station Chardonnay
which was also a good pairing - the fruit-freshness and acid lending cut to the creamy gribiche and its creamy, leesy, subtle oak notes balancing off the pepper's mildly red spicy-sweetness. Trust JC to be able to showcase a wine's versatility so clearly - which he masterfully accomplished in this case.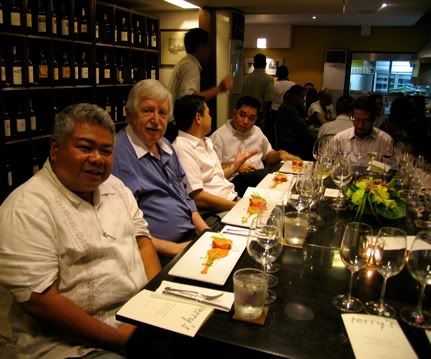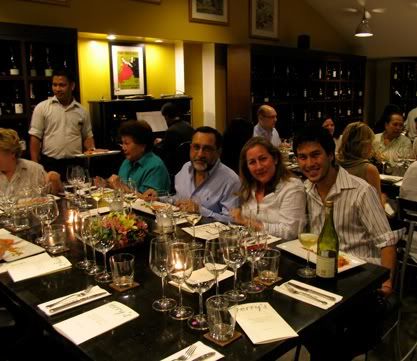 The third course was
Poached Bacalao in a Roasted Green Pepper and Cabernet Sauvignon Sauce
...
...paired with...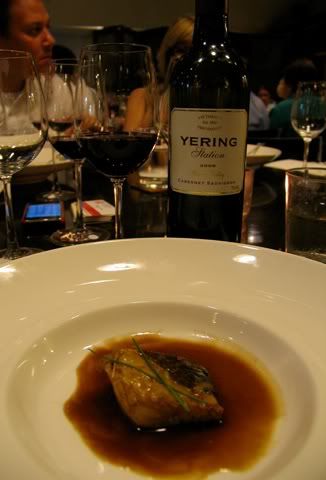 2008 Yering Station Cabernet Sauvignon
- Densely ripe, juicy, concentrated and extracted blackcurrant/cassis, macerated black cherry, kirsch, vanilla, black coffee, licorice and a good dose of dark chocolate that comes on strong on the long, rustic finish. Definitely full-bodied, viscous, sweetly fruited and most likely materially past 14% abv, the acid is low for me. This reminds me of the ripe-roasted fruit character of many modern-styled 2003 Bordeaux rouges. For those who favor this style, the subject wine will certainly not disappoint; on the contrary, it will, to my mind, deliver all those want and more, and at a very reasonable price.
The fourth course of
Braised Pork Loin in Prune Sauce
then made its way to the tables...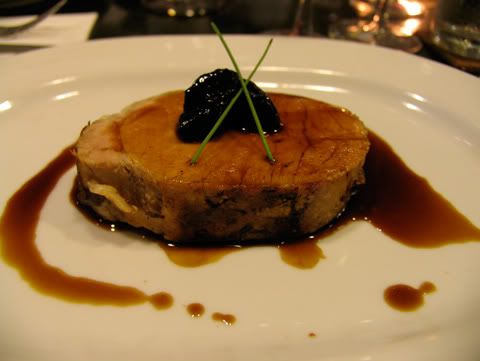 ...paired with...
2008 Yering Station Pinot Noir
- Materially more concentrated, extracted and heftier than its little brother pinot noir served during cocktails. There is a creaminess to all the dark red berry/cherry/dark plum compote, as well as slightly over moderate, somewhat toasty new oak notes. Bit of red spice, bit of cola and suggestion of chocolate underneath. Very indulgent wine. Warming in a comfortable way, I suppose, and a bit low on acid again for me. As a pairing, its heft and stewed fruit nature ran naturally with the pork loin and prune sauce - a hand-in-glove pairing.
By the fifth course, we were officially moving within the realm of over-indulgence:
7-Hour Roasted Leg of Lamb Stuffed with Lamb Loin Rillette
paired with...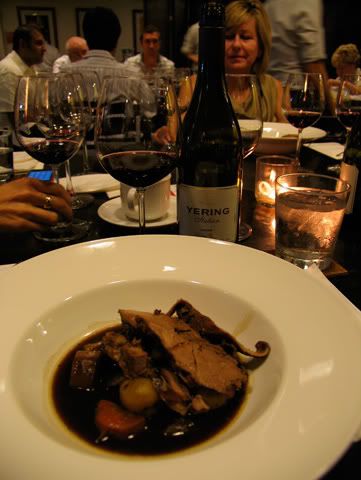 2006 Yering Station Shiraz Viognier
- Jammy, sweet, viscous, peppery, briary raspberry, blackberry over blackcurrant with vaguely minty topnotes. Underneath are black coffee, bit of tobacco, licorice, oak and dark chocolate. Exudes confidence. Powerful wine - tied in with the lamb's sauce.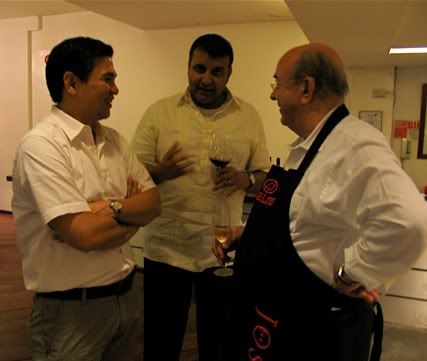 The sixth course followed, an excellent and red wine friendly
Blue Cheese & Blueberry Soufflé
paired with...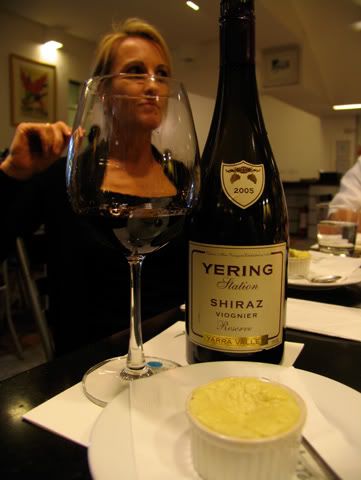 2005 Yering Station Shiraz Viognier Reserve
- Quite similar to the immediately previous wine of course, but more concentrated and extracted. That said, this somehow seemed to be smoother and rounder than the 2006 YS Shiraz Viognier with underlying café crème in place of the latter's black coffee plus a dash or two of cinnamon. This packs a lot of power too, make no mistake, but it seems to carry it off with a tad more suavité for some reason (to me, anyway).

Kawshik Sehwani (whose
Alternative Food Corp.
supplies lamb and other meat products to Terry's - including the
real deal
young lamb racks I buy there so often) got another bottle of this later in the evening and sent me a glass thereof. Thanks, Kawsh. For readers who may be interested, Kawsh's company sells, among others, US Prime Grade Beef and distributes the Snake River Farm brand, including Kurobuta pork belly, and other high-quality food products that regularly find their way to my home freezer.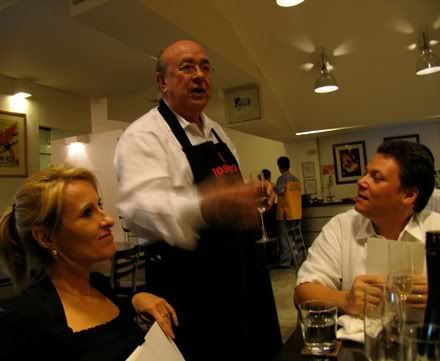 Annie, JC & Miguel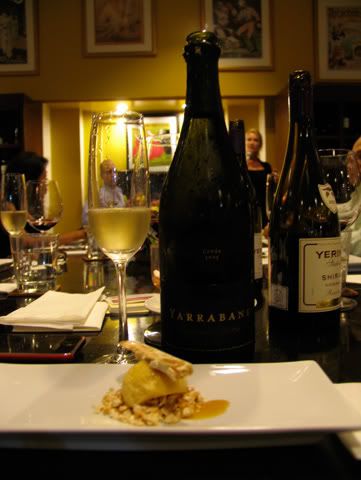 Dessert, the final course, was then served -
Papunya Tula
*
: a Honey and Orange-Infused Ice Cream with Crumbled Jijona Turron, Topped with an Almond Nougat Crisp, Mantled with Brandy Praline Syrup. Heavenly, so complex, ethereal and palate-refreshing to boot. I've said it before, and I say it again, JC has the heart of a chef and the soul of a
pâtissièr
. This was paired with flutes of
Yering Station Yarrabank Cuvée 2005
- A chardonnay and pinot noir blend sparkling wine made in the méthode traditionnelle through a joint venture of Champagne Veuve A. Devaux (I enjoyed one of the Devaux champagnes
during J-Lab's birthday lunch at Toki last 4th November 2009
).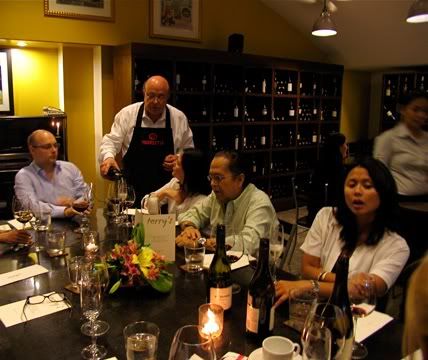 Crisp, clean, bright, zippy and palate-cleansing green apple, pear, some almond-milkiness (the pinot noir surely) underneath with an entertaining slight yeasty-breadiness. This is a nice and affordable alternative to champagne. Personally, I like it more than the bottles of Pelorus I tried out some time ago.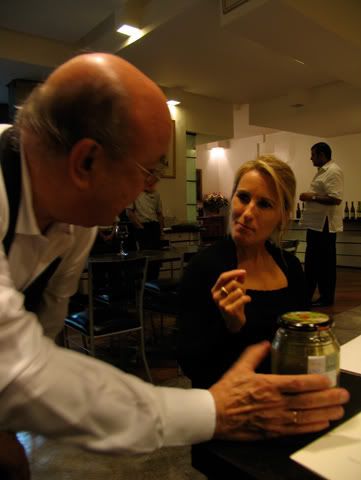 *
Papunya Tula is roughly translated from the Aborigine language meaning "honey ant dreaming". The dessert was named so because the honey used in the ice cream was from honeypot ants, sourced by JC somewhere in Palawan. A specie of honeypot ants (i.e.,
Camponotus inflatus
) occasionally forms part of the diet of the Australian aborigines.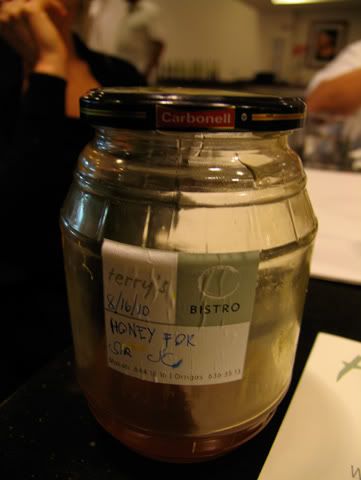 "Sir JC's" precious stash of honeypot ant honey.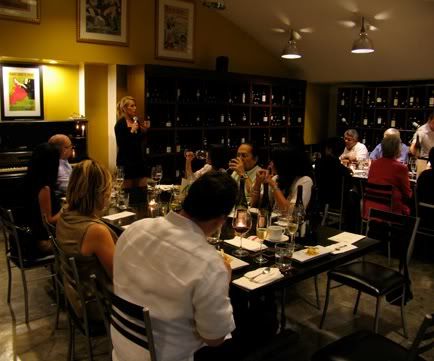 In the meantime, Annie had re-taken the floor and gave a lot more information on the wines of Yering Station to those not lucky enough to be dining at her table, thanked JC and Mari profusely for all their efforts...
...and offered a round of applause for Chef Luis Chikiamco and the rest of Team de Terry.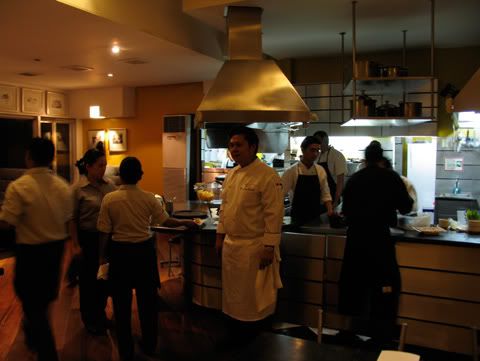 Dinner proper over, we were all happily stuffed to the gills and, admittedly, slightly tipsy from all the wines. JC then started pouring bottles of
Masachs Cava Brut Nature NV
for us all. I gladly accepted a pour or two more of the bracingly dry, pure, clean and brightly re-invigorating cava and was glad I thought to bring a driver along that night.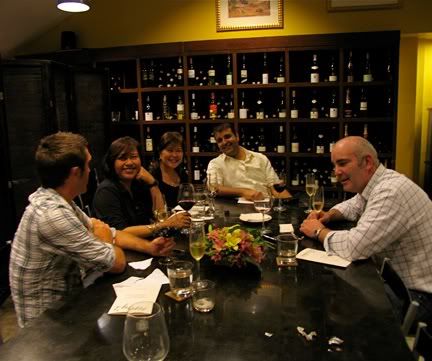 It was yet another in a long line of incredible meals at Terry's 2º Piso, which, in this case, lavishly showcased the Yering Station wines Terry's carries. ¡
Muchisimas gracias, JC y Mari, y hasta la proxima
! And, to Annie, many, many thanks for the enlightening information on Yarra wines. I look forward to your next visit. Until the next!