Last night, 31st July 2010, was at Terry's 2º Piso tasting through Premium Wine Exchange's (PWX) new line of wines by Bodegas La Rioja Alta with the Stockbroker and JC de Terry. Said wines will be formally launched via a wine dinner on the coming 11th August at said venue (since I am familiar with La Rioja Alta's wines, the Stockbroker asked me to help out in organizing the wine-pairing launch and, of course, I was happy to do this as a favor
*
).
The scheduled 6-course pairing menu was created and will be executed by the Philippines' master of Spanish cuisine and wine, JC, and his team, including, of course, the young and very able chef Luis Chikiamko. Only 24 seats will be available on a first-come-first-served basis. Those interested may reserve seats through Premium Wine Exchange at 8123823 or 8405319 or via e-mail: christine.anotado@pwxchange.com.ph.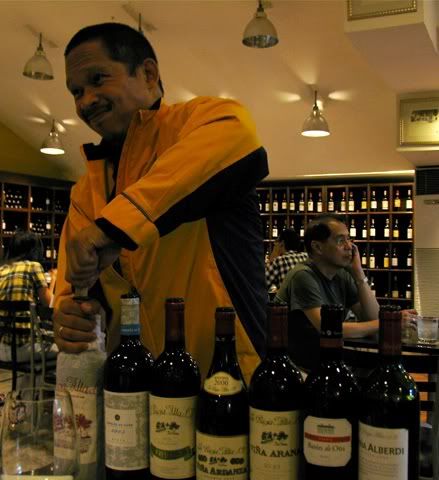 The Stockbroker opens the bottles
Though I have had all the wines (except one) not long ago at the winery and with Aaron and James, the Stockbroker wanted JC and I to go through them again to fine-tune the pairing menu - hence, the subject tasting.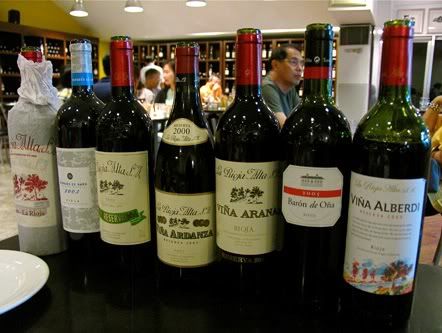 Per JC's suggestion, we tasted the 7 wines in 2 groupings:
First Group
I've made very detailed notes on these wines from my above-mentioned tasting
at the winery
and
at La Tienda
(which may be referred to in addition to the shorter, more evaluative notes below by clicking on the highlighted links).
2003 Viña Alberdi Reserva
- Though the ripe-roasted vintage traits are apparent in the somewhat confited nature of the fruit (wild cherry, raspberry with a slight meaty touch), it retains good freshness as well as concentration. One of the most balanced 2003s I've had. P1400/bottle SRP at PWX.
2005 Barón de Oña
- Richer, lusher and immediately very well-rounded. Denser, heftier, also slightly confited fruit, nice hit of spice and entertaining wood-related notes. Bigger than the preceding Alberdi and also nicely balanced. JC likened it to Burgundy (Nuits St-Georges in particular). P1600/bottle SRP at PWX.
2001 Viña Arana Reserva
- All I could do was note how very harmonious, well-knit and well-balanced this wine is. Similar in nature to the Alberdi and the Ardanza, JC pointed out that, having the 3 in a line shows the unmistakable (for him anyway) elegant La Rioja Alta style. P1800/bottle SRP at PWX.
2000 Viña Ardanza Reserva
- More balsamic notes on this one compared to the previous 3 wines. What was most notable to us was how very clean, well delineated and well focused this was. Very elegant and light-footed wine. Nicely complex too and with an impressive finish. I mentioned to them that this particular bottling is a current "pet project" of winemaker Julio Sáenz who prefers the oak barrels of Tonnellerie François Frères for this line. P2200/bottle SRP at PWX.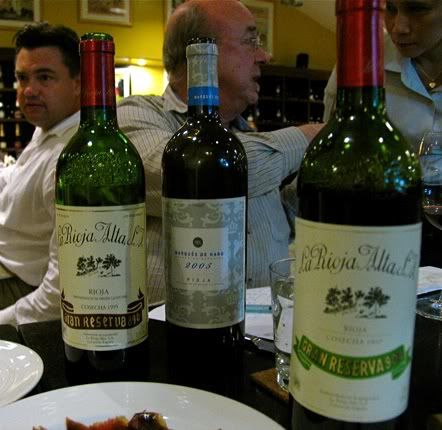 Second Group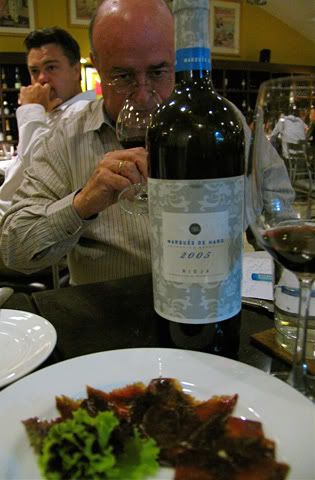 2005 Marqués de Haro Selección Especial
- This is the first time I've had this bottling. Notably darker, richer, denser, heftier, more concentrated and extracted. Longer hang time with this; probably older vines too. Quite complex in a very ripe, markedly lower-acid way - I noted notes of fig and underlying slight roasted meat as well. Old-style use of oak is also very apparent - JC astutely likened it to the style of Marqués de Murrieta's Castillo Ygay Gran Reserva Especial and had served with it some velvety-savory
cecina de León
(smoked and air-dried hind leg of beef from same-named
Indicación Geográfica Protegida
) and let the Stockbroker and I sniff it first so we could pick up the similar scent underneath the wine's fruit. P4900/bottle SRP at PWX (but the Stockbroker said he
might
adjust the price downward).
Pretty amazing how JC almost immediately made such a specific food-connection after trying the wine. Surely, now, this cecina will play a role in this wine's pairing dish.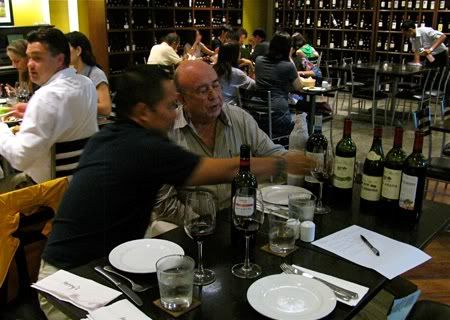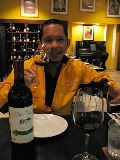 1997 La Rioja Alta Gran Reserva 904
- Though I've had this wine at least thrice before off the top of my head, this was definitely the most expressive bottle I've had. Obviously silkier and more refined in nature (balsamic, cedar, ripe tamarind, black cherry, hint of kirsch, underlying leather notes, etc.) - it made the preceding wine seem a touch rustic. Miguel, I and a few others noted a somewhat clipped finish in previous bottles of this, but this bottle was far better in this regard. No clipping here, rather, a confident, expressive, precise and proper finish. P3100/bottle SRP at PWX.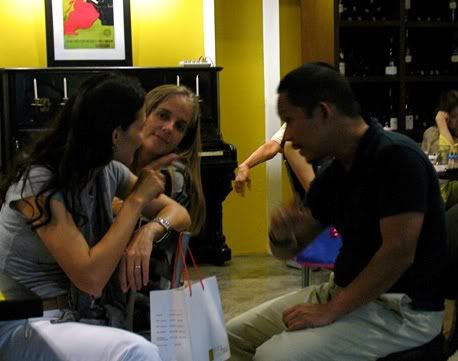 1995 La Rioja Alta Gran Reserva 890
- This wine I've posted on several times in the past few months (most recently
here
) so it is no secret how much I love this wine - so elegant and expressive with great typicity. Since I've written about it last just over a week ago, there is no need to repeat myself. Besides, the entire stock of PWX of this sold out almost immediately (at P6500/bottle SRP), so no more is currently/locally available. The Stockbroker said PWX may likely try to get more stock though. The last several bottles have been set aside for the coming event.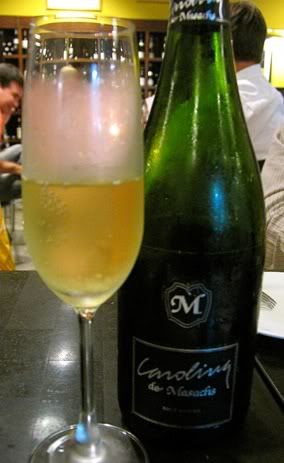 After the tasting proper, we enjoyed a bottle of
Carolina de Masachs Cava
courtesy of JC. This particular bottling of Masachs cava has 10% chardonnay in the blend - very brightly crisp, bracingly dry, vibrantly fruited, playfully frothy and most reinvigorating - especially after 7 reds. This will also be served at the launching dinner. Available at Terry's at slightly below P1000/bottle if I am not mistaken.
As some may have noticed in previous photos, it just so happened the spouses Vigneron, Miguel & Barbara A. and their respective children were having dinner at the table behind us. Not having seen them in a while, the subject tasting turned into a nice little reunion of sorts as well.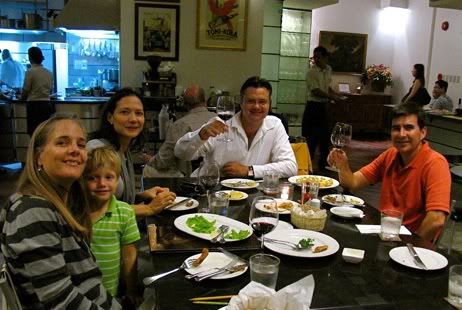 *
I have no interest whatsoever in PWX or the sale of any of the wines of La Rioja Alta and receive no benefit, in coin or kind, for writing about the wines or their coming launch. My writing about it is for pure pleasure and to spread the word and consequent enjoyment for those who wish to join. I myself will surely attend the launching dinner, but for pure enjoyment of the fine wines, JC's pairing menu and the company.