We were first introduced to "Panic" wine tasting by Keiichi and his friends from Tokyo
on the 2nd February 2010 at a lunch at Je Suis Gourmand
.
Keiichi with Tokyo's Team Panic at the 1st Panic Lunch.
Essentially, it is a blind wine tasting exercise with no limitations on where a wine can come from or how old it can be; people are given only around 2-3 minutes to identify each wine's main grape variety, origin and vintage - hence, everybody tends to "panic" under time pressure.
Keiichi moved back to Tokyo around 5 months ago, but still visits every so often - most recently last Monday, the 9th August 2010. In his honor, therefore, the Stockbroker organized another Panic Lunch with the group at
Je Suis Gourmand
(please excuse the poor quality of the succeeding photos as I forgot my camera that day and took all the shots with my phone).
Johnny, Greg & the Stockbroker
As a twist, we were organized into 2 teams, captained respectively by the Stockbroker and J-Lab who decided on the rules: no restrictions on origin or vintage, floor but no ceiling limit on price, 10 minute limit to analyze, discuss and submit a team consensus/guess for each wine, no need to identify dominant grape variety but it was encouraged, and, in identifying country of origin, Rhone, Burgundy, Alsace, or Bordeaux left or right bank had to be specified if French, and Piedmont in the case of Italy. In identifying vintages, if a team guesses a vintage within the range of 2000 to 2010, only the exact year is given a point. For older vintages, guesses within one year of the actual vintage will be given a point. One point for every correct guess of origin and vintage as per said rules (obviously, we will refine the rules for the next panic event).
Teams were chosen by draw, the Stockbroker's team included Johnny, Greg, Arnie and myself; J-Lab's of Aaron, Keiichi, Vince, Miguel and Rene. Each team serves the other team 2 whites and 3 reds blind.
Miguel & Aaron open their bottles behind the bar.
Lunch orders taken.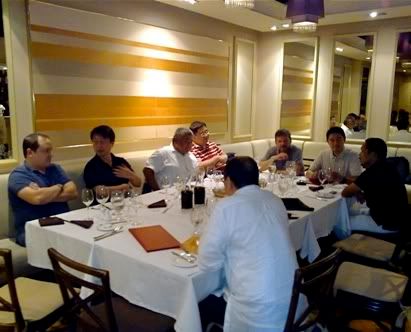 The anticipation.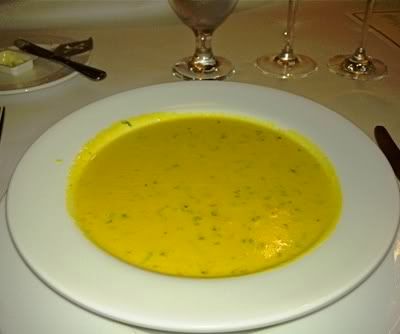 My
Saffron & Mushroom Soup
.
Team J-Lab White # 1
- Lushly fruity, good acid balance despite rather sweetishly ripe peach, bit of apricot, grapefruit, gooseberry. Not much woodiness/oak. Medium bodied, good structure and complexity. Quite pleasantly fruity, nice brightness/freshness. We guessed it to be a Spanish blanco from 2007 - it turned out to be Miguel's
2006 La Granja Nuestra Senora de Remelluri Rioja Blanco
(a blend of many grapes per Miguel). One point to Team Stockbroker for origin, none for vintage.
Team Stockbroker White # 1
- This was my bottle, a romorantin-based wine from Cour Cheverney in the Loire. Very dry, crisp, a bit steely, under medium-bodied, minerality like a Chablis' but the fruit base is totally different, slight appetizing bitterness at the finish. The wine was served a bit too cold I noted. Keiichi immediately suggested the Loire but was over-ruled. Thinking it was a dry viognier, Team J-Lab guessed 2002 Rhône. It was my
2005 Domaine de la Plante d'Or Cuvée Salamandre Cour Cheverny
. No points for Team J-Lab.
Team J-Lab White # 2
- Oaky, a bit fat and low on acid, notably ripe, higher in alcohol and soft-baked fruited. Lots of vanilla/oak. My team-mates detected a bit of petrol on the nose (I didn't) and the voting went to identifying it as a 1999 from Germany (I commented that it tasted too hot climate to be German and I maintained there was no way for it to be a riesling). It was Aaron's
2007 Morlanda Blanco
from Priorat. No points for Team Stockbroker.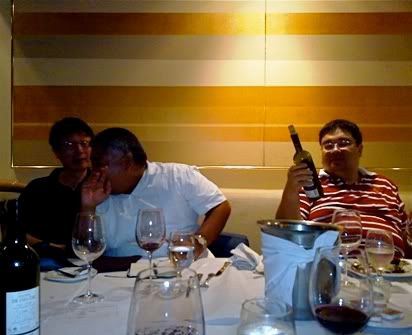 Since our team's 2nd white was sweet, we moved on to the reds for main courses.
My main course of
Flank Steak
.
Team Stockbroker's Red # 1
- Rich, deep, smooth, meaty, mouth-filling, virtually chewy, remarkable structure. Sweetish-ripe-spicy at first but eventually yielded some very slight animal notes on top and roasted coffee grounds underneath. Team J-Lab guessed it to be a Chilean red from 1998. It was the Stockbroker's
1997 Domaine Tempier Bandol Cabassou
(both J-Lab and I considered this the best red of the lunch). One point for Team J-Lab for vintage, none for origin.
Team J-Lab's Red # 1
- Dark, woody, dense, sweetish, intense, with with Turkish coffee and a bit of cough syrup underneath the notably concentrated/extracted/somewhat raisin-suggestive dark fruit which trail on the finish. The guys were thinking new world when I commented the finish reminds me of port - though this wine was not fortified. I believe this triggered the consensus to switch to Portugal. It's apparent youth and drive made our team's guess to be a wine from 2005. It turned out to be Vancouver Vince's
2004 Quinta do Crasto
from Douro. One point for Team Stockbroker for origin, none for vintage.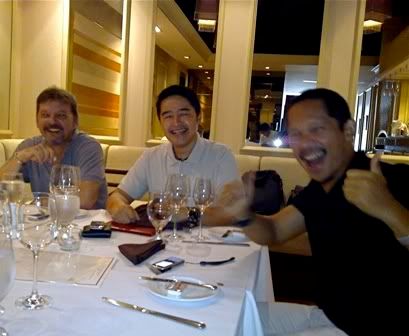 Team Stockbroker's Red # 2
- Though this wine was from our team, I didn't know what it was beforehand. It threw me for a loop, I couldn't get a handle on it (though I wasn't trying too hard since the other team was supposed to guess). It was a bit hard, very firm acidity, with cherry, plum and raspberry dominating but I couldn't really discern much else. Team J-Lab guessed it to be a 2004 Australian red. It turned out to be Greg's
2004 Bodegas Baigorri Rioja Reserva
(I've never heard of or tried anything from this producer). One point for Team J-Lab for vintage, none for origin. I note that Miguel, Aaron and I (who are quite familiar with Riojan tintos) weren't able to nail it as Riojan.
Team J-Lab's Red # 2
- Very dry, hard, cassis/blackcurrant-dominated with a hint of underlying plum. Quite unyielding. I commented that this tasted very, very young. Arnie immediately opined it to be an Australian cabernet sauvignon. The consensus was that it was a 2001 Australian red. It turned out to be Rene's
2007 Yarra Yering Dry Red # 1
. One point to Team Stockbroker for origin, none for vintage.
Team Stockbroker's Red # 3
- Cedary, initial scents ammonia and slight metal (tin); the wine was very closed, however, grudgingly yielding dried herb-tinged, austere and dry blackcurrant and a bit of woodiness. Not enjoyable for me and many others. Most of them said Left Bank Bordeaux. Keiichi suggested 2006 but was over-ruled. Team J-Lab guessed it to be a Bordeaux Left Bank from 2004. It was Johnny's
2006 Château de Fieuzal
from Pessac-Léognan. One point to Team J-Lab for origin, none for vintage.
Team J-Lab's Red # 3
- A bit of heat and concentrated, sweetish-roasted dark red fruit with a hit of pepper on the nose made everyone on our team almost immediately identify it as syrah based (no points for grape variety though). Big, concentrated, very hefty, a bit syrupy, quite spicy and the wood, though apparent, did not over-power and was markedly well folded in. The guys went for Australia. I pointed out that it would be too easy for us to guess an Australian syrah so it was highly unlikely that Team J-Lab would enter one - and, besides, the wood notes seemed far too moderate to me. The consensus was 2005 Australia. It turned out to be Keiichi's
2006 Tua Rita Syrah
- an IGT Tuscan wine. No points for Team Stockbroker on this one.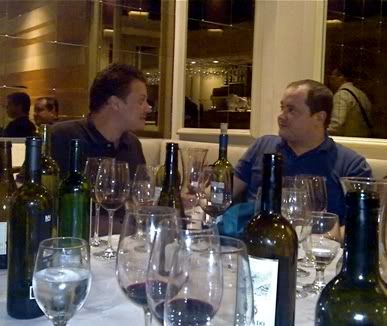 Miguel & Rene
With the teams all even at 3-3, it came down to Team J-Lab's guess on Team Stockbroker's 3rd white - the last of the panic wines. J-Lab favors sweet whites and is very well-versed in them - so his team-mates pretty much left guessing this last wine to him.
Team Stockbroker White # 3
- J-Lab's notes on this are as follows:
Obviously a dessert wine. My team pretty much left the guessing of this up to me since I'm much more into dessert wines than the other team members. Some orange. Very ripe. Excellent balance. Crystallized fruit. Very fresh. Very nice. Definitely a Muscat from the nose alone. Probably French as it didn't have the weight of a New World wine. I settled on 2007 Rhone (Muscat Beaumes de Venise). Right grape but no points for that, unfortunately. (Arnie's)
Samos Grand Cru Muscat 2009
from Greece. No points.
Thus, the Usual Suspects' Panic Wine 2 session ended in a tie - with which all were pretty much satisfied and happy. J-Lab then opened up his bottle of
2004 Château Lascombes
for everyone to relax with and savor
sans
panic. I've written about this wine at least twice before, my latest notes (22nd January 2010), still applicable, are
here
.
It was a very fun and challenging lunch to welcome back Keiichi. It had also been quite a long time since the Usual Suspects were all in attendance as even Vancouver Vince was in town, so it was especially enjoyable and memorable. Until the next!