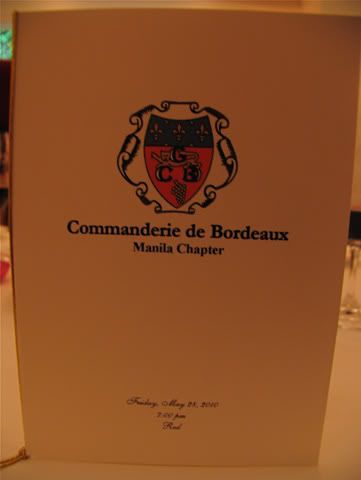 The 28th May 2010 was
La Commanderie de Bordeaux Manila
's dinner at Shangri-La Makati's RED, featuring wines of Châteaux Angélus (St-Emilion) and Pichon Longueville Comtesse de Lalande (Pauillac). In attendance as guests of honor were
Hubert de Boüard de Laforest
of Angélus and
Gildas d'Ollone
of Pichon Lalande. There were 60 persons in all that attended.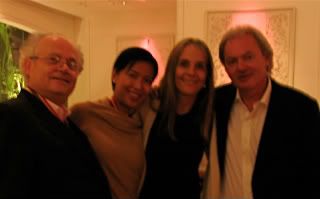 L-R: Gildas d'Ollone, Felicia Atienza, Mrs. Vigneron & Hubert de Boüard de Laforest.
The evening began at RED's bar area with a wide variety of pass-arounds of:
Smoked Salmon in Sesame Cones with Herb Cream
Vol-au-Vents with Chicken Ragout
Parmesan Crisps with Goat's Cheese Cream
Prawn Croustillant with Coriander
Beef Tatar with Capers
With all these delights,
Champagne Louis Roederer Brut Premier
was served courtesy of Alex Lichaytoo's Bacchus International, the Roederer group's local distributor. Bright, zesty and bracing from the attack, the grapefruit and citrus are joined mid-mouth by clean, creamy/leesy apple, slight brioche and a precise touch of toasty oak/vanilla. The pinot noir gives a nice, rounded feel/heft mid-palate with an underlay of discreet white chocolate. Good acidity keeps everything fresh and lively. Very nice.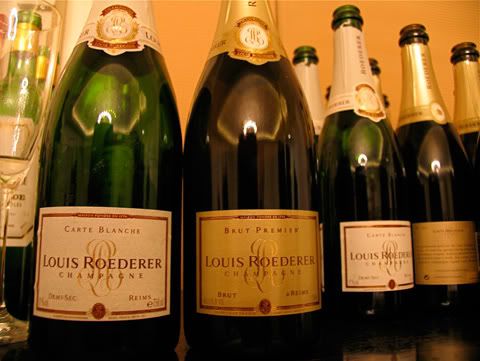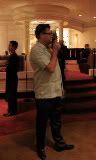 We eventually sat ourselves at our assigned table, mine was Table #7 with Paco Sandejas, Don & Dorothy Santos, Ivan & Shiela Ramos, Franklin & Ethel Go and Catha & I. Within a few minutes, the Vigneron took the floor, welcomed everyone, introduced the Commanderie de Bordeaux Manila's founding members & board
*
and, of course, the afore-mentioned guests of honor.
*
Dong Puno, Bernie Sim, Oscar Ong, Edouard Miailhe, Jojo Madrid, Alex Lichaytoo, Felicia Atienza, Maja Olivares-Co and myself.
After a few words about Châteaux Angelus and Pichon Lalande from the respective representatives, dinner and the featured wines were served.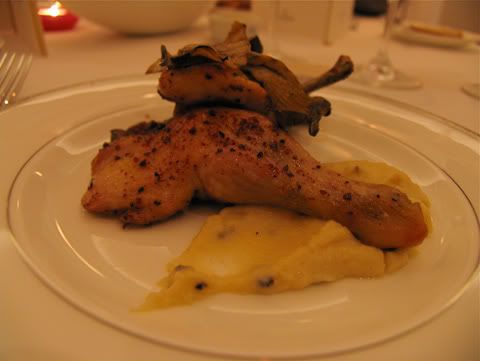 2001 Château Bernadotte
- Medium-bodied, slightly earthy, cedary, blackcurrant, minor black cherry and raspberry, slight minerality, ferrous and worn leather notes, bit of tobacco leaf and violets. Properly balanced and austere, this is a correct Haut-Médoc with a comparatively more masculine, backward and serious character. (
nb
: was acquired by the Roederer group together with Pichon-Lalande).
2005 La Fleur de Boüard
- Comparatively jammy due to the typically (of the appellation) high merlot content and super-ripe 2005 vintage, this came off as softer, riper, more forward and, I'm sure, more approachable to the many. Plum, cherry and minor raspberry over slight crème de cassis, new leather, bit of chocolate and vanilla. The youthful tannins are more apparent, but nicely molten and rounded. Good contrast in nature and style here, both pairing well enough in their own ways.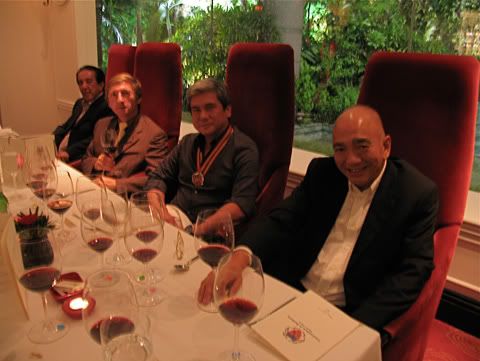 The IWFS Table with, among others, Othmar Ober, Oscar Ong and Sunny Garcia.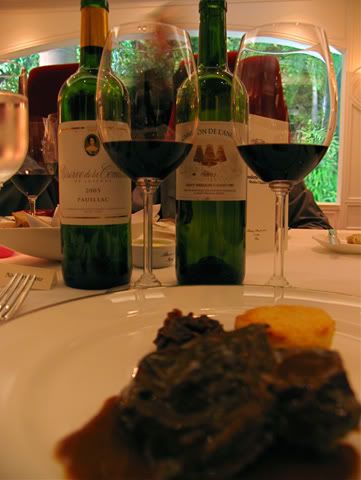 With Slow-Cooked Beef Cheeks, Crushed Turnips, Roasted Shallots Parmesan Soufflé & Foie Gras Sauce...
2005 Réserve de la Comtesse
- Cedar, violets, dark plum, black cherry over cassis, infused with pencil lead, bit of herbs, slight minerals, licorice and orange peel and red spiciness (the latter towards the back and in the finish). Halfway between medium and full-bodied. Nice structure and balance. Quite good for a 2nd wine and definitely benefited from the vintage ripeness.
2005 Carillon de l'Angélus
- Another that benefited with the lushness of vintage 2005, this shows more open, concentrated, softly ripe dark plum, black cherry, bit of kirsch, loam, underlying creaminess, moderate new leather, toasty oak and related wood notes. Quite showy. Another that plays to the crowd.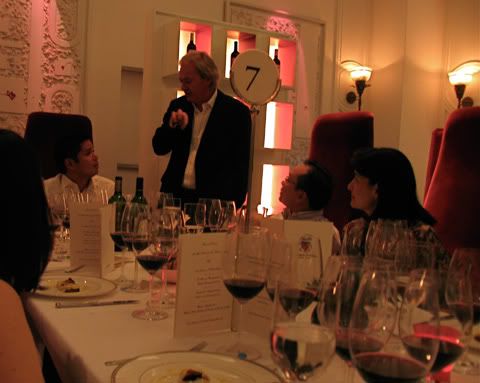 Paco quizzes Hubert de Boüard at our table as Franklin and Ethel listen intently.
With the
Cheese Course
, the most anticipated reds of the night were finally served:
1975 Château Pichon Longueville Comtesse de Lalande
- I've had this around 3 or 4 times before. Don & Dorothy recalled an exceptional bottle of this from Siran's own cellars in Margaux (the estate was still co-owned by the Miailhe heirs at the time until it was finally adjudged to the Vigneron's aunt in 1978, so that bottle was pristinely
ex-château
without ever having traveled anywhere).
This particular bottle was probably the best one I've had of the estate's 1975 vintage. Already advanced, but still somehow maintains some freshness in its now mellow and comfortable red and black fruit elixir. Delicately intertwined notes and layers of mint, earth, iron, ceps, tobacco, graphite, cedar and old-pressed violets lend a contemplative complexity. Elegant wine. Drink up now and soonest.
1988 Château l'Angélus*
- Comparatively/marginally riper (for a 1988 Bordeaux), concentrated and extracted, this shows soft, somewhat creamy dark cherry, kirsch, raspberry, loam, vanilla bean, bit of licorice, dark chocolate, leather, sweetish pipe tobacco, cedar, violets and whispers of truffle. Again, more of a lush, crowd-pleaser style.
*
Re-named simply "Angélus" in the early 1990s.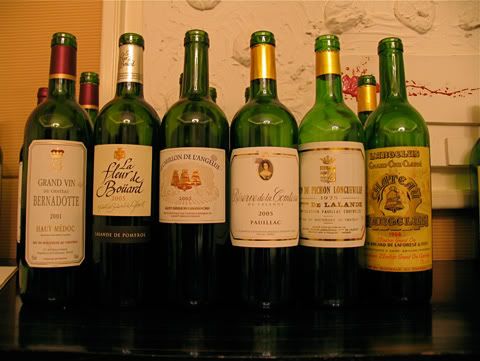 Dessert followed, an indulgently rich
Duet of Dark Chocolate and Red Fruits
. I really enjoyed this and wiped my plate clean though I am supposed to avoid chocolates as they tend to aggravate my inner-ear problem.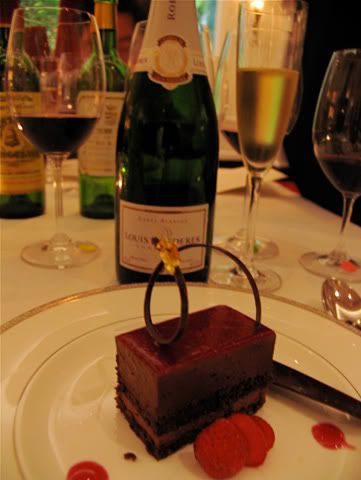 Paired with
Champagne Roederer Carte Blanche (Demi Sec)
- The dosage gives a discreetly honeyed and tropical slant to the apple, pear, slight citrus, hint of passionfruit, bready notes and slight minerality. Quite a nice post dessert drink though did fairly well paired with the dessert (I drank most of it after dessert).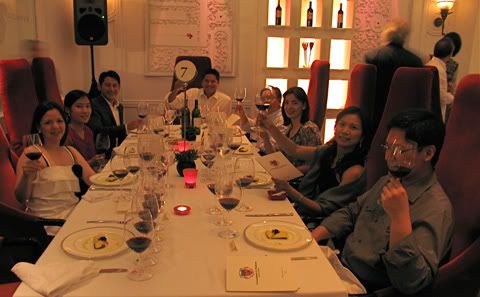 Bordeaux, Toujours, Bordeaux,
Baby!!!