Had dinner last night (5th August 2010) at my in-laws' and I brought a white and a couple of reds - the latter for the house specialty roast beef. I took only one photo of 2 of the bottles at home; none of the food or during the dinner. There were other guests who may not have been all that comfortable with me clicking away incessantly.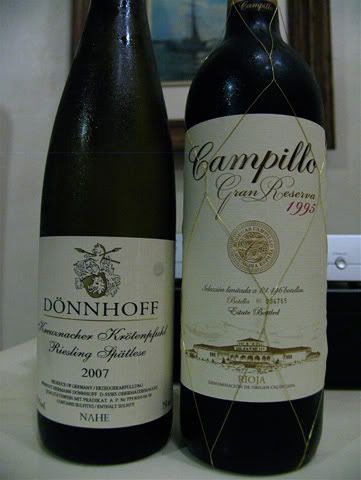 2007 Dönnhoff Kreuznacher Krötenpfuhl Riesling Spätlese
- Typical clean, pure, light-footed, graceful Dönnhoff (a legendary Nahe riesling producer) riesling showing off-dry, slate-touched pear, bit of peach, apricot, bit of kiwi and slight ripe pineapple. Though not quite as well-defined, minerally or zippy as the
2007 Weingut Hermann Dönnhoff Niederhäuser Hermannshöhle Riesling Spätlese
, that is but an academic - as opposed to an "enjoyment factor" - observation. Already and undoubtedly pleasing, this will surely gain even more complexity over many, many more years. I'm glad I still have other bottles of this. Available at Premium Wine Exchange at P2600/bottle full retail.
1995 Bodegas Campillo Rioja Gran Reserva
- Bodegas Campillo is part of the revered Grupo Faustino of Rioja Alavesa, the former is situated in Laguardia, Rioja Alavesa's wine capital. The subject wine is 100% tempranillo, hand-picked from 100-year-old vines, aged for 24 months in 3-year-dried Allier barrels
*
and, as I understand, for another 5 years in bottle before release.
I've had this from Aaron before, my last notes from
a tapas-and-Rioja dinner at Miguel's on the 20th February 2010
. My notes at the time were as follows:
1995 Bodegas Campillo Rioja Gran Reserva - Aaron's bottle. Immediately notable was the wine's subtle power and admirable depth of well-rounded fruit (typical black cherry, bit of kirsch, raspberry, bit of strawberry). The very well-integrated oak is almost assuredly not new and, I think, probably French. Acidity is sufficient and proper. Leather, tobacco, slight licorice, cedar and violet notes are seamlessly intertwined. Excellent push on the palate, it exudes confidence from attack to finish. Many years left ahead of this, it is drinking admirably youthfully at almost 15 years from vintage.
What I can add now is that the fruit is soft, ripely-sweetish (particularly the cherry which has a macerated character) and notably deep; the tannins are velvety. The oak-related notes (slight vanilla, hint of chocolate, etc.) are subtle and very well-integrated; the acidity quite moderate (probably due to the absence of mazuelo). Very rounded middle. This presents a more stylish and widely approachable style of Rioja gran reserva (as compared to, say, the 1991 LdH Tondonia gran reserva which is inherently suited for traditional Rioja
connoisseurs)
. Nice with my rare roast beef main course; the sweetish macerated cherry notes were entertaining counterpoints to the rich, fatty beef and the acidity just enough to keep the beef from tiring the palate.
Nice, fun, wholesome night.
*
Though many believe the use of French oak in Riojan tintos is "modern" or "new wave", it is actually not. Historically, in Rioja, ageing in French oak antedated that of American oak. Research shows that the use of American oak was generally switched to in the very late 1800s-early 1900s due to the price difference (French oak was much more expensive). In any event, the use of French oak was "reintroduced" to Rioja by Bodegas Marqués de Cáceres 40 years ago - which, in my book, hardly qualifies as "new-wave" at this point. For whatever it is worth, Spanish wine journalist and winemaker, Victor de la Serna, lists Bodegas Campillo as one of the traditional Rioja producers.