This past Monday, the 16th August 2010, was Miguel's lunch at
La Tienda
in anticipation of his coming birthday. Aside from the celebrant, in attendance were Rene, the Stockbroker, Aaron and myself. Mig, of course, brought Spanish wines, and, in his honor, so did we.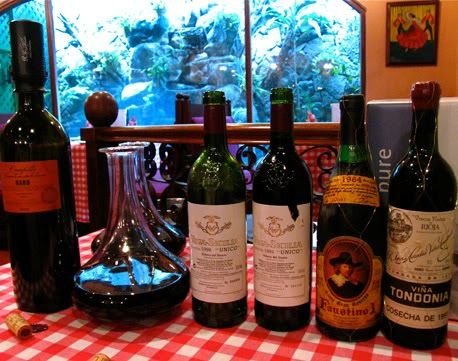 Some of the reds.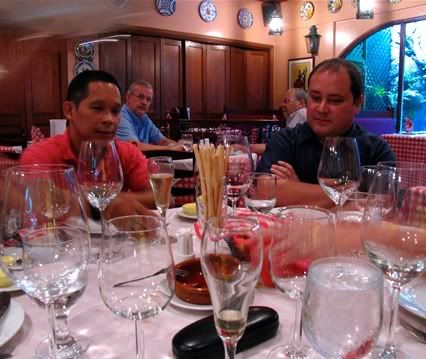 I got in from the office a little past 12:30, the Stockbroker not long after I.
The rest were there when I arrived, having some Chistorras with...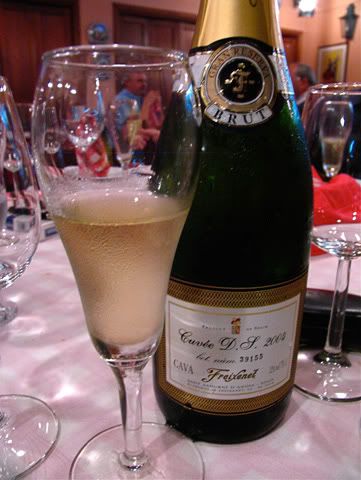 2004 Freixenet Cuvée DS Gran Reserva
- Aaron's bottle. I first tasted this from him during
a lunch he hosted on the 30th April 2009
, and, thereafter, on the 24th March 2010,
at the Freixenet winery within the outskirts of Barcelona
. My last notes, still applicable, were as follows:
Freixenet Cuvée D.S. 2004 - Another I've had during Aaron's lunch at Café Ysabel on the 30th April 2009, where I described it as "clean, roundly fruited and brightly crisp". This cuvée is named after a former president of Freixenet, Dolores Sala, and is made only in exceptional years. This 2004 is the 17th bottling since 1969. Immediately deeper, more complex and slightly heftier mid-palate than the previous cavas (i.e., Freixenet Brut Vintage Reserva (2007) & NV Elyssia Gran Cuvée Brut), this shows notes of toast, biscuit and a bit of fig.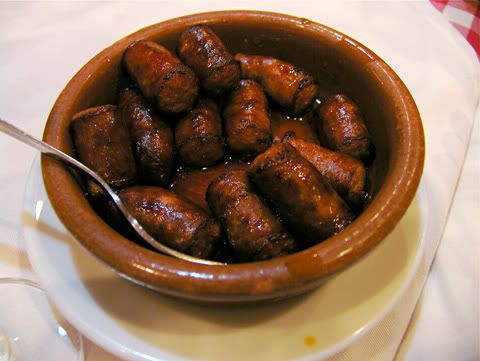 With the mildly spicy, rich c
historras
, the subject cava was an excellent foil - bright, crisp, fruity and sturdy enough to cleanse and refresh the palate, and, at the same time, add some nicely contrasting and entertaining white fruit notes and acid balance. Really good stuff.
Next up was a platter of
Gambas ala Placha
. This is one of my favorite appetizers on Javi's regular menu - the shrimps are always astoundingly fresh and the heads darkly bursting with fat (as you can see in the photo below).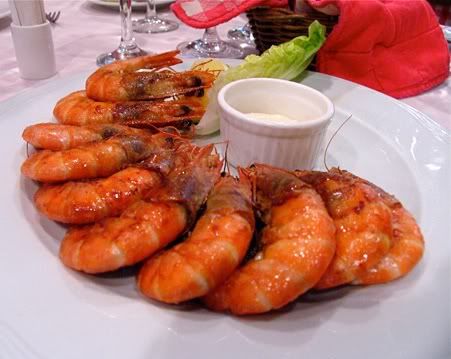 They are so perfectly seasoned and crisp that I do not even bother de-shelling them; I hold them by the tip of the "snout" and take them in at one bite, discarding only the sharp ends. They burst with flavor in the mouth. This is one of the prime examples of a simple dish done perfectly, yielding incredible eating pleasure. With this we enjoyed glasses of...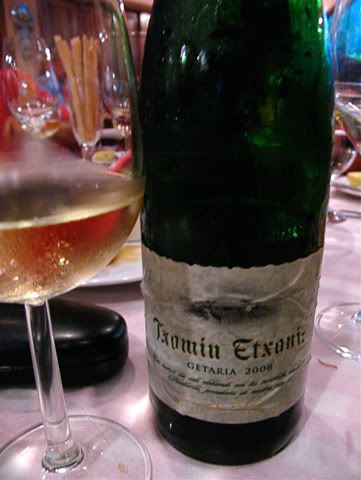 2008 Txomin Etxaniz Txakoli
- Miguel's bottle, one of only two vintages of this wine I've had (the 2009 vintage with
dinner at Kaia in Getaria on the 2nd April 2010
). The first time I had this 2008 was also from Miguel during
our lunch with J-Lab on the 24th June 2009
. My notes then were...
Txomin Etxaniz Getaria 2008 - Miguel's bottle, brought in from Spain specifically to pair with this dish. From the DO Getariako Txakolina located in Getaria, just outside chef Javi's hometown of San Sebastian in the Basque region whereat Txomin Etxaniz owns 35 hectares of sloping vineyards planted to the native hondarrabi zuri (90%) and hondarrabi beltza (10%) grapes. For whatever it is worth, Jancis Robinson considers this producer the best of the area.

Meant to be served very chilled and traditionally poured at arms' length height, this is a wine meant to be enjoyed casually, paired with starters of shellfish and fish - anchovies and tuna in oil particularly recommended by the producer.

Though it is a still wine, it has a slightly fizzy/carbonated feel on the palate, exhibiting very dry and fresh, light, tartish green apple and lime/citrus flavors with high, though not disturbing, acidity and a very slight appetite-enhancing bitterness past mid-mouth. From my readings, this is typical of txakolis.

It is a rather simple, straightforward, refreshing wine well-suited for the tropical heat and, indeed, seafood dishes. I'd guess it is not for everyone, but I liked it well enough for the novelty of a typical Basque regional pairing. Since it is quite inexpensive, I'd likely buy some to keep at home, but, unfortunately, I do not believe there is any txakoli locally available
(...yet)
.
I can add now only that the wine exhibited fleeting saline/seashore notes. Very nice, very dry, excellent pairing with the above described dish. This is a very traditional style of txakoli; probably not for everyone but
true
txakoli aficionados. Everywhere in Getaria and in Azpeitia (province of Guipúzcoa in the Basque country), if you order txakoli without specifying any particular producer, Txomin Etxaniz is what you'll be poured. I continued with this for the next two dishes of...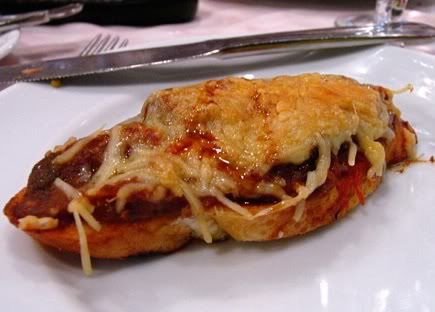 ...

all time favorite

Escalivadas

,
and.
..
.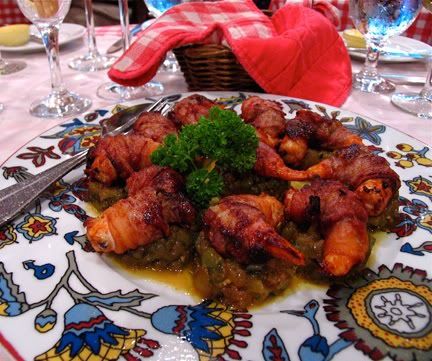 Prawns Wrapped in Bacon with Pisto
.
Most of the reds had been opened much earlier: some in decanter some just in bottle. A short discussion ensued on which to serve first. Upon the Stockbroker's suggestion, the first red on deck was a classic, 21 year-old tinto Riojano.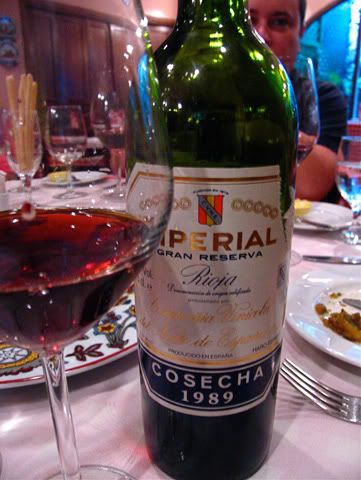 1989 C.V.N.E. Imperial Gran Reserva
- The Stockbroker's bottle. Initially, it was a bit light - a few notches below medium-bodied - and tight, with a bouquet of smoky cedar, leather, violets, red berry/cherry and hints of cigar ash and mushrooms. Mirrored in the mouth, it was pleasurable indeed if a tight. Because of
my memorable experience with a decanted 1982 vintage of this wine last 3rd April 2010 in Logroño
, I told the guys that I'd hold off finishing my share to see if it gains weight, complexity and power.
After around 30-40 minutes, the wine had fleshed out to almost halfway between medium and full body and gained evident depth and complexity with exquisitely woven, fine balsamic, faint sweetish tobacco leaf, sherry and rose notes. Lightly silken, discreetly elegant. Loved it. This was much, much better than
the 1988 version I opened during Aaron's birthday lunch this past June
.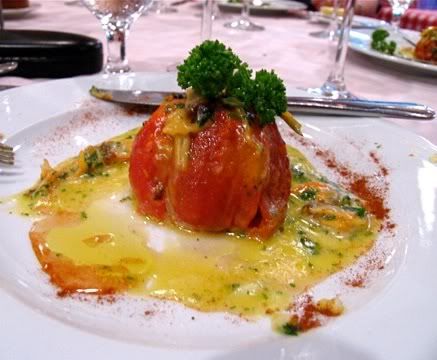 Next was a new dish from Javi, a
Roasted Tomato Stuffed with Chipirones
(small, succulent and tender baby squid). Heavenly - one of the many reasons I always look forward to trying anything new by Javi.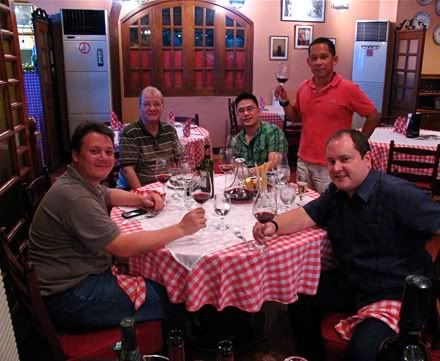 By this time, Tito Kiko Vecin, Miguel's dad, joined us for a couple of glasses of wine. I recall he started off with a bit of the Stockbroker's '89 CVNE Imperial GR. He gamely asked us not to address him as "Tito", and, instead, by just his nickname so he wouldn't "feel old". Of course, none of us could as upbringing demanded that we accord him proper respect.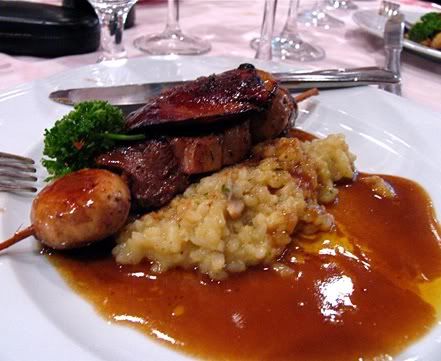 We were all getting pretty stuffed by then and expected Javi's trademark
Chuletón with Fries
to make its entrance. Instead, yet another pre-chuletón dish arrived:
Brocheta de Solomillo y Bacon con Arroz Cremoso, Foie Gras y Salsa de Oporto
- yet another great favorite of the group. I assure you, stuffed and surprised as we were, nobody complained and all dishes were cleaned.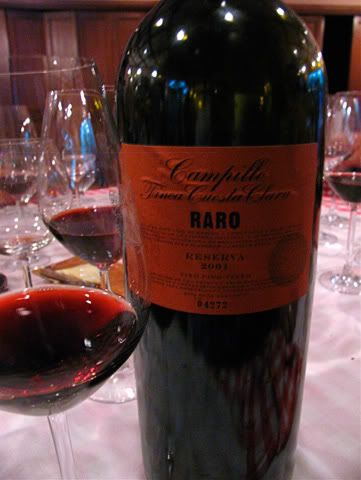 2001 Campillo Pago Cuesta Claro "Raro" Rioja Reserva
- Aaron's wine, the 2001 bottled only in magnum and double magnum formats. This is made up, he explained, of 100%
tempranillo peludo
(i.e., "hairy tempranillo" from the fuzz found on its leaves) - a tempranillo clone said to be what the very first tintos Riojanos were made from. This is an almost extinct grape, he elaborated, and only 2-3 Riojan producers now make wine from it.
Hefty, confident, a little past halfway between medium and full body, deeply veined, well-concentrated and rounded, minerally, black cherry, raspberry, wild cherry, ripe dark plum, bit of underlying black coffee, licorice, new leather, bit of violets, slight balsamico and tobacco. Definitive strike, pronounced middle and a long, confident finish. This youngster made a very good account of itself amongst its older and more famous brethren. A definite pleasure to drink, and very easy to drink a lot of. As the Stockbroker himself noted:
my fave was the 64 faustino as well, followed by the 95 unico which was starting to show more developed characteristics. i agree that the CVNE did finally come around as noel had predicted. but the wine I kept going to was the "hairy" one. aaron- pls bring me some mags
Javi then came out to check on us...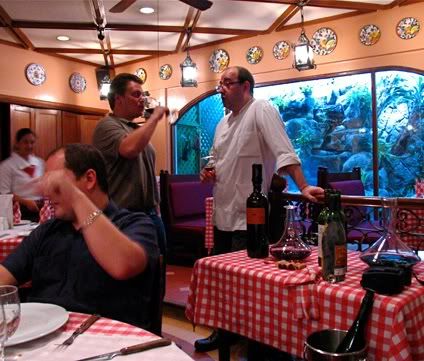 ...and join us in a glass or two of wine.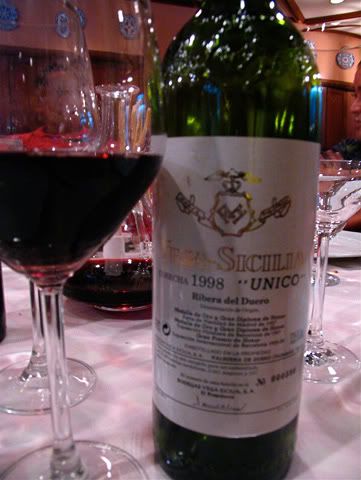 1998 Vega Sicilia Único
- Rene's bottle. As most anyone who knows Spanish wine is fully aware, Único is the flagship of the legendary Vega Sicilia. Per the Stockbroker, 1998 is a particularly highly critically-acclaimed vintage of this wine, garnering 98 points from the Wine Advocate to begin with.
I don't know how long Rene decanted this, but it was quite open and generous, displaying perfumed aromas of sweetish macerated cherry, kirsch, raspberry, underlying cassis, spices, violets, bit of new leather and discreetly toasty oak. Very rounded, hefty, powerful, creamy-fruited but not at all aggressive or over-bearing - everything was in good balance. Very nice indeed. Remarkable nose. Probably the only vintage of Único I've had that I could even begin to think of as comparatively/remotely feminine.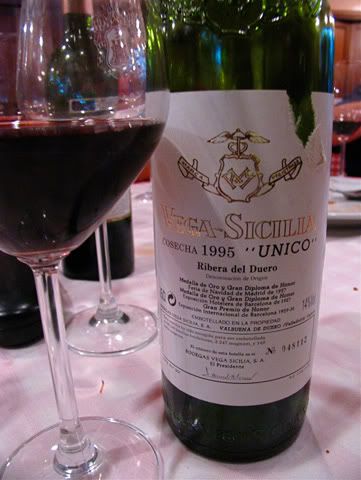 1995 Vega Sicilia Único
- Miguel's bottle. Decidedly masculine, serious, worn leather, pipe tobacco, earthy deep dark fruit, black cherry, cassis, violets, very slight hint of balsamico, cedar, mild licorice, whispers of dark minerality, chocolate and fig. It's darkly serious and somberly complex character reminded me of the 1996 version. Solid structure, rigid backbone underneath the fruit. Excellent balance. Macho yet contemplative wine, and an especially fine match for the...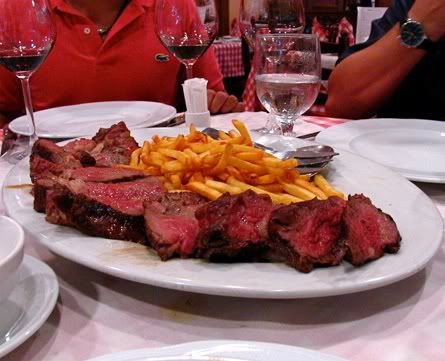 ...Chuletón with Fries...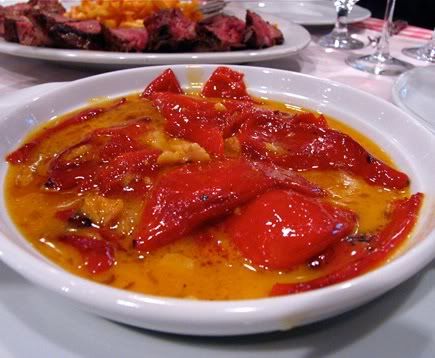 ...

and

Javi's

Signature

Baked Piquillo Peppers

- a recipe from his

abuela

.
Heavenly
.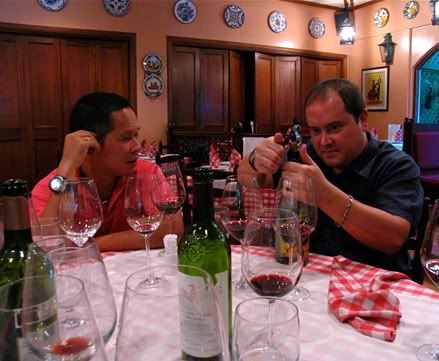 Next was another treat from Miguel - a wine that Aaron, Miguel and I have been planning to try for several months now. We awaited with silent anticipation as Rene carefully uncorked this aged beauty.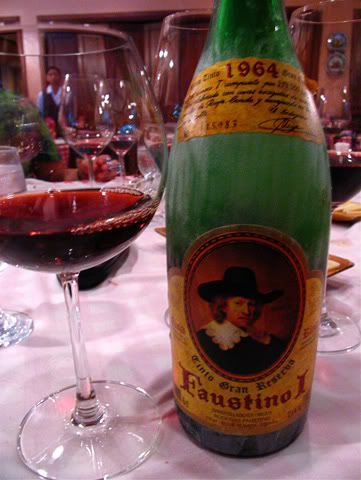 1964 Faustino I Gran Reserva
- Miguel's bottle. A bottle we sourced from Aaron's contact in Bodegas Faustino - Mig, Aaron and I all got some of this, but Aaron and I promised our wives we'd open ours with them. Luckily, Miguel generously stepped up to bat with this famous tinto Riojano from Rioja's legendary vintage 1964 (only 2001 is said to be a comparable vintage for Rioja).
The Stockbroker examined, swirled, sniffed and sipped, breaking our reverential silence with great admiration of its complexity, surprising youthfulness (for a 46 year-old wine) and finesse. "What a nose!" exclaimed he and Aaron.
I think
Aaron's notes
accurately captured what we all thought of the wine. I certainly could not have put it any better, so I quote:
Faustino I Gran Reserva, Rioja, 1964

Yet another wine that we've all been wanting to open. Hailing from one of Rioja's greatest vintages (if not the greatest), this particular bottle has been positively reviewed, with The Pour's Eric Asimov calling it "ethereal". Very youthful color, with orange, salmon and rose at the rim, and no browning whatsoever. Jojo was the first to take a stab at the wine and instantly raved about it. What a nose. Layers of flowers, truffles, dust and nuts, mixed with jasmine and phosphorous. A subtle sweetness and a sherry-like oxidation permeate the finish. Very luscious, limber, and full of finesse. When we had the Tondonia GR 1991 at La Tienda before, I likened that wine to Penelope Cruz in Vanilla Sky. This bottle is Jean Seberg in Godard's A Bout de Souffle-- alluring, disarming, profound, enigmatic; similar to that movie's English title, it just leaves you breathless.
All I can add is that I am very happy Aaron was able to source us bottles of these - straight from the producer's own cellar no less so provenance was perfect. This is a wonderful specimen of classic aged Rioja. Like
the 1974 Contino Reserva that winemaker Jesús de Madrazo graciously shared
at the winery on the 26th March 2010, if not for the balsamic notes, if tasted blind, I imagine that I could mistake this 1964 Faustino I Gran Reserva for a fine, aged red Burgundy.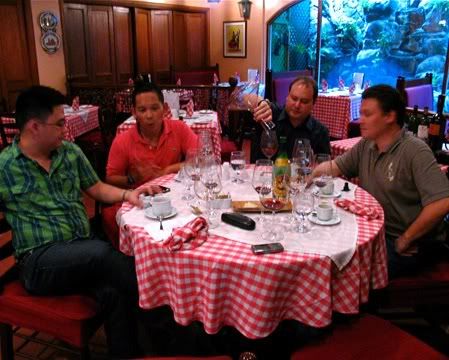 Coffees and espressos for all.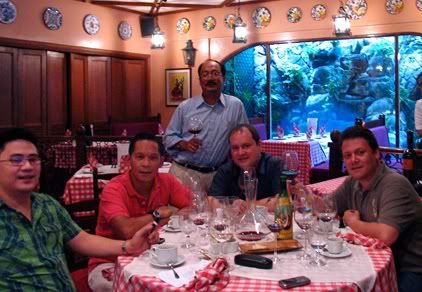 My bottle of
1991 López de Heredia Viña Tondonia Gran Reserva
was left unopened for Miguel to bring home and enjoy. Wine meals are always great with these fellows, but this one was extra special and eminently memorable. A million thanks to Miguel for hosting us. We are all most grateful. Happy birthday again, buddy, and many more to come. ¡
Salud
!