After a little over 3 days in Bordeaux for the
Union des Grands Crus
en primeur
tastings of vintage 2009, Catha and I drove back to northern Spain for a few more days in Basque country. Since my schedule back in northern Spain was unclear until late March, I wasn't able to make a reservation at 3 Michelin star
Restaurante Arzak
way ahead of time (as one prudently should for such a restaurant).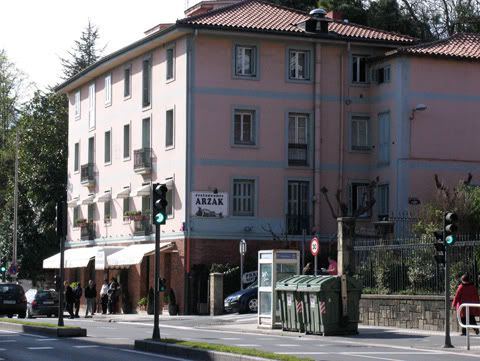 Fortunately, Miguel's aunt, Tita Amen Hernández, was able to pull some strings and wangled a lunch reservation at few days' notice (many thanks, Tita). Thus, Catha and I were set - lunch at Arzak on the 1st April 2010 (no kidding) at 2:30pm.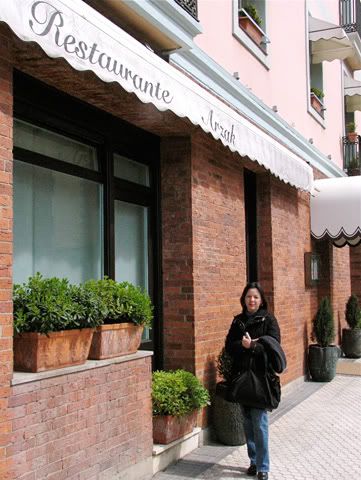 Parking was easy, they have their own lot for customers in the back. The side street to the back is narrow and steep and the parking lot is small. Good thing I had a small car (got a really good 9-day deal on a MB A180 with GPS from the Hertz Bilbao Airport).
We were quickly seated at a table by the window and
Elena Arzak
(whose English is impeccable) immediately came out to greet us. Apparently, she knew I wrote about wine and food because, though my reservation was made via
Prensa Ibérica
, I told her I wasn't myself connected with the Spanish press. She replied though, quite factually: "But you
are
a journalist." Wanting to be up-front (and to put to rest any possible suspicions that I was out to "ambush review" the restaurant), I admitted to being a member of the recently concluded MITYC/ICEX-sponsored Asian Journalists mission - to which Elena smiled and nodded knowingly.
A couple of well-recommended and appreciated pre-lunch blanco-and-fruit apéritifs...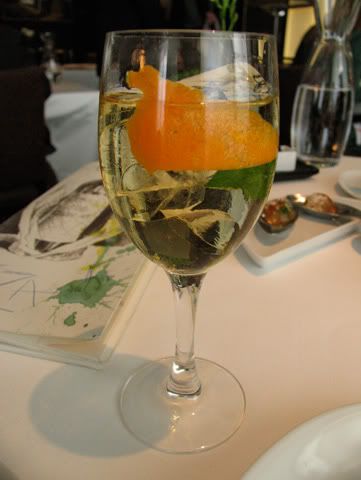 ...and we were on our way. They offered to design a
menú degustación
for us (accommodating Catha's request for smaller portions for her) and I, of course, agreed. The sommelier presented a wine list, I glanced through it, and since our main course would involve pigeon, chose a bottle of
2001 Bodegas Muga Prado Enea Rioja Gran Reserva
(which I very much enjoyed
courtesy of Rene last December
and wanted Catha to try).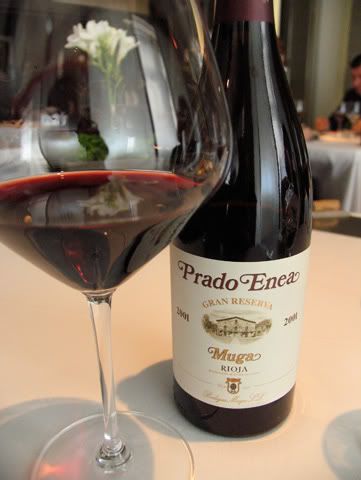 No decanting, just opened, poured a bit and let gently breathe in bottle and glass; then started the parade of dishes.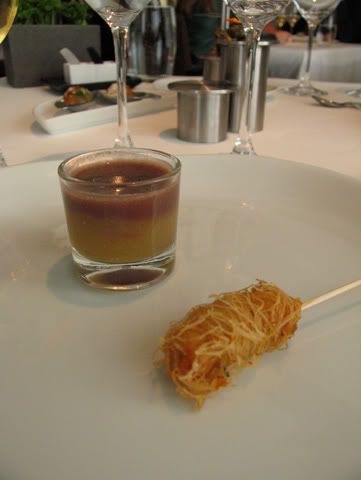 Puding de Kabrarroka con Fideos Fritos; Crujiente de Arraitxiki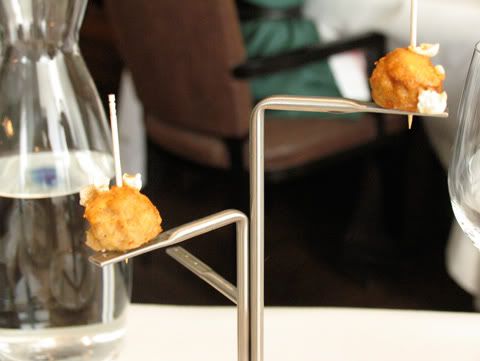 Morcilla en Tempura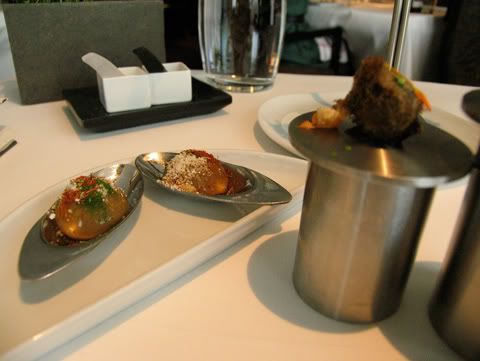 Caldo de Alubia con Manzana; Bola de Setas y Polvo de Maíz
Manzanas Asadas con Aceite de Foie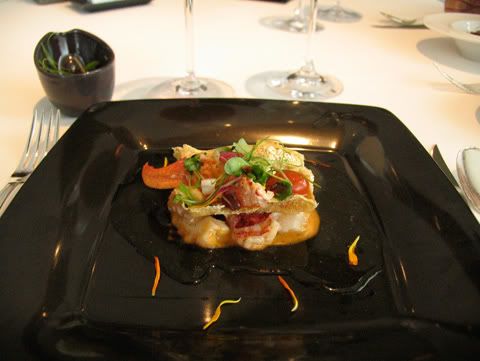 Patata, Bogavante y Copaiba...
...which came with this small salad.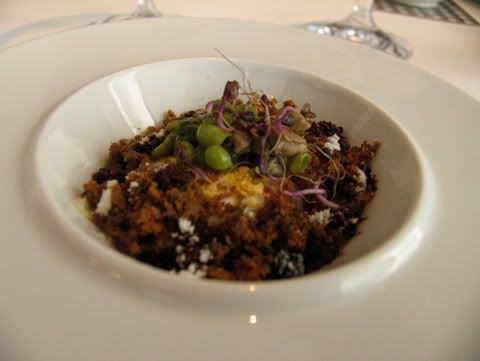 Huevo con Temblor de Tierra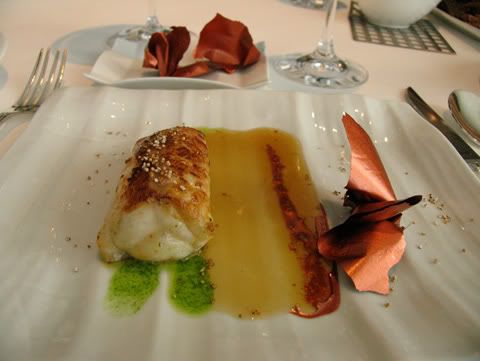 Rape Bronceado (interestingly named - "Bronzed Monkfish")...
...exquisitely textured, moist and meaty - as you can easily see.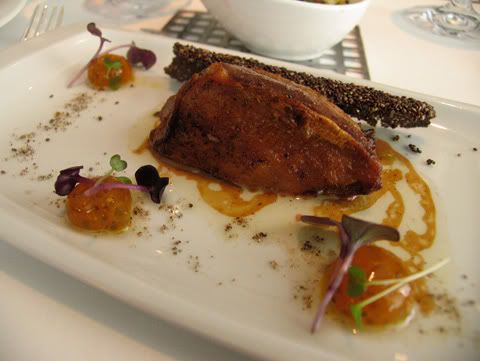 Pichón con Chia...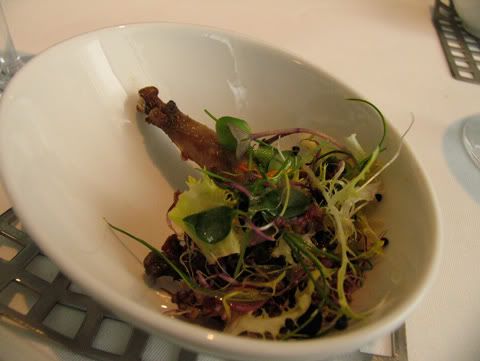 ...which came with an amazingly, refreshing pigeon salad. I'd never have thought any pigeon dish could be refreshing, as pigeon is inherently rich and oily. This, however, brightened the palate with cut and lift, yet the pigeon portion bridged and tied the flavors in precisely.
Bravo!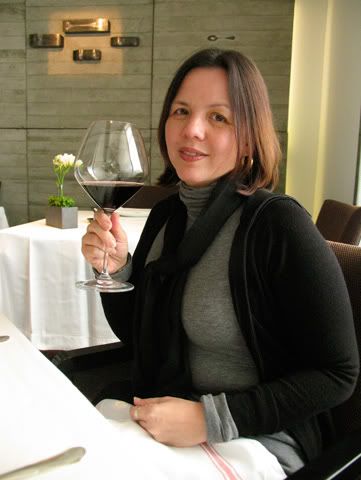 2001 Bodegas Muga Prado Enea Rioja Gran Reserva
- deep, rich, ripe, well-concentrated and extracted cherry, kirsch, raspberry, underlying blackcurrant, meatiness, infused with a hint of ceps and a healthy dose of oak and related spice notes. There is good push on the palate, the fruit is generous, but the firm structure and good acidity holds the wine in indulgent balance. Loved the pairing. I got the pairing right with this one.
As regards all the savory dishes, though the creators' (yes, plural, Juan Mª and Elena Arzak constitute a true team) creative genius is readily apparent, as well as the studied hands in masterful execution of twists and plays on textures and flavors, there remains an unmistakable...underlying?...inherent?...spiritual?...tie that binds and grounds all the dishes to the flavors of the earth. The cuisine is simultaneously modern and traditional - surprising at first, yet always comfortable and familiar in the end - and old souls such as I do appreciate that.
Jefe Juan Mª Arzak
was very visible throughout the lunch, checking on the tables and chatting with customers when he wasn't in the kitchen - mostly he spent time with the larger table behind me (that I noted had a magnum of Bodegas La Rioja Alta on the service table - I seem to recall it was a 2000 or 2001), but he did come over to chat with us a few times. He'd speak to us in Spanish and, knowing we were from the Philippines, told us that it would be but natural for us to speak Spanish, being a former colony of Spain.
Catha and I held our own barely - we could understand him, sure, but keeping up with the rapid pace of conversation was a bit difficult for me. Just before dessert, he stopped by a final time and asked if we ate well. I held his arm and answered "
Ya puedo morir
." He chuckled heartily at that.
As regards dessert, well, there were a lot of them.
Sopa y chocolate "Entre Viñedos"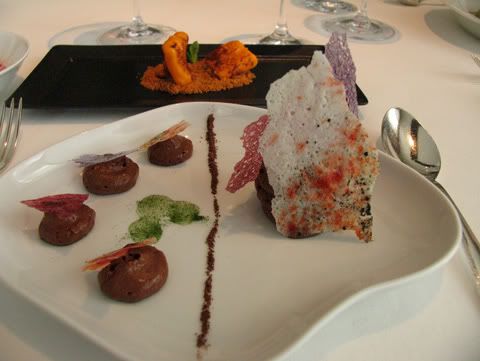 Chocolate y Cristales de Colores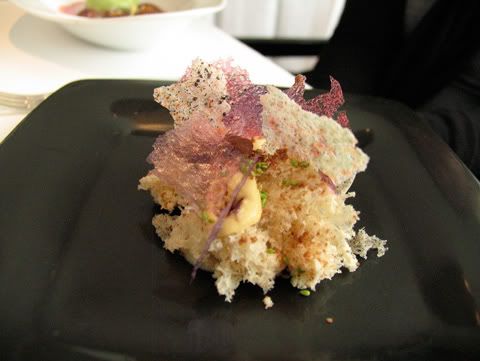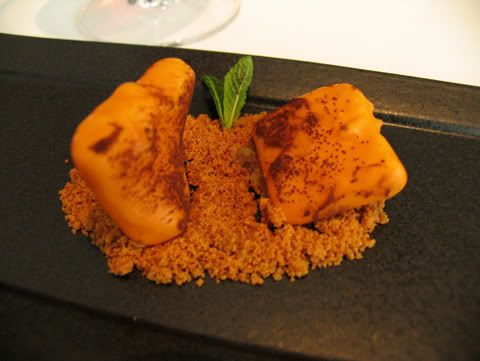 Bizcocho Esponjoso de Yogur...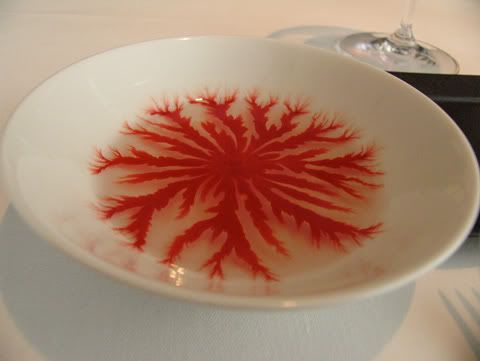 ...that came with Hidromiel y Fractual Fluido (to be drizzled over the Bizcochos above).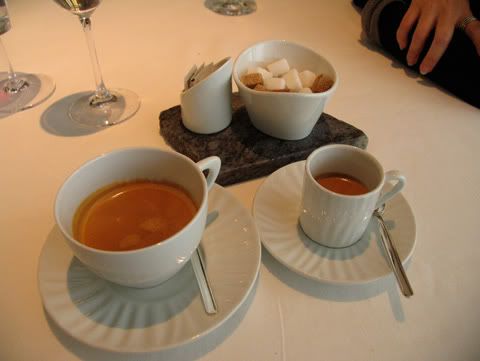 Espressos, double for me, ended the meal; or so we thought...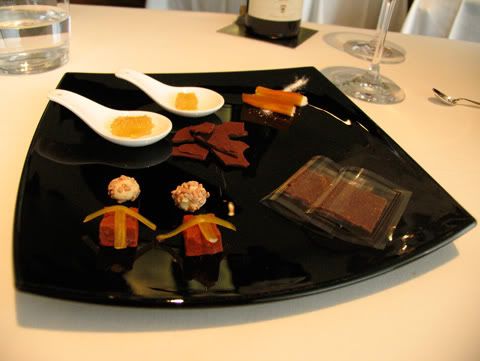 ...until a plateful of
Petits Fours
made its way to the table.
Delicious and much appreciated, but, try valiantly as we did, we barely made a halfway-respectable dent in them after such a meal. We'll be back.