After what seemed like an eternity, I was finally able to find time for another long wine lunch (it lasted for around 7 hours). Yesterday, the 2nd February 2011, Miguel had organized a lunch with some of the Usual Suspects at my favorite local steakhouse,
Mamou
. My morning meeting ended just in time for me to make the lunch. We were only 5 in all (the Stockbroker, Aaron, J-Lab, Miguel and myself) since Doc and Rene, just back from a trip to Australia, couldn't join us.
Everyone was hungry and raring to go, so we skipped all appetizers and salads and dove into 2 orders of...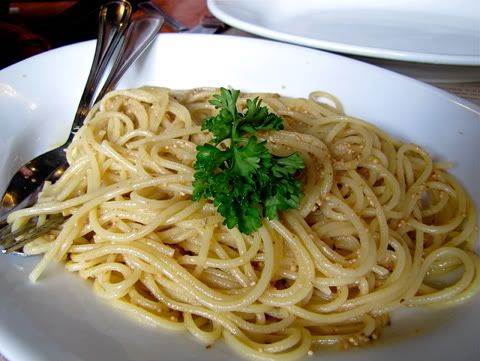 ...sinfully delicious
Spaghetti Bottarga
.
Just before that, we had some glasses of J-Lab's clean, dry and very appetite-enhancing
Ynocente Fino Sherry
and then proceeded with a Rosado with the pasta. The depicted bottle of
Elyssia Pinot Noir Brut
(from Aaron, of course) was consumed after the lunch. Aaron had brought this bright, playful, dangerously drinkable, ripe strawberry and red cherry dominated bubbly at Miguel's request. It's always nice to finish off with some bubbly.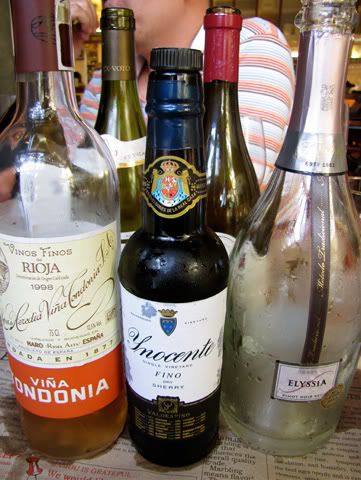 The rosado was none other than a
1998 R. López de Heredia Viña Tondonia Gran Reserva Rosado
- J-Lab's bottle, another fine specimen of this
sui generis,
enigmatic, aged Riojan rosado. Very complex, coyly rounded in the middle with more apparent fleshiness, subtle minerality and oxidation and red currant, orange peel, strawberry and wild cherry fruitiness than the last 2000 version I had (but, then, as J-Lab noted, the latter was served too cold). Everything about it said precision and balance. Excellent rosado, and its dryness and acidity made it a good match with the bottarga's creamy, subtly pungent savoriness.
Not long after came our steaks...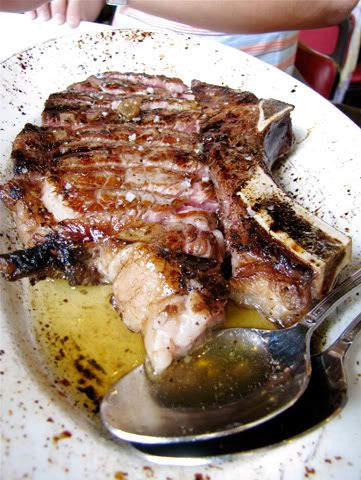 ...not less than 3 orders of the large
Dry-Aged Bone-In Prime Grade Rib-Eyes
for us. With these, we had sidings of 2 orders each of the
Creamed Spinach
and
Corn Pudding
, and, 6 orders of
Steak Rice
- 4 white, 2 red for the Stockbroker and Miguel (but Mig wound up having some of the white - plus an order of
Mamou's Bacon
as well which he and Aaron shared).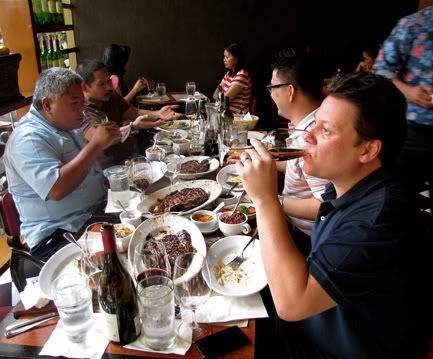 With the steaks, we had the following reds:
2006 Stags Leap Napa Valley Cabernet Sauvignon
- Aaron's bottle, decanted around 45 minutes to an hour before pouring. Lush and bold, but nicely rounded and surprisingly soft (for its youth), rich dark fruit, crème de cassis, bit of kirsch, underlying coffee grounds, slight licorice, vanilla and a hint of chocolate. Sleekly full-bodied. Tannins were big, but molten. It was an excellent, rather straightforward match for the steak - which was Aaron's plan all along, of course.
2001 E. Guigal Ex-Voto Ermitage
- The Stockbroker's bottle. This seemed marginally heftier and more concentrated/extracted than the preceding red. Firmer in structure as well. Raspberry liqueur, dense black cherry, blackberry, smoke, dashes of powdered black pepper, hint of soy sauce, underlying slight vanilla with an entertaining hit of cocoa towards the back and in the finish. This is a lavish wine. Also great with the last bits of steak J-Lab and I salvaged from the bones.
1997 R. Groffier Chambertin Clos de Bèze Grand Cru
- My bottle, not decanted, I just left the bottle open and let breathe after pouring out a half glass to send to Kiko Abad who also happened to be having lunch at Mamou that day. I saved this for last as I figured it would get over-powered by the steak (J-Lab said it stood up well enough as a pairing though).
A few notches over medium-bodied, moderately concentrated, refined, deep, very slight roasted notes to its velvety-textured ripe black cherry, dark plum, slight dark spice, old violets and just whispers of mushrooms and nostalgic decay. Lovely wine. At first I found the acidity a bit low, but, later on, it showed more backbone past mid-mouth. Nice, quiet complexity. Lovely wine.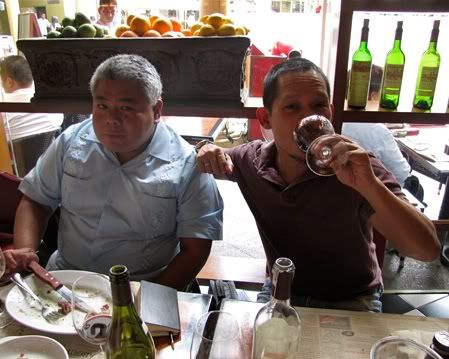 We then ordered a platter of
Mamou Grana Panado Cheese & Fuet
. With this we had...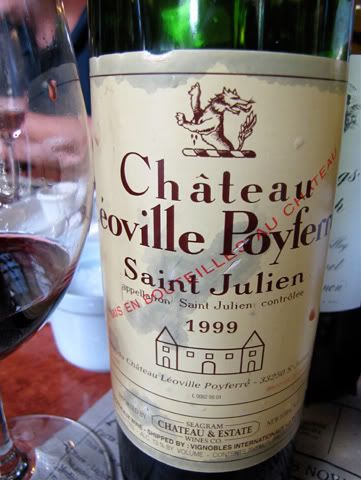 1999 Château Léoville Poyferré
- Miguel's bottle. I recall now I bought many bottles of these at only US$43 back in the 3rd quarter of 2007 - several months after having had a lot of it during a dinner at Léoville Poyferré during Vinexpo (Bdx) 2007 (they were pouring magnums of these throughout the evening). My old notes of
the 23rd November 2007 MGC dinner at Old Manila
are as follows:
1999 Chateau Léoville Poyferré - Purchased at $42.99 per bottle, served with a wonderfully juicy and tender slow-roasted milk-fed Dutch veal tenderloin, roast parsnips and fennel, lavender mascarpone and asparagus.

My old notes from June/July this year state: "The nose was a classic cassis, slightly smoky cedar and truffle oil, with just a touch of gaminess. On the palate, it had a warm, earthy richness to its moderately full body, with well-knit earthy blackcurrant/black fruit compote, cedar, slight red fruit notes mid-mouth, and, to the back, with hints of chocolate, graphite and anise."

I found my old notes pretty much consistent, save that I would now call it more "medium-bodied aspiring to full" instead of "moderately full"; the truffle nuances were very faint; and, the cedar notes seemed a bit more pronounced to the back than before.

Unfortunately, yet accurately, as noted by the MGC food master, one of the bottles was slightly corked. Oh, well, it happens.

As I said before, I say again: at the given price, it's a steal.
Surprisingly, my old notes of over 3 years ago still seem dead-on except, now, the wine is much more open, generous and lush. More of a hedonistic wine at this point. Very enjoyable.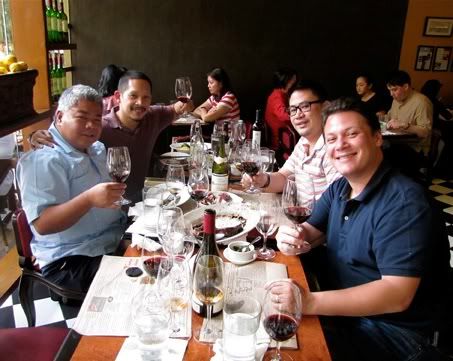 As earlier mentioned, we finished lunch off with Aaron's
Elyssia Pinot Noir Brut
to wash our palates (well, he and I got a couple of double espressos after that bottle) before heading to Romy Sia's
Wine Story
nearby.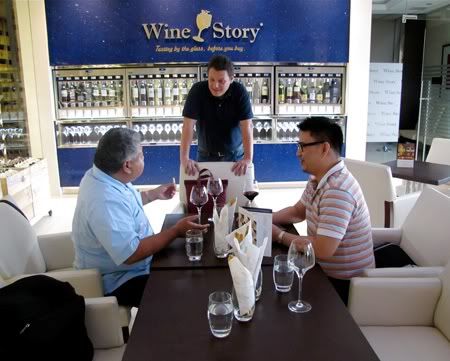 We checked out the wines there, discussed pricing as compared to what we can get them for in the US, and, thereafter, the Stockbroker treated us all to tastes of...
...
2007 M. Chapoutier Les Granits St-Joseph
from the wine-dispensing machine. We were pretty much all in instant agreement: it was badly oxidized. Miguel and J-Lab called it out - there was a lot of nail polish/acetone. Undrinkable.
In the meantime, I ordered a couple of half bottles (375ml) for us to taste.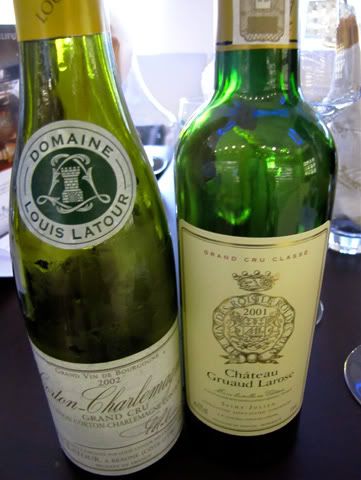 2002 Louis Latour Corton-Charlemagne Grand Cru
- Moderate toasty, slightly leesy, nutty nose with slight notes of lemon cream. In the mouth, I found it a bit unyielding and closed - giving up only some rather diffuse, slightly minerally lemon juice. I agreed with J-Lab when he said: "Much more interesting in the nose than on the palate".
2001 Château Gruaud Larose
- I recalled buying a bunch of the regular bottling back in early 2007 for a song, and remembered it to be a difficult, hard, tannic monster when I tried it back then (if I'm not mistaken, I gave away those bottles). I figured it would be good to try it again now. Still a bit young and tight on the palate, though the nose is starting to show rather well with a hint of animal/gaminess to the somewhat sanguine, spicy dark fruit, cassis, black cherry, licorice, herbs and slightly smoky wood. There is great structure in this, however, and I think this wine has excellent potential.
The Stockbroker then took his leave, while the rest of us lingered and, shortly, thereafter, strolled down to
CAV
for a bottle more "for the road". Of course, we had to have a little pica-pica to go with it.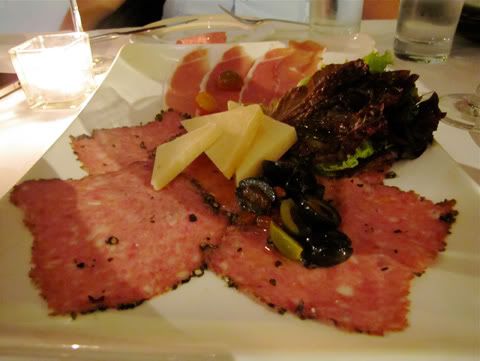 With this, we had another bottle of bubbly to wash our palates anew for our respective dinners at home.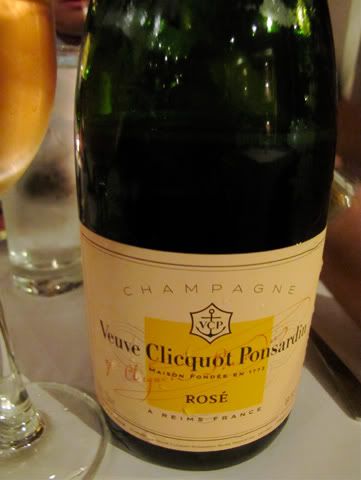 Champagne Veuve Clicquot Ponsardin Rosé
- Bright, lively, straightforward and simple, but very enjoyable rosé bubbly. At a mere P2800/bottle at CAV, this is extremely well-priced. Too bad their regular NV Brut has been so bad the many times I've been served it over the past 2-3 years. It is always so aggressively citric, linear and tightly-wound (J-Lab, our group's bubbly expert, agreed with me on that). The NV Brut used to be decent enough many years ago. I wonder what happened. Well, in any event, the NV Rosé is still quite nice and enjoyable.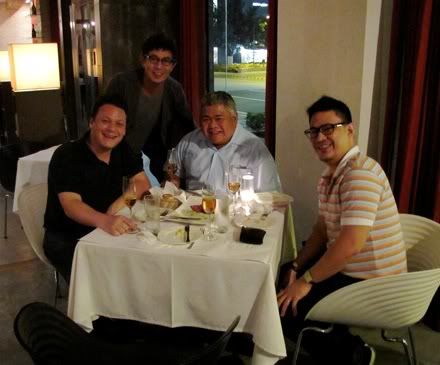 Cav's proprietor and fellow IWFS member, David Ong, popped in, came over to say "hi" and have a quick chat. The rosé bubbly didn't last long, so we all headed home after that. What a great day, I'd been dying to have another long wine lunch - and that, indeed, I got.