Regular readers know that our little group of winos frequents La Tienda for
Chef Javi Lecumberri
's authentic Basque cuisine. Javi hails from global culinary Mecca - San Sebastian (called "Donostia" by the Basques) - which has more Michelin starred restaurants than any other town or city in the world - London, Paris and Tokyo included. Lucky us, Javi brought some dry-aged chuleton back from San Sebastian and generously shared and cooked some for us for today's lunch at home, the 20th February 2011.
Miguel organized the lunch, we were 11 in all with Javi, Tito Kiko Vecin, Miguel & Ria, Aaron & Jo, Catha, myself and our 3 boys.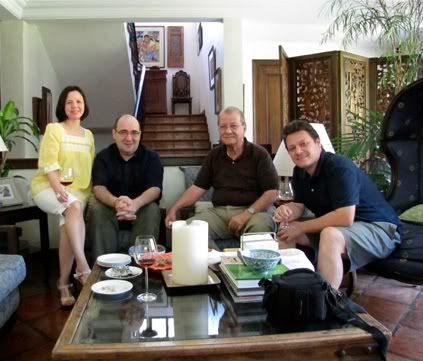 Catha, Javi, Tito Kiko Vecin & Miguel.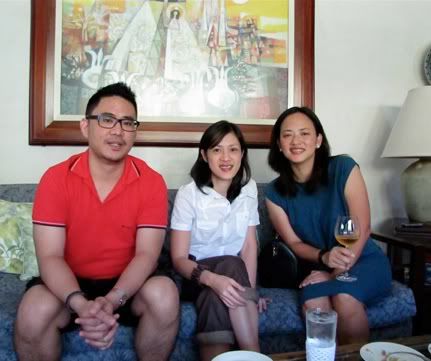 Aaron, Jo & Ria.
Naturally, with Javi, Tito Kiko and Miguel around, the meal revolved mainly around the food and wine of Spain. To enhance our appetites, we started off with: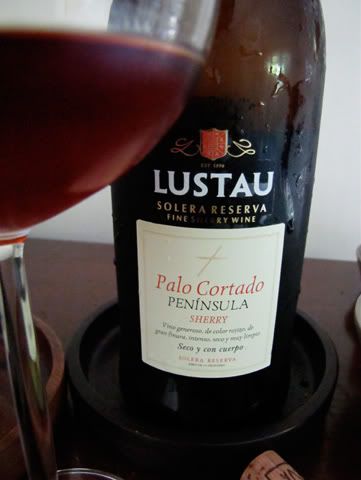 Bodegas Emilio Lustau Palo Cortado Península Sherry
- Miguel's bottle which he brought back from his last trip to Barcelona. Complex with slight rancio, nuttiness and hints of lemon peel towards the back and in the finish, this is dry and has heft and body approaching an oloroso. Loved it and had to really hold myself back from having a third pour since we had many bottles on deck. With this we had...
Duck Liver Pâté
that Catha bought in Logroño, a platter of assorted olives,
Chorizos
and
Gildas
, the
guindillas
and anchovies of which Miguel brought from his and Ria's last trip to San Sebastian.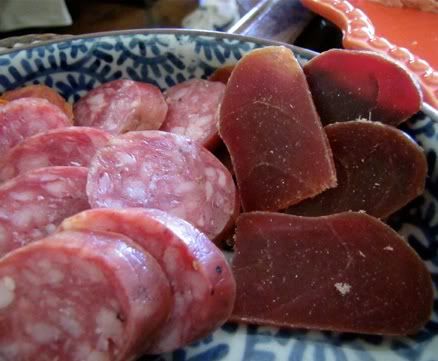 On the right is sliced pressed tuna that Miguel & Ria brought from Spain. Per Miguel, this is called "
Mojama
" - think of bottarga but with the fish flesh and not the roe, with a much subtler flavor. With this, I opened a bottle of...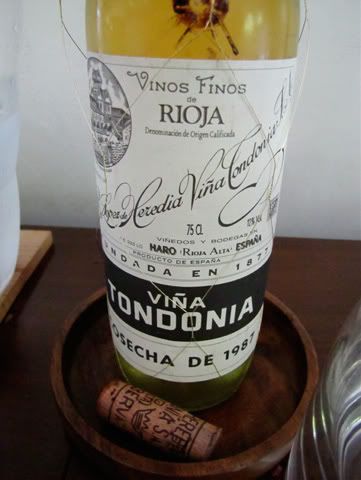 1987 R. López de Heredia Viña Tondonia Gran Reserva Blanco
- My bottle, one of the wines Aaron and I import in our little aged Riojan wine venture. I decanted this and stuck the decanter in a wine bucket of lightly iced water for around 30 minutes and took it out to reach proper temperature around 15 minutes more before serving (
the last one I opened with Miguel A. during a lunch at Ciçou
I mistakenly served too cold). Textbook very dry, food-friendly López de Heredia style showing hallmark oxidative notes to its subtly complex white flowers, lavender, slightly minerally lemon drop, almond skin and a whisper of clove. Lovely with the pica-picas and it does open up the palate.
As I said before, this is a very particular style that, I think, requires a more experienced palate to appreciate. It is definitely not for those who look for fruit forwardness. Javi and Tito Kiko expressed their admiration for this wine, and, of course, Aaron and I loved it too (or else we wouldn't have chosen to import it). Miguel mentioned he has the 1991 vintage of this wine at home and that we should try it sometime soon. I certainly look forward and will hold him to that.
After chatting a while, I realized it was way past noon and so checked if all was in order in the kitchen for Javi to execute his chuleton, of which he brought 3 huge slabs. I'm talking Flintstones-sized hunks of dry-aged meaty goodness.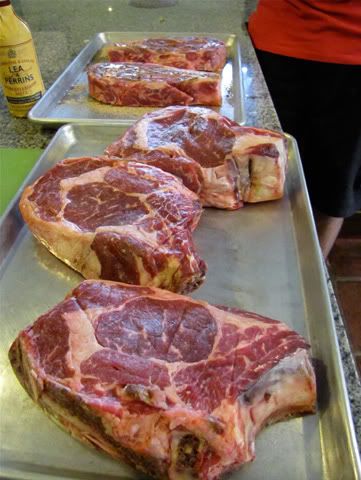 For size reference, in the background are a couple of US Prime Grade Rib-Eyes sliced 1-½ inches thick (I got them from Säntis) that were pitifully dwarfed by the chuletones. They looked scrawny beside the chuletones.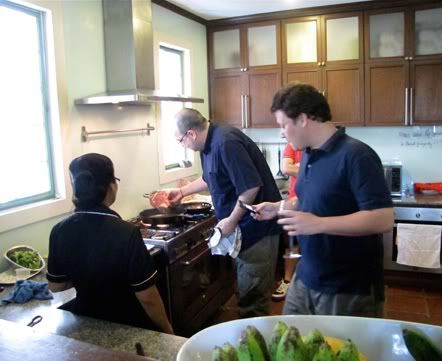 Javi gets busy in our kitchen. Aaron (partially hidden), Miguel and our cook watch intently.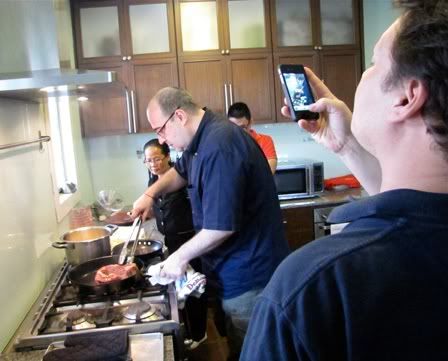 Chuleton veteran that he is, Javi made cooking the slabs look absolutely effortless.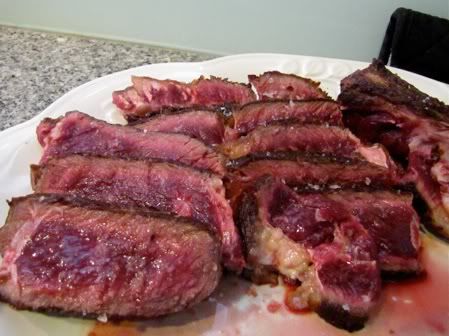 And there you go: real deal
Chuleton de San Sebastian
, perfectly rare as it should be. It would be a sin to have meat of this quality any other way.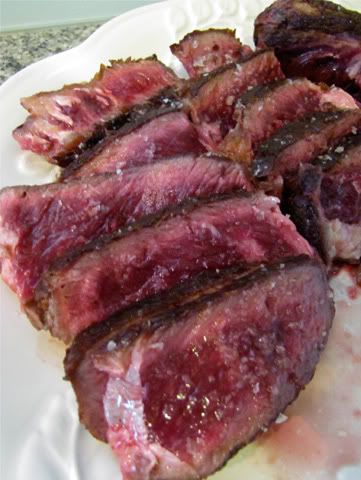 Res ipsa loquitur
, as we lawyers say: the thing speaks for itself.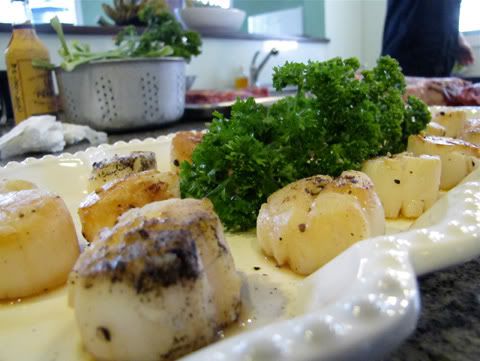 We also had some
Pan-Seared Scallops
.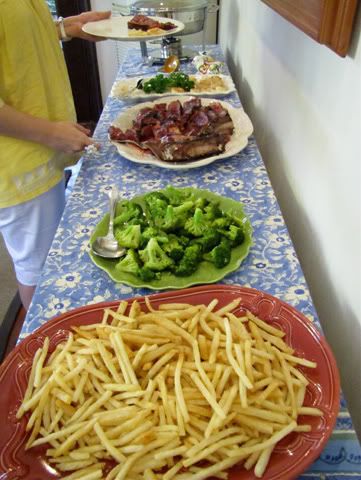 Aside from these, we had a nice
Tomato Soup
and the
Salad of Mixed Lettuce, Toasted Pine Nuts, Freshly Grated Parmesan Cheese and Parma Ham with Mustard, Champagne Vinegar & Honey Dressing
that Catha made (the recipe created by Tad & Chako). With the chuleton, we, naturally had to have some excellent Spanish reds.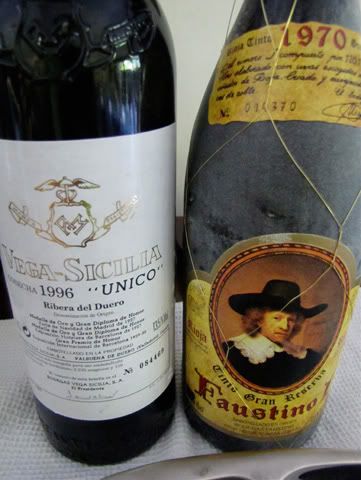 1996 Vega Sicilia Único
- Aaron's bottle. I had this last
almost 3 years ago during a dinner at Terry's in honor of visiting Vega Sicilia owner-director, Pablo Álvarez
, so it it was a treat to get to have it again. My notes then were as follows:
1996 Vega Sicilia Único - This was an obvious choice for the red wine of the night. I'm sure that nobody there present would disagree. It's depth, complexity and structure were what struck me the most. Both serious yet vibrant, extremely masculine yet very refined; after 12 years, it has decades of life ahead. Earthy cassis, blackcurrant, violets; with slight, pure strawberry/raspberry highlights. There are also nuances of cedar, leather, iron and, towards the rear, whispers of dried thyme and menthol - violets and cedar trail on the long finish.

I also detected truffle and animal notes, but I'm not sure if those those came from the wine or the aged Manchego soufflé's pungency (maybe both, in varying degrees). Either way, the pairing was a study in earthy indulgence and contemplation.

As I savored this wine, trying to commit every detail deep in memory, I kept hearing JC's voice in my head saying: "Typicity, typicity". A contemplative wine, indeed. One to ponder life's mysteries over.
Almost 3 years after, all I can add is that was more open but still displayed its formidable structure, depth and complexity, as well as a smoldering power and a promise of even greater things to come. Wonderful now and will be even more wonderful in many years to come. There were no pungent/animal notes this time. It was the aged Manchego soufflé interfering last time for sure.
1970 Bodegas Faustino Faustino I Gran Reserva
- Sent by the producer to Aaron and I for tasting and enjoyment; this came straight from the producer's cellars. I've mentioned before that, in my experience with well aged, fine tintos Riojanos, save for the gentle, sweetish balsamico notes, they tend to develop into dead ringers for fine, aged Burgundy (e.g., 1964 Faustino I Gran Reserva, 1974 Contino Reserva, and, per the Stockbroker and Eric R., the 1976 López de Heredia Viña Bosconia Gran Reserva). This was no different.
The bouquet was refined and quietly confident with notes of age-sweetened balsamico, Spanish cedar, faint pinewood topnote, seamless essence of black cherry, raspberry, strawberry and underlying dark plum, violets, very discreet dried herbs, slight red spice. Medium-bodied and silken. An elegant wine, similar to the 1964 version, but not quite as long in the finish and marginally lighter in frame. In itself a great treat indeed. Aaron and I, tentatively decided to import this depending on the producer's price. In my opinion, beautiful as it is, it shouldn't command the same price as the 1964 version.
2002 Domaine Annick Parent Pommard 1er Cru Les Rugiens
- My bottle, the lone non-Spanish wine opened during the lunch. I just wanted to see if this Pommard could stand up to the chuleton. Well, it couldn't. Worse, I made the mistake of serving this right after Aaron's 1965 Único. Charming enough as it was, it was hopelessly overshadowed by both e meat and the wine. Initially restrained and comparatively thin, this opened up and gained heft after around 20 minutes in the glass. Rustic, ripe black cherry, bit of dark spice, dark raspberry, slight violets and underlying loam with a pine needle topnote. Decent enough on any other day; but, today, it was hopelessly outclassed. I'll have to try this again some other time with some simple rack of lamb or magret de canard.
Dessert was
Yulo's Coffee Crunch Cake
and, with espressos, some delicious, thin chocolate-orange crisps (shaped like small Pringles potato chips) that my second son discovered in the grocery. Javi and Miguel really liked those crisps. We eventually wound up at the patio, chatting and smoking. Tito Kiko and Javi took their leave at around 4pm to head back to Makati. The rest of us lingered until 6pm and finished off with a nice bottle of vintage cava.
2005 Segura Viudas Torre Galimany Gran Reserva
- Aaron's bottle, of course. Very pleasant, charming and easily approachable, this is a gentle, mellow, softly yellow-fruited wine with slight lemon custard, lime, faint almond-vanilla-biscuity notes. Very easy to drink a lot of. We were all very full by then, however, and could manage only a glass each.
What a great treat this lunch was. Miguel and I had been reminiscing about San Sebastian every so often, wondering when we could make our ways back there. Well, thanks to Javi, San Sebastian paid us a visit today. ¡Un millón de gracias, Javi! ¡Hasta la proxima!