Friday night's drinks with Santi, Miguel, Mike, Ramon, etc. at the Camahorts' left me with a
slight
hangover (must have been the tequila shots as I didn't have that many beers). Thus, today, the 5th January 2011, I just took it easy and ate relatively light. Too lazy to drive to a dinner out, I decided to just order some Japanese food - which presented the perfect opportunity to try out the 650ml. bottle of Rogue Morimoto Soba Ale that Jimmyton sent me as a "bonus" with the last case I ordered directly from
Global Beer Exchange
.
This ale, as I understand, was created in collaboration with Iron Chef Masaharu Morimoto. I had it with some
Uni Sushi
and
Tempura Soba
.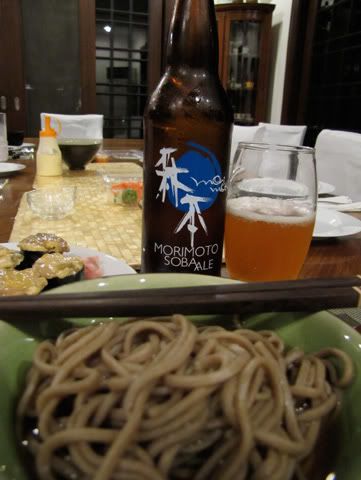 Rogue Morimoto Soba Ale
- This ale is a bit cloudy compared to most others I've had. It smells like rice washing, sourdough, bit of off-dry citrus and hops. On the palate, it is very easy to drink, somewhat mirroring its nose, with added suggestions of slight maltiness, nuttiness and a mere whisper of milky oatmeal. It comes off sweetish and sourish - not unlike sushi rice - which, I felt made it go quite well with the
uni
's creamy nuttiness.
It has a a degree of freshness and brightness that refreshed and cleansed the palate with the
uni
. Somewhat light and casual, there is, however, a bit of complexity (but not much). Nice enough, Id keep a few bottles at home for when I decide to order Japanese again. Very reasonably priced at P450/bottle (650ml).
Thanks, Jim.