Dinner of Tuesday night, the 8th February 2011, was an extra-special IWFS event: a Kaiseki Dinner by visiting chef
Hiroyoshi Amano
, chef-proprietor of Yashima Restaurant (Oshino Village, Yamanashi Prefecture, Japan) at fellow IWFS member Kuni Munetomo's
Furusato
along Roxas Boulevard. The dinner was organized by IWFS/Usual Suspect/good friend Keiichi Miki. Regular readers may recall Chef Hiro-san as one of the members of Japan's Team Panic who caused some "shock and awe"
when they first visited and introduced the Usual Suspects to "Panic Wine Tastings" at Je Suis Gourmand almost a year ago
.
At the subject dinner, Hiro-san, together with Sous Chef Hisashi-san, brought all the ingredients, plum wine, sake and the Koshu wine over from Japan. Kuni-san kindly allowed them full run of Furusato's kitchen, as well as the able help of his cooking staff.
Kuni-san, Bernie Sim & Bill Stone .
Catha & I arrived at around 7:30pm (most everyone was already there, we were approximately 45 diners in all) and were greeted by a glass of ice-chilled...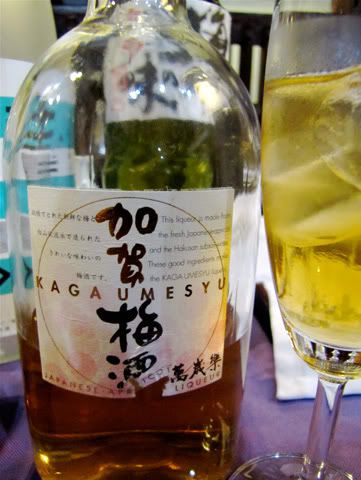 Manzairaku Kaga Umesyu
- a very nice, sweetly ripe Kaga Plum liqueur from Japan. According to Keiichi's better half, Christine, this is "a plum wine voted number one by the Nikkei Shimbun (Japanese Economic Journal)". I can understand why, it was a very pleasant, easy to like, very accessible apéritif.
R-L: Keiichi, Vince, Catha & Yuki Joye.
After greeting everyone, taking my assigned seat (with Usual Suspects Keiichi, the Stockbroker, J-Lab, Vancouver Vince, Richard, etc.), I proceeded taking some photographs to document this momentous event.
Hiro-san (middle) hard at work with our appetizer course.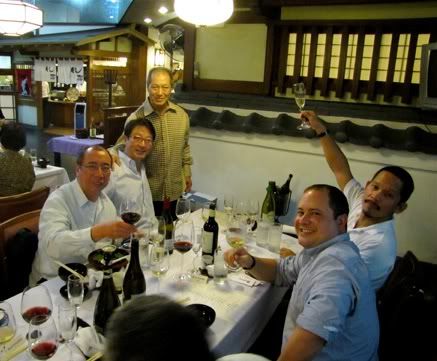 L-R: Vince, Keiichi, Bernie, the Stockbroker & Rene, Jr.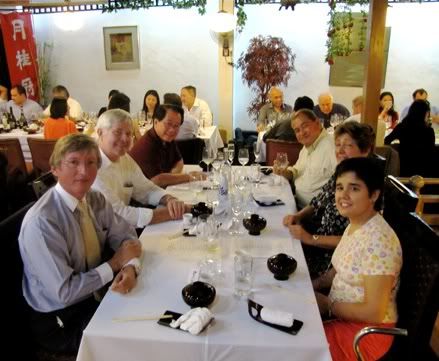 Othmar Ober, Dieter Lonishen & Dong Puno with Rene, Sr., Tita Miren & Mara Fuentes.
Robert Burroughes, Lawrie Martin & Sr. Don Sunny Garcia.
Bernie, as IWFS President & Wine Master, made the opening remarks, welcomed everyone and,...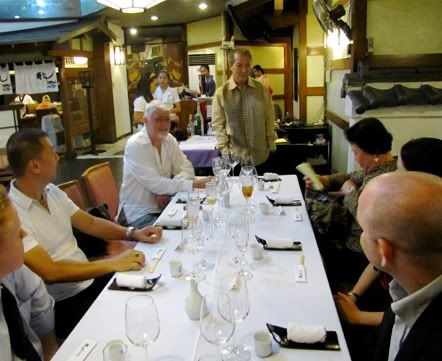 ...thereafter, turned the floor over to Keiichi for the background of the night's event and menu.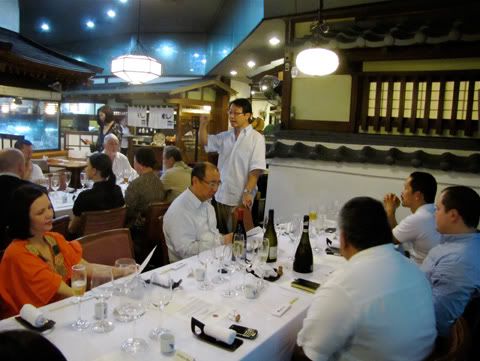 The Menu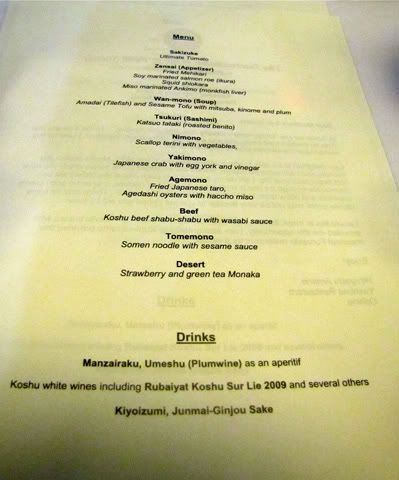 Dinner started off with a single, beautiful, fresh and succulent Japanese tomato...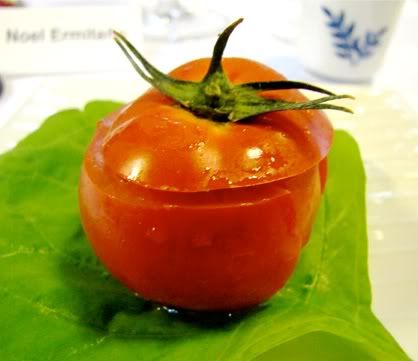 Keiichi mentioned that Hiro flecked it lightly with something, but I cannot recall what it was...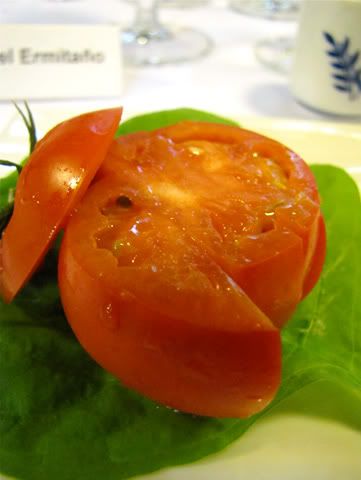 ...suffice it to state that it was beautiful in its honest simplicity - and an excellent palate opener.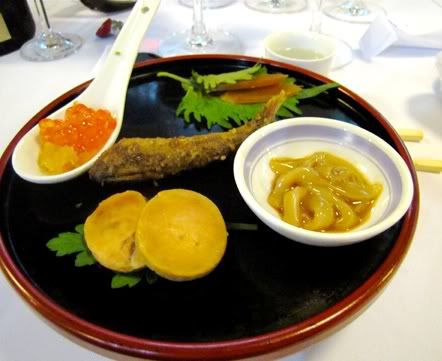 Sakizuke Karasumi on Daikon
(Japanese bottarga on radish) with the
Zensai
(Appetizer) Platter of
Fried Mehikari
,
Soy Marinated Salmon Roe
(Ikura), S
quid Shiokara
&
Miso Marinated Ankimo
(monkfish liver).
The ikura was superb - not gooey or gluey or too salty like what is usually served in Manila - rather, every egg was a separate, individual burst of the sea's goodness. The Japanese "bottarga" (top of the plate) was sublime and paired beautifully with the sake. The monkfish liver (the two circles at the bottom of the plate) were unbelievably good (I can't help but think that it is Hiro's delicate spin on
foie gras mi-cuit
) - and also superb with the
Kiyoizumi Junmai-Ginjou Sake by the Kusumi Sake Brewery
. I drank this excellent pairing sake throughout the meal and stopped only when the supply ran out.
In between courses, however, I did have some wine - one of which was...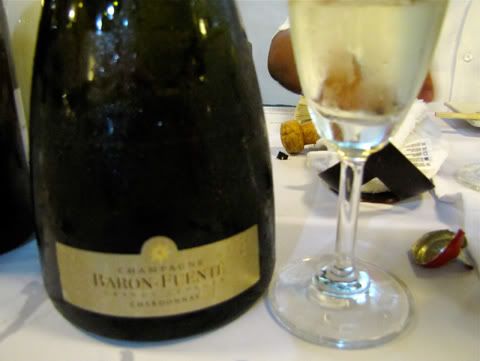 Baron-Fuenté Champagne Chardonnay
- J-Lab's bottle. Mildly toasty, fair depth and complexity, good brightness and nicely rounded, mildly creamy middle. I recall notes of green apple, pear, slight white citrus and a nice creamy-nuttiness mid mouth and to the back. J-Lab distributes this champagne through his Wine Steward; those interested may contact him at jaylabrador.winesteward@gmail.com; Mobile: +639189241642.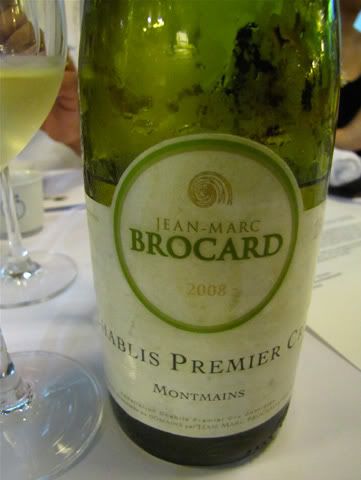 2008 Domaine J-M Brocard Chablis 1er Cru Montmains
- from the Stockbroker. This is locally available his
Premier Wine Exchange
. I've liked the wines of Domaine Brocard ever since I visited the winery and tasted through their wines back in July 2006. Their 1er Crus Montmains and Montée de Tonnerre are my favorite bottlings. This 2008 Montmains is excellent in its typical oyster shell, cold stony notes to its well-focused, apple, clean white mineral and white flowered base. Definitely a lovely Chablis - tons of charm, good cut, typical and easily approachable.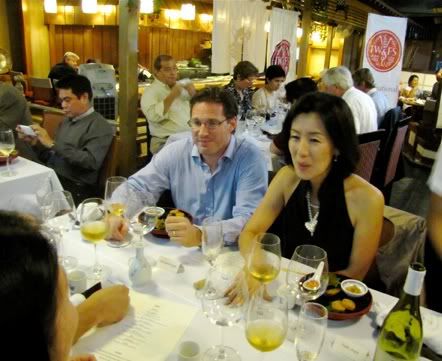 Richard & Yuki Joye.
Christine Miki with guests Terrence and Adrian.
The
Wan-mono
(Soup) Course
was a pristine and comforting
Kujira Tofu and Hamo Shinjo with Mitsuba, Yuzu and Plum
. Simple yet complex and singularly harmonious. Words fail - I loved it. You just had to be there to know just how good this was.
In the meantime, bottles of reds had been opened to let breathe.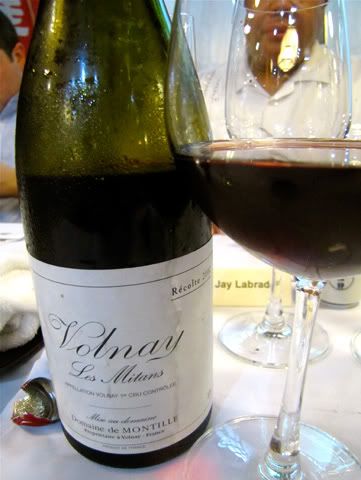 2002 Domaine de Montille Volnay 1er Cru Les Mitans
- My bottle. Not decanted, rather opened, poured and aerated in glass. Initially moderately restrained, it opened and fleshed out nicely after around 35 minutes displaying scents of sweetly ripe black and red cherries, some raspberry, underlying dark plum, with topnotes of sous bois, violets and slight decay. In the mouth it was just a notch or two over medium-bodied, precisely concentrated, slightly lush, with a healthy backbone and acidity. Good depth and definitely a pleasure to drink at that point, if obviously still young.
Thereafter, at around an hour or so, it began to shut down and stayed that way. J-Lab noted, however, that the remaining wine in the bottle was still showing well enough. I poured the rest for Dong and Rene, Sr. I'd say try this again after 5-7 more years.
Rene, Jr. dutifully pours for his parents' table.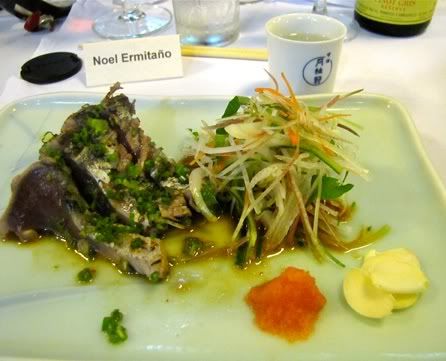 The
Tsukuri
(Sashimi) Course was
Katsuo Tataki
(Roasted Bonito). What I remember most aside from the delicate breath of smokiness was the seductive, meltingly yielding texture with just the right bit of initial resistance. The combination of flavors were seamless, and, again, subtly graceful.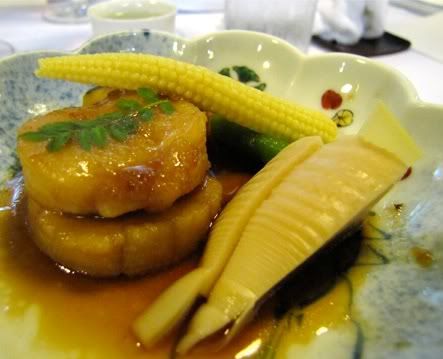 Next was the
Nimono
Course of
Scallop Terini with Chasen Nasu (Eggplant), Pumpkin Umani & Gobou
. This was one Catha's more memorable dishes of the meal, especially the masterful blend of sweetish-and-savory scallop and pumpkin flavors. The young corn and what is undoubtedly the most beautiful piece of taproot I have ever eaten.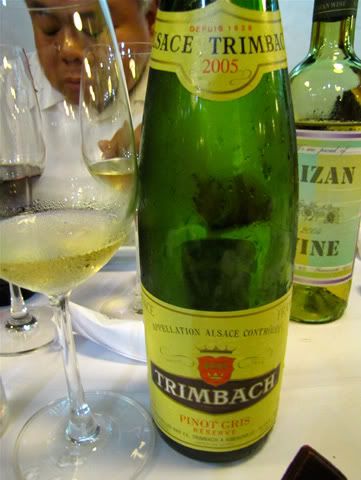 2005 Domaine Trimbach Pinot Gris Reserve
- I can't recall whose bottle this was, but I think it was Rene, Jr.'s. Very nice, proper, dry Alsace pinot gris - not at all surprising from Trimbach. Neat, everything in its place. The fruit played nicely with the pumpkin's notes in the immediately above-mentioned dish. Nice pairing.
Catha & I.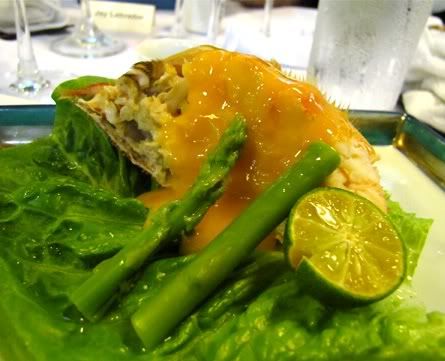 The
Yakimono
Course followed:
Fuki Miso Dengaku
. Per Christine, the calamansi was the only local ingredient used the whole evening. Loved the fresh asparagus.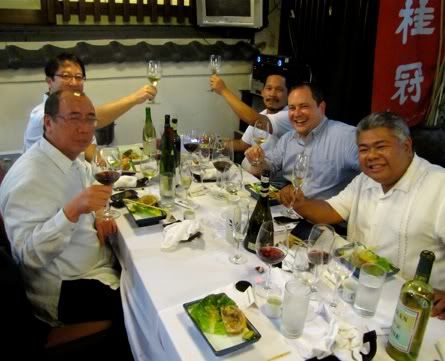 Cheers from Vince, Keiichi, the Stockbroker, Rene, Jr. & J-Lab...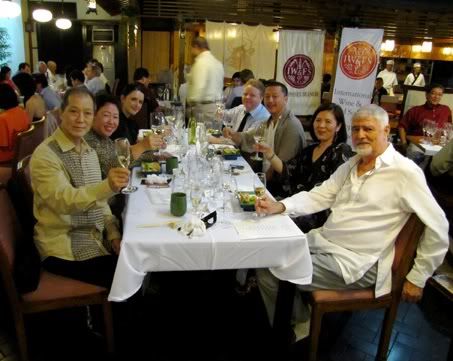 ...and another from Bernie & Lucy Sim, Mike Whiting, Louie & Maritess Lee and Bill Stone.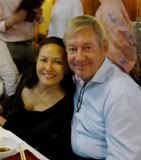 Next up was the
Agemono
Course of
Fried Japanese Taro, Agedashi Oysters with Haccho Miso
. Another particularly memorable dish for Catha and I. The oysters were simply divine - their juicy freshness just burst in my mouth after the gossamer crunch of the perfectly executed (potato starch?) crust. The taro added an earthily-sweetish-nutty textural counterpoint, while the haccho miso just tied everything together perfectly (at right are Manfred & Chinggay Rode).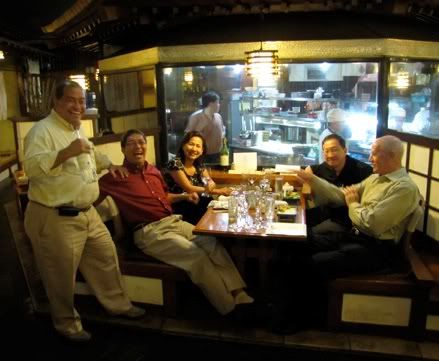 Rene, Sr. table-hops.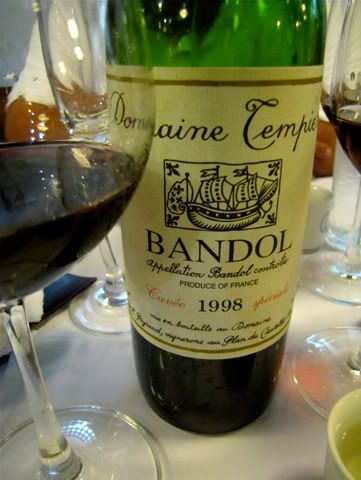 1998 Domaine Tempier Bandol Cuvée Spéciale
- The Stockbroker's bottle. Such a ruggedly handsome, earthy wine. Moderate sanguine, animal/meaty and
garrigue
notes lace full-bodied, rustic, concentrated mourvèdre. Powerful, muscular, concentrated but smooth, neither brash nor overbearing. Admirable balance. Loved it.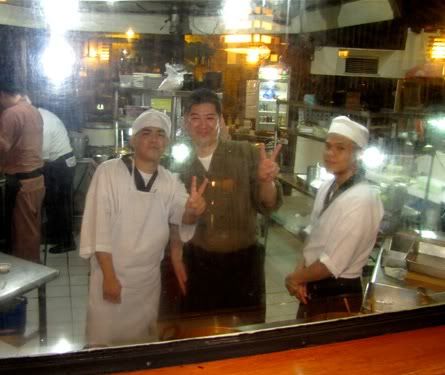 Hiro-san mugs through the glass.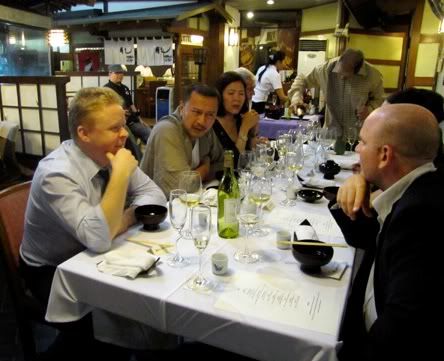 Louie looks to be listening in on a deep wine or food (or both) discussion.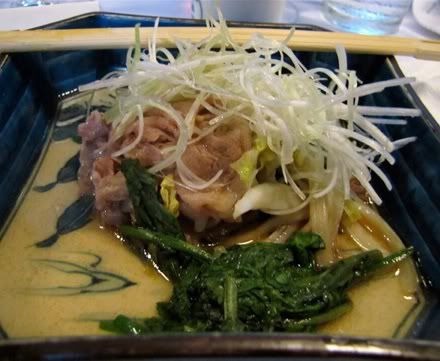 Our meat course was
Koshu Beef Shabu-Shabu in Sukiyaki-Style
. Simply beautiful and so comforting. Hiro just let the quality of his ingredients shine on center stage. It was a supreme effort to savor this slowly, thinking about the flavors, and not gobble it up in a trice.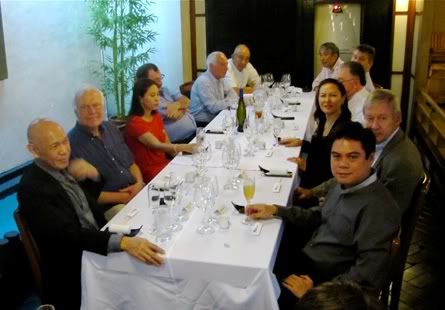 Kuni-san's long table.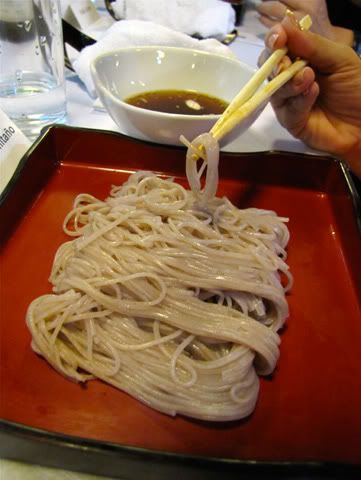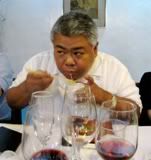 The
Tomemono
Course was
Cold Chestnuts-Flavored Somen with Sesame Sauce
. Simple yet complex, comfortable yet thought-provoking, filling yet refreshing. The chestnuts' nuttiness inside the noodles was definitely a nice touch. J-Lab absolutely loved this dish. I was already quite full and could manage only a third of mine; J-Lab happily - and completely - polished off the rest.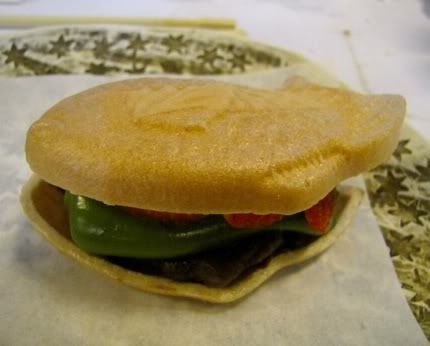 Dessert was a
Strawberry Monaka
- a little "sandwich" of fish-designed
mochi
wafers filled with sugarless green tea cream and strawberries. I really should've taken an open-faced shot as the colors inside were captivating. On that note, Keiichi formally presented the Man of the Evening...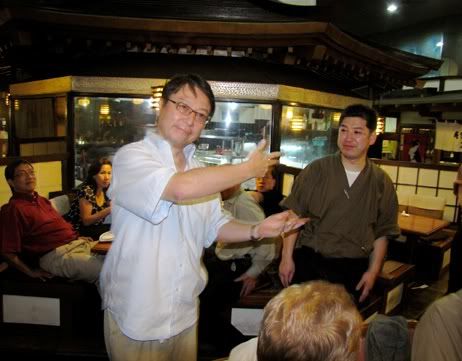 ...who deserved all the applause and accolades he received from the most appreciative crowd...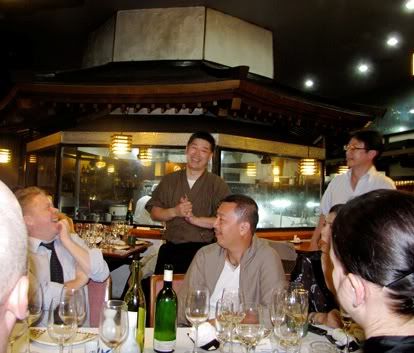 ...as well as a special bottle from Bernie as a token of deepest appreciation and highest regard.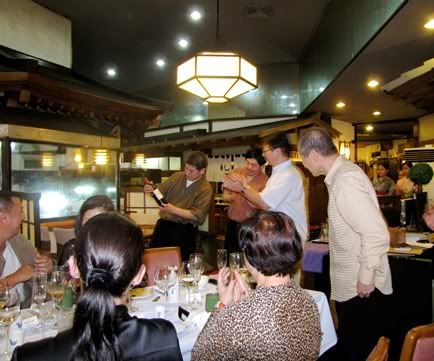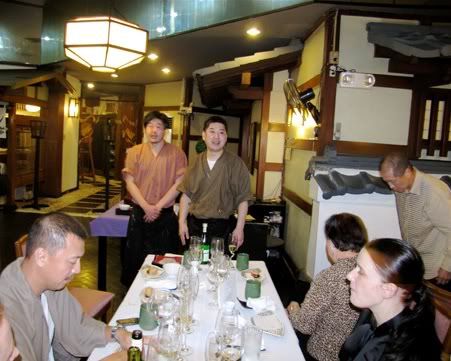 Hiro-san & Hisashi-san.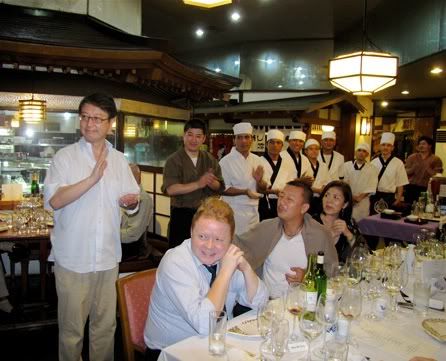 Another round of applause again erupted, this time for Kuni-san for generously having us over at his restaurant for this rare evening...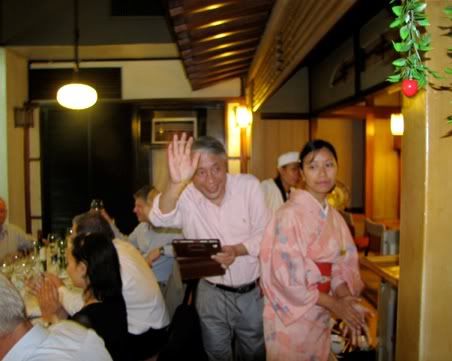 ...which Kuni-san, humbly and quietly acknowledged.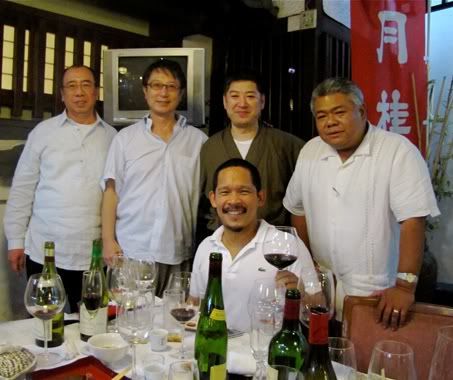 The Man with the Suspects.
I had gotten up to start arranging my things for departure - that is, until Hiro-san called:
"Noel-san! Panic time!!!"
This was precious - Hiro must have been so very tired cooking so many courses for so many people, yet he couldn't resist giving us one parting panic attack. For those not familiar, "Panic Wine Tasting" is an incredibly fun, challenging and humbling sudden-death totally blind wine tasting game/session that Hiro, Keiichi and the other members of Japan's Team Panic engage in regularly back home. One is given barely a couple of minutes after being given a glass to guess what the wine is - vintage, country, appellation and château (if Bordeaux).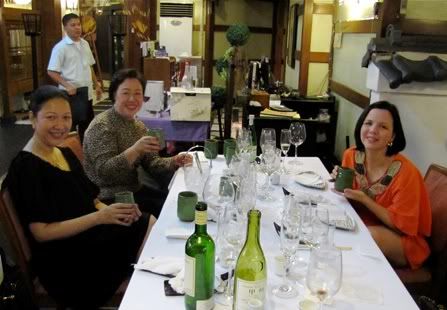 Ready to leave, Christine, Lucy & Catha gamely waited for us to have our last bit of fun.
I tried my best with the slightly pungent and warm wine given me - cedary, sweet, wet tea leaves, cassis, red cherry, raspberry, violets, slight loam, bit of gravel, wood spice, medium-bodied, slightly diffused, with a bit of heat. I called it as an '88 Talbot. I distinctly remember the Stockbroker calling it out as a left-bank from 1990, but it didn't seem fully-fruited or sweetly ripe enough for me. It turned out to be a...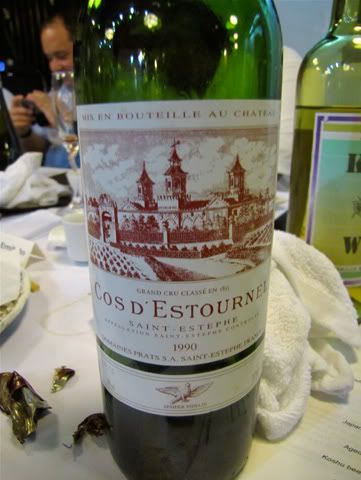 1990 Château Cos d'Estournel
.
Needless to state, nobody got it correctly, the closest guesses being Rene, Jr's as "St-Estèphe" and the Stockbroker's call as "1990 left bank". Hiro stumped us all again!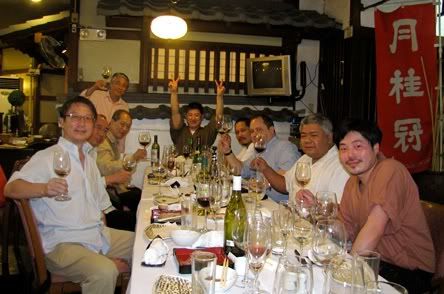 A million thanks, Hiro-san! I hope to see you again soon in Tokyo! Be assured I will bring a couple of panic wines! Until the next!