A while back, Ayala Land, Inc. big potato, Vancouver Vince, proposed that the Usual Suspects revisit the once famous
Prince Albert Restaurant of the Hotel Intercontinental
. Most all of us, myself included, used to eat there with our parents, and Miguel and Greg even proposed to their respective wives there. I, personally, though, had avoided Prince Albert for the past 3-4 years because the last few times I ate there proved most disappointing. However, Vince was quite persuasive and we all agreed to give it another shot.
Consequently, Wednesday the 16th February 2011, 8 of us winos met at the
Prince Albert's
Carlos P. Romulo Room
for a wine lunch. Vince made all the arrangements. The hotel's F&B Manager, Laurent Casteret welcomed us there personally.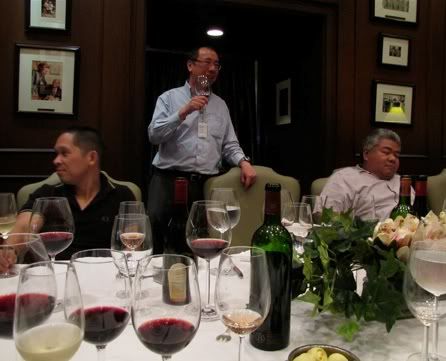 The Stockbroker and J-Lab (seated) flank Vancouver Vince, our lunch's impresario.
At J-Lab's suggestion, we didn't have a special menu prepared, the acid test being the a la carte menu. The kitchen staff had to be on its toes since they had no idea what we would be ordering...well,
almost
, since Miguel and Richard, through Vince, requested for
Steak Tartare
(no longer on the menu).
No wine theme - we just all brought what we felt like bringing - and started off with...
2007 Domaine Tempier Bandol Rosé
- Miguel's bottle, purchased at Laviña in Barcelona as the currently available vintage in Manila is 2009. I've written countless times about this wine, especially their vintage 2007. It is no secret that Tempier's is, by far, my favorite rosé. Let me just say that this is a serious rosé - not in terms of atypical girth, weight or muscle like, say La Rosée de Pavie, but because of its hallmark structure, finesse, elegance, precision, purity and balance. The 2007 ahows masculinely as ever, with its garrigue notes prominent in its fruit. Excellent. I can still drink this all day.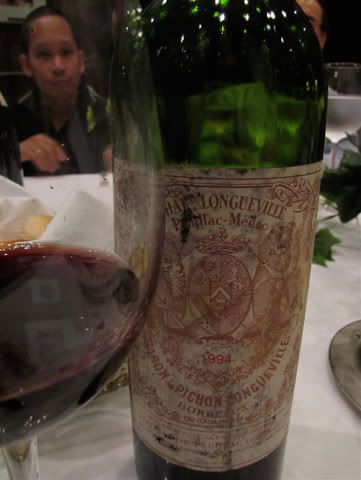 1994 Château Pichon Longueville Baron
- Richard's bottle. Mushrooms, leather, cedar, some wet tea leaves, cassis, violets, warm asphalt and some underlying black cherries. Very advanced for its age, this bottle was somewhat tired, but provided a good glassful of wistful nostalgia which I appreciated with memories of meals past in Prince Albert with my family.
Our first course arrived in short order. Mine was
Pan-fried U.S. Scallops Salad with Greens, Balsamic Olive Oil and Leeks Wrapped in Bacon
(P1150). The scallops were juicy and pillowy soft with definitive flavor. What was wrapped in bacon was asparagus, not leeks (though there was a bit of the latter beside it). Very nice salad - it is something I would order again. With this, I had 2 whites: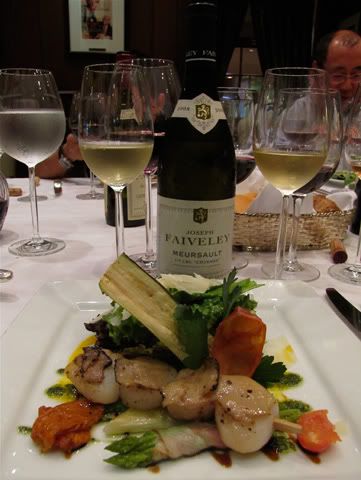 2008 Domaine J. Faiveley Meursault 1er Cru Charmes
- The Stockbroker's bottle, one I was very happy was there to pair with my starter. Broad, intense, lushly fruited with ripe red apple, peach, topnote of orange blossom essence, slight almond-hazelnut-creaminess, whispers of nutmeg and clove, just a touch of minerality. Very enjoyable and easy to like - which I did from the get-go. Excellent. This is available at
Premium Wine Exchange
for P4300/bottle at full retail. Not cheap, but this is well worth it and I will surely be getting some of this. For those who appreciate a good, luscious Meursault.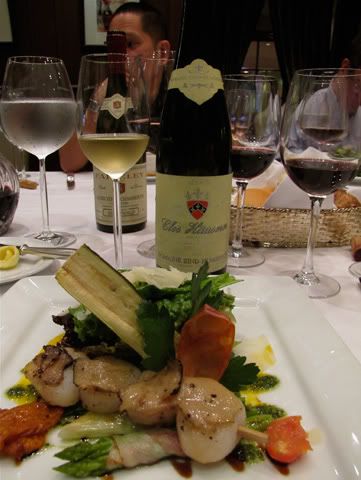 2008 Domaine Zind Humbrecht Riesling Clos Häuserer
- The Stockbroker's bottle. Rich, ripe, honeyed, opulent, sweetish, forward, lowish acid (I'd think a good deal of malolactic fermentation here) - to my mind typical of Zind Humbrecht's style. There is a pervasive note of perfumed baby talcum powder in its ripe cling peach, orange peel, candied ginger, vanilla and powdered nutmeg. I recall thinking there was a hint of honeysuckle as well. For those who enjoy bigger, riper, lusher, sweetish, rieslings, this is for you. Available at Premium Wine Exchange at P2300/bottle full retail.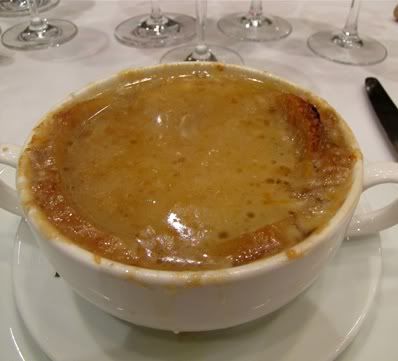 I had the
French Onion Soup with Cheese Croutons
(P340) next. This was chock-full of cheese and soaked croutons, they are certainly not skimping on those. The broth itself, honestly, was competent at best, a tad thin and lacking in conviction. Pleasant enough, but I personally prefer the more rustic, earthier, deeper, richer, darker, more caramelized type of onion broth. Still, at its price in a hotel restaurant, I guess it's good enough - but there is a lot of room for improvement here.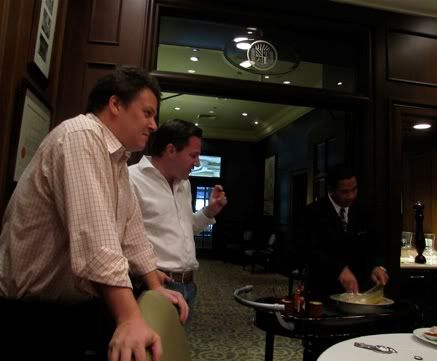 Miguel and Richard watch closely their Steak Tartare's preparation.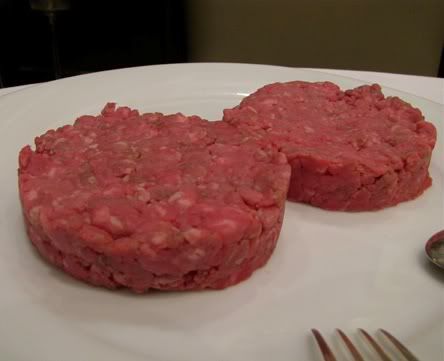 The Raw Beef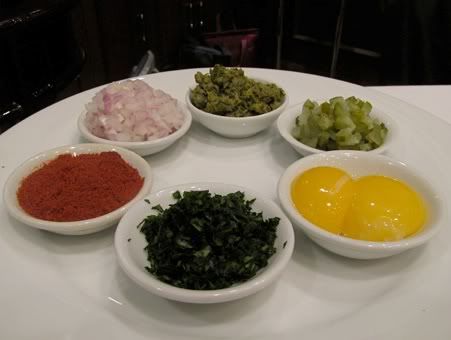 The Accoutrements
Voila! Steak Tartare!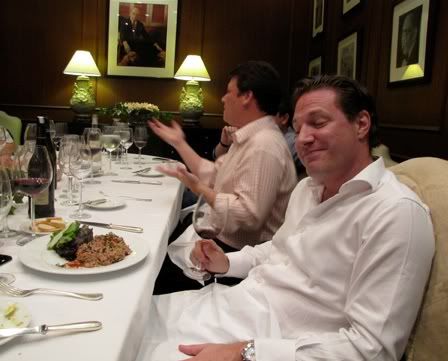 The Verdict
Richard, seated beside me, has recently been making the rounds of steak tartare around Metro Manila. He proclaimed it the finest he's had so far. Miguel, another steak tartare aficionado who has been all over as well, said he thought it was good enough. I note that the Prince Albert's tableside preparation allows seasoning to taste as Richard could actually watch and pre-taste for seasoning prior to service. That makes for an ideal, personalized steak tartare preparation.
My main course was a sentimental favorite. Aside from Prince Albert's then famed prime rib , I distinctly recall my dad also heavily favored their rack of lamb here. Of course, I'd sometimes order it too, like he did. Thus, I had the
Roasted Australian Rack of Lamb with green Mustard-Crumb, Garden Vegetables, Potatoes and Onion
(P1250).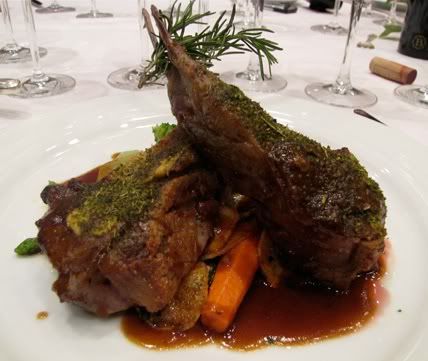 Let me begin by saying that my regular wine-and-dine buddies know well that, for weight/health reasons, I almost never finish my entire serving of red meat. Well, I finished every bit of the meat, and sawed off all I could from the bones. I also do not favor crumb-crusts on my rack of lamb as I prefer to just have it dusted with herbs. That said, this was very nice indeed. If I had to make a not so glowing comment, it would have to be that one of the double-rib chops was a cut very close to the shoulder - I normally avoid that particular part of lamb racks - but that's being hyper-critical as I finished it off anyway. I will definitely have this again. Likely next week. With this, I had 2 reds.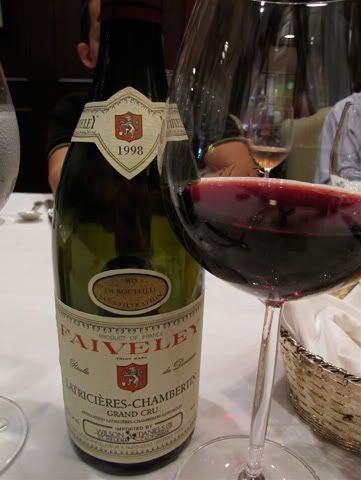 1998 Domaine Faiveley Grand Cru Latricières-Chambertin
- My bottle. At just past 12 years from harvest, this is, admittedly,
very
young for this grand cru. However, I wanted to try it out to see if it was worth buying more. Though it did open up a bit in my glass and showed nice enough, if rather primary, red fruit - red cherries, raspberries over dark plum and red cherry and just a whisper of violets and, after more time, hints of slight meatiness under the fruit - this is still
way
too young. Medium-bodied. Richard noted its finish was a bit short, and I agree. I'll probably get just a few more to age. Check again in 5 years.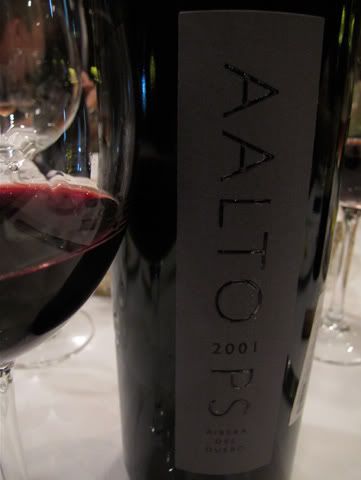 2001 Bodegas Aalto P.S.
- Rene's bottle, decanted at the beginning of lunch, I let it sit until I finished my glass of the 1998 Latricières-Chambertin as I knew this powerhouse Ribera del Duero from old vines would kick it aside. Big, full, opulent, powerful, dense, very concentrated, extracted, very ripe, deeply-veined, sweetish, almost liqueur-like. Very polished and stylish. This reminds me a lot of
the 2005 Bodegas Mauro V.S.
that Aaron gave me as a namesake wine for my eldest son, as well as
the 2004 version that Miguel opened during a pre-Christmas lunch at La Tienda
back in December 2009.
Readily pleasing and very fruit-forward with lots of toasty wood. I had it with my lamb as this really needs to be taken with food. I'd find it a little difficult to drink otherwise at this point. I'd certainly like to try this when it is fully mature - maybe in another 10 years.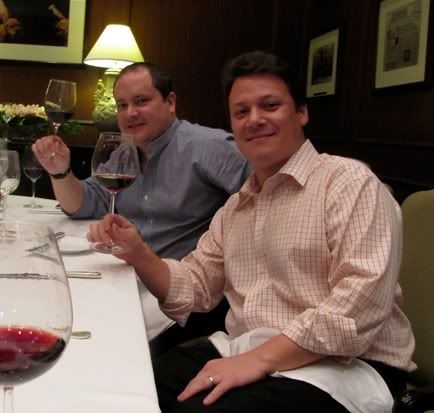 Miguel and Rene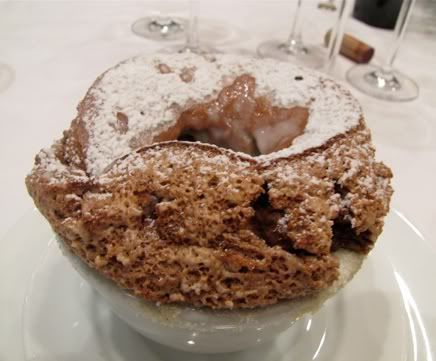 For dessert, I earlier on ordered a
Chocolate & Grand Marnier Soufflé
(P450). Execution was technically perfect, light, cooked through to the bottom, and with nice crusty/caramelized bits around the rim. I just wished they put a bit more chocolate in, though, as the slight pour of vanilla sauce I had with it pretty much overwhelmed the flavor the soufflé itself. Still, it's a pretty darn good soufflé. Next time, I'll try out the coffee soufflé.
With dessert, we all something sweet from Hungary...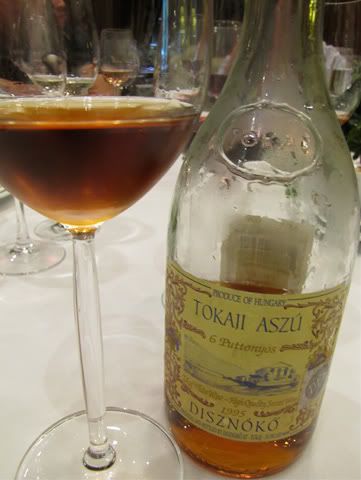 1995 Disznókő Tokaji Aszú 6 Puttonyos
- J-Lab's bottle. Concentrated candied apricot, sweet orange marmalade, canned cling peach syrup, ultra ripe local carabao mango, thick/dark-golden, lightly spicy wild honey. I thought this was lovely.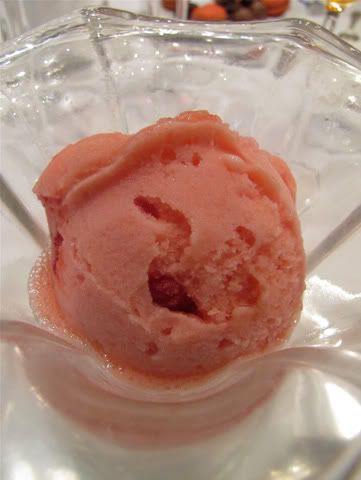 As a little bonus, Francis, the ageless and polished Manager of Prince Albert (he's been there forever), gave us some refreshing and rejuvenating berry sherbet. This was precisely flavored - not too aggressive with the berries so as to ruin one's palate for succeeding wines. I'll probably ask for this before my main course next I'm there.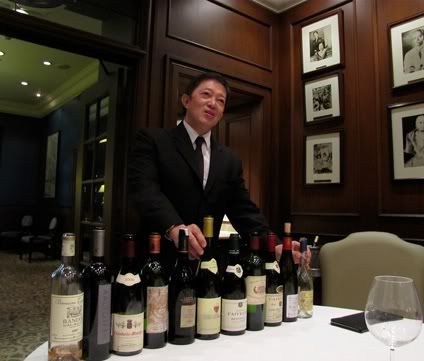 The Prince Albert couldn't be the Prince Albert without Francis.
There were other bottles opened that I didn't get to try as I had to go back to the office and eventually drive home. As usual, there were a lot of lacquered jokes and good-natured teasing. Good thing Vince got us a private room since we did start getting a bit loud and rowdy.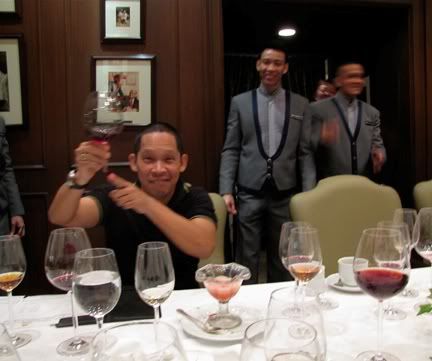 A casualty at the Stockbroker's hands. True wino that he is, he kept the baseless glass until he finished the wine inside.
Petits Fours
which I had with a double espresso.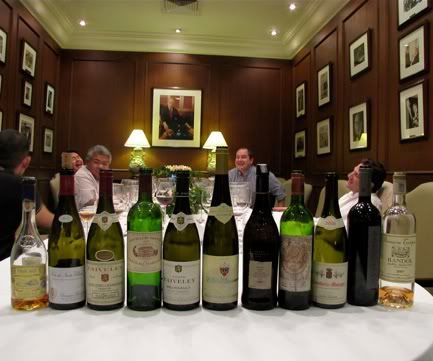 The Aftermath.
In all, the lunch was a success, and we were, then and there, convinced to return soon. In fact, the Stockbroker and I made a reservation for next week as venue for our Blind Bordeaux Challenge XVIII. J-Lab also made a dinner reservation that same night for he and his better half. I told him we'd send him our bill, and he replied saying: "Just send me your wine." Good answer.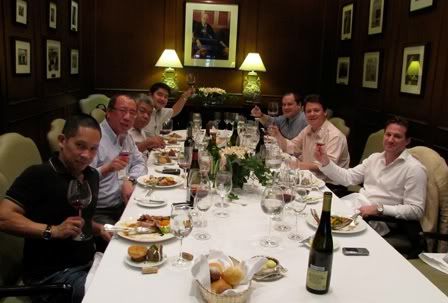 Great lunch, one of the better ones in a while. As earlier stated, we will undoubtedly be back. Until the next!