We had dinner at home tonight, Saturday the 12th February 2011. The cook made tempura (prawns, young squid, leeks, carrots, onions, string beans, etc.). Not having had the chance to open my 650ml bottle of
Rogue John John Juniper Ale*
at last night's kaiseki dinner by Hiro-san at Furusato, I figured tonight was a timely opportunity.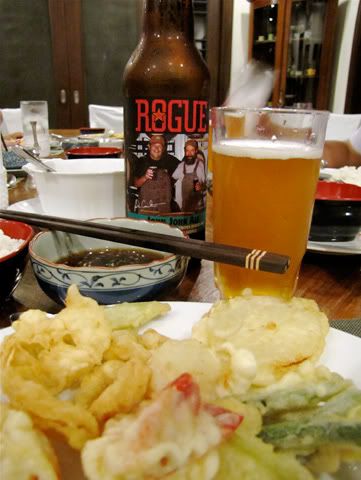 Rogue John John Juniper Pale Ale
- Similar to the Rogue Juniper Pale Ale I like having with a burger lunch at Elbert's Steak Room, this is possessed of evidently firmer, more rigid structure and seems more definitive and forward in its juniper notes and maltiness. There is an apparent pine element as well, most likely from the ageing in spruce gin barrels. The citrus notes seem at the same comparative level though. Over-all, it has a more challenging, more macho personality compared to the regular juniper pale ale, but that is not at all surprising.
My eldest, who split the bottle with me over dinner, liked it as well, thought it was more flavorful, and commented that this version needed food while the regular bottling was fine even without. I'd tend to agree. I'll try this again with one of Elbert's burgers, hopefully sooner rather than later.
*
Available at Global Beer Exchange for a very reasonable P600/650ml bottle.