Recently discovering that Richard had not yet eaten at
Mamou
, Miguel and I set up a lunch there with the Usual Suspects. Jimmyton Araneta of Global Beer Exchange joined us for lunch and wine, and we were to proceed to
The Tasting Room
at the Greystone Gallery thereafter. We were 9 in all: the Stockbroker, Vince, Arnie, J-Lab, Jimmyton, Richard, Miguel, Greg and myself.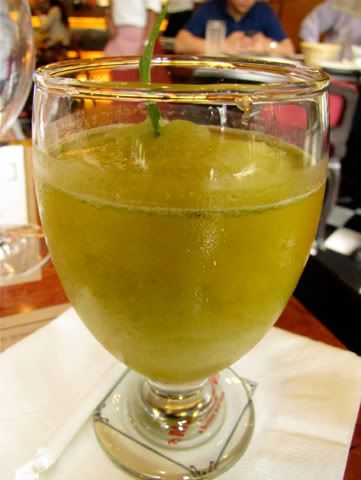 Malou Fores happened to be entertaining people at her restaurant that day, and she and her sister, Annie (who manages Mamou), took real good care of us (as always). Though our table is quite demanding due, among others, to our need of
a lot
of stemware, everything ran perfectly smoothly. Mig and I were the first ones in, so Malou sent us a couple of complimentary very refreshing
Dalandan Slushies
which were most welcome as it was a very hot day.
Richard arrived next and the rest arrived in short order. We had, in the meantime, started off with some of my favorite, locally available cava (thankfully, Aaron's ADP has a new stock of this):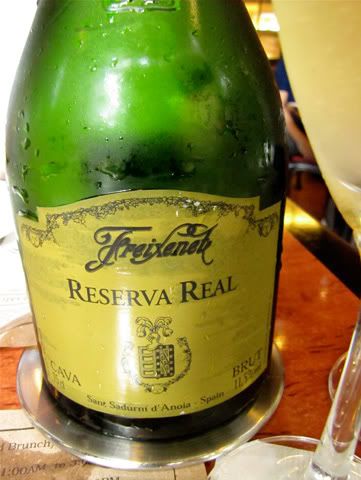 Freixenet Reserva Real
- My bottle, one of several I ordered from
ADP Industries' December shipment
(Miguel A. immediately got half a case as well). I've favored Freixenet's special blend of vintage cavas from the first time I tried it from Aaron, so I took particular note of this bottling's cellar when I visited Freixenet at Sant Sadurni d'Anoia (outskirts of Barcelona) in the morning of March 24th, 2010.
Clean, toasty, slightly biscuity (with time in the glass), heftier, creamier and rounder than most cavas I have. This is always very well received when I open it for friends. Great stuff, I most always have a stock of it at home.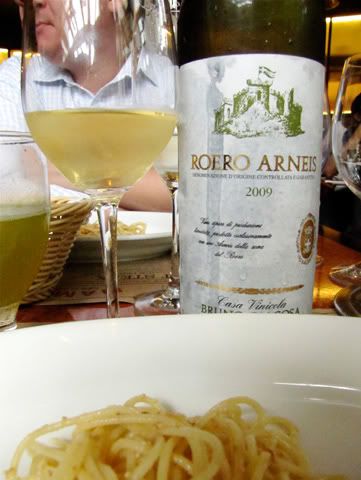 With our
Spaghetti Bottarga
first course, we had
2009 Bruno Giacosa Roero Arneis
- Miguel's bottle which he brought in from Piedmonte (he also got some for me, but I've already finished my bottles - the last one at
our farewell tribute to Je Suis Gourmand
to go with the moules de Bouchot marinière with frites). Then, as now: "Slight hints of cool limestone and seashell infuse bright, vibrant, mild grapefruit, bit of pear, apple, citrus with an appetizing bitter-almond nuance....Love it." It was an excellent match for the bottarga pasta.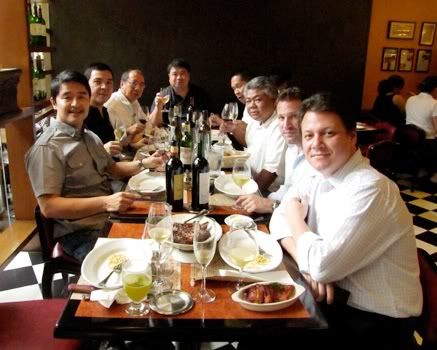 Greg, Jimmyton, Vince, Arnie, the Stockbroker, J-Lab, Richard & Miguel.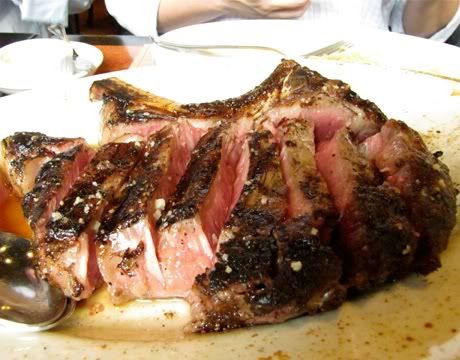 For 8 of us (J-Lab opted for a
Roast Beef Sandwich
that day), I ordered 3
Double-Sized Dry-Aged US Prime-Grade Bone-In Rib-Eyes
and 1
Dry-Aged US Prime-Grade T-Bone Steak
. Unfortunately, the T-Bone was attacked before I got to take a photo of it. With these, and many orders of
Steak Rice
(red for Miguel & Jim, white for the rest of us) and a couple of orders of
Creamed Spinach
, the reds were poured.
There were so many, I only got to have a few of them. There were a couple that were proclaimed by their owners as off/damaged bottles (Richard's
1996 Bahans de Haut Brion
and Greg's
2001 Phélan Ségur
)
so I didn't try either of them. What I did have were: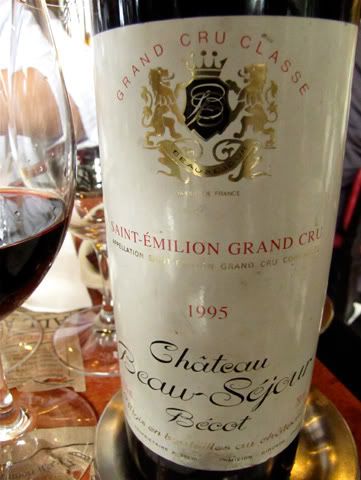 1995 Château Beau-Séjour-Bécot
- My bottle, a bit reticent at first, but eventually fleshed out, gained heft and opened up in glass. Halfway between medium and full bodied, this showed smoke, underlying roasted coffee, licorice, toasty oak, violets, bit of leather and tar in its dark plum, black cherry and bit of raspberry. Comes off a bit rustic to me, but a very decent wine for the steaks.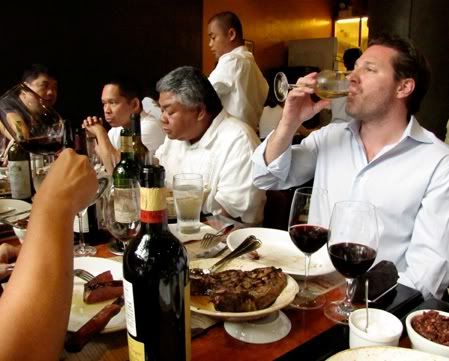 Richard polishes off his Roero arneis before the steaks and reds.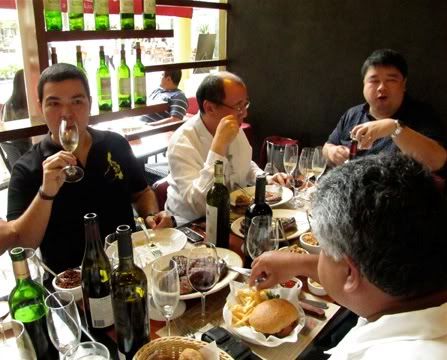 Jim did with his cava as well.
1993 Chateau Montelena Estate Cabernet Sauvignon
- The Stockbroker's bottle, from consistently one of my favorite Napa producers. Dark, judiciously concentrated Bordeaux-esque black fruit, cassis, bit of tobacco, black coffee, cedar, violets, moderate oak, slight mintiness at the top and middle gives it away as a Napa. Smoldering, serious personality. Very nice.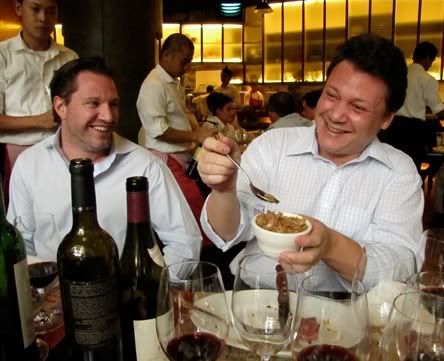 Having a good laugh at Miguel who always orders the "healthier" red steak rice, but always has some of the white version after he finishes the former.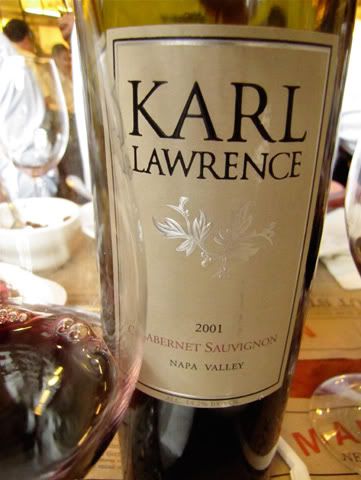 2001 Karl Lawrence Napa Valley Cabernet Sauvignon
- J-Lab's bottle. Evidently ripely sweeter in fruit (crème de cassis, hint of kirsch, underlying sweet pipe tobacco as well) than the '93 Montelena (the vintage) and with crowd-pleasing doses of chocolate and vanilla bean. This has an easily approachable, easy-going personality. Not quite as complex or serious as the Montelena, but easily pleasing and easy to like.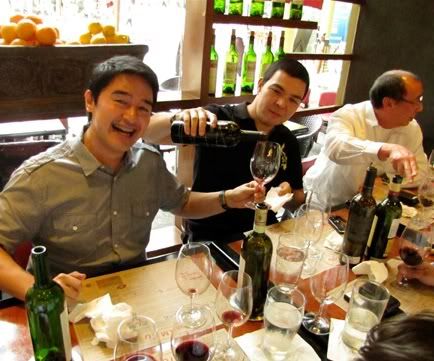 Vince had brought along a bottle of Rasteau which I was unable to try; but he did bring another BC wine and made sure we all got some (we kid him a lot about his advocacy of BC wines and his persistent, though, to date, unsuccessful attempts to "show us the light" as regards these wines). In the above photo, Greg chuckles as Jim pours him some of the BC wine. Greg is a steadfast Bordeaux aficionado, so I was teasing him that the BC wine may give him a rash.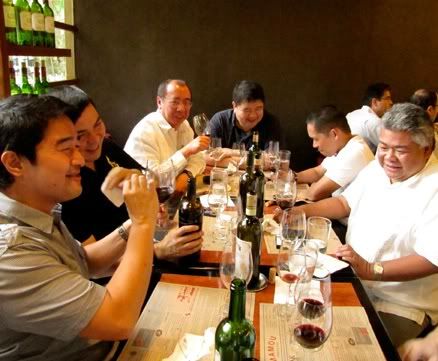 Vince looks on as the BC wine is tested out.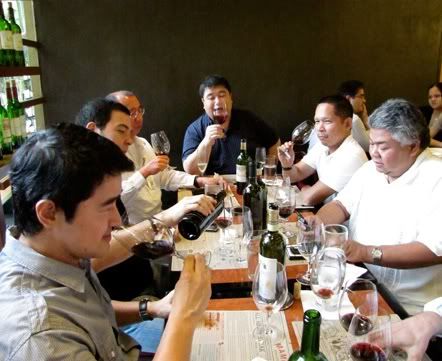 Note the Stockbroker's bemused expression (top right) as he sniffed.
This is the latest BC wine Vince inflicted upon us. Slightly cloyingly sweet, hot, notably concentrated and extracted, hit of pepper, good dose of wood. I don't know what its name or vintage was. It wasn't for Greg, Miguel, Richard and I (we dumped our glasses). Jim was being as polite as can be. We, though, gave Vince a lot of good-natured grief over it - I kidded him about his having to pay for the whole lunch as a penalty for bringing that wine. Vince is always a great sport though - and, knowing him, he'll have yet another BC wine for us to try all too soon.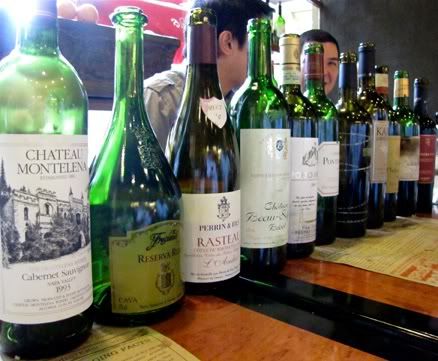 The Aftermath.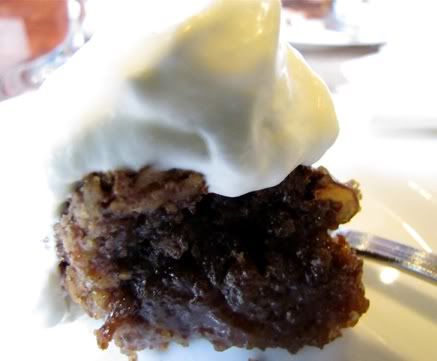 Dessert for the group was a few orders of
Pecan Pie with Schlag
. This is probably the best pecan pie I've had in the country - rich, very flavorful, but not cloyingly sweet as many are. This was expertly chosen by J-Lab to pair with a special sweet wine.
Bodegas Alvear Solera 1910 PX (D.O. Montilla Moriles)
- The Stockbroker's bottle. Lovely, rich, warm, liqueur-like, mild/not too sweet molasses, sweet-dried dates, dried fig, walnut, vanilla, hint of malt. The sweetness is there, but much milder than most all PXs I've had. Lovely stuff and an absolutely genius of a match for the pecan pie. I'll remember this pairing for a very long time.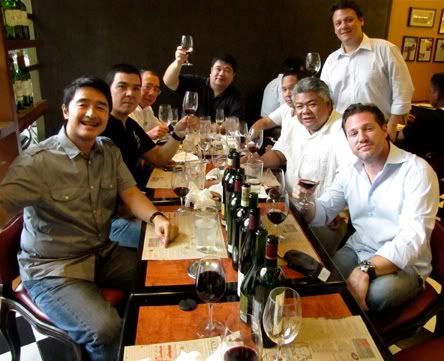 Thereafter, a few of us had some double espressos, then the Stockbroker and Vince headed off. The rest of us proceeded to the Makati CBD to
The Tasting Room
of Jimmyton at my schoolmate Eric Jurado's
Greystone Gallery
(G/F, Prince Plaza II, Legazpi St. Greenbelt Park, Makati City - it's across Greenbelt 5).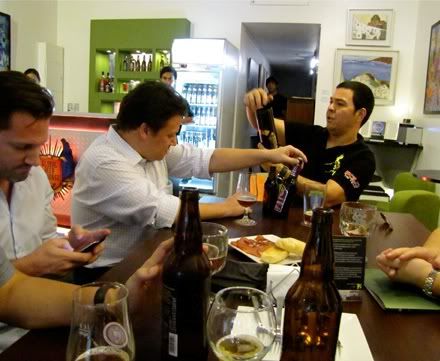 Tons of really good craft beers and some Vela de Lomo.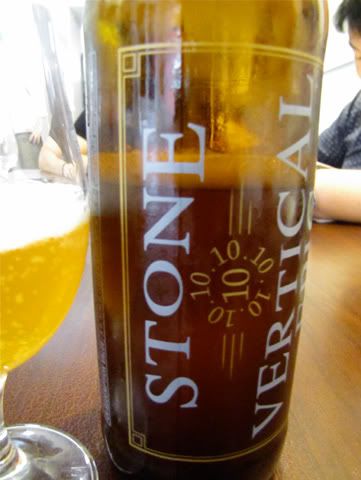 Stone 10.10.10 Vertical Epic Ale
- As I understood, this is a Belgian styled pale ale with, per Jim, muscat, gewürztraminer and sauvignon blanc juice blended in. I could get the gewürz note in the finish, and J-Lab noted the muscat in the slight, general grapey slant of the ale. Very nice and very easy to drink. Clean and cleansing for me after all the steak and wine. J-Lab (or was it Arnie?) noted a slight carbonated mouthfeel to this. According to Jim, this is, ideally, supposed to be aged for another year. I liked it fine already, myself.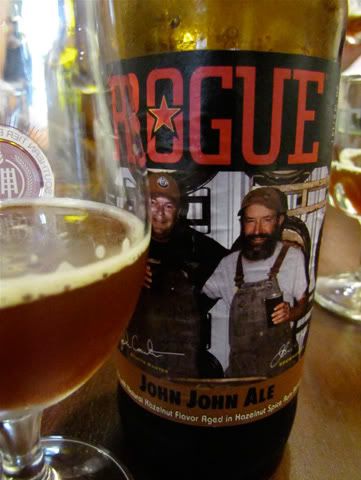 Rogue John John Hazelnut Brown Nectar
- This was aged hazelnut spice rum barrels. Moderately malty, slight hoppiness, very mild caramel, bit of milk chocolate, toasted hazelnuts. Slightly heftier than the preceding pale ale. I'll likely get some of this in my next order for my 2 older boys to try since they like nutella so much.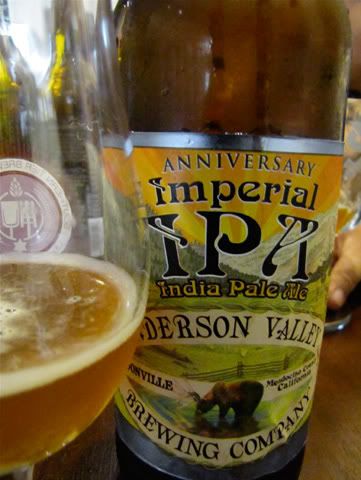 Anderson Valley 20th Anniversary Imperial India Pale Ale
- Orange peel, pine and mild citrus lace this ale's smooth, moderate hoppiness. Dangerously drinkable, this goes down all too easily. I think this would be nice for the beach and the summer in general.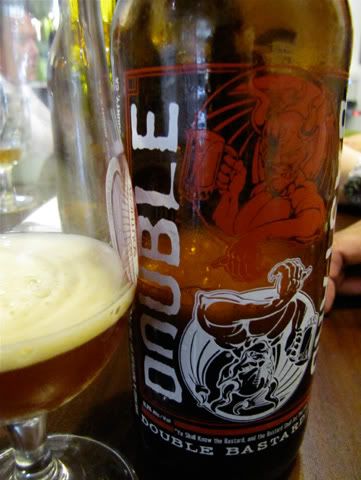 Double Bastard Ale
- Since I mentioned to Jim that I really liked the Double Dead Guy Ale I had at the Tasting Room the week before, he made sure I got to try this, one of his favorites. This is powerful stuff, it's not heavy on the palate or the belly - it is smooth and has good focus and purity - but it does, indeed, have quite a kick and you can taste it - but not in an overwhelming manner. You just can tell. Despite its power, it does make for easy drinking though. Miguel said he'd have this with some of the really raunchy cabrales he brought back from Spain. Exceptionally good.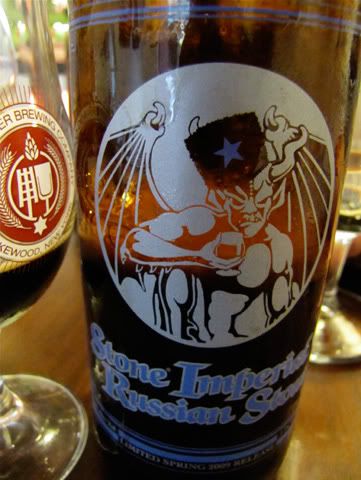 Stone Imperial Russian Stout
- Dried fruits, dark chocolate, bit of coffee. Very mild oatmeal, whispers of caramel and vanilla. I favor stouts. This was probably my favorite amongst all those we had last night. I did order a mixed case while I was there so I hope I included this in it. I'm not sure, though, if I placed my order before tasting this. Loved it in any event. If I didn't include it last night, I will certainly include it in my next order. Due to issues of storage space, I can't order more than a case at a time - but, no worries, as the weekend is coming up and my 2 teenage boys will surely make a good dent in this latest case.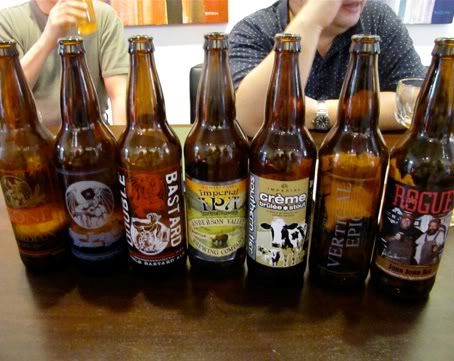 Aside from these, we had several others, such as the
Southern Tier Crème Brûlée Imperial Milk Stout
(which I've written about a few times before),
Rogue Morimoto Soba Ale
(a favorite of Richard), etc. Thereafter, Arnie and J-Lab left for a dinner, so Jim, Miguel, Richard and I soldiered on with Eric (on the right in the photo below) joining us.
We were, understandably, getting pretty plastered by then. I certainly was, so I started munching on some of the jamón Jim served - in hopes that the pork would help sober me up a bit.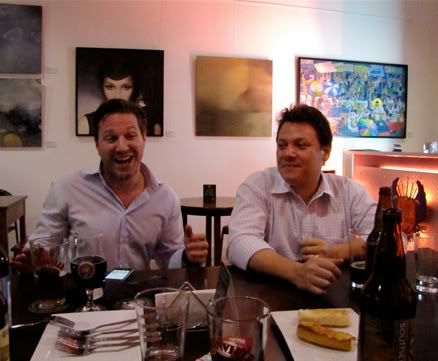 Richard was already very "happy" and Mig looked like he was feeling no pain. This was taken a few minutes before Richard suddenly disappeared. We wondered if he walked home to sleep (he lives very nearby) or headed for Masseto where he always seems to be dining. Jim then had opened yet another for us for the road:
Anderson Valley Brother David's Triple Abbey Style Ale
- Fruity with pear, banana, a bit of dried fruits, mild yeastiness, sweetishly malty towards the back, reminiscent of some trappist ales I've had (but not very dry like Duvel). Quite pleasant, easy to drink. Easily approachable.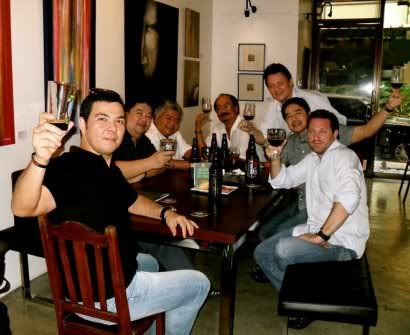 What a day! I was totally wiped by the time I got home at around 8:30pm, and, promptly, passed out for an hour on the couch in the upstairs family room. My wife said our dachshund kept barking at me while I dozed. He must not have recognized my scent as I was reeking of alcohol (more than usual, anyway). Whew! I'd better lay low the rest of the week as yesterday was a real bender. We'll see.