I eat at
Mamou
fairly regularly as it is my favorite steakhouse in the country. I always wind up ordering the same things, namely, the
Grana Padano & Fuet w/ Honey Dip
,
Mamou Bacon
,
Healdsberg Farm Salad
,
Spaghetti Bottarga
, the
Double Dry-Aged US Prime Grade Rib-Eye
,
Key Lime Pie
and
Pecan Pie
.
I've been eating there, and consequently, writing about it more frequently it seems. I was there yesterday, Easter Sunday (24th April 2011) as my in-laws chose to hold the regular Sunday lunch thereat. We had all my regular dishes with the accompanying
White Steak Rice
, plus a curry dish of some sort (which I did not partake of). At the end of the day, for me, the Mamou experience is all about the steak.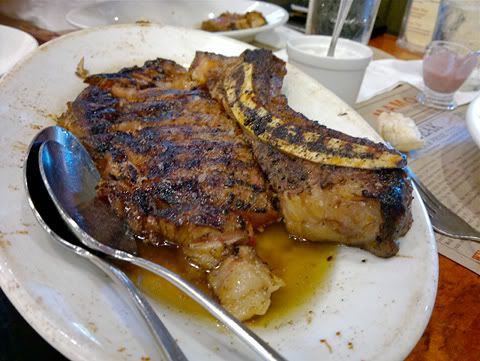 Enough said.