Dinner of the 11th April 2011 was an International Wine & Food Society (Philippines Branch) Scandinavian event at
I Am Angus
by visiting
Chef Jonas Lundgren
(Silver Medal Awardee at the 2009 Bocuse d'Or Competition). All ingredients were flown in specially for this dinner. We were 23 in all (Dong Puno, unfortunately, wasn't able to make it), mostly members and spouses with only 2 guests.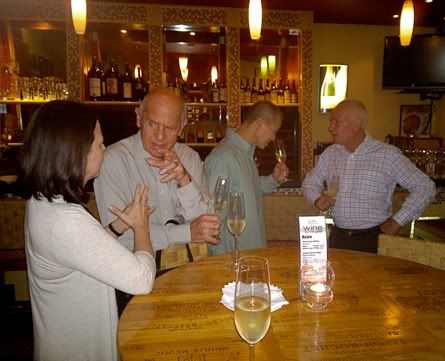 Catha, Markus, Bernie and Lawrie, who, with Bill Stone, were the earliest to arrive.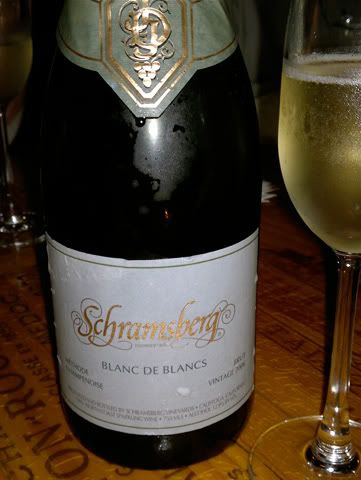 For cocktails was a case of
2005 Schramsberg Blanc de Blancs
, generously donated by
Happy Living Wines
through the kindness of owner (and IWFS member) John Lim and Kathy Yao Santos. Crisp, clean, focused apple, slight Korean Iya Pear and lemon (the lemon trailing in the finish) dominate, with a whisper of brioche mid-mouth and towards the back. Lightish in body, crisply dry, with bracing lemon-acidity. Rather straightforward, but definitely easy to drink. Nice with seafood.
Jun Sison, Freddie Pio de Roda, Martin Kleger & Markus Ruckstuhl laugh it up.
There were several pass-arounds served, but the one that struck me was a bit of herring served on a spoon with a precise dab of piquant mustard cream. That was delicious. I grabbed at least 3 of those after tasting all the others.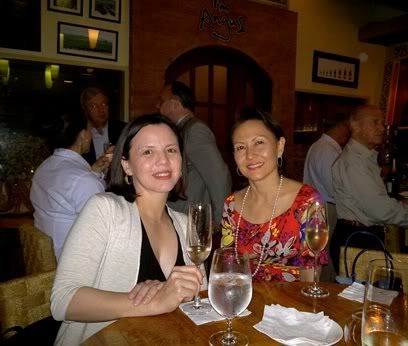 Catha & Chinggay Rode.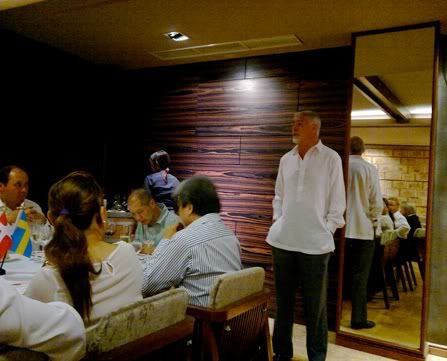 Complete by around 7:45, all were summoned by Bill Stone to the dining room whereat he gave a brief talk on coming meal.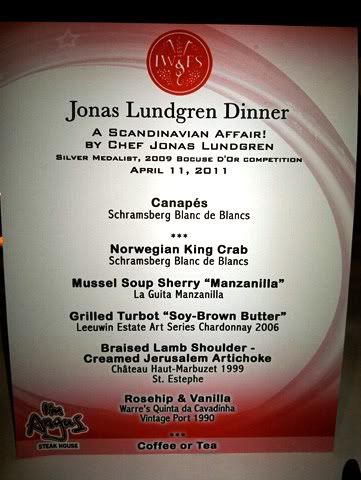 The Menu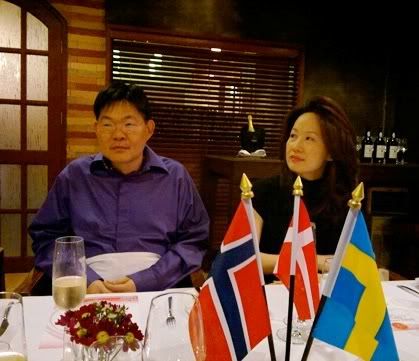 Johnson & Candy Uy.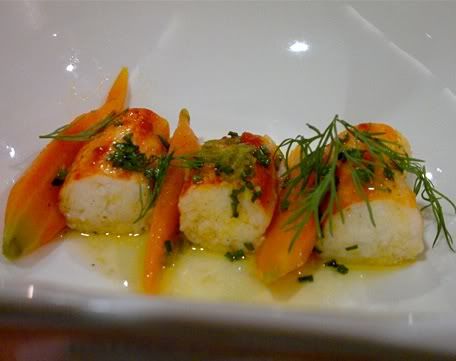 1st Course: Norwegian King Crab
Most all of us had had Norwegian King Crab countless times in the past, but this was the best one I'd tried - "meatier", better integrity, it tasted fresher and cleaner than all the others I've had. It was simply prepared/dressed as one can see above, the crab allowed center stage - how all good quality, fresh seafood should be served in my opinion. The blanc de blancs brought a refreshing, cleansing and entertaining counterpoint to the dish.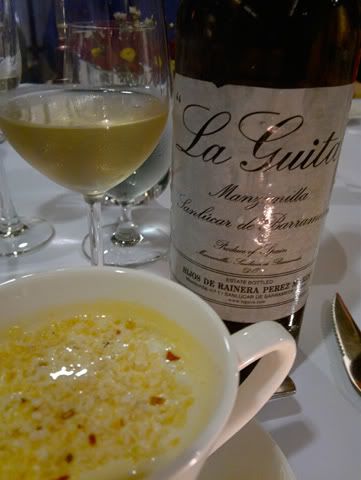 2nd Course: Mussel Soup Sherry Manzanilla, paired with La Guita Manzanilla.
Again, Chef Lundgren presented the seafood simply, this time in a skilfully balanced cream soup: neither overly creamy nor insipidly thin as, I find, we usually get in local restaurants, with the mussels' flavoring both precise and comforting. At the bottom of the cup lay the mussels themselves, very fresh and lightly cooked, preserving their integrity and releasing their juices in studied gastronomic explosions as one bit down on them. Excellent harmony, the touch of
manzanila
in the soup adding a bit more complexity. It takes admirable technique to make a simple dish so very remarkable; and Chef Lundgren displayed his masterfully in this dish.
As regards the pairing, well, I was quite ambivalent about it. With the cream soup alone it was good, but once one had the flavors of the mussels themselves on the palate, the manzanilla seemed, to me, a bit awkward. Perhaps it is because I am used to having manzanillas as apéritifs rather than with a meal, but that is my own issue.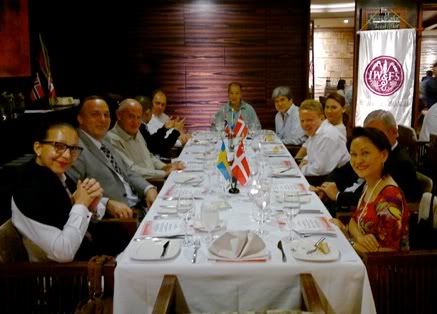 Klaus & Diane (Bill's guests who happen to be my neighbors), Markus Ruckstuhl, Jojo Madrid, Martin Kleger, Bernie Sim, Oscar Ong, Sheila & Mike Whiting, Manfred and Chinggay Rode.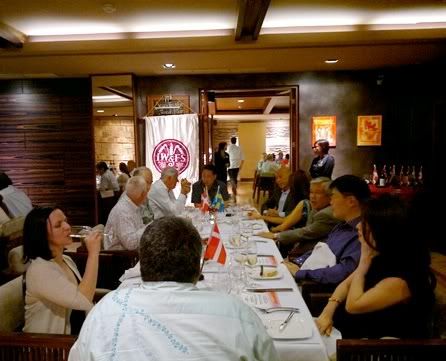 Jay Labrador, Catha, Lawrie Martin, Brendan Egan, Bill Stone, Edwin Ong, Freddy Pio de Roda, Jun Sison, Johnson & Candy Uy.
The 3rd course was
Grilled Turbot w/ Soy-Browned Butter
, paired with
2006 Leewin Art Series Chardonnay
. The fish had a nice, firm and "meaty" texture; it was perfectly seared, which lent a contrasting, gossamer crunch to the moist, slightly creamy inner flesh. The soy-touched
beurre noisette
subtly enhanced the fish and added some nutty richness and depth to the dish as a whole.
The 2006 Leewin Art Series Chardonnay has fleshed out quite a bit since
I first had it on the 28th December 2009
. Back then, it was almost racy with slightly minerally, clean citrus and apple. Now, the malolactic treatment is very apparent and the oak has come to the fore. Its own nutty notes, however, did run with the
beurre noisette
, and that, I suppose, was the basis for the pairing. It was an acceptable enough match, but, personally, to my mind, because of its considerable heft, forwardness of fruit and generous oak, it would be much better suited with richer, heavier seafood dishes - Carl Miguel's Scallop & Lobster Risotto and Lobster Thermidor immediately come to mind.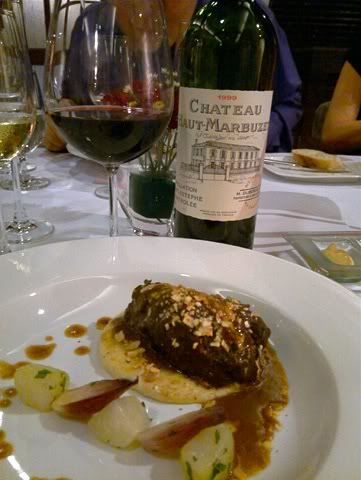 The 4th course was
Braised Lamb Shoulder with Creamed Jerusalem Artichoke
, paired with
1999 Château Haut-Marbuzet
. The piece I got was rather lean and, frankly, I found it quite ordinary, its saving grace being the artichoke cream which one rarely gets here in Manila. My wife, however, said her piece was very tender and lusciously infused with sticky-soft cartilage (of which I would have loved in mine).
The pairing Bordeaux rouge is one I have had many, many times over the years as I used to buy them at Säntis (owned by Werner Berger who also owns I Am Angus, among other restaurants) for casual dinners. Plummier than most St-Estèphe's, it is now quite soft, comfortingly warm with nice tobacco and subtler, somewhat creamy oak seamlessly woven into its black cherry, cassis and whispers of kirsch. Good showing with my piece of braised lamb shoulder (such as it was).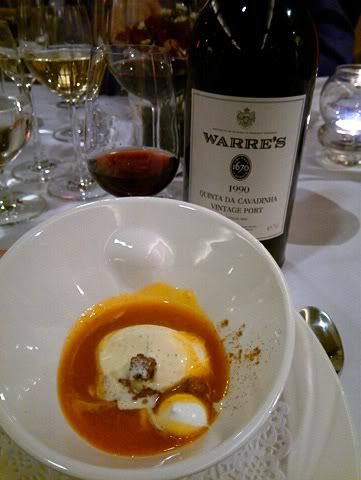 Dessert was an interesting dish of
Rose Hip & Vanilla
, paired with
1990 Warre's Quinta da Cavadinha
. Fair enough, the sauce's slight tartness providing a contrast with the ice cream. Lawrie Martin told us of an old English tradition of community dancing on rose hips, the resulting fumes of which possessed (alleged) aphrodisiatic effects. I didn't notice any such effects, but it was surely an interesting story.
The dish's prominent aromas did remind me, though, of potpourri, teas a former client used to give me for my hypertension, and, the smell of Romy Sia's Healthy Options shops. The pairing vintage port was warmly comforting, if rather straightforward on its own. It was certainly a pleasant and welcome close to a good meal.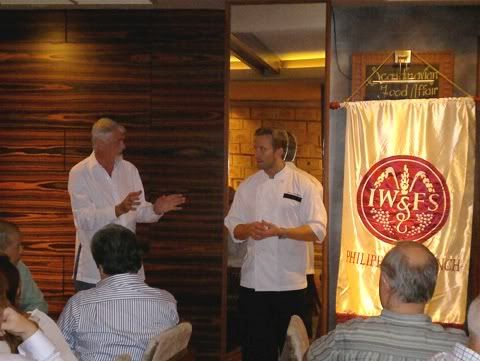 Bill Stone then formally presented Chef Jonas Lundgren who gave a brief talk of his career and his soon-to-open restaurant in Stockholm. Among others, he has worked in Thomas Keller's French Laundry in Yountville, California, and in Pierre Gagnaire's 3-Micheline starred Parisian restaurant.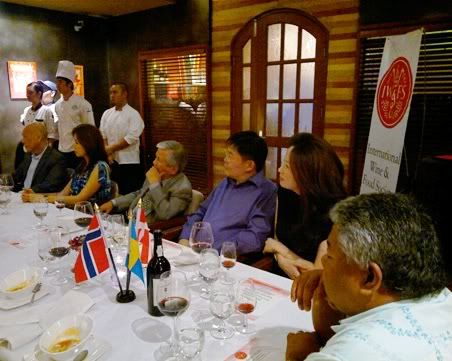 The diners listened intently.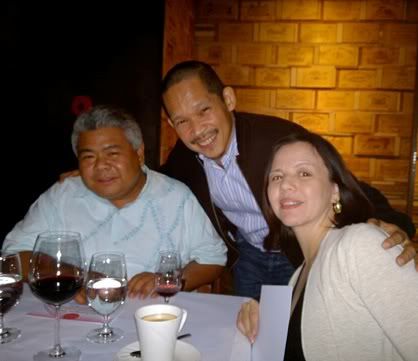 Jay Labrador, Jojo Madrid & Catha.
In all, it was a very enjoyable dinner; certainly a good opportunity to have some authentic Scandinavian dishes with real Scandinavian ingredients - all prepared by an award-winning Scandinavian chef, no less. Congratulations to the organizing IWFS directors for the successful event. Another one for the books. Until the next....