Multi-awarded chef-restaurateur, Gene Gonzalez, normally throws an annual
Parrillada* at his
Café Ysabel
for the Wines & Spirits Club Philippines (WSCP). I've not attended any of the past ones, but Bill Stone told me the one he attended before was pretty fun. This year, I made sure to sign Catha, my two teenaged boys and myself up for it.
*
i.e., a big Argentinian barbecue event. Gene, I understand, has attended quite a few of these in Latin America. Most all the photos were taken by my 2nd son, save for the ones he's in which either I or Catha took.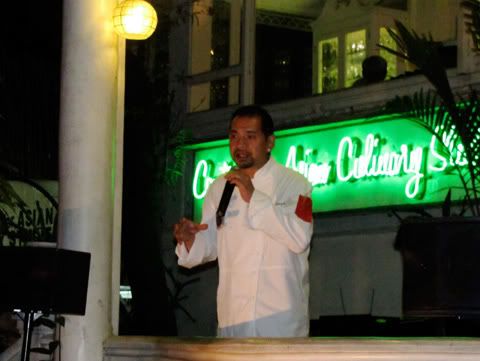 Thus, on Tuesday evening, the 5th April 2011, around 50 carnivores, more or less, trooped to San Juan to partake in this barbecue bacchanalia. My family and I sat at a long table with J-Lab, Arnie, Matt & Chinkee, Bodjie, Martin, Gino (Garcia), Dicky, Sanju & Cutie, Kate, Jay-Jay, Gino (Gonzalez) & China, etc. Gene had days before cautioned us to "Have a light lunch and no merienda," as we would get "more than what we bargained for".
That, indeed, we all did.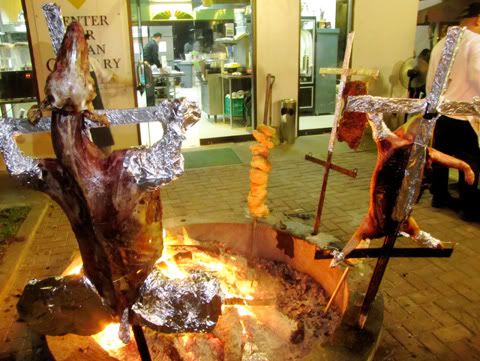 Beef, goat and pork. Tons of each. On a spit is gaucho bread.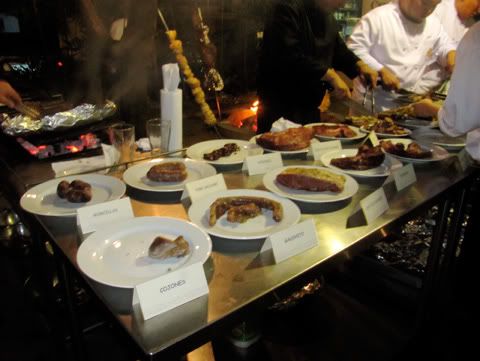 No part of the animals was wasted. All the naughty bits were served, including bull genitalia.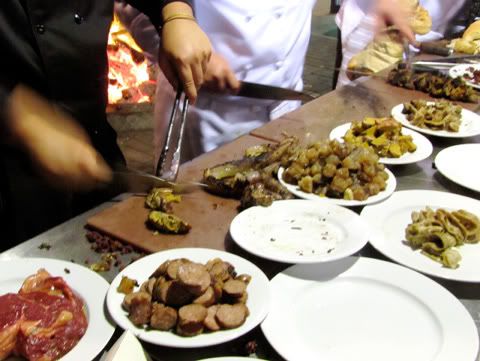 That's the bull penis being sliced up. No, I didn't have any of it.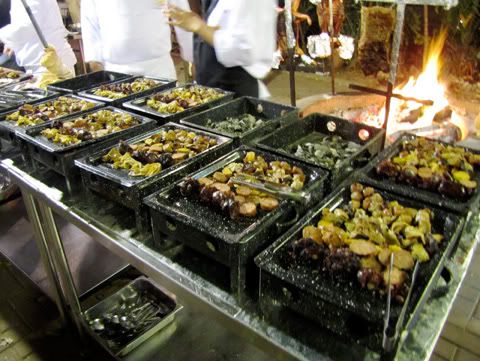 These were just the appetizer courses, served with...
...Green Salads...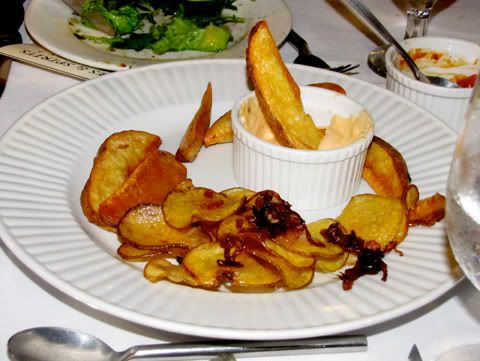 ...Potato Wedges and Goucho Bread.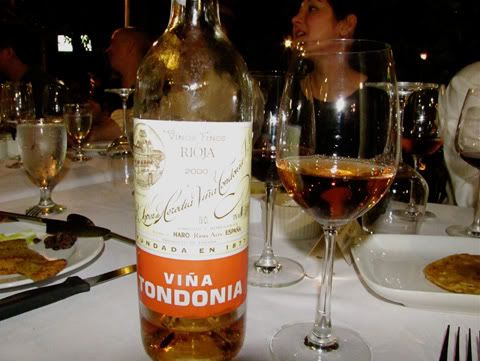 I started off with some
2000 R. López de Heredia Viña Tondonia Gran Reserva Rosado
- My bottle, which I've written about before. Bone dry, red currants, strawberry, bit of citrus, orange peel and the hallmark López de Heredia gentle sherry/oxidative notes. Complex. Again, a very particular wine; it's not for everyone - but I certainly liked it (made sure not to serve it too cold this time).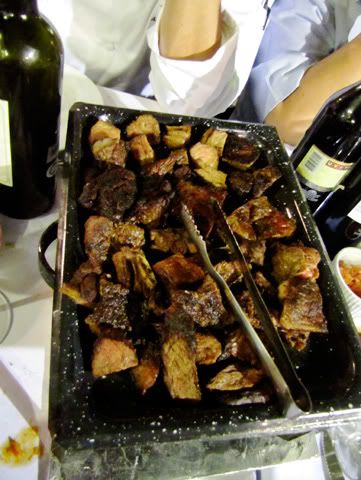 This was the main beef course tray. I had a lot of the beef belly.
The event being BYOB, I also brought along a bottle of
2006 Domaine Tempier Bandol Cuvée Classique
(brawny, rustic, ruggedly handsome, driven with enough smoothly rounded muscle to easily take on the beef and goat together) and, it being a summer barbecue, I simply had to bring along some Craft Beer from Jimmyton Araneta's
Global Beer Exchange
, namely: 2 Bombers of
Rogue Double Dead Guy
(perfect for a summer's BBQ: macho, cold and refreshing with a good kick), 1 bomber of
Rogue John John Hazelnut
(the 2nd insisted on bringing it) and my last 2 bottles of my favorite
Rogue Juniper Pale Ale
(most refreshing indeed). Sorry, apparently no photos of the bottles as they quickly got passed around.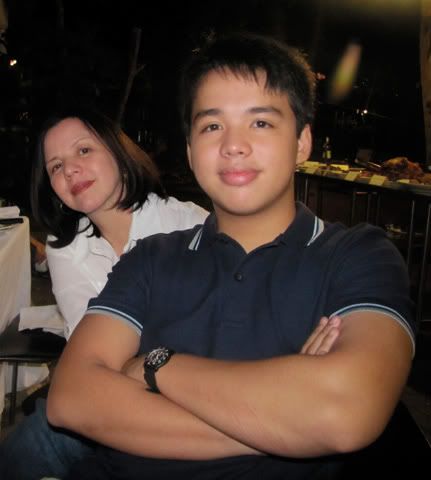 Catha and the 2nd.
I also had glasses of many wines brought and generously shared by friends. Honestly, though, I was just trying to relax and enjoy the meal and camaraderie, I don't now remember those wines.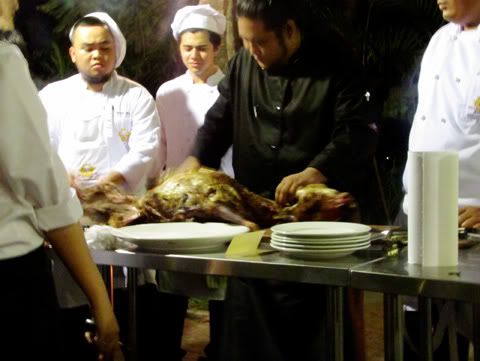 The goat gets axed.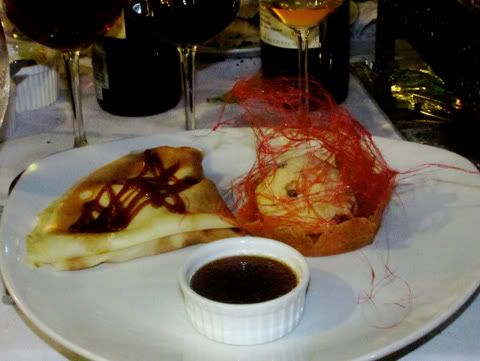 Dessert was a Crêpe with Home-Made Rum-Raisin Ice Cream.
Gene's is the only rum-raisin ice cream I like.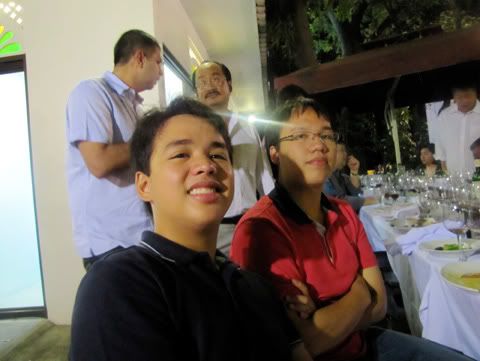 The boys; Sanju and I chat in the background.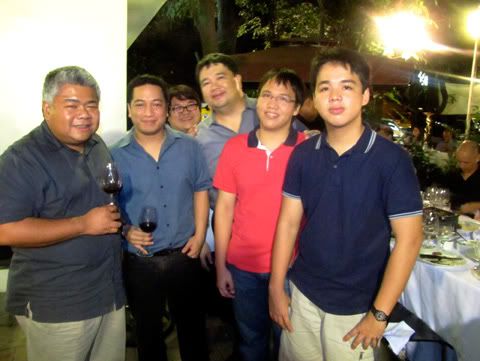 J-Lab, Gino Garcia, Bodjie, Arnie & the boys.
Fun night. ¡Salud y hasta la proxima Parrillada!