Stayed in Manila for the Holy Weekend as I most usually do. The kids have been in Singapore the past week so the house is pretty quiet. Played golf on Holy Thursday, wanted to go out to dinner after, but Prince Albert, Sala and Terry's 2º Piso were closed so we just had dinner at home. Good Friday, I didn't even bother trying to find a good restaurant that was open. Holy Saturday, the 23rd April 2011, Catha, I, together with a couple of longtime friends, Tonji & Sylvia, had dinner st
Sala
.
There was absolutely no traffic that evening, and, with the use of the new Alabang Skyway, we got to the restaurant in just 20 minutes at most.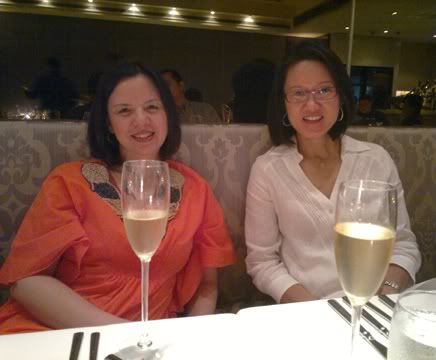 Catha & Sylvia
Sala was full that night. I guess there was a lot of pent-up demand over the past couple of days. We started off with my bottle of...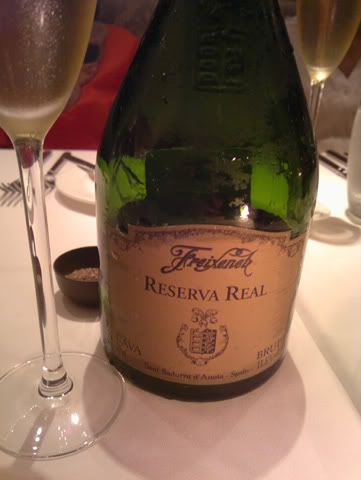 Freixenet Reserva Real Cava
which went very well with my...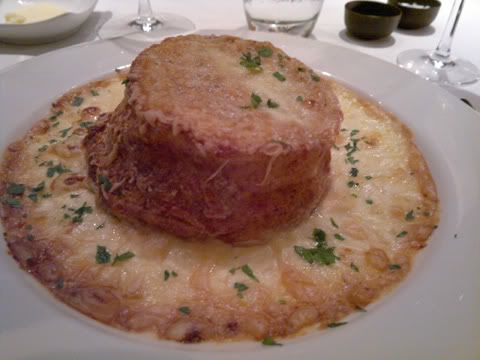 ...
Twice-Baked Prawn & Goat Cheese Soufflé
with Dill
.
As recently stated, this is one of the top cuvées of Spanish giant Freixenet (a blend of vintage cavas) created to commemorate the royal family's visit to the winery. I, together with wine journalists from Hong Kong, Singapore and South Korea,
visited Freixenet on the 24th March 2010
. Incredible winery; so huge one has to take a train to get around their cellars. Dry, bright, crisp, mildly toasty and biscuity, this premium cava easily has the volume, heft and cut for the savory soufflé.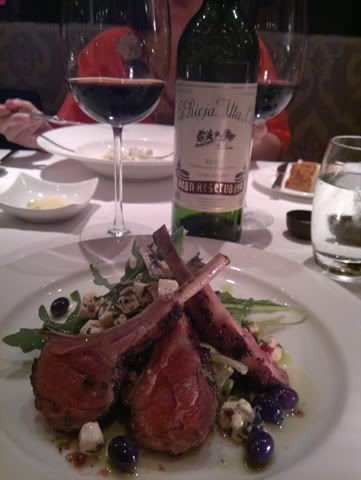 It's actually been many months since I've been to Sala; I used to be a very regular customer when Carl Miguel used to work there. Colin has changed the regular menu, so I went for his new
Lamb Rack with Greek Salad
. It was a safe order for the bottle of
1995 Bodegas La Rioja Alta Gran Reserva 890
that I brought along - chosen because I remembered how much Tonji enjoyed it during
a dinner at La Tienda in late July 2010
, and
at home late August 2010
.
I had it decanted for about 45 minutes to an hour before service and it showed quite differently from when it is just popped and poured. After decanting, the otherwise explosive aromas of creamy oak, dill, licorice, black cherry, mocha and kirsch are more self-possessed/circumspect and show quiet depth. In the mouth, more leather, violets and herbs make their presence felt more; and the oak/vanilla and dill are more subtle and seem better integrated. What remains constant, however, is that it is undeniably an alluring wine. Loved it as I always do.
Miguel brought this bottle in for me from Spain as, at the time, Premium Wine Exchange had run out of stock. Fortunately, that lack has been remedied as the subject gran reserva is now in stock and readily/locally available anew. Lucky us - moreso to have been able to enjoy it with such good food and great company. Until the next!