Lunch of Friday, the 8th April 2011, with the Usual Suspects was back at my favorite steak restaurant,
Mamou
. None of us ever say no when a Mamou call is made. We were 7 in all that day: the Aaron, J-Lab, Miguel, Rene, the Stockbroker,
Global Beer Exchange
's Jimmyton Araneta and myself.
As usual, we started lunch off with a couple of bottles of bubbly: Rene's old reliable, fresh, rounded and slightly toasty
Billecart Salmon Champagne Brut Réserve NV
(this is one of my and Rene's go-to non-vintage champagnes), and, something new to many of us, Aaron's
Perrier Jouët Champagne Grand Brut NV
.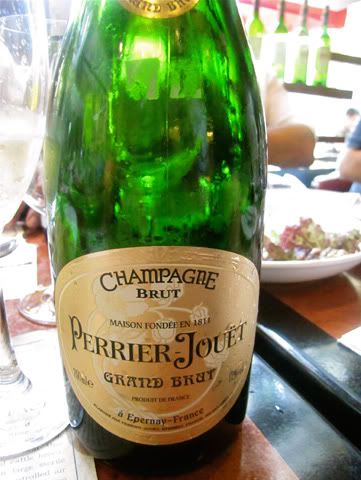 I've never had the non-vintage bottling of Perrier Jouët, as I'd always buy their Belle Époque line (I used to buy lots of their 1989 and 1990 Belle Époques from Säntis for only around P750/bottle back in the mid-late '90s). Pretty much everyone was quite impressed by this non-vintage champagne which was comparatively brighter, deeper and more complex with white flowers, brioche, underlying white chocolate (the pinot noir speaking, most likely) and alluring biscuity notes past mid-mouth and to the finish. Very nice non-vintage bubbly.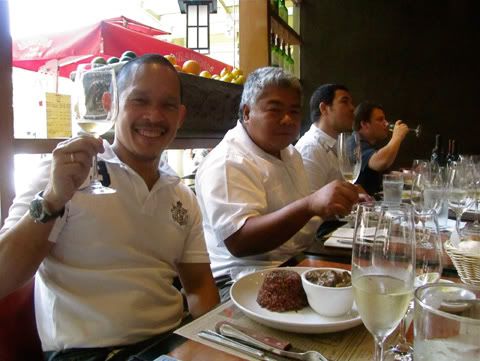 Cheers from the Stockbroker & J-Lab.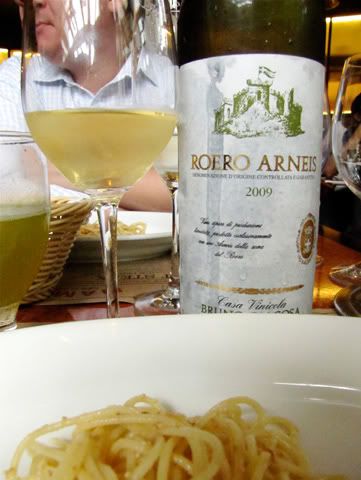 As usual, our first course consisted of platters of
Spaghetti Bottarga
. With this, we had some of Miguel's
2009 Bruno Giacosa Roero Arneis
. I've written several times about this wine from the Roero hills of Piemonte. Firm, dry, clean white grapefruit, bit of citrus, infused with notes of seashell and bitterish almond. Straightforward, honest and an excellent match for the spaghetti bottarga. I never get tired of this pairing.
Salud from Jimmyton & Miguel, coño.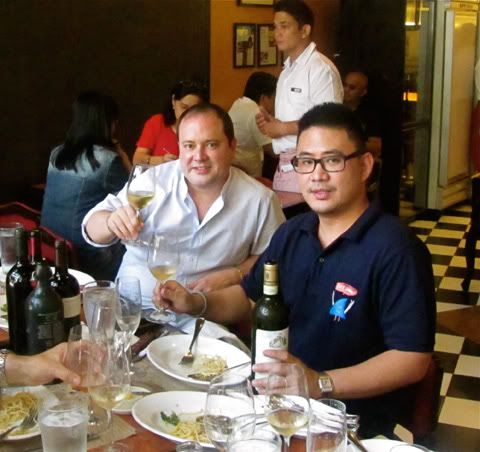 Cin cin from Rene & Aaron.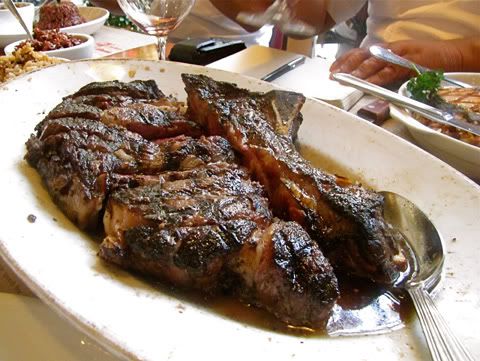 Of course, we had to have the
coup de coeur
, Mamou's
Dry-Aged US Prime Grade
Bone-In Ribeye
(3 double orders, rare).
It being a Lenten Friday, J-Lab opted for the
Salmon with Couscous
which the Stockbroker also ordered (aside from his separate meat course). For his fish main course, J-Lab had brought along a bottle of
2002 Maison Leroy Meursault Blagny 1er Cru
...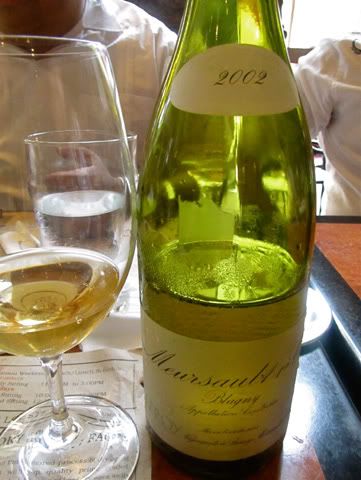 ...which was, unfortunately, prematurely oxidized.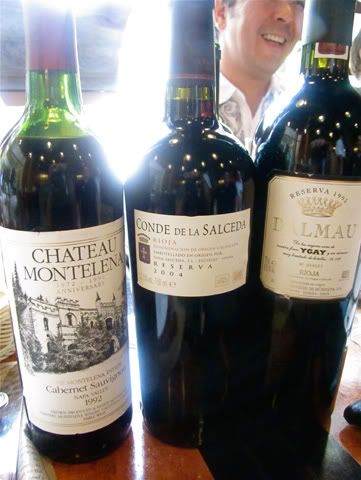 With the slabs of dry-aged rib-eye, we, naturally had several bottles of reds. Nice thing with this group, there is always a surplus of bottles of red. The difficult part is deciding which ones to open.
Again, unfortunately, my bottle of
2001
Tenuta
Guado al Tasso
(purchased at Bacchus International) was horribly corked, and, consequently, dumped. Pity,
last time I tried it was over 3 years ago
and I found it way too young then. Thus, I was very curious to see what it was like at this point. Oh, well, it happens. Next one, I hope, will be a healthy bottle.
The
1992 Chateau Montelena Montelena Estate Napa Valley Cabernet Sauvignon
(Rene's bottle) was, in a word, excellent. It was also a great pairing for charred beef. Deep, quietly serious cassis, bit of a minty topnote, dark fruit, tobacco, slight licorice and charcoal and an underlying nuance of tar. Wonderful. Very happy to have had this again.
Miguel's
1995 Marqués de Murrieta Dalmau Reserva
was another fine match for the steaks. Last I had this wine was
a year ago, but with a cheese course
. My notes at the time were as follows:
1995 Marqués de Murrieta Dalmau Reserva - Miguel's bottle, no decanting. I first tried this maiden vintage of Dalmau in late February 2009 from Jojo. So, it was great to be able to see how it is doing over a year later.

The wine seems to have gained even more weight and power over the past 14 months. Now decidedly full-bodied, it is roaring with sweetly ripe black cherry, raspberry, cassis/blackcurrant, licorice, sweet pipe tobacco, cinnamon, cloves, hints of dried fig and chocolate, creamy oak/vanilla. For fans of Rioja in the modern/international style, this would likely be a hit.
Slightly more self-possessed than a year ago, this is still notably ripe, forward and fruit-driven. The wood notes have integrated nicely but are still quite evident. Its bold spiciness brought good counter-point to the lusciously fatty beef.
A few days earlier, Jimmyton asked Miguel and I if we wanted him to bring a 2004 Château Pichon Lalande or if we wanted to try out an aged vintage Imperial Stout for the steaks. Having tried the '04 PL before, we both opted for the latter (it would be my very first aged, vintage imperial stout after all).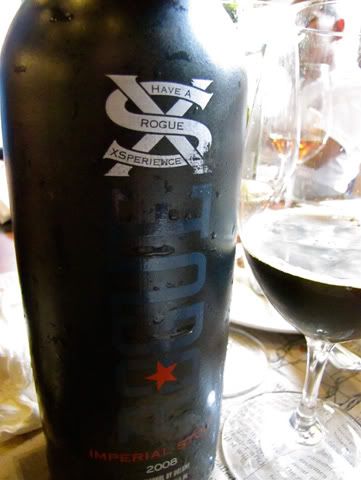 The
2008 Rogue XS Imperial Stout
is an intensely rich, dense, robust, smoothly and thickly muscled ale. Deep, midnight maltiness, slight dried fig and preserved dates nuances, notes of burnt caramel, dark chocolate and molasses. Wow. Heady stuff. If there was an ale equivalent to Pedro Ximénez (as Miguel also noted), this would definitely be it. I noted that the stout's finish picked up the meat's charred flavors. "Too much for the steak" declared Jim as he set it aside for later on (but not before I got a second pour off the bottle). I liked it a lot. Too bad Jim doesn't sell this stuff - it's from his personal stash.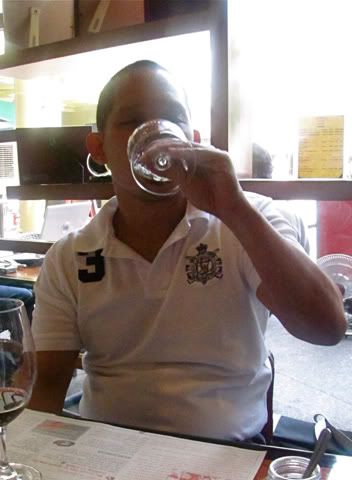 In the 7 or so years I've been drinking with the Stockbroker,
this was the very first time I've actually seen him have any kind of beer.
For dessert, we had 3 orders of
Pecan Pie w/ Schlag
. Recalling the parallel the
2008 Rogue XS Imperial Stout
drew to Pedro Ximénez, I asked for another pour of it to go with dessert. If I do say so myself, it was a lip-smacking, indulgent, running-with-the-ball pairing. J-Lab had, in the meantime, opened a bottle of sweet white: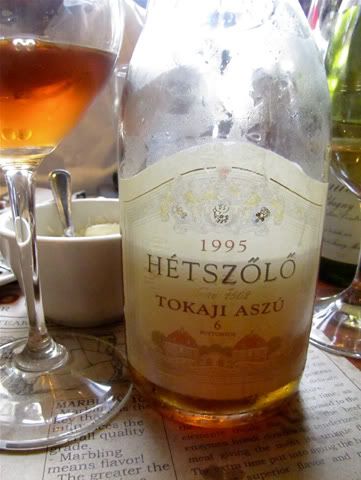 1995 Hétszőlő Tokaji Aszú 6 Puttonyos
- Nice, clean, relatively light and not intense not sweet for a 6 puttonyo Tokaji Aszú. Typical candied apricot a bit of canned cling peach dominant flavors with light touches of lemon rind and caramel. I liked it fine by itself, but J-Lab didn't seem very happy with it. Well, he is much more experienced with Tokaji Aszús than I.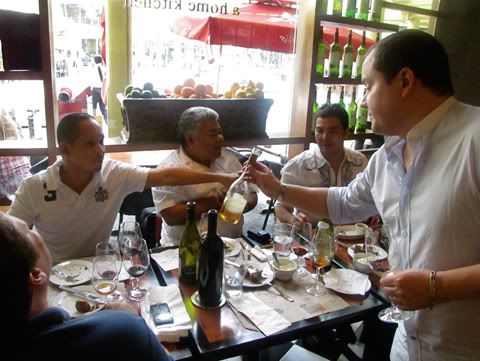 It seemed to go over pretty well with the others too.
The lunch didn't end there, though. After some double espressos, the Stockbroker suggested we move over to nearby
Wine Story
for a couple more bottles. Nobody argued, we all simply packed up and followed his lead.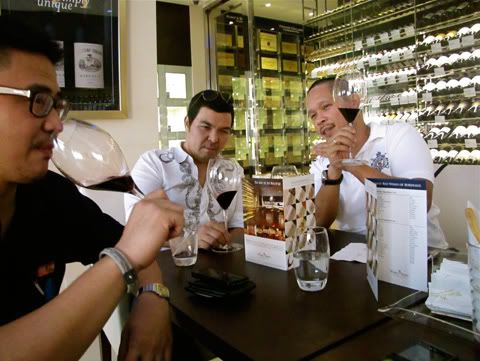 The Stockbroker, as usual, bought a bottle and had it served to us blind.
Honestly, I don't remember much of the guesses, but I recall saying it was from 1999 as it didn't seem very concentrated and it didn't look very old. I also recall it as a bit lean, streamlined, with cedar and violets in its dark fruit. When asked if I liked it, I replied "It's ok." Imagine how surprised I was when it was revealed to be a...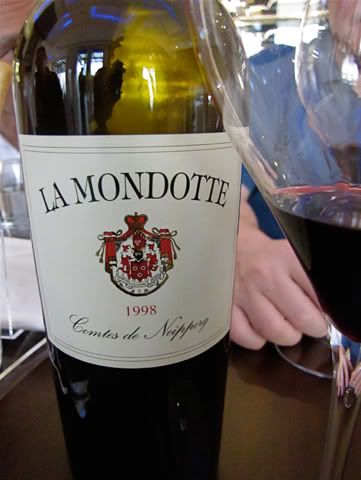 1998 La Mondotte.
I was very surprised because I'd opened one approximately 6 years ago (with the Stockbroker, Doc, Bernie, the Vigneron, etc.) and it was a huge, massively muscled, incredibly fruit-driven, primary beast. I didn't imagine then that it would become, in a relatively short amount of time, anything like it is now. Great, however, to get to have it again now to see how it is. Thanks to the Stockbroker for this bottle; it is by no means cheap, I know all too well.
We then ordered a bottle of
2004 Biondi-Santi Brunello di Montalcino
- I honestly don't remember much of it now (I even forgot to take a photo of it), but I do recall that I and the others liked it, and that I made a mental note to get a bottle or two of it for grilled meat dishes.
The Stockbroker then opened a bottle of his that didn't get popped at Mamou, a
1995 Bodegas La Rioja Alta Gran Reserva 890
(his Premium Wine Exchange distributes this). I've written about this alluringly fragrant, generous, well-balanced wine so many times, to gush over it anew would be superfluous. It has always been a crowd-pleaser and has always drawn accolades. That day, it was no different. I'm certainly glad it's back in stock at PWX as the first batch was sold out way too quickly.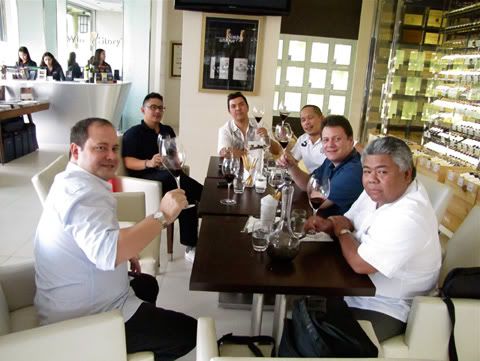 Thus ended another long wine lunch with the Usual Suspects. We broke up at around 6pm, with Mig & I heading off to
Ukkokei Ramen Ron
for a bowl each of
Tantanmen
. Jim was supposed to join us, but fell asleep in his car so his driver took him straight home. Until the next!