Due to the resounding success of
last year's 1st International Wine & Food Society Philippine Branch's Wine Fair
, the IWFS Board decided to make this an annual event - the 2nd of which took place on Thursday, the 31st March 2011, at the
Alliance Française de Manille
. Catha & I attended along with our 2 older boys as the kids are on summer break.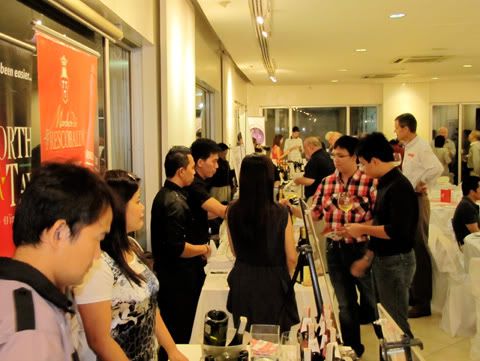 From the get-go, this 2nd Wine Fair was evidently as well-attended with a steady stream of members and guests making their way to the different booths. This year, the IWFS-Philippines, IWFS-Ladies and IWFS-Cebu members-participants were as follows:
Alex Lichaytoo - Bacchus International, Inc.
Dondi and Corrine Joseph (Cebu) - Darras + Bowler, Inc.
John Lim - Happy Living Philippines Corporation
Robert Burroughes - Future Trade International
Edwin Ong - Global Noble International Corporation
Manny Osmena (Cebu) - Manny O's
Jojo Madrid - Premium Wine Exchange
Luciano Zanirato - Silver Secrets, Inc.
Jerome Philippon - Sommelier Selection, Inc.
Tita Trillo (Manila Ladies) - Titania Wine Cellar
Romy Sia - Wine Story
Jay Labrador - The Wine Steward, Inc.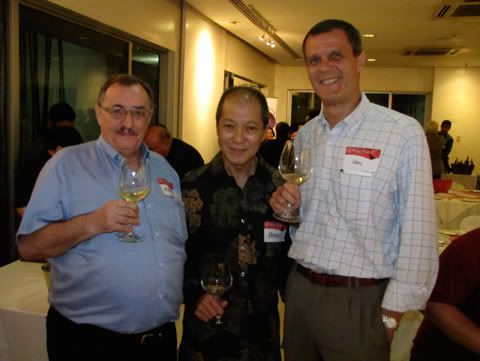 8-Term IWFS President & Wine Master Bernie Sim flanked by Future Trade's Robert Burroughes and Neil McLeod.
All friends here: The Wine Steward's Jay Labrador, Darras+Bowler's Dondi Joseph & Future Trade's James du Vivier.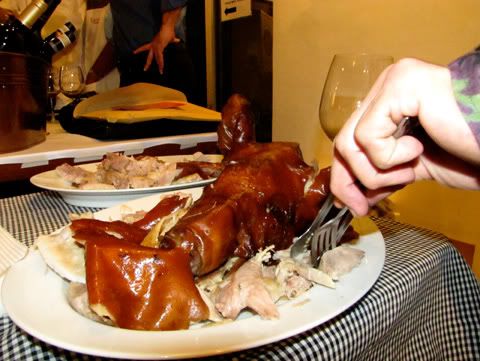 Same as last year, Dondi & Jay had some luscious Cebu Lechon at The Wine Steward's and Darras+Bowler's shared stall. One, naturally, had to buy some wine from them to "legitimately" snack thereon - which I did very willingly with some of the
2004 Bodegas Resalte Reserva
that impressed me during
the recent Bodegas Resalte dinner
.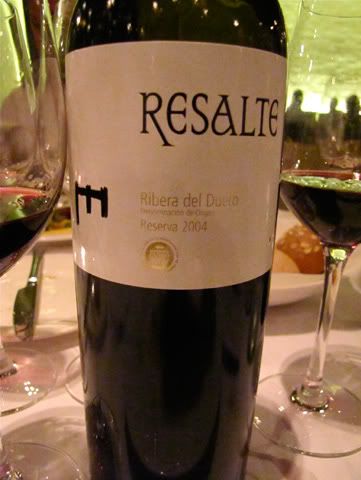 My notes then were as follows:
The

2004 Resalte Reserva

, on the other hand, though a year younger, seemed softer and more accessible alone. This was another wine that made me sit up and take notice. It seems, at this tasting, the reservas were putting forth a very strong quality statement - both in the Peña Roble and Resalte lines. Notable depth, precise concentration, balancing acidity with a modernish candied-ripeness of fruit accented by notes of coffee, licorice, well-integrated toasty oak and cinnamon. Very nice, and well-recommended at P2665/bottle.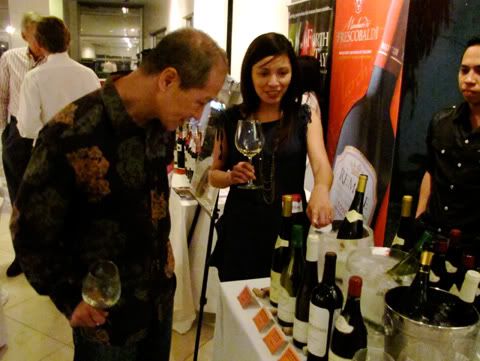 Bernie Sim at Jojo Madrid's Premium Wine Exchange (PWX) booth.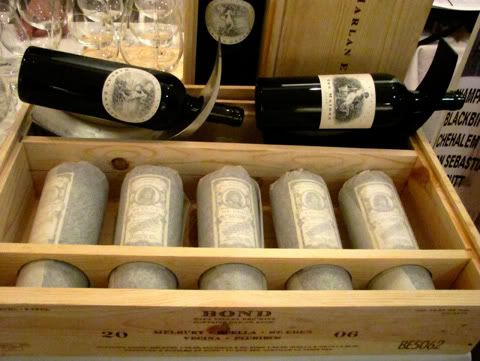 PWX's impressive display of Bond and California Cult Cabernet: Harlan Estate.
I immediately went for PWX's
2008 Jean Marc Brocard Premier Cru Fourchame Chablis 2008
- from one of the more well-known Chablis 1er cru vineyards that tends to produce comparatively heftier, rounder and richer Chablis. Very nice, it maintained typicity in its nervy, tense, cold-stone-and-flinty fruit. Another one for my list together with the
2008 Brocard 1er Cru Montmains
that I loved
during Hiro-san's Kaiseki dinner
.
The boys with Tito Jojo.
Catha and the boys favored PWX's
2000 La Rioja Alta Vina Ardanza Reserva
, especially, noted Catha, with the main course of beef served later on - the acid balance making it more food friendly than many of the other reds.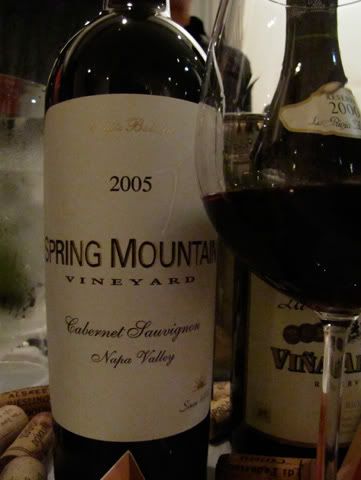 I also had a glass of PWX's
2005 Spring Mountain Vineyard Napa Cabernet Sauvignon
- Quite impressive for such a youngster; it shows good, solid, comparatively understated Cali cab cassis and fine underlying minerality. My type of quietly confident Napa cab.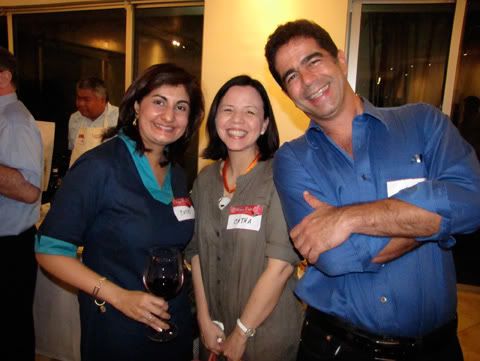 Vimla Gopaldas, Catha & Dondi Joseph.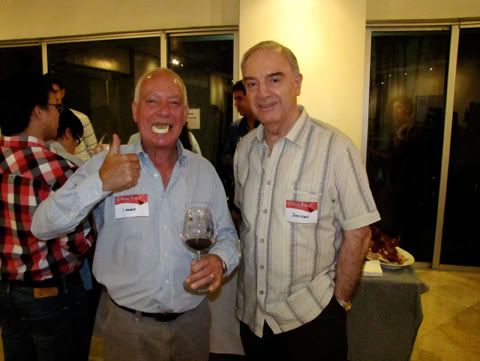 Lawrie Martin clowns around with Brendan Egan.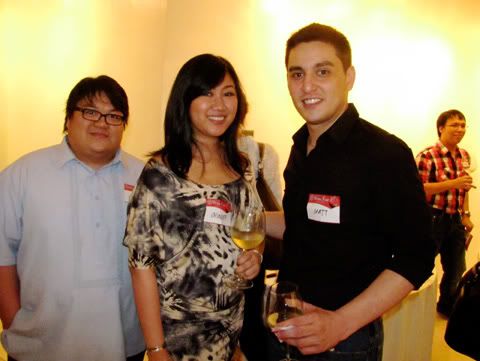 Bodjie Tobillo with Matt & Chinkee Koppe.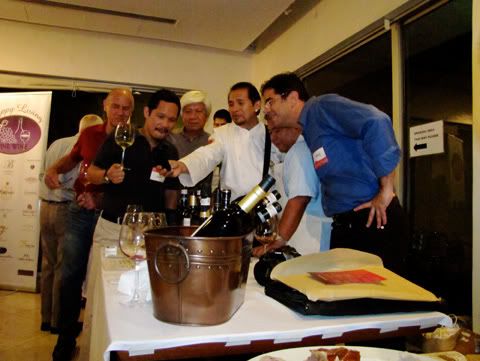 Gene Gonzalez shares some quasi-wine-related videos from his trip to Thailand.
Of course, at Jerome Philippon's Sommelier Selection, I simply had to have a glass of
2009 Domaine Tempier Bandol Rosé
- a wine I've written about several times. Regular readers know that I think Tempier's rosés are the best in the world. Its vintage 2009 just continues to bolster such assessment. It went great with the lechon Cebu as well.
Markus and Lawrie at Happy Living's booth.
From Happy Living, of course got a glass or two of the bright, dangerously drinkable, citrusy-and-lemony
2005 Schramsberg Blanc de Blancs
. One could have some bottles of this at the beach to sip throughout the day.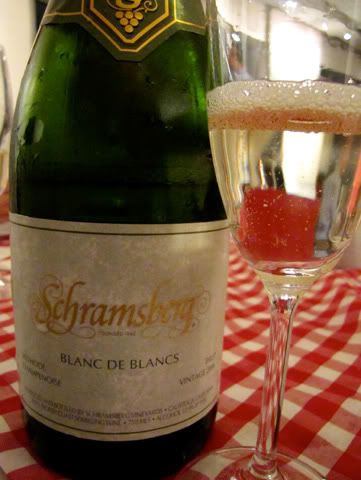 With my dinner, I made sure to get a glass of their
2005 Joseph Phelps Insignia
. The Insignia is Joseph Phelp's well-respected and highly sought top bottling. It certainly drew a good deal of attention that night as many flocked Happy Living's booth for glasses thereof.
I like that, during IWFS Wine Fairs, one can choose to eat anytime one feels like it, and, in addition, during one's meal, one has a vast array of wines to choose from.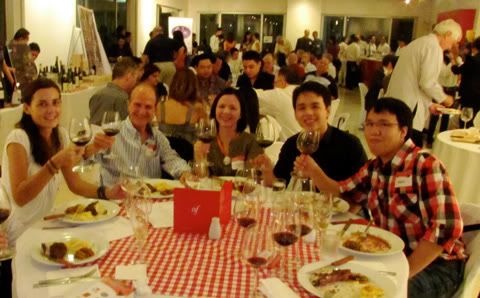 As mentioned earlier, Catha and the boys felt the
2000 La Rioja Alta Viña Ardanza Reserva
went best with the beef main course. Aside from the
2005 Spring Mountain Vineyard Napa Cabernet Sauvignon
and
2005 Joseph Phelps Insignia
that I had with the meat, I also got a glass of...
2006 Garofoli Podium Verdicchio dei Castelli di Jesi Classico Superiore
from Bacchus International's booth to go with more of the delicious Cebu lechon. Alex Lichaytoo suggested the pairing to me, and the wine's (it's a white, by the way) relatively bright, citrusy fruit with an underlay of almonds (that continues to a dry, food-friendly finish) indeed made for a good match with the lechon.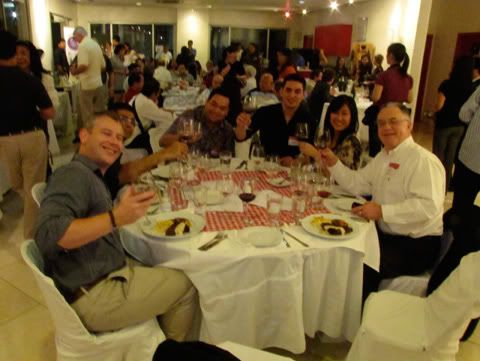 Eat, eat, drink, drink, toast in between.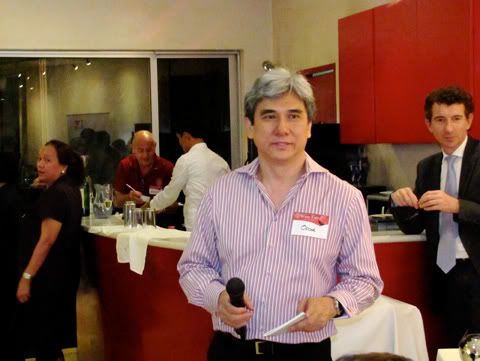 Oscar Ong, who conceptualized and organizes this annual event, addresses the crowd.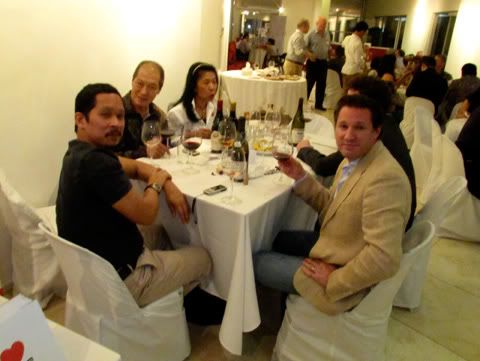 I stopped by Bernie's table after dinner where Bernie shared some bottles of red Burg from his vast collection with myself, Jojo, Richard and others. I didn't try all of them as I knew I'd be drinking even more later that night.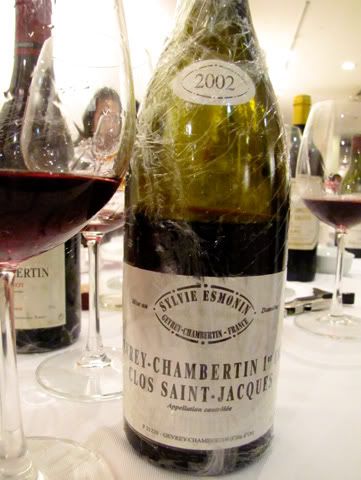 The
2002 Sylvie Esmonin Gevrey Chambertin Premier Cru Clos St-Jacques
had an interesting, vaguely perfumed nose, but was somewhat closed in the mouth. Heft and mouthfeel seemed quite proper though. Probably has good potential, but we didn't find it very interesting at this point.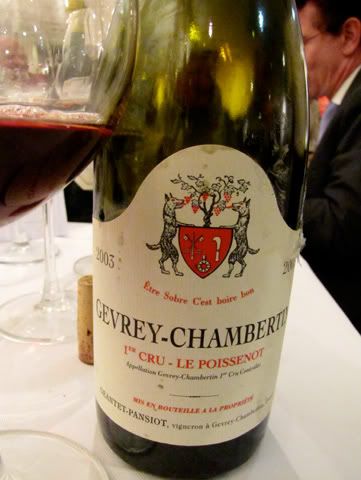 2003 Geantet-Pansiot Gevrey Chambertin Premier Cru Le Poissenot
- Much more open than the previous wine, showing vintage ripeness, heft and fruit drive. Though there is a touch of jamminess to the fruit, its meatiness made for an easy and entertaining enough drink.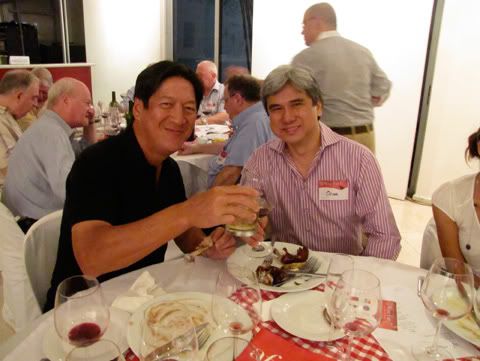 By that time, Ed Lee had switched to some scotch, while Oscar Ong soldiered on with wine.
Until the next IWFS Wine Fair!