I just got back a couple of days ago from a 3 week trip to Spain (with a quick 3-day sojourn in Bordeaux for the 2009 tasting). My first week in Spain, including roundtrip business class airfare, was hosted by the Spanish government through the Ministerio de Industria, Turismo y Comercio ("
MITYC
") and the Instituto Español de Comercio Exterior ("
ICEX
") as Nana Ozaeta (Editor-in-Chief of F&B World) and I were the lucky chosen Philippine representatives of the southeast Asian journalistic mission to Spain this year (the next 2 weeks of this trip were "on our own steam").
The group with ICEX's Paloma Vázquez (5th from left) at Bodegas CVNE.
Others in the group were Carmel Yip (Editor of Grocer & Caterer) and Jordan Choy (Wine Columnist of Ming Pao Wine World) from Hong Kong; Leena Ng ( Editor of Wine & Dine) and Joyce Huang (Writer of Appetite) from Singapore; and, Ilho Seo (Writer/Part Leader of Chosunilbo Daily) and the "mysterious" Park (a very famous yet internet-faceless blogger) from South Korea. We were all guided by the very able and charming Sandra Chan, Market Analyst and Chief Trade Officer of the Spanish Consulate's Trade Commission in Hong Kong (having lived many years in Panama, Sandra is absolutely fluent in Spanish).
In Barcelona, we were billeted at the landmark
Hotel Condes de Barcelona
on posh Passeig (pronounced "paseo" in Catalan) de Gràcia beginning the 20th March. My wife and I, however, arrived 19th March and spent the night at Tita Rose and Miguel's place under 10 minutes by cab from the hotel, literally across the park from the Barcelona Stadium.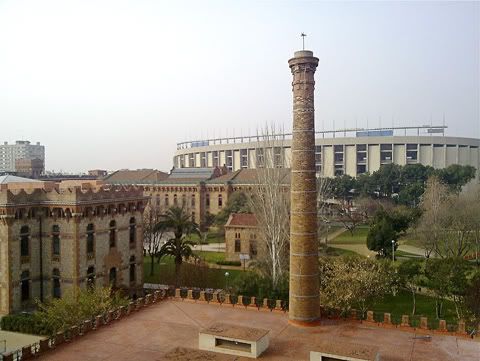 The view of the stadium from Tita Rose's balcony.
Miguel and Tita Rose took us to lunch the next day at a regular haunt of theirs, the
Pescaderia Ribera Manero
(Les Corts, L'Illa, Avinguda Diagonal 557 08029 Barcelona, Tel: 934 440 240) which serves absolutely great, fresh seafood.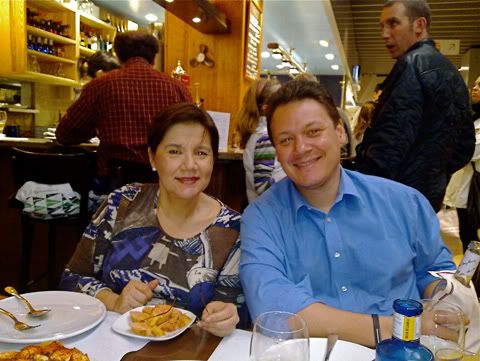 With a couple of bottles of exceptionally fresh, fruity and nicely dry
2009 Santiago Ruiz Albariño
(a platter of juicy, large Razor Clams in the background)...
...we enjoyed the following dishes:
Baby Squid, Pulpo à la Gallega, Pan con Tomate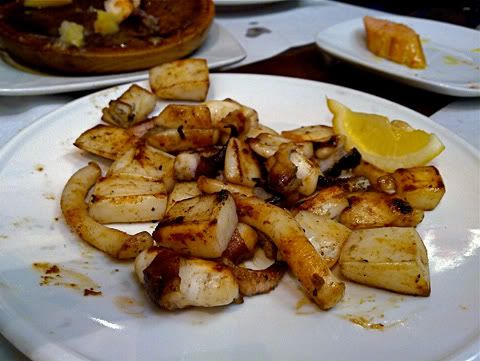 Chanquetes (tiny, creamy fish, somewhat similar to our local dulong)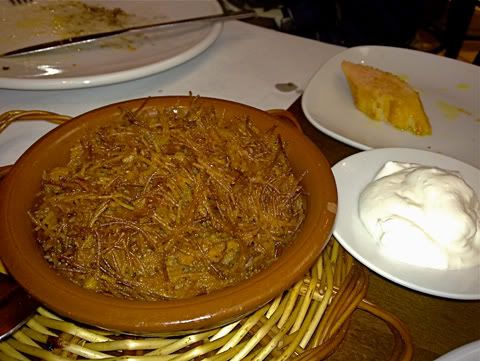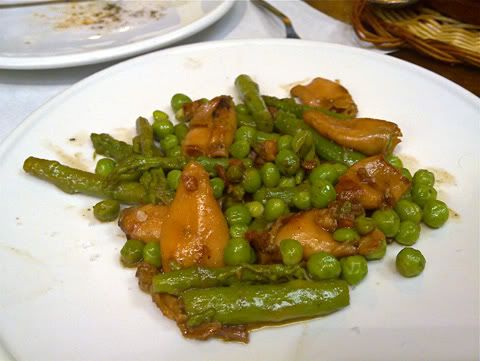 Green Peas, Baby Asparagus and Baby Squid
Catha and Tita Rose then walked back home while Miguel and I stopped for a while to shop for some wines at LaViña and El Corte Inglés on the way. Among others, from LaViña, I picked up a half bottle of...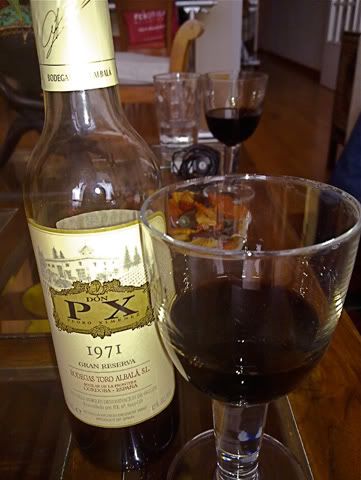 1971 Bodegas Toro Albalá Don PX Gran Reserva
- From Miguel's birthyear, we had earlier tried the 1982 vintage of this
at our December 2009 pre-Christmas lunch at La Tienda
. Typical pedro ximenez scents and flavors of molasses, dates, raisins, toffee, cinnamon, vanilla with a hint of licorice. Incredibly fresh and young at almost 40 years from vintage. Didn't seem quite as deep and complex as the 1982, but, still, very good. We finished the bottle amongst Miguel, Catha and I (Tita Rose no longer drinks). Catha got knocked out for several hours, so Mig and I hied off to
Hotel Condes de Barcelona
to check Catha and I in.
There we waited until dinner time for Catha, Miguel's uncle Iñaki (Tita Rose's brother, but he refuses to be addressed as "Tito") and Rina de Luca (a friend from Venezuela, based in Barcelona and soon to be based in Zurich).
View from the room's balcony overlooking Passeig de Gracia where you can see La Pedrera designed by Gaudí.
In the meantime, Miguel and I "tested" out a bottle each of...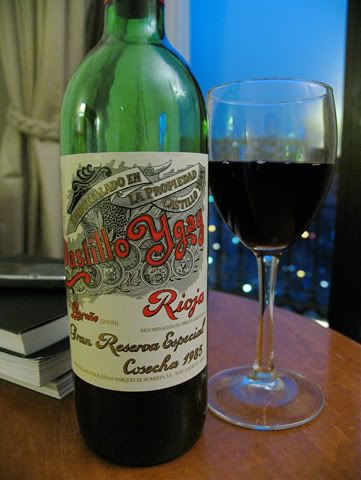 1985 Marqués de Murrieta Castillo Ygay Gran Reserva Especial
, and...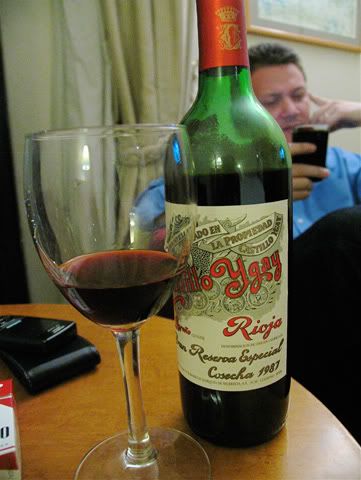 1987 Marqués de Murrieta Castillo Ygay Gran Reserva Especial
- both of which we had tried before and I've already previously written about.
When Catha, Rina and Iñaki arrived, we all walked to...
Paco Meralgo
- a tapas restaurant
that Miguel has previously written about
, the name is a play on the phrase "para comer algo" or "to eat something". I went through many Barcelona restaurants' tapas, and this place served, by far, the best I had.
A dish of raw bacalao with minced tomatoes, olives and olive oil; plates of jamón and fried artichokes (in season).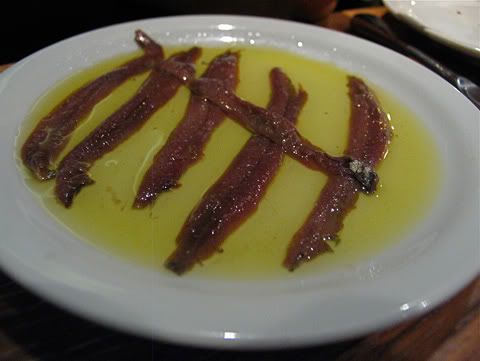 Ventresca de Atun Cruda (Raw Tuna Belly)
With Miguel around, naturally we also had Steak Tartare.
Surprisingly, I didn't recognize a single wine on their list, and all were very young as well - so we settled on a bottle of...
2004 Bodegas Luis Cañas Rioja Reserva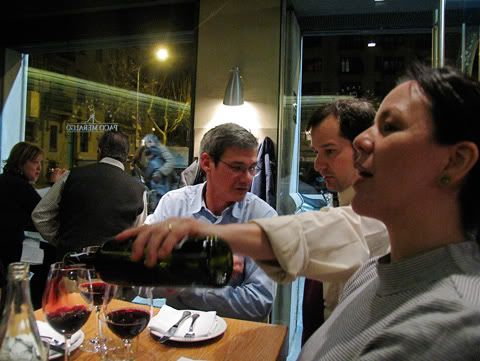 Though still very young and a bit too alcoholic, woody and forward for my taste at this point, it was decent enough an evening's red. Certainly good enough to enjoy with good friends over exceptional tapas. Would probably try this again 7 or 8 years down the road.
¡Salud!
We had a couple of desserts as well, but all I really remember was the Torrijas - the best I've had; Catha and Rina couldn't get enough of it.
A round of espressos then brought an end to a most enjoyable day and late night.