This past Tuesday lunch was with the Usual Suspects at
La Tienda
. Naturally, Miguel coordinated with Javi for the all the arrangements and the menu as well. Old favorites were on order plus a few new tapas as well. We were to be 8 in all; Mig, Rene and J-Lab were already there when I arrived...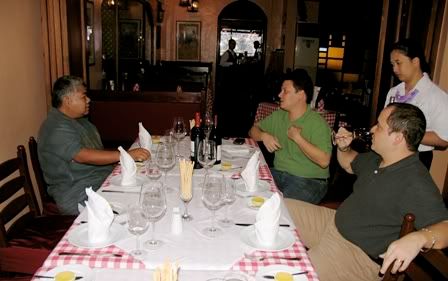 ...so we stated off with a bottle of...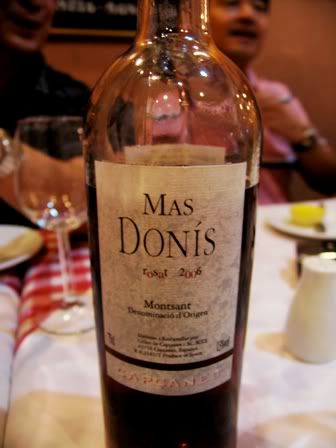 2006 Celler Capçanes Mas Donís Rosat
- I think Rene brought this, it's available at Premium Wine Exchange. From D.O. Montsant, a notably dry, predominantly grenache (80% + syrah and merlot) rosat/rosado. This is relatively hefty for a rosado, firm in its strawberry, raspberry, cherry flavors with a hint of underlying black currant.
Golf buddies Quito Moras, Henry Hagedorn, Jos Moraza and their friends happened to be there for lunch too (in the room beside ours) so I sent them a bottle of another relatively hefty
Eté de Mondot Rosé par Christine Valette
(a rounder/plummy rosé due to more merlot). These heftier kinds of rosé are good for lunch - inherently versatile, they go well with both luncheon tapas and main courses.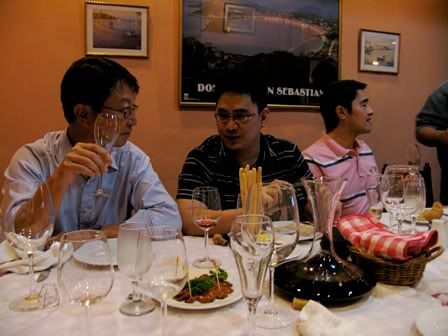 We had a good number of bubbly, whites and rosado to choose from.
When the others trickled in, we moved to a bit of fine cava...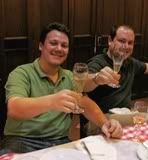 Freixenet Reserva Real Cava Brut
- Aaron's bottle, obviously, as his family's ADP Enterprises represents the huge Spanish Freixenet group in the Philippines. Bright, clean, dry, fresh, mild white grapefruit and citrus fruits with nuances of straw and white minerality. No angles, persistent bubbles and an effusively frothy middle. Quite refreshing and a very nice palate-primer, it is notably rounder and with more palate-presence than any other cava I have had. Good show.
With some of the
chorizos curados
, we also had some...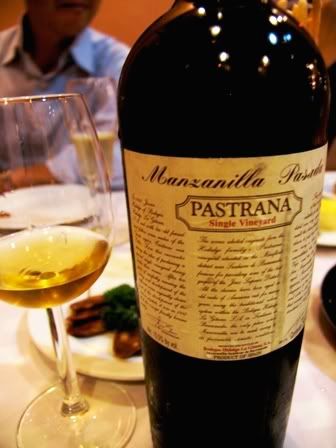 Bodegas Hidalgo Pastrana Single Vineyard Manzanilla Pasada
- J-Lab's bottle, one we enjoyed over
lunch at La Tienda last 24th June 2009
to test some
kokotxas de bacalao al pilpil
with txakolí. Then as now:
Bodegas Hidalgo Pastrana Single Vineyard Manzanilla Pasada - J-Lab's bottle; from the village of Sanlúcar de Barrameda along the Costa de la Luz, in the Anadalucian province of Cadiz in southern Spain. This 217 year-old bodega's holdings span 200 hectares planted to vine, with some reaching 80 years of age. "Pastrana" is the name of the particular vineyard wherefrom the fruit to make this wine is harvested.
According to Miguel, this is the typical drink enjoyed in Spain, after work, before dinner, at a tapas bar, with some olives and slices of chorizo.It struck me as a rather light type of sherry, quite nicely dry, with a subtle, vaguely rosted-nutty character with faint wood notes. Smooth and comfortingly warm on the palate. I could easily get into this pairing with tapas.

The Stockbroker arrived and we were then complete...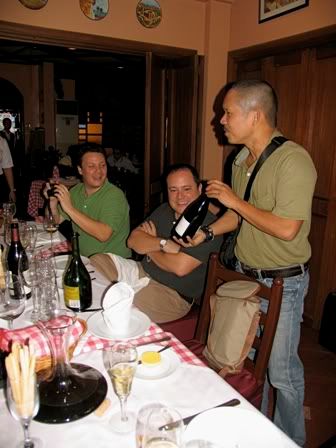 ...so the tapas started to make their way to the table and whites began to pour. With the opening salvo of my favorite
escalivadas
(no meal in La Tienda is complete for me without this appetizer)...
2008 Naia Rueda Verdejo
- Miguel's bottle, one he brought home from his most recent trip to Spain. Attractive with a nice nose that reminded me of honeysuckle over peach and green apple with a touch of freshly-cut, dewy grass, it was vibrantly mirrored on the mouth with white grapefruit hints. Fruitier middle than other Rueda verdejos I've tried. Very nice indeed, I really liked this and got several pours.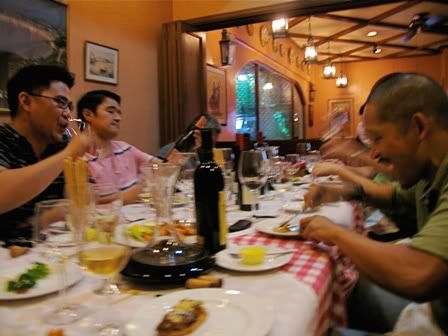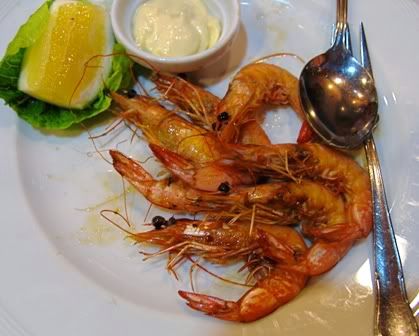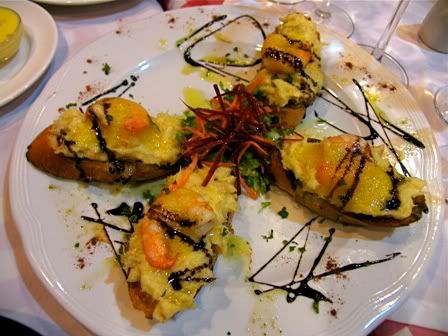 Huevos Estrellados à la Casa Lucio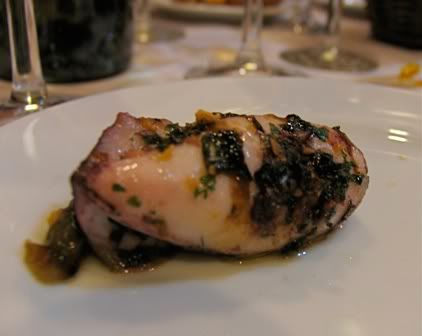 Calamares à la Plancha con Cebolla
All the dishes were incredibly good, the
brandada de bacalao
and
calamares à la plancha
con cebolla being standouts, as well as the comforting
huevos à la Casa Lucio
. Everyone was jockeying for more, jokingly debating on who already got more than his share of what.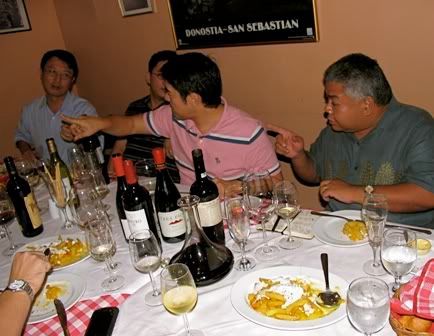 Order was restored, however, when Javi came out to see how we were doing and shared a quick glass with us.
In the meantime, we got to try something completely different...
2007 Marufuji Rubaiyat Kôshu Barrel Aged
- Keiichi's bottle of course, according to him, the kôshu grape has been vinified in Japan for around 150 years but it was
relatively
recently that they started oak-ageing these wines. Light on the palate, quite dry, its very mild, somewhat linear white grapefruit/white mineral and citrus notes (whisper of lime) made it very food-friendly - lifting and giving the caramelized onion-stuffed squid center stage.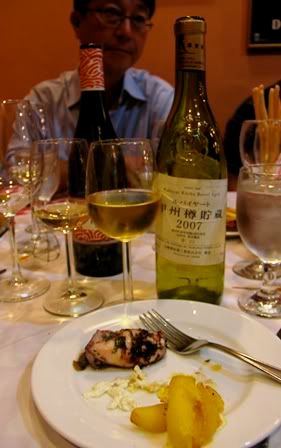 We also got to have a new albariño...
2005 Pazo Piniero de Lusco Albarino
- Aaron's bottle, but I am not sure if they are distributing this or it is from his personal stash.
Per Miguel
, this "is a selection of grapes from the oldest and steepest section of the vineyard to provide superior terroir character. It was also good, although it lacked the acidity and freshness that Laxas or Martin Codax have. It was a great match though for the Gambas a la Plancha". I add that it was quite soft and fruit-forward as well, exhibiting more/riper peach-fruit than other albariños I've tried.
I agree with his assessment that it was not as fresh or well-endowed with acid lift/brightness as the 2007 Laxas Albariño or Martin Códax, but this is probably due to the vintage and age of this wine.
Main courses were then served.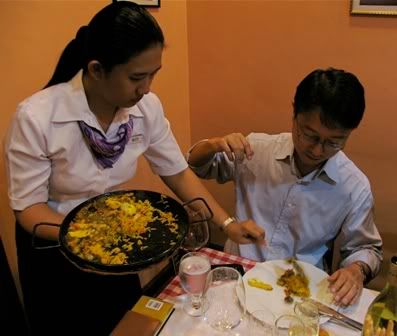 Paella de Verduras made with Basmati Rice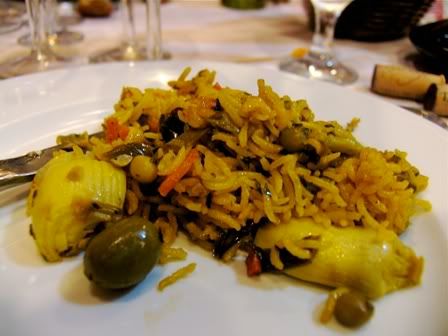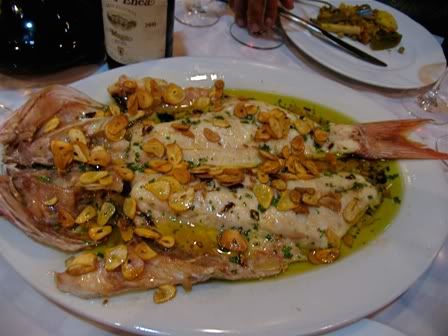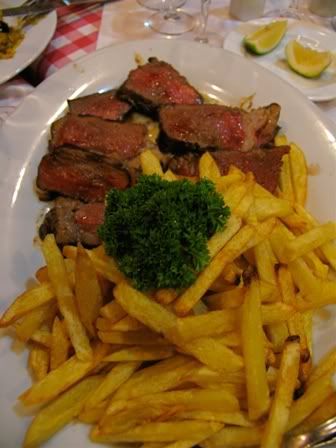 Chuletón with Fries
We hade so many Spanish reds on deck it wasn't funny, mostly young/youngish, but, of course, we had an aged one courtesy of the Stockbroker. Greg was beside himself with glee since many of the bottles were situated near him.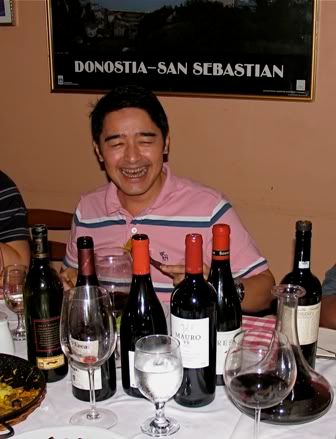 All either left open or decanted around 2 hours ahead of time...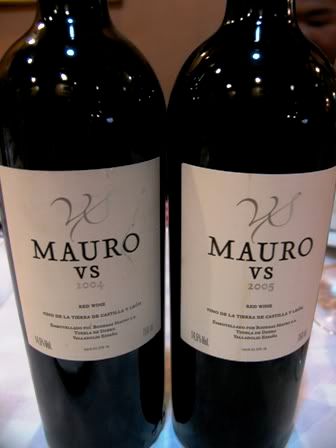 We had 2 recent vintages of Bodegas Mauro Vendimia Seleccionada ("VS"), the 2004 and 2005, Miguel's and mine respectively (the latter a gift to me from Aaron since "Mauro" is my eldest son's name). We went with the logical choice and opened Miguel's 2004 - a heralded vintage and less young than mine to boot.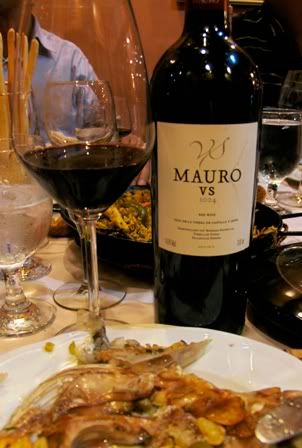 2004 Bodegas Mauro VS
- Miguel's bottle from the Duero river valley at Tudela; this doesn't fall under the Ribera del Duero DOC. Bodegas Mauro was established and is run by Mariano Garcia and his sons. For those few unaware, Mariano Garcia was the winemaker of the legendary Vega Sicilia for over 30 years, until he left in 1998 - so these wines certainly do not lack in pedigree, cache or high ratings, and, are accordingly priced. To my sketchy knowledge, the VS bottling is just below their top of the line Terreus.
Very young, opulent and powerful, this shows off concentrated and very ripe, creamy, deeply-veined black cherry, dark raspberry, violets, oak and licorice with undertones of dark chocolate. Acid is somewhat low in the face of the big, bold, ripe fruit. A modern blockbuster styled wine: forward and unabashed. Needs many more years' ageing, but, with decanting, it is already enjoyable with hearty red meat dishes.
2001 Bodegas Muga Prado Enea Rioja Gran Reserva
- Rene's bottle (sourced by Miguel in Spain); together with the immediately-below discussed wine, this was clearly my favorite red of the lunch. Comes off with firmer structure and better acidic balance, there is also a lot of wood, but better-integrated (it is 3 years older, after all) and not as forward. Still quite young, it is fullish in body, earthier and more savory with hints of cep and meat below the dark fruit. Admirable harmony and balance. Very, very nice.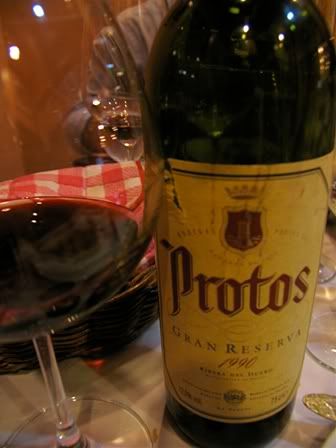 1990 Bodegas Protos Gran Reserva
- Yet another aged treat from the Stockbroker. Mellow, soft, mature, displaying bottle age-sweetened refined dark red fruit elixir (cherry, raspberry) over discreet, cassis, leather, cedar, dark spice and violets. Seamless and elegant. Wonderful to have a well-aged Ribera del Duero. Loved it. I drank it alone, enjoying the chuletón to the younger reds.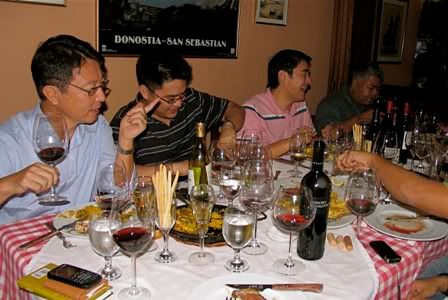 Everyone enjoys eating at La Tienda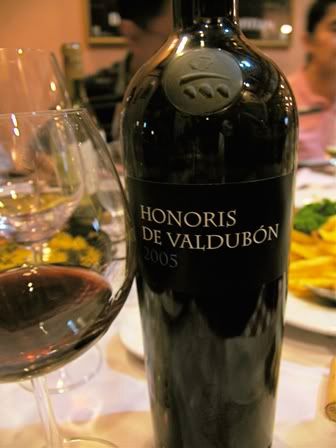 2005 Honoris de Valdubón
- Aaron's bottle. I've tried this before from him at a wine dinner he hosted for 15 persons at
La Tienda on the 10th August 2009
. My notes then are still pretty much on point:
2005 Honoris de Valdubón - I found this one of the better reds of the evening, although, understandably, quite young at this point. Definitive, bright, ripe, slightly spicy and notably deeply-veined red berry/fruit (cherry, strawberry, raspberry), bit of plum with slight, underlying cassis and black coffee. There is quite a bit of oak, but I think it may integrate well enough in time. Smoothly confident, with a long finish. Liked this one. At P4750/bottle, it's one for the cellar.
I had mainly this wine with my chuletón.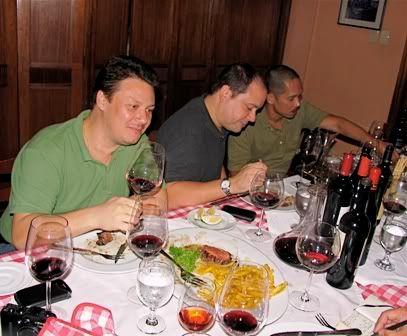 I seem to recall there were one or two other reds, but, unfortunately, I wasn't able try them, or, if I did, I no longer remember. I was just having too much fun - it was a raucous lunch as usual with the Stockbroker's and Greg's stereophonic laughter resounding throughout.
We had planned no dessert as we knew we'd all be so full. Javi, however, sent us platters of dried dates with which we were treated to...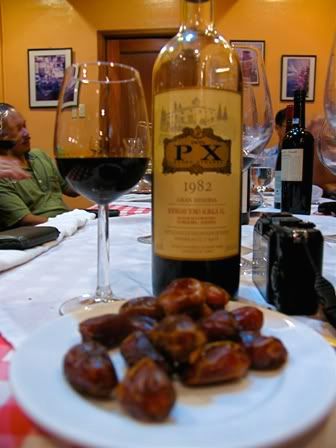 1982 Bodegas Toro Albalá Don PX Pedro Ximenez Gran Reserva
- Miguel's bottle. Very deep, mellowly rich, creamy dried figs and dark fruits, dark caramel, molasses, toffee, chocolate, vanilla, with whispers of cinnamon and anise. Mouth-coatingly full with a kilometrica finish. This is certainly on a way different level above all the other PXs I have tried before. It ran excellently with the dried dates.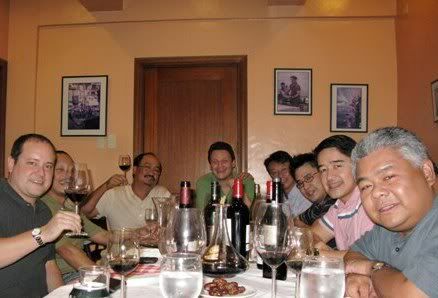 What a lunch! Everything was great. Thanks to all; and, until the next!