~ Prologue ~
I've mentioned
Los Golfos
before as a group of friends whose company I joined some years back for weekend golf games. Most all of them are La Salle graduates and have been enjoying each other's friendship for decades. Though I am much younger than them, don't speak Spanish anywhere as well as they do (though I can understand fine) and am an Atenean to boot, they welcomed me warmly to their group around 5 years ago (Miguel Moras and the late Tony Ortigas invited me to join them as the members of my old group moved on from golf to triathlon and sailing). Simply put, they are probably one of the most fun-loving and happiest bunch of fellows I have ever had the pleasure of knowing and the fortune to be friends with.
~ oOo ~
Yesterday, the 13th November 2010, a tournament at Calatagan took the place of our regular Saturday golf game, to be followed by dinner at Henry Hagedorn's palatial beach digs in Punta Fuego, in anticipation of his coming birthday. Mackie Cui and I couldn't make the tournament, so I hitched a ride with him to join Henry's dinner.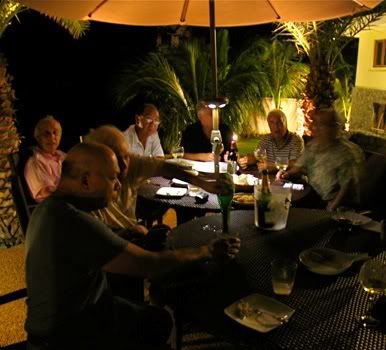 Sal Lacson is poured more txakoli by Jimmy Alba, Quito Moras, Tito Reynoso, Jos Moraza (partially hidden), Henry Hagedorn & J-J Berenguer-Testa
It being nice out that night, Henry had us set up in the garden overlooking the sea. Some of the guys had already popped open some beers with pica-picas of
Salami
,
Torta de Patatas
,
Empanadas
,
Chicharrón
and some excellent
Boquerónes
that Miguel Moras brought over from Cebu. We also enjoyed bottles of cavas that I have written about several times:
2004 Freixenet Cuvée D.S. Gran Reserva Cava
- This special cuvée is a vintage cava named after a former president of Freixenet, Dolores Sala, and is made only in exceptional years. This vintage 2004 is the 17th bottling since 1969. Bright, crisply dry and lively, it presents dominant flavors of white grapefruit, Asian pear, just a hint of white peach and fleeting sourdough, biscuit and yeast notes.
Freixenet Reserva Real Cava Brut
- My most recent notes on this are barely a month old and are still very applicable:
This bottling of (even) higher-end cava was created to commemorate the visit of King Juan Carlos and Queen Sofia to the Freixenet winery in 1987. A blend of Macabeo, Xarel-lo and Parellada, this fine cava is typically blended with a small percentage of reserve wines and aged at least 30 months before release. Quite champagne-esque in its fresh apple with slight white grapefruit, lime/citrus and preserved fruit base flavors, it is complexed with notes of pastry, bit of brioche, white flowers, discreet fine minerality and a whisper of vanilla. Barely medium-bodied with a nice, slightly biscuity-creamy from the middle, its over-all depth and freshness definitely make it one of the more serious cavas I've had. Very nice indeed.
Tasted side-by-side, the Reserva Real is markedly heftier, rounder, fuller in body and presents more depth in its fruit and a more serious, toasty, savory character.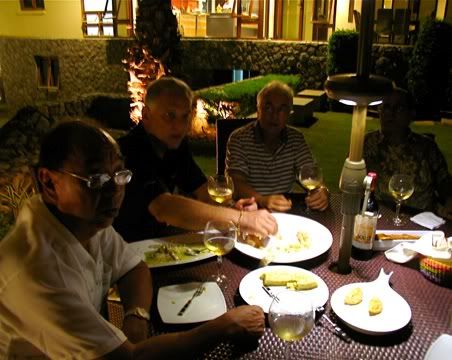 Tito Reynoso, Jos Moraza, our host/impresario Henry Hagedorn & J-J Berenguer-Testa
With the
Boquerónes
, Sal Lacson, Jimmy Alba, Quito Moras, I and some others enjoyed some glasses of
2009 Txomin Etxaniz Txakoli
- a typical and traditional bone-dry, vaguely spritzy and highly citrus-acidic white wine from the Basque region's
Denominación de Origen Calificad
a (DOC) Getariako Txakolina. Made up of the native hondarrabi zuri (90%) and hondarrabi beltza (10%) grapes, Txomin Etxaniz is the txakoli brand of choice most everywhere in Getaria, Azpetia and in some bars in Bilbao. For whatever it is worth, I have read Jancis Robinson, MW opine that Txomin Etxaniz is the best txakoli producer of Getaria.
Txakoli is typically paired with fresh seafood dishes that coastal Basque towns such as Getaria are famous for
. With the vinegar-and-garlic laced
boquerónes
, it was a perfect match.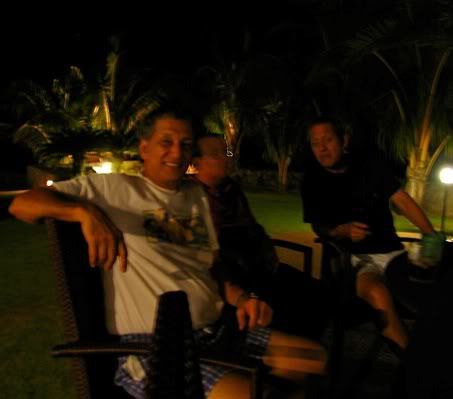 Miguel Moras, Raffy Villarreal & Mackie Cui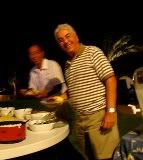 Dinner was eventually served on two buffet tables, there must have been at least a dozen different courses to choose from. It was just not humanly possible for me to eat all of them, so I gorged on the huge platters and bowls of
Fabada
,
Baked Baby Back Ribs
,
Spaghetti Bolognese
,
Grilled Chicken
and
Mashed Potatoes
. With these, the following reds were opened:
2003 Château Poujeaux
- Personally, Ch. Poujeaux is my favorite producer from Moulis, much preferring its wines to those from the other leading estate, Ch. Chasse-Spleen (even in blind tastings). This wine shows the general ripe-roasted vintage 2003 character in its apparent alcohol level, low acidity and boldness and forwardness of fruit. The wine unabashedly displayed deep, very ripe and concentrated black cherry, raspberry, hint of kirsch, cassis, licorice, vaguely smoky cedar, toasty oak and a touch of violets. Bobby Paradies noted that it was "a bit strong", so I explained it was a general vintage trait for the Médoc region's wines in 2003.
2003 Château Potensac
- This has a firmer structure and is not as round as the previous wine. Marginally more tannic, it comes off as more masculine and austere. Though the fruit (probably a bigger percentage of cabernet sauvignon in this) shows the vintage ripeness as well, it doesn't do so as stylishly as the 2003 Poujeaux. The oak is also comparatively much less apparent. This, in my opinion, is more food-friendly.
1998 Bodegas Muga Prado Enea Gran Reserva
- From one of the traditional old guard in Haro, Rioja Alta, the Prado Enea bottling is, as far as I know, from fruit of older vines picked later (after longer vineyard hang-time). I very recently opened a bottle of this
at a board lunch of La Commanderie de Bordeaux Manila
, and my notes at the time still apply:
My bottle, showing quite differently from the bottle I opened at the last IWFS event in that this displayed a rich, forward aromas and flavors of creamy, slightly toasty new oak (French, not American) , concentrated, moderately dense, indulgently ripe, macerated black cherry, raspberry, underlying rich dark fruit, bit of fig, licorice, cinnamon and a dose of creamy vanilla and new leather. Very round, hefty and comparatively robust. This wine, for some reason, reminded me of the Stockbroker's bottle of 1985 Marqués de Murrieta Castillo Ygay Gran Reserva Especial at Una Noche Riojana.
There was an excellent
Leche Flan
for dessert which I greatly enjoyed, as well as slices of fresh mangoes. A birthday cake was then brought out for the evening's host and birthday boy.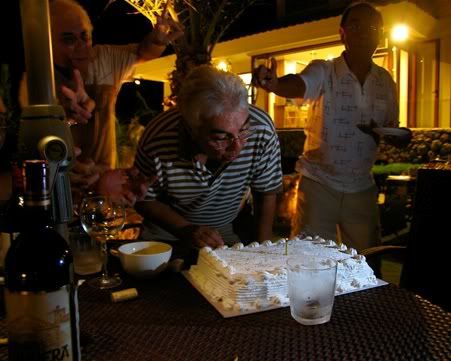 Henry blows out the lone candle as Jimmy & Tito seemingly attempt to bunny-ear him.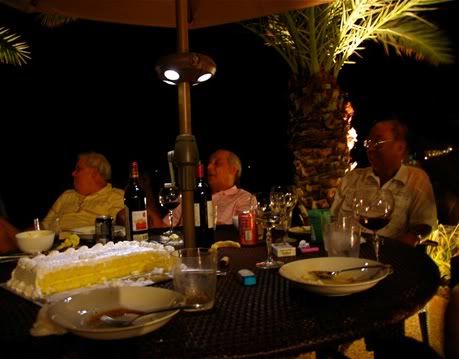 Sobrang busog: Jimmy, Quito & Tito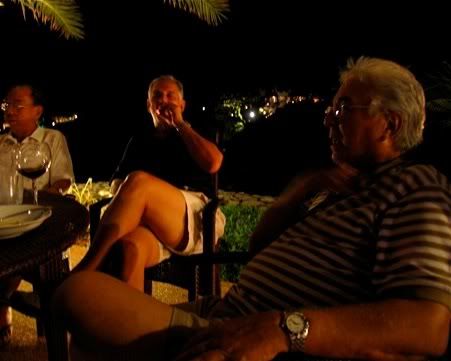 Jos puffs on his puro as Henry & Tito enjoy the view of the sea and night's breeze.
Art Zuluaga, Bobby Paradies & Sal Lacson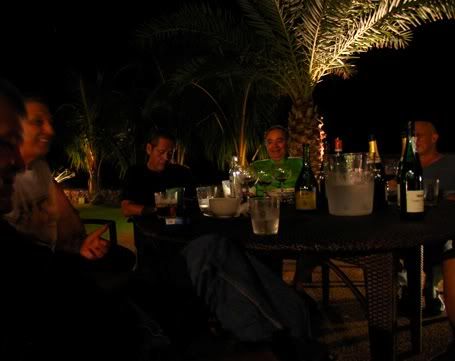 Bobby, fueled by the wine, looks like he's just beginning the evening...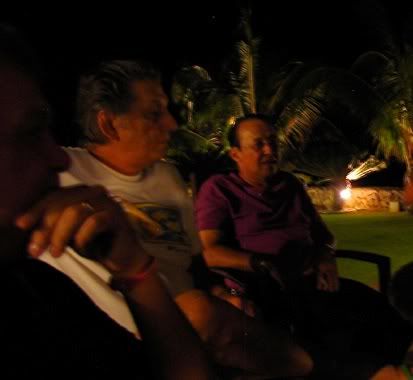 ...while Raffy looks like he's just about to fall asleep.
Most of the guys were staying over at Henry's to watch the Pacquiao fight the next day in Henry's lavish home theater. Those of us who opted to head on home then took our respective leaves by 10:30pm so as not to be on the road too late.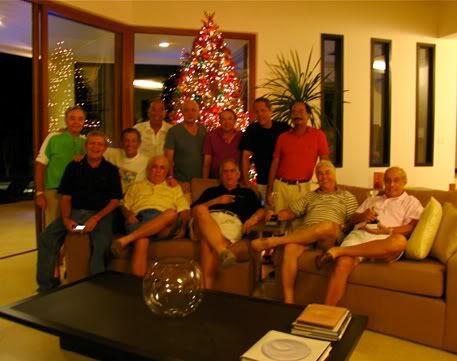 All the guys - Henry & Quito with their trophies from their wins at the morning's Calatagan tournament.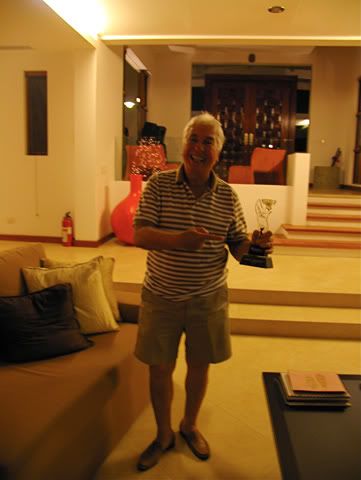 ¡Un millón de gracias, Don Henry, enhorabuena y feliz cumpleaños!