December brings its usual deluge of parties. The other night, however, was extra special since Catha and I (together with many other friends) got to celebrate Lance & Jay's 10th wedding anniversary over dinner and lots of drinks at
Masseto
which they had closed down for the party
. Difficult to believe its been 10 years since we witnessed them exchange vows in Honolulu.
We arrived on time and settled in, Lance near the entrance greeting guests as they arrived...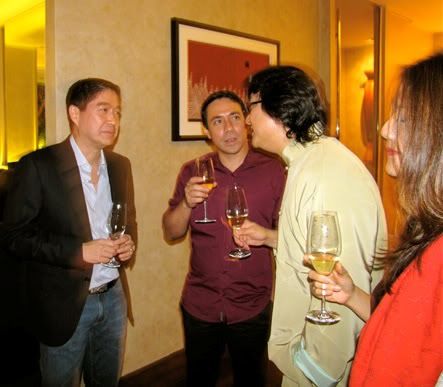 ...and were served chilled glasses of...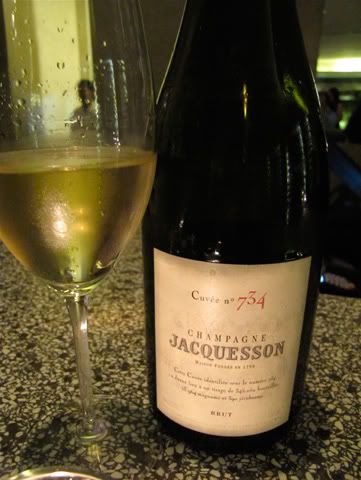 Champagne Jacquesson Cuvée Nº 734
- Of Jacquesson's Nºs 732, 733 & 734, the 734 edges out the 733 as my favorite. Not linear and aggressively citrusy like the 732, and marginally more rounded than the 733, the 734 is crisp, lightly bready, well-focused, with nicely rounded, ripely sweetish lemon, apple, pear, touch of slate and an alluring slight hint of lemon merengue creaminess that kicks in past mid-mouth. Dangerously drinkable. Since I was tired from golf that day, I allowed myself only one glass of this before dinner, but would have had no problem polishing off a few more had I brought a driver along that night.
Johnson, Jay, Maricar, Candy & Catha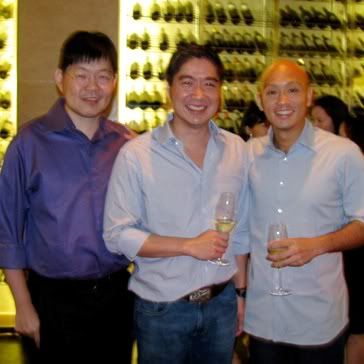 Lance flanked by his two best men at the wedding: Johnson & Chris.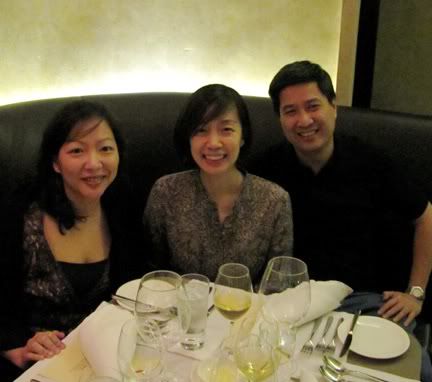 Marcia, Lisa & Berck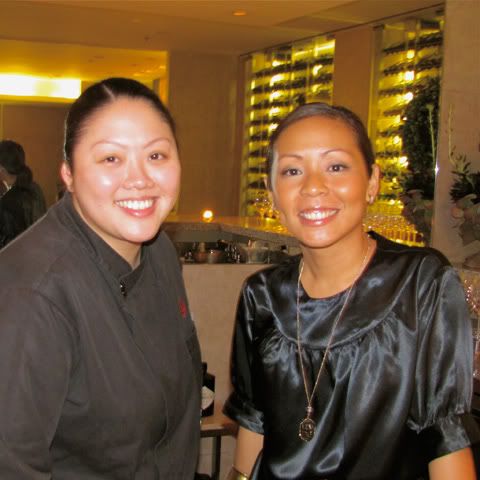 Tippi & Michi made sure we were well fed and that everything ran smoothly.
Catha and I also got to say hi and chat briefly with Lance's mom. I actually don't think I've seen her since the wedding. I remember vividly during some of Lance's birthdays before he got married, Mrs. G used to make really nice teppanyaki steaks on their outdoor misono table, as well as one of the best
pancit sotanghon guisados
I've had - the latter of which I would literally stuff myself on every time because I didn't know when the next chance I could have it would be.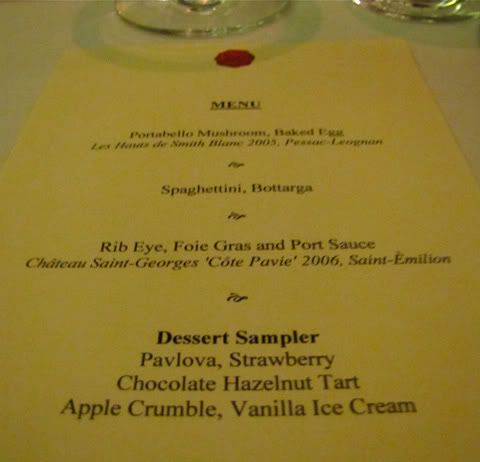 The Menu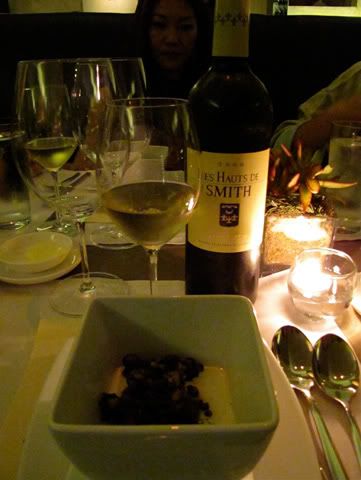 Portobello & Baked Egg
This is a simple, honest and earthily comforting dish for me, having it every time I'm at Je Suis Gourmand, and, a couple of times in Spain. Different from Marc Aubry's rendition mainly because the portobellos were diced. The flavors were good, but, personally, I prefer biting into bigger chunks of the meaty mushrooms and having a bit more gooey yolk. This was paired with the
2005 Les Hauts de Smith Blanc
- the second white wine of Château Smith Haut Lafitte. Quite rich and hefty for a second wine with a large dose of oak and leese notes in its very ripe and sweetish apricot, slight peach and grapefruit.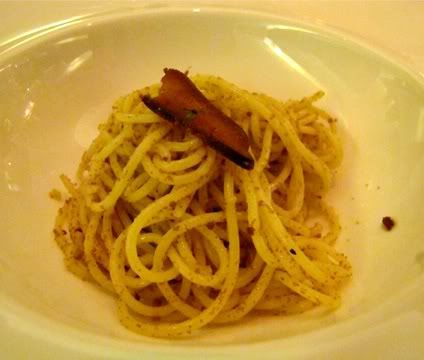 The
Spaghettini Bottarga
was generously flavored with the pressed salted roe. It was different from the last 2 times I've had this by Tippi in that the texture was a bit grainy this time. Still, I enjoyed this a lot and would have happily had a lot more of this Sicilian/Sardinian dish, but thought to save my appetite for the main course of...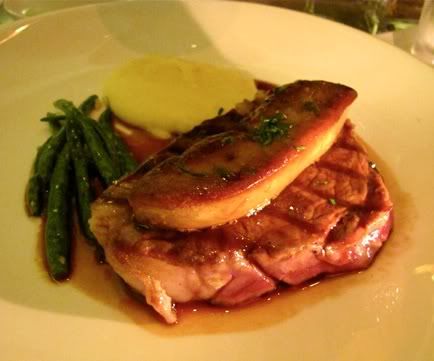 ...
Rib-Eye, Foie Gras & Port Sauce
. I ordered mine rare, and it arrived properly rare - not easy to do considering the thickness of the slice. The foie was nicely caramelized on top as you can see from the picture. I was happy with my dish and pretty much cleaned my plate. Some at the table commented that the meat had a bit of sinew - something I also observed, but knowing what it looks like, I just cut around it. The port sauce was subtle and discreet - which I greatly appreciated - and the sidings were impeccable. This was paired with...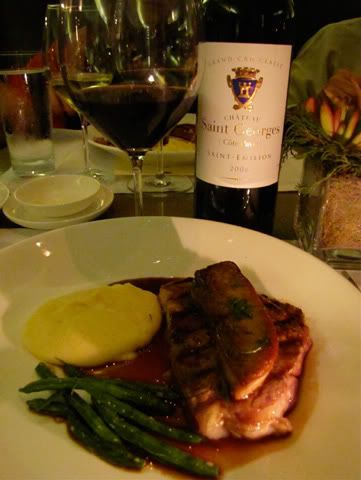 2006 Château St-Georges Côte Pavie
- This is the first time I've tried the wine from this château. This was actually quite nice - not overblown, over-concentrated/extracted/ripe/oaky the way many modern St-Émilions are. Medium-bodied, moderately firm; there is a bit of a serious note to the dark fruit as well as some tobacco, slight leather, cedar and a bit of violets. Smooth. Easy to like. Most everyone at the table told me they liked this without my having to ask. A quick check on the web shows this to be quite reasonably priced (I don't know how much Masseto charges for a bottle though). I assume the Stockbroker picked out this wine for Masseto. If so, a tip of the hat is in order.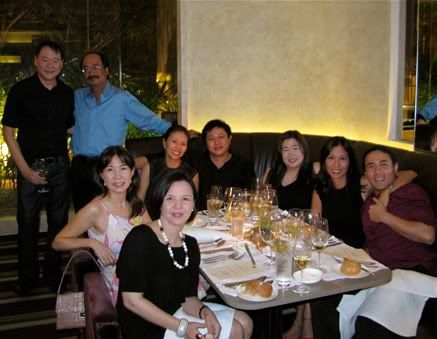 Me with Jay's table. I was seated at Lance's table further down the couch with Johnson, Candy and a charming Thai couple (the fellow was Lance's classmate in Wharton, if I recall correctly).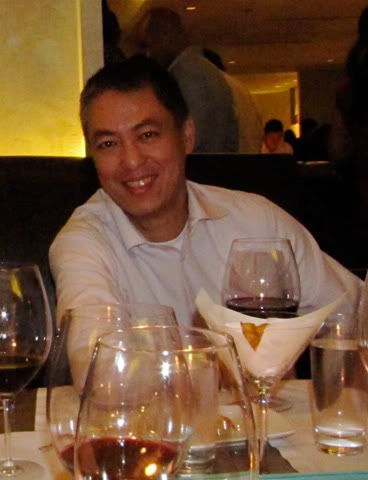 Mike arrived late and joined us for a couple of glasses.
A dessert trio of
Pavlova Strawberry
,
Chocolate Hazelnut Tart
and
Apple Crumble with Vanilla Ice Cream
followed. The chocolate hazelnut tart was my favorite one of the three. A close second was the pavlova. Berck, who I've not seen since
his and Booze's joint birthday party late this past May
, had moved to our table as well, and he and I started hitting several double scotches while catching up. By the time he and Lisa had to head home, most everyone had moved to the bar area and things started heating up.
I continued with more double scotches (those I could get past my wife, anyway). Some were having single malts neat, while many were drinking...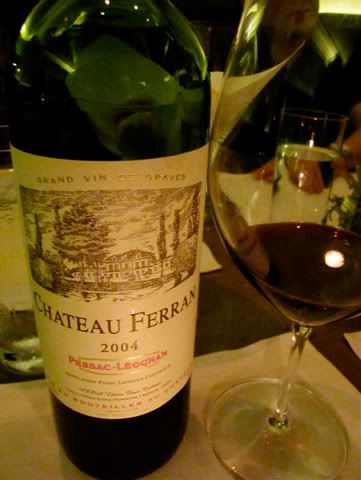 2004 Château Ferran
- Michi made me taste this to see what I thought of it. It is a very decent, though none-too-complex red that shows typical notes of Pessac-Léognan (hints of asphalt, slight tobacco and dried herbs) in its below medium-bodied dark cherry, cassis and cedar. Easily quaffable, if not very distinctive.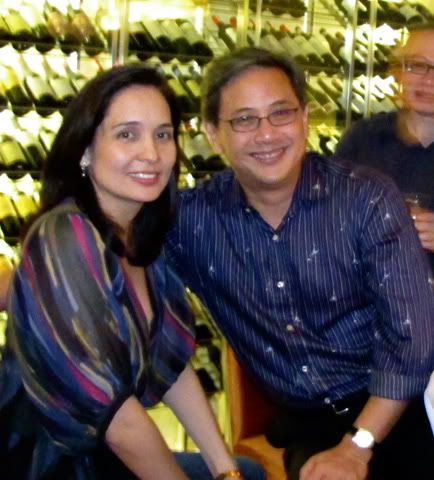 I was happy to see Lisa (Apa's elder sister) there who was with her husband, Anton (partially hidden on the far right), and their partner in the local Straights Wine shop.
William joined me hitting scotches after his better half, Leia, had gone home after dinner.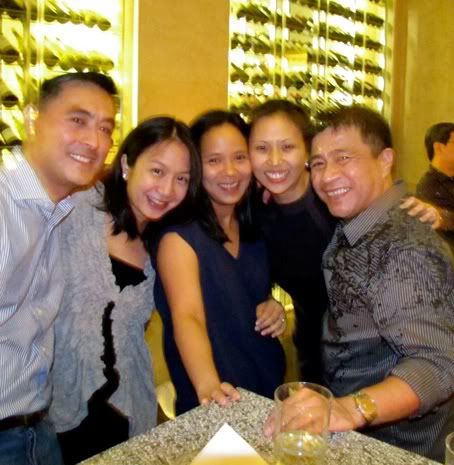 Jay enjoying the company of friends joining in celebrating the momentous occasion.
Getting down as the DJ played dance tunes.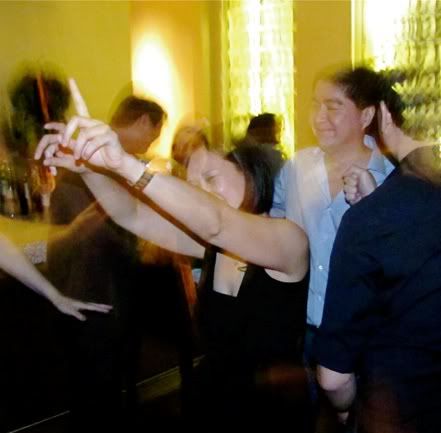 My camera must have been having some scotch as well without my knowing as everything started to blur....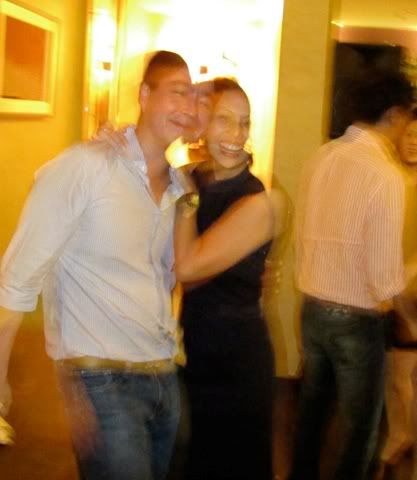 Happy 10th anniversary, Lance & Jay! Great party! Catha & I got home past 4am - it's been years since that happened.