I normally make it a point to post in chronological order. This is one of the rare instances I have not. It's just that I'm so happy that Marc Aubry is back in the game with his new restaurant
Champêtre
. Located at the same site of Je Suis Gourmand, Marc has reopened with a more rustic Provençal look. Despite its facelift, the old place is as comfortable and welcoming as ever.
We were 5 for lunch: J-Lab, Rene, Richard, the Stockbroker & I, and started off with shared platters of
Smoked Salmon w/ Capers, Onions, Etc.
and some of Marc's signature
Terrine of Foie Gras
. With these, we had...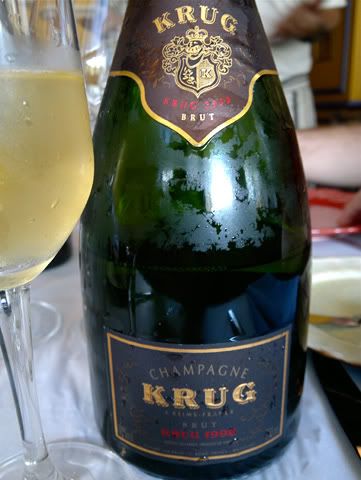 1998 Champagne Krug Brut
- My bottle. At the outset, it was very dry, full, toasty and a bit tight and linear, mainly showing very focused white citrus. After some time in glass, however, it fleshed out and gained complexity with added nuances of nuts, slight caramel, sweetish dried fruit, bit of baking spice and, towards the back, underlying café crème. I've read allusions to the 1988 made about this 1998 - and I can understand why. Very nice, but, I must say that it can't hold a candle to the 1990. Still, at the price I got it (HK$1400+/bottle on sale at the Watsons Wine Shop in Ocean Terminal, TST), this is a good buy in my book.
No meal by Marc, lunch or dinner, is complete without his
Escargots a la Bourguignonne
, which all of us, except for Richard, got for our starters. A couple of days before, Rene requested that some Tempier Bandol Rosé be brought for this dish, and I happily obliged.
2009 Domaine Tempier Bandol Rosé
- My bottle. I've written about this so many times, I need not go into detail anew. After one sip, J-Lab exclaimed that this was an exceptionally good bottle of '09 Tempier rosé. With only one sip by me, I immediately knew why he said that. This was vivacious, joyful in its precisely provençal herbed fruit - more than any other bottle of this I've had, and I've had
very
many. Fantastic alone; fantastic with the fat, juicy, larger-than usual snails (these were handpicked Burgundy snails imported and supplied by Jerome Philippon) - heavenly.
In the meantime, Richard carefully opened his bottle of...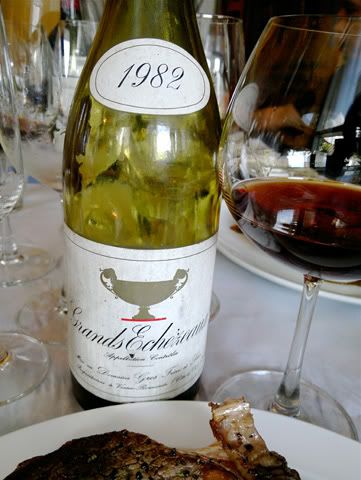 1982 Domaine Gros Frères et Soeurs Grands Echézeaux Grand Cru
- Richard's bottle, in admirable condition. Sweetish bouquet of Burgundy decay, old violets, loam, darkly ripe red fruit, slight musky meatiness, mushrooms,
sous bois
and well-integrated wood spice. Nice layering of mirrored flavors in its silken, slightly over medium body. Good length and balancing acidity. What a treat indeed. Lovely with my main course of...
... rare
Steak & Frites
. With this, I also had some...
1970 Bodegas Marqués de Murrieta Ygay Etiqueta Blanca
- from the Stockbroker; served blind as usual. From the bouquet and an initial sip, I was able to identify it as an aged Rioja, but the Stockbroker unveiled it before I could make a more specific guess. One or two thought it could be an aged Burgundy - and I don't blame them. As I've said before, aged fine tintos Riojanos do develop Burgundian traits and, save for the balsamic notes, can easily be mis-identified as Burgundy. I've both heard and seen this happen before.
Balsamico and wild cherry notes on gently cedar-laced red fruit, slight orange peel, worn leather, violets and a touch of anise. Medium bodied, notable acidity and focus. Another fine treat. I was even happier that I chose a steak for my main course; and this continued with the next red as well.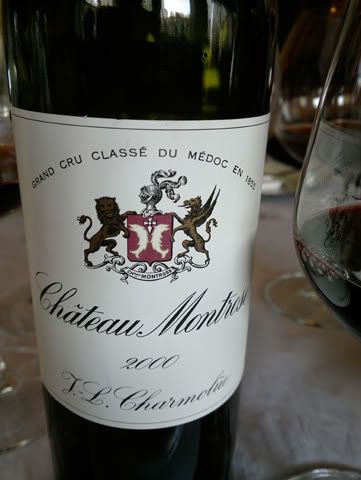 2000 Château Montrose
- Rene's bottle. Wow, this was quite a switch. Comparatively big and burly, this is definitely the ripest, and most fruit-forward Montrose I've ever had (not too surprising, though, because of the vintage). Opulent alongside the aged Burgundy and Rioja, this had a lot of rolling muscle in its deep crème de cassis, bit of kirsch, blackberry, slight tobacco, new leather, dark minerality, black coffee, licorice and apparent, but judicious (the fruit can take it for sure) vanilla/oak. Tannic and youthful; this will last for many, many years I'd expect. Whoa! We continued with this,
à la Bordelaise
, with the
Cheese Platter
(which I forgot to photograph). Nice with the nutty
Tomme de Savoie
, I thought.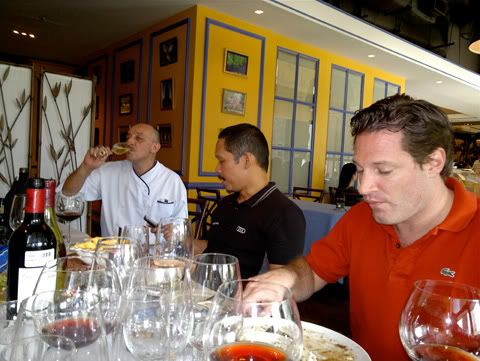 Marc joined us for a glass of champagne as we finished off our main courses.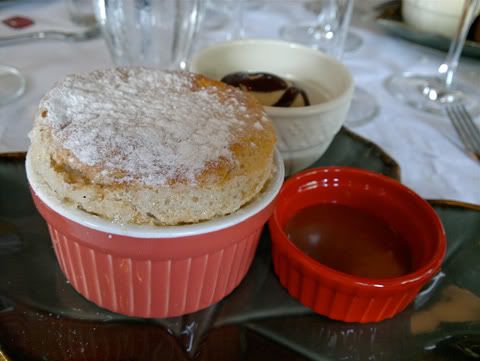 For dessert, Marc made us all some of his special
Chestnut Soufflé
which we had with..
.
2003 Château Coutet
- J-Lab's bottle. We'd had this before from the Stockbroker after a long wine lunch at Old Manila back on the 24th July 2009 when I briefly described it as "...rich, concentrated (and) opulently showy....". Almost 2 years later, it is as rich, concentrated, opulent and showy as ever it was. This afternoon, I added "tons of candied apricot and orange marmalade" to my descriptors - come to think of it, "full-bodied and bodacious vanilla" as well. Hurt me, baby!
Until the next!