4th August 2011, Global Beer Exchange's Tasting Room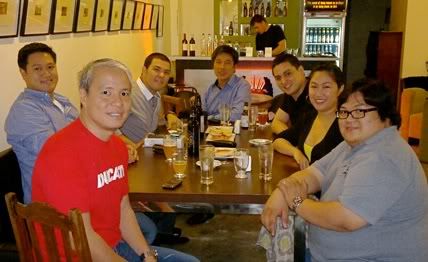 This was the first of two separate Thursday tastings of different bottlings of Jim's new Japanese ale brand,
Hitachino Nest
(produced by the
Kiuchi Brewery
). On deck that day were the White Ale, Japanese Classic Ale, Nipponia Ancient Ale and Espresso Stout. It was a pretty packed night at the Tasting Room. I couldn't stay too long though as I had a dinner to attend. Thus, I had 2 hours to have all 4 brews. No problem.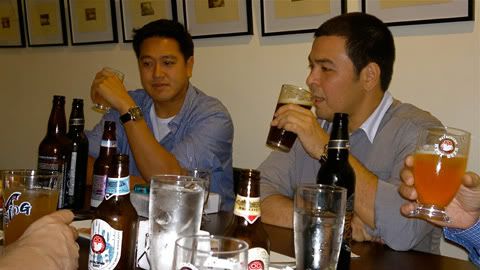 Fellow regular Alex Tiu & Beermeister Jimmyton Araneta
The lightest of the bunch was the
Hitachino Nest White Ale
- Very fresh, eminently gulpable, mildly hoppy, citrus, orange peel noted ale with suggestions of sake. This goes down very easily...surely a crowd pleaser for those who will want to go on all night. It's dry brightness made me crave some sushi...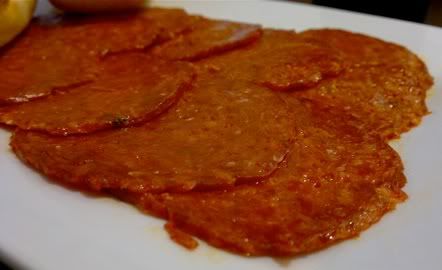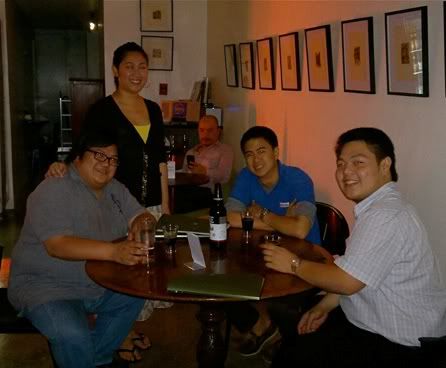 No. 38 Sports Lounge & Grill proprietress Chinkee Clemente-Koppe
w/ fellow lawyer Bodjie Tobillo & the boys.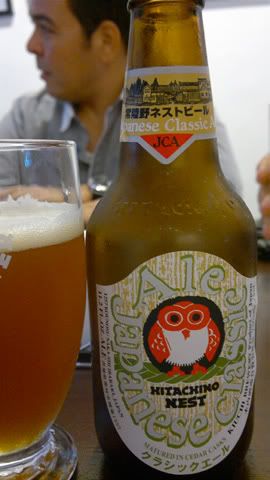 Next up several notches in weight class that night was the
Hitachino Nest Japanese Classic Ale
- deeper and more complex with hoppier dried fruit flavors (if not as playful and easily gulpable as the previous ale), this is heftier (just about medium-bodied) and packs a more potent, though quiet, hoppy punch. This was a bit more my style, comparatively speaking, that is. Nice with the...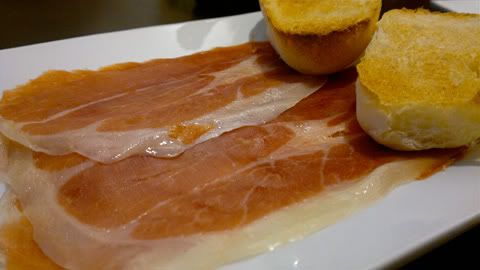 ...silken fatted jamón serrano.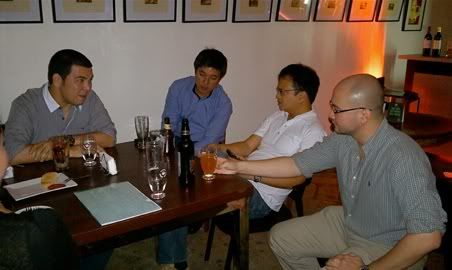 Jim, Jun Villanueva, his brother-in-law Marcel Crespo & Paolo Misa.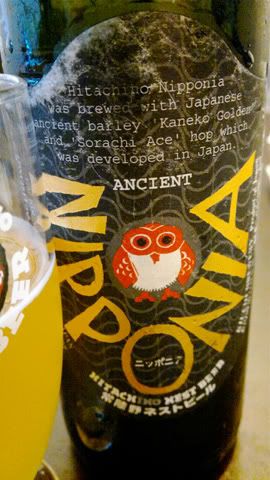 The
Hitachino Nest Nipponia Ancient Ale
(550ml) was my and Paolo's favorite of the night. Leaning a bit more to the Belgian style in its slightly honeyed dried fruit, citrus, pine needles, moderate maltiness, past mid-mouth hop bitterness - all on a smoothly textured medium body. Very nice.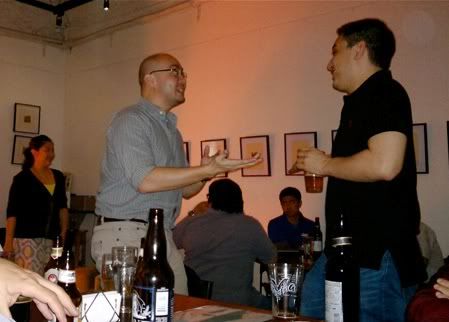 Paolo Misa & Matt Koppe in beer-laced conversation.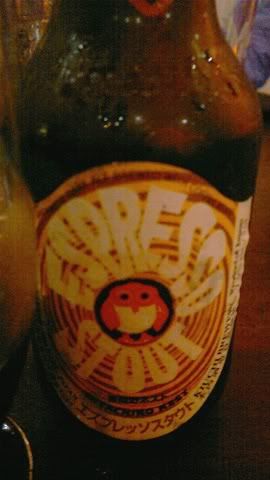 My last bottle for that session was the
Hitachino Nest Espresso Stout
- Full-bodied, full-flavored, rich espresso and deep chocolate milk flavored stout with subtle, underlying roasted malt. Not as sweet as many I've tried - which, to me, is a good thing. Lovely. It goes down so easily but with a long-lasting finish. I downed my bottle more quickly than I expected and had plenty of time to spare to make my 8pm dinner after having a parting chat with my fellow Tasting Room "senior bad boys"...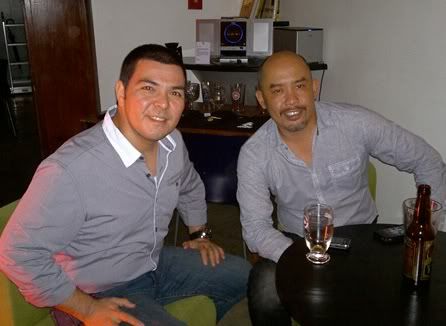 Jim & (high school classmate) Dino Jalandoni.