11th August 2011, Global Beer Exchange's Tasting Room
At 5:30pm, Enki and I were the first to arrive for the second of, now, a series of
three
separate Thursday launchings of the different lines of Hitachino Nest ales. Thirsty and hungry, Jim just 5 minutes away, we ordered some food and started on the lighter of the session's featured ales.
Hitachino Nest Weizen
- Yeasty banana, moderate orange juice, underlying wheat and slight clove. Hoppiness comes in more towards the back and in the finish. I honestly found the yeastiness a bit obtrusive for my taste, but it's ok as a whole - makes me think of a kind of lighter, fruitier Belgian ale. As we were halfway through our first bottles, Jim and Alex had arrived...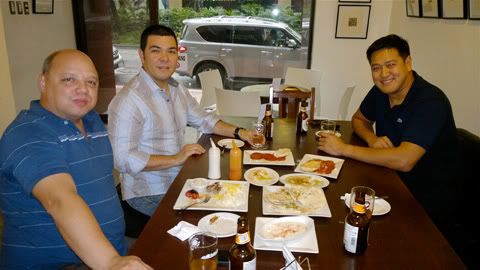 ...as had our pica-picas/mezze.
Moutabal
&
Hummus
w/
Pita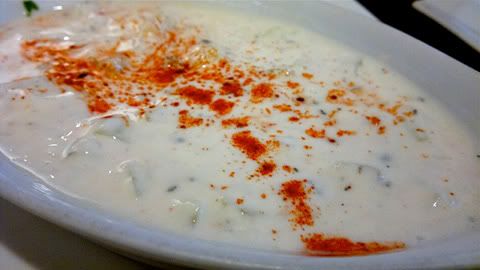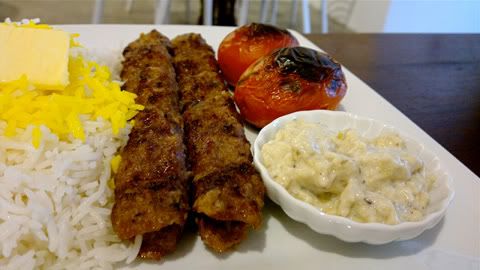 I forget the name of this.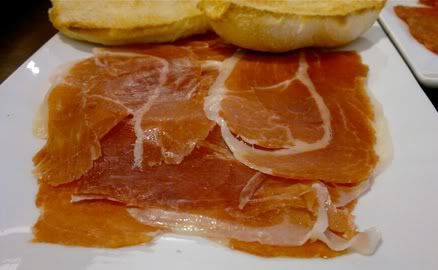 I always have to have some of the
jamón serrano
here...
...as well as the
chorizo
.
Hitachino Nest Red Rice Ale
- This was my favorite of the session (and I believe Jim's too). What struck me most was the backbone/structure of this ale - the flavors seemed to be more balanced/organized, propped up and revolving around a firm, definitive central core (if that makes any sense). Very distinctive in its intriguing red-berried, sake-like flavor with precise malt and hoppiness. Its reddish-copper color is quite eye-catching as well. Very nice indeed.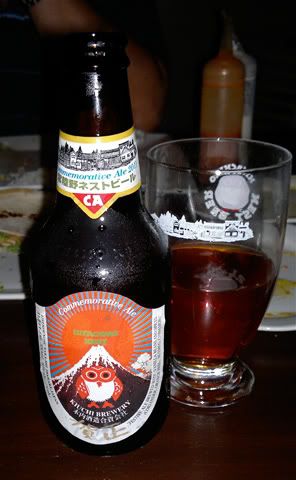 The
Hitachino Nest Commemorative Ale
is, as explained by mother-and-daughter team Masako-san & Kana-san, a seasonal release ale for celebrating New Year in Japan. Moderately hefty and complexly layered with notes caramel, chocolate and baking spices in mellow dried fruitiness and subtle roasted maltiness. Could be a bit fresher , but, over-all, I'd not refuse a bottle or three of this.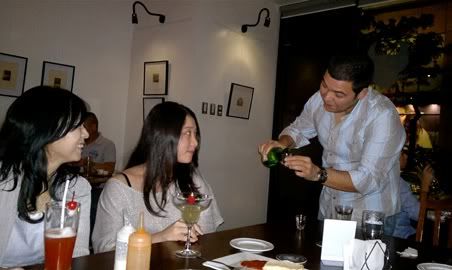 Later on, Jim started pouring a sake, if I recall properly, produced by the Kiuichi brewery, for Masako-san, Kana-san and the rest of us. Slight and very subtle carob and just a whisper of sweetness to its mellow rice flavor. Would this be a daiginjo I wonder? I wasn't able to take a photo of this and do not remember its name (well, if I recall correctly, the label was in Japanese anyway). Good stuff, I hope he starts bringing it in to Manila and gets it into Japanese restaurants at a moderate price as it is certainly way better than the (usually boxed) regular house sakes in Manila.
Jim and I closed down the place by around 10pm or so. As I may have mentioned before, we'll be, henceforth, moving our regular Thursday evening sessions to
Craft
in the Fort; but, before then, one last blast at The Tasting Room this coming Monday. I'll miss this place, but, the craft will surely go on.