Later that evening of the 4th August 2011, after the first Hitachino Nest launch night, I proceeded to
LL's place
for a dinner with him and his family - no occasion other than his wanting to open one of the bottles of fine, aged Burgundy from a batch we bought together around three or so years ago. LL collects a lot of stuff, premium Cuban puros and wine, among others. As I settled in, he started showing me some of his bottles, and, while doing so, one of the magnums slipped and, well...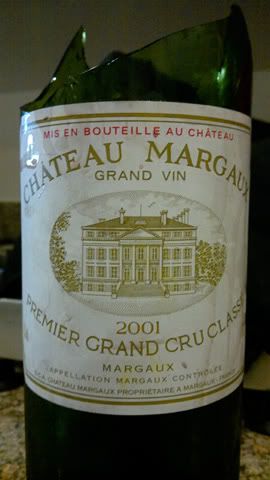 ...these things happen.
Earlier that day, LL and I agreed to a simple dinner of roast rack of lamb, sans appetizers or lead-up courses so we could concentrate on the Burg. I should have known better than to expect a simple meal at his place.
This first course was
Foie Gras 2-Ways: Terrine & Seared in a Caramelized Red Wine Poached Pear
. Prepared at home by his better half, ML, would you believe? Pretty impressive. I've had seared foie and pear dishes in some local restaurants that were not as good as this.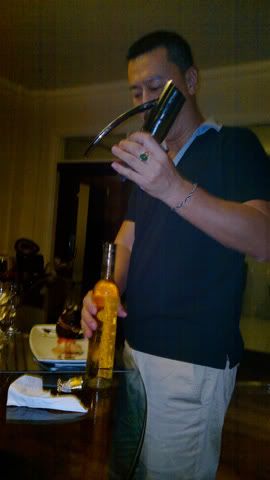 Unperturbed by the magnum's sudden demise, LL proceeded
to open the bottle to pair with the double foie gras course.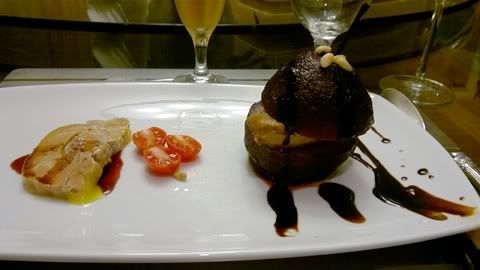 This deserves a second shot.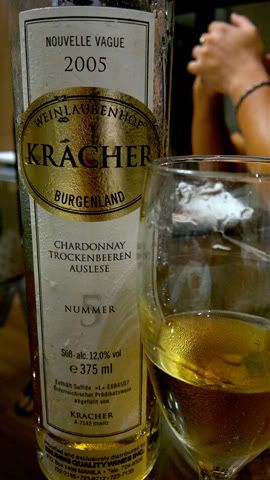 2005 Weinlaubenhof Alois Kracher Chardonnay Trockenbeerenauslese #5
- So complex it is a bit difficult to describe. Best I can say offhand is that it is similar to a Barsac (a young Doisy Daëne like the 2004 comes to mind), but evidently lighter in body and on its feet. With lower alcohol and brighter acidity, it dances and glides on the palate. Absolutely no cloying in this, though it is persistent in its honeyed flavors. Excellent match for the foie, without at all tiring the palate for the next course and its accompanying red.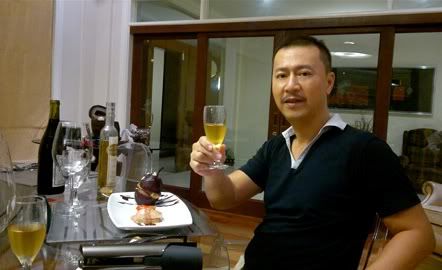 Jiàn kāng!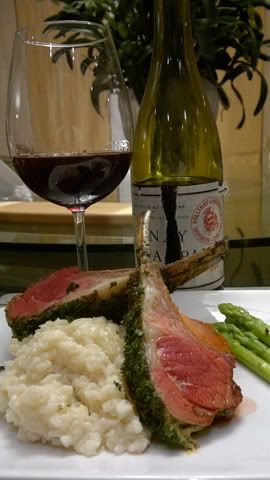 With a professionally plated looking main course of excellent
Roast Herb-Crusted Rack of Lamb with Risotto & Asparagus
, LL had opened a bottle of
1990 Domaine Marquis d'Angerville Volnay Premier Cru Champans
- from the batch I had also bought my stock from. I drank all of my bottles already; this is the first of his he's opened. My last notes on this, as far as I can find anyway, are from
a dinner with Doc and the wives at Sala on 1 July 2009
- just over 2 years ago - as follows:
1990 Marquis d'Angerville Volnay Champans Premier Cru - My bottle, one I had been saving for the Doc to try since he wasn't able to join the Stockbroker and I when I opened one last May. My previous notes state:

"Volnay is a red wine producing village in the Côte de Beaune, beside Pommard, the former enjoying favor of Louis XI and le Roi Soleil, Louis XIV. Where Pommard is known to produce relatively hefty, masculine, somewhat rustic reds, Volnay is famous for producing generally refined and graceful reds - often spoken of as the counterpart of the Côte de Nuits' Chambolle-Musigny.

"D'Angerville was a pioneer in Volnay for many reasons (they were the first in the area to estate bottle their wines) and, then as now, regarded as one of very best producers of the area. Of the 11.19 hectare 1er cru climat Les Champans, d'Angerville owns 3.8 hectares. Champans wine are known to be comparatively (with regard to other 1er cru Volnay vineyards) richer, fuller, more structured and, in youth, more tannic...

"Its bouquet was deeply complex with mixed scents of damp earth, dark red meat, whispers of compost, ripe, dark red fruit, raisined cranberry, dried dates, old/pressed violets and undertones of vanilla cream. On the palate, it was slightly over medium-bodied, discreetly hefty mid-mouth, suavely rounded, lushly fruited, with soft, velvet tannins. Well structured yet, but warmly mellowed with age.

"All its flavors were finely laced with the oh-so-difficult to describe meaty/compost-touched Burgundy decay. Exquisitely and seamlessly layered; its depth and complexity lending it a contemplative character. I haven't been this captivated by a wine in a long time...."

This particular bottle was consistent, with the foregoing notes, save that the cranberry and cherry notes were more dominant and had a slightly sharper edge to them. Still, a very good Volnay for me.
LL's bottle on the subject night seemed less evolved than the above-described one I last opened: firmer, soft, but not as soft, with more fruit and less apparent Burgundy decay, but with a slightly sanguine and cep lilt to it. Lovely still, so complex yet sturdily earthy. Great to be able to revisit this wine now. What a nice treat.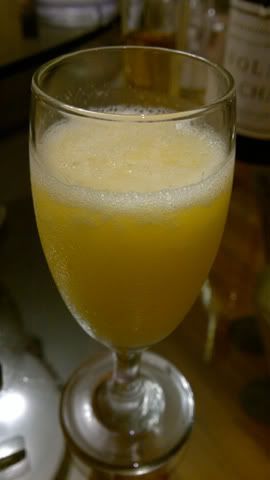 In the meantime, like a sherbet course of sorts to clean the palate, ML encouraged me to try her
Homemade Juice of 3 Fruits
- I recall banana and whole lemon (peel and all, per ML), but the third one escapes me now. Wow, better than most of the sherbets served at more formal affairs - this gently cleanses and releases, leaving the palate freshened for the next course and pairing.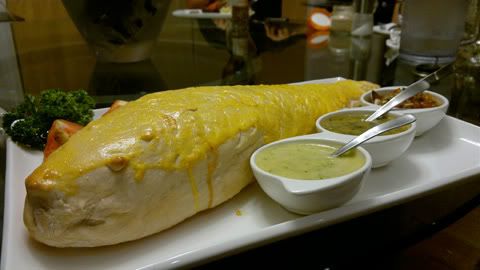 ML also made this whole baked fish in pastry. She told me what kind of fish it was, but I have forgotten. I do remember the presentation well, though, as it reminded me of the whole baked fish house specialty of Gaddi's.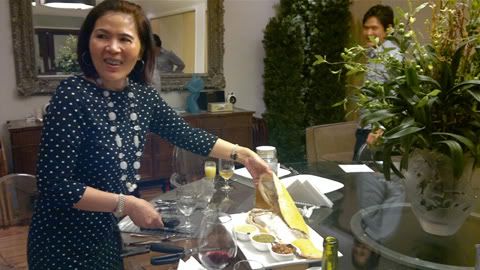 ML unveils her work.
Voilà!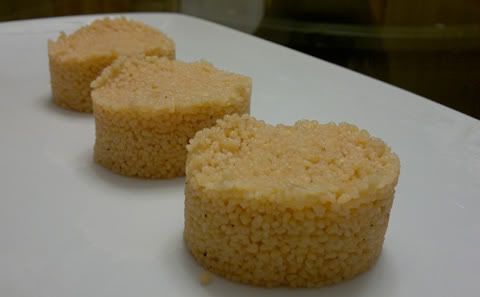 With some
Saffron Couscous
on the side, of course.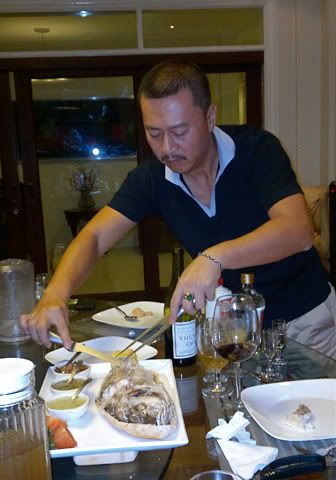 LL carved and served as he lectured me on the different
flavors and textures of the different parts of this fish.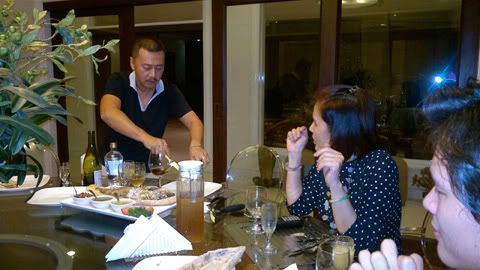 With the fish, LL paired 2 of the famous baijiu (grain based wine-liqueur) of China.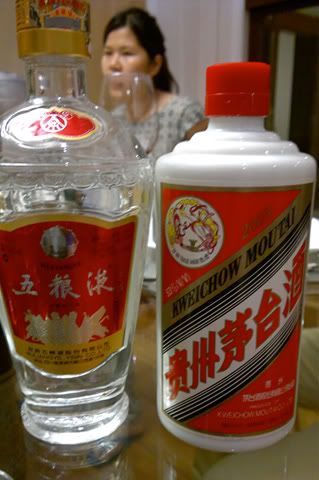 Wuliangye and Kweichow Moutai
The
Kweichow Moutai
was served first - it is very difficult to explain
baiju
to someone who has never had Chinese grain liqueur. This was stronger than the second, both in aroma and flavor. It heats the throat with thatch-reminiscent potency all the way to the stomach, actually making me feel less full than I already was.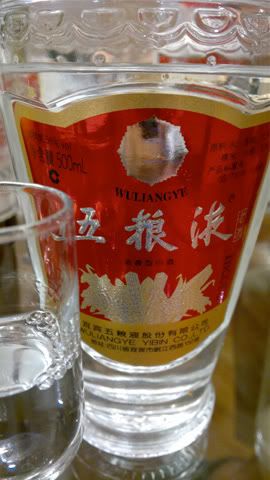 The
Wuliangye
was comparatively smoother and evidently more complex in all aspects. Its aroma reminded me of rainwater on an extra humid Manila day laced with hints of thatch, carob, dried corn kernels, rice, citrus. Very difficult to describe indeed.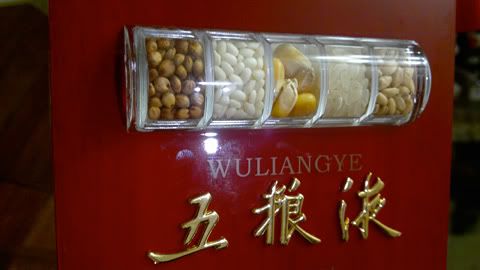 The Wuliangye's lacquered case bears the 5 grains from which the liqueur
was made: broomcorn, rice, glutinous rice, wheat and corn.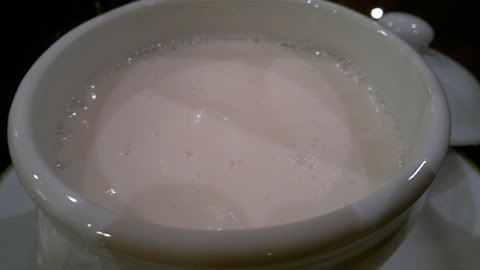 Dessert was ML's traditional W
arm Soup of Eggwhite Custard
.
So comforting and soothing for an overly full belly.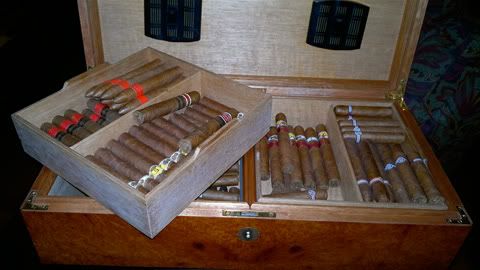 We then picked out some cigars from LL's stash.
I went for a Montecristo Selección Limitada 2001.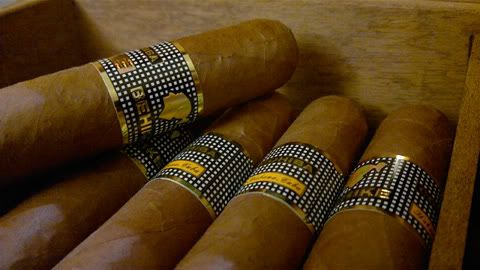 LL also gave me a couple of these
Cohiba Behikes
to bring home - I used to buy a lot of cigars under Boozze's tutelage, but this is a recent Cohiba line that I'd not tried before. It just so happened that, in my car, I had a box of H. Upmann No. 2s that Colin Mackay kindly picked up for me (straight from the factory) during his recent trip to Cuba, so I traded a couple with LL.
We spent until midnight with our cigars, chatting about life in general by the poolside - LL with his single malt, me with a couple more glasses of the aged Burgundy. Great night. 謝謝, LL!