The Friday before last, 19th August 2011, was another BYOB (bring-your-own-bottles) Wine & Pizza Dinner of the Wines & Spirits Club Philippines (WSCP) at Gene Gonzalez's
Café Ysabel
. This was the second time such an event was held,
the first one almost 2 years ago
having been very well-attended (Gene's wood-burning brick oven was new then).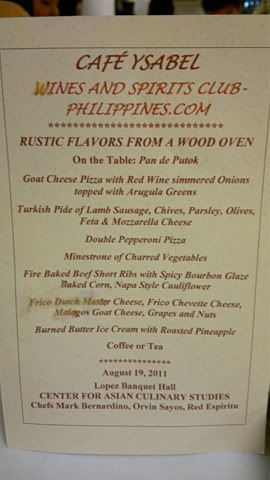 The Menu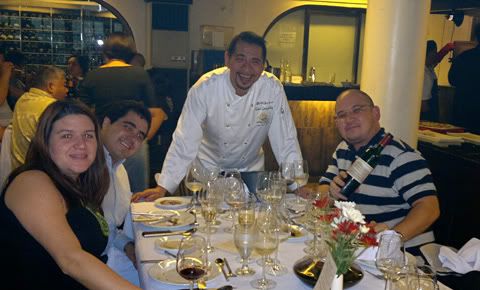 Chef Patron Gene Gonzalez w/ Future Trade's Eric Kahn &
visiting representatives of Viñas Santa Rita (Chile)
Goat Cheese Pizza w/ Red Wine Simmered Onions topped w/ Arugula
Turkish Pride of Lamb Sausage, Chives, Parsley, Olives, Feta & Mozzarella
.
This was my favorite. There also were some
Pepperoni Pizzas
(no photo).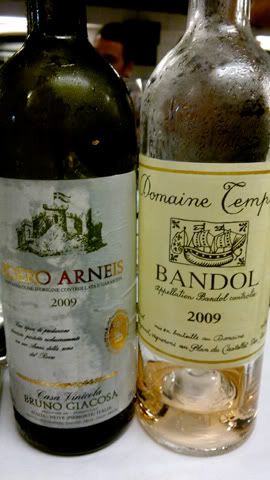 Among others, I brought along a bottle each of
2009 Bruno Giacosa Roero Arneis
&
2009 Domaine Tempier Bandol Rosé
. I've written about these wines so many times before, there is no need to repeat myself anew. Suffice it to state that both wines went well with the courses all the way before the meat course - the Roero arneis pairing especially well with the lamb & feta pizza.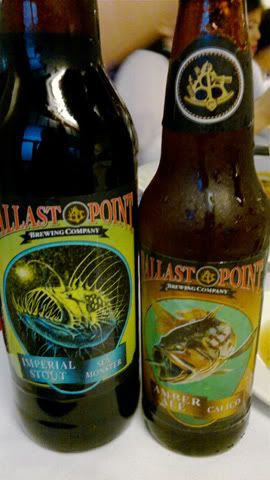 I also brought along some craft beers that I bought from Jimmyton's
Global Beer Exchange
. Pizza and beer? It was a no-brainer. The
Ballast Point "Sea Monster" Imperial Stout
was to be consumed with the cheese course or after dessert; while the
Ballast Point "Calico" Amber Ale
I had with the pizzas.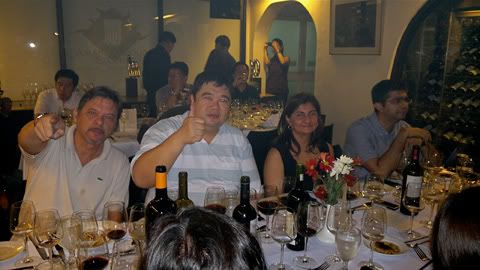 Johnny Revilla, Arnie del Rosario, Sanju & Vimla Gopaldas.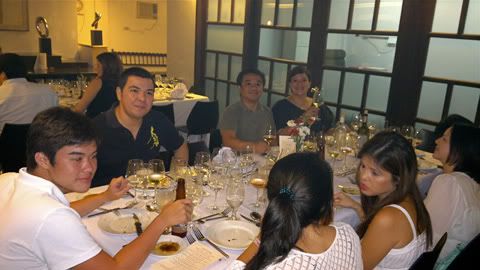 Jimmyton Araneta and family joined Ron & Mich, Mauro, Catha & I.
J-Lab with Marly & Pet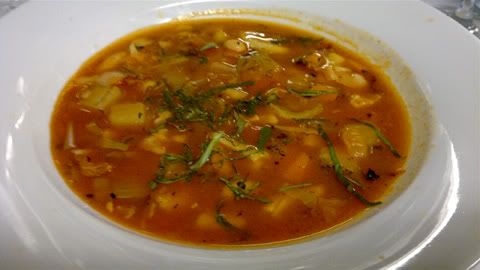 Minestrone of Charred Vegetables
Mauro & Catha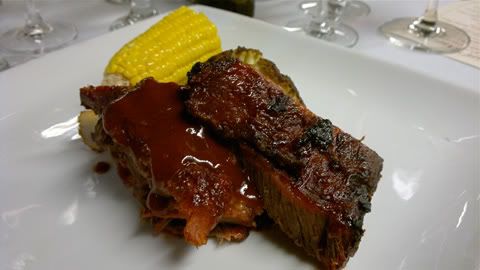 Fire-Baked Beef Short Ribs, Spicy Bourbon Glaze, Baked Corn, Napa Style Cauliflower
2004 Chateau Montelena Estate Cabernet Sauvignon
(100% cab sauv) - My bottle. Very young; it is an atypical Montelena in that, among others, it is only the 2nd vintage in the winery's history to hit 14% abv, very fruit-driven and a bit low on acid. I brought it precisely for the Fire-Baked Ribs. I had Arnie taste it blind, and, though he immediately identified it as a Napa wine, he couldn't get it as a cabernet sauvignon (whereas he is normally pretty good at identifying the dominant grape). A strange Montelena indeed, but, still, a nice enough and typical Napa cab that went well with the main course.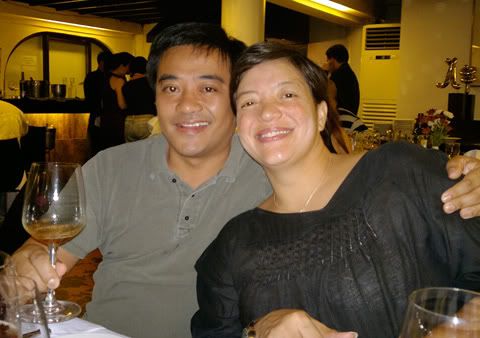 Ron & Michelle Rapanot
Bodjie Tobillo & Wil Lee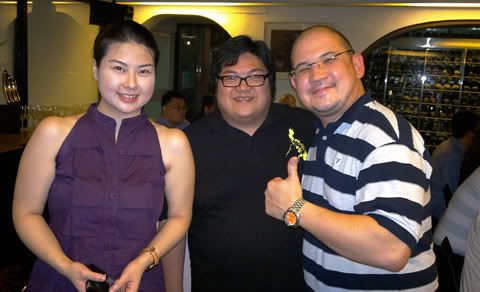 Jin, Bodjie & Eric
Gene Gonzalez working on dessert...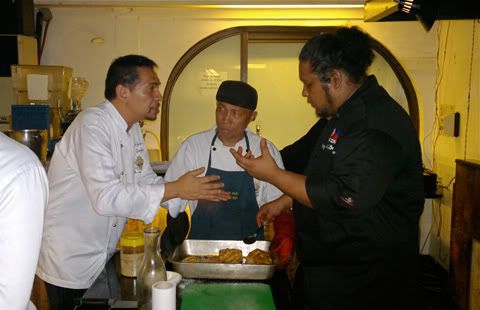 ...explaining the details to his sous chef.
Burned Butter Ice Cream w/ Roasted Pineapple topped with Vanilla Salt.
Mauro had a second helping of this.
A round of applause.
Until the next!