Last Saturday, the 20th August 2011, was at
Tung Lo Wan
, a recently opened (i.e., July 2011) Chinese restaurant located on the corner of Wilson & P. Guevarra Streets, San Juan (coming from Ortigas onto Wilson, it will be on your right side). My dad had read about this restaurant in the Inquirer and wanted to check it out. Thus, that night, we were 8 in all: Dad, Tad & Chako, Reena, Catha, our bookend boys (the 2nd was at the beach) and I. We arrived first, and, famished after a day of golf, I immediately started ordering.
Steamed Live Suaje
(500 grams). I always order this at Chinese restaurants whenever available. The ones at Tung Lo Wan are larger than normal, but nonetheless wonderful - bursting with fat at the head and sweetly fresh. Delicious. I'm so glad my boys have long been big enough to peel their own shrimps. Time was I had to do all the peeling for them as Catha's nails wouldn't allow her to do the same.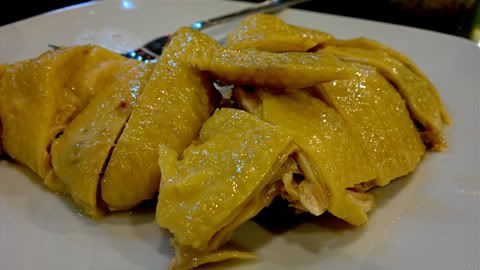 White Chicken
(½ chicken), recommended by our waiter as one of their better-selling appetizers. Generally, I don't eat chicken, but I do like the Cantonese white chicken. This one was soft, juicy and nicely flavored, albeit a bit ham-handedly so. This dictated the style of cuisine - there is no refinement or subtlety of fine Chinese cuisine here; rather, it is a knock-down/drag-out style for joyful over-indulging (like our meals at
Under the Bridge Spicy Crab
in Wan Chai). We were up to the task.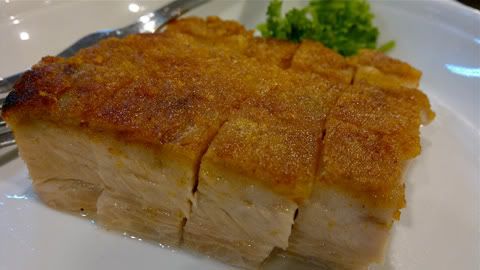 Roast Pork
, a.k.a., Lechon Macau (2 orders). None of us are averse to eating a decent amount of fat, but one of the orders was evidently a little over-the-top with it. That said, we finished off both. This dish, in HK, is usually served with mustard, and, in
Victoria City Seafood Restaurant
, with a bit of sugar as well. It sounds a bit strange, but it is a delicious dipping combination. Tung Lo Wan gives the table a plastic bottle of mustard and no sugar (though I'm sure they would if asked). The mustard they give is the ubiquitous, rather abrasive yellow commercial stuff sold in groceries - not at all the best, but it will do in a pinch.
The
Oyster Cake
was passable, but utterly forgettable.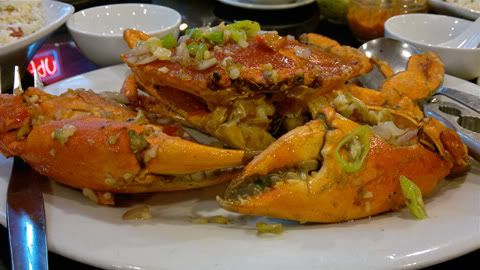 Fried Salt & Pepper Crab
, the large, live victim presented for approval before its sentence is carried out in the kitchen. This was very competently cooked, seasoned well, the spiciness mild, precisely cooked and not overly oily. Good stuff.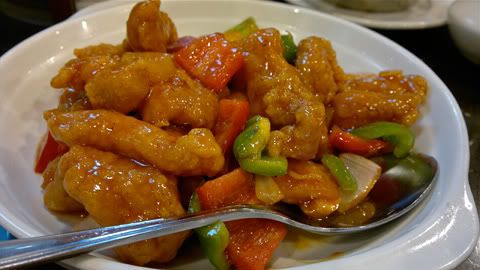 I've mentioned before that
Sweet & Sour Pork
is a favorite dish of Catha's side of the family - and my youngest apparently inherited such fondness. He asked to have some, and I, naturally, relented. He said the flavor was ok, but that the pork could have been made even just a little bit crispy.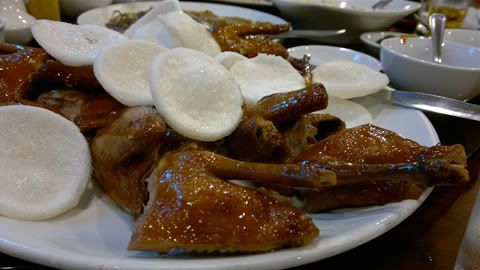 Roast Pigeon
(3 pieces, each pigeon quartered) served with toasted salt. Those averse to greasy food and/or gamey fowl had best avoid this dish altogether, wherever served. Me, I love it, and so does my family. This was wiped out. Not as good as the imported pigeons served at Choi Garden, but this is cheaper and plenty good enough for me and mine. Of course, we had some healthier fare as well:
Szechuan Eggplant w/ Minced Pork & Salted Fish
; very nice. Eggplant is one of the vegetables my kids, in varying degrees, actually like. My eldest really dug into this; so much so that I barely got a decent serving.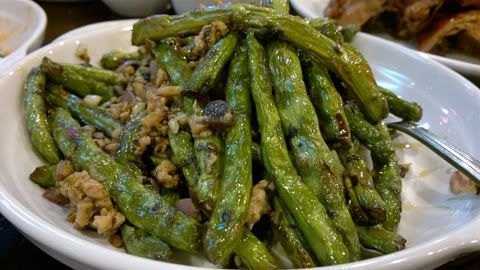 Szechuan Stir Fried String Beans w/ Minced Pork & Pickled Olives
. Chako had this before when she and Tad scouted out this place for dad before he decided to take us, and particularly liked it so we got an order. It was only then that I realized how similar this restaurant's dishes were to those of Master Wong's above-mentioned Under the Bridge Spicy Crab. This was nice, but the olives' flavors are comparatively mute. Actually, had I not read the menu later on, I wouldn't have known there were any pickled olives in there. Still, this is a good dish on its own merit.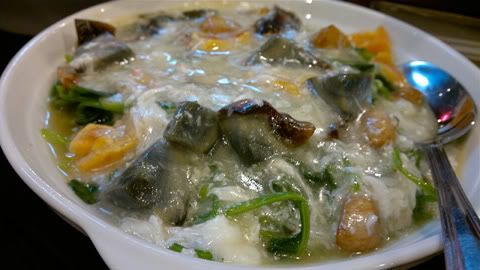 Polonchay w/ Red Egg & Century Egg
. I'm a sucker for pretty much anything that has century eggs in it, and, wanted more vegetables to ease the guilt of over-indulging in the fried dishes. Even though, this is a vegetable dish worth ordering even without its guilt-suppressing plus; that is, if one likes century eggs.
The
Yang Chow Fried Rice
was competent; nothing special here.
With regard to prices, it is quite inexpensive: the whole meal plus drinks (a few San Mig Pale Pilsens and cokes) excluding tip came out to under P6000 for 8 of us stuffed to the gills - roughly P750/person. Not bad at all. As earlier stated, this is not the place to look for genteel surroundings, refined atmosphere or subtle cuisine -
Ambiance?
This is Tung Lo Wan!
~ oOo ~
Wanting some coffee, we made for nearby
Café Ysabel
, an old reliable we all would frequent when we still lived in Greenhills with Dad. Back then, it was still on Wilson Street; now, along P. Guevarra. Call me a nostalgic old fogey or a fuddy-duddy, but everyone else can keep their Starbucks and what-have-you. I prefer the coffee at Café Ysabel. Of course, with the coffee, we had a couple of desserts: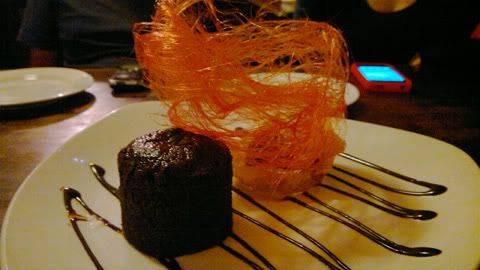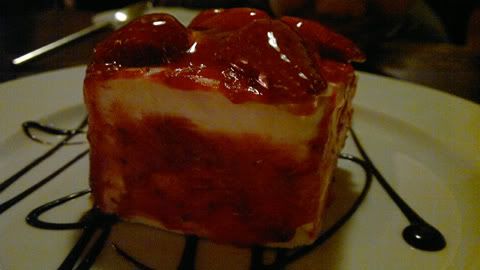 ...and the
Strawberry Shortcake
which we all found very nice and moist.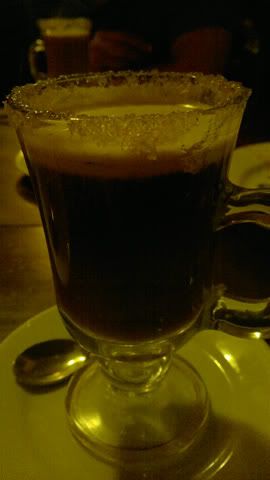 We all had the Irish Coffee...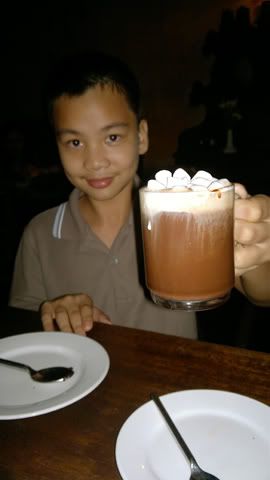 ...except the youngest who had a cup of
Hot Chocolate Marshmallow
.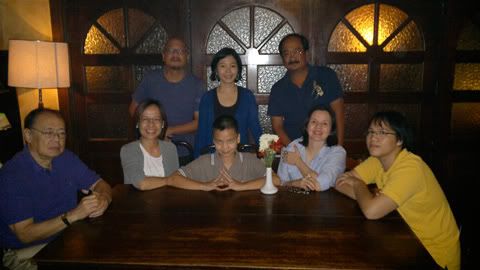 Until the next!