Dinner Wednesday night, the 10th August 2011, was at the relatively new
Malcolm's
- the full service steakhouse at 138 H.V. Dela Costa St., Salcedo Village, Makati,
not
the small, more casual wagyu burger-centric place up the road. Nice, old-boys-club look and feel to this place. We wound up being 7 in all - 6 for dinner: the Stockbroker (who organized this dinner), Aaron, J-Lab, Arnie, Greg and myself, with Johnny coming by for some wine later in the evening.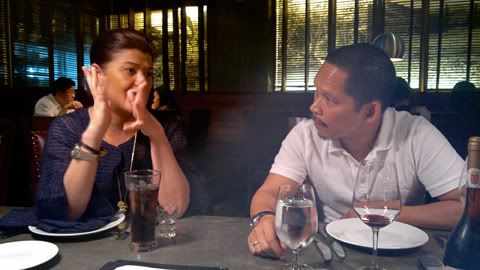 Malcolm's manager Vicky Lauchengco & the Stockbroker.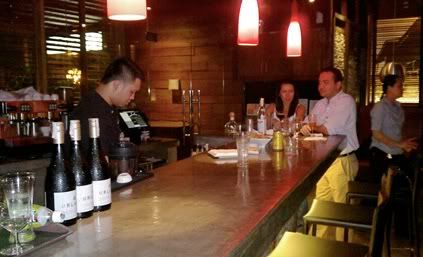 Paella Boy was there manning the bar that night with the Mrs. and some friends.
A trio of light appetizers with some good bread.
Mixed Greens with Parmesan in a Light Lemon Balsamic Dressing
para healthy.
"Tomahawk" Bone-In Wagyu Rib-Eye
(rare for me), which came with...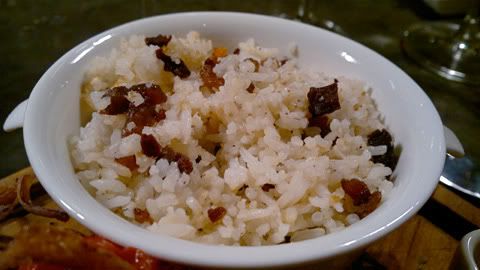 Malcolm's version of
Steak Rice
A couple of day before, during the organizational e-mailing stage, it evolved that, for a change, we would be having reds from the New World for the evening - whereas we have reds from the Old World 90+% of the time - particularly those from France, Spain and, occasionally, Italy.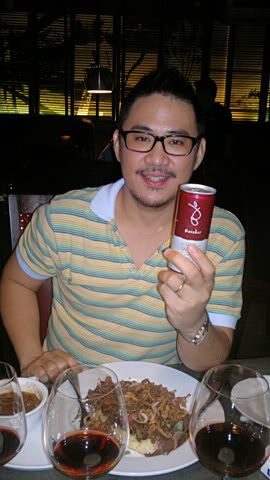 In one of the e-mails, Aaron (a Bdx & Rioja-centric wino) threatened to bring wine in a can, and made good on his threat - but he brought some good Bordeaux (as did I) & Rioja as well. We didn't open those bottles though - only Greg opened a bottle of Bordeaux - we pretty much stuck to the (very rare) New World theme for the night.
To begin with, J-Lab blinded us with what, to me, was a very concentrated, densely ripe, sweet and alcoholic wine of virtually syrupy, candied/jammy red cherry and raspberry flavors with pronounced dark, medicinal minerality, herb notes and a good deal of oak. I guessed it to be hailing from the New World or from a particularly hot area of southern France. Some guessed it to be a Rhône. It turned out to be a southern Rhône - a
2004 Usseglio Châteauneuf du Pape
(sorry, no photo of this).
2002 Ravenswood Old Vine Zinfandel Sonoma Valley
- J-Lab's bottle. Firm, comparatively better definition, structure and cleaner lines than the other reds that night. There is a rigid strength to its comparatively more self-possessed full body as well. Rustic, brambly black cherry, blackberry and a bit of dried plum with comparatively milder oak and oak-related spice. I'd not drink it alone, but it's rigid backbone, neat power and acidity made it my preferred pairing with my steak. I recalled that I visited this winery in early May 2001 and tasted many of their wines. Those certainly deserved their description of "skull-rattling".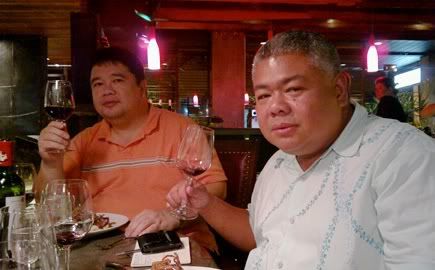 Arnie & J-Lab
The
2006 Almaviva
, a collaboration of Chile's Concha y Toro and Pauillac 1st growth Mouton Rothschild, was my bottle which I had decanted for around an hour or so before I got to it. Comparatively rounder and lusher in fruit than the previous wine, and fairly ripe. Fat crème de cassis, some underlying plum suggestions, baked fig and chocolate. Acidity was decent enough, but on the low side for me. Surely a wine designed for Parker. Not my type, but not bad with the steak - a running-with-the-ball pairing, barely any cut/contrast to speak of.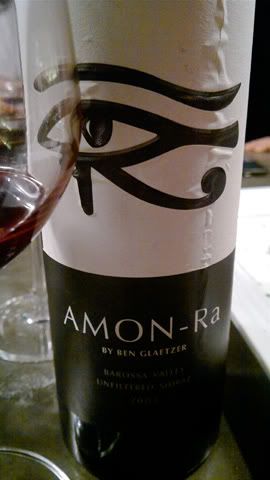 2003 Amon-Ra
- From the Stockbroker. A Barossa Valley heavyweight shiraz. Big, rotund, juicy, concentrated, a bit smokey ripe dark raspberry, some dense blackberry with very mild black pepper and underlying sweet pipe tobacco notes. Had a polished general feel to it.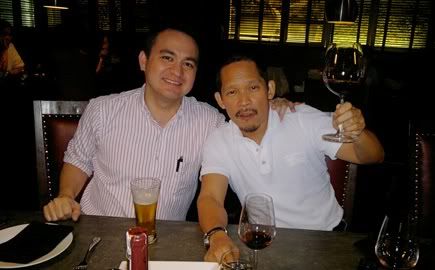 Paella Boy & the Stockbroker
There not being any cheese platter available, Vicky kindly sent us a platter of tender and moist
Flank Steak
with which to finish off our reds. Very nice of her. Thanks, Vicky.
The Stockbroker gave up a bonus bottle of
1993 Château Megyer Tokaji Aszú 5 Puttonyos
for our dessert. Quite dark in color for a barely 18 year old tokaji aszú, and whispered some oxidation as well. Still decent though.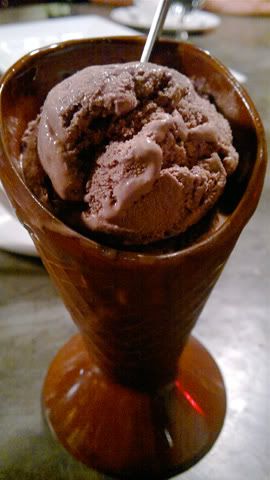 For dessert, I had
Chocolate Ice Cream
(and felt like a kid eating it for some reason).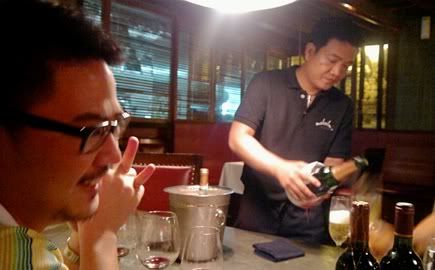 To brighten our palates after all the meat and heavy reds, a bubbly to finish...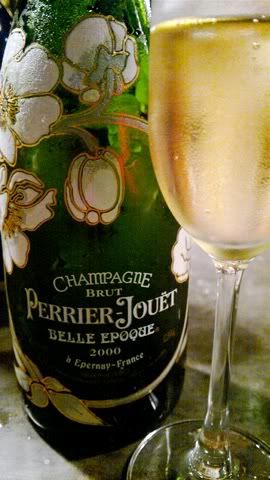 2000 Perrier-Jouët Belle Epoque Champagne Brut
- Aaron's bottle. Enthusiastically bright, crisp and light-footed, it is still a bit tightly citrus-dominated at this point despite letting it sit in the glass a while. I'd keep these a while longer, or, perhaps let it aerate in a decanter and sit in a cooler next time to see how it develops. Still and all, it was a very pleasant way to refresh one's palate after all that meat and heavy, testosterone laden reds. J-Lab and I reminisced how we used to be able to buy the late '80s-'90 vintages of the Belle Epoque at around P670-P750/bottle back in the mid '90s. Those were the days. Thus ended the dinner.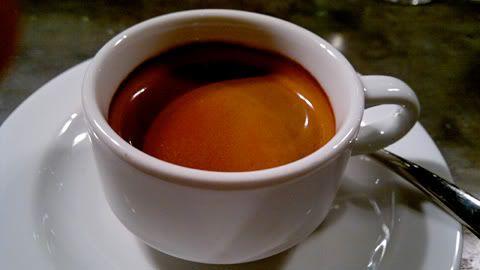 I must note that they have good double espresso at Malcolm's.
Until the next!