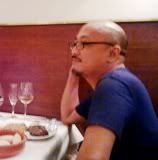 Last Thursday afternoon,
Chinkee
texted inviting to dinner at
Caffé Caruso
with the Gopaldases, but I couldn't make it since I was already booked to attend the 2nd Hitachino Nest Ale session at The Tasting Room. It just so happened, then, that the next day, the youngest asked to have dinner at Caruso on Saturday. I, of course, agreed and, not having seen my brother and sis-in-law in over a month, invited them to join us. The two teenagers weren't there as they were at their respective parties.
Caffé Caruso has been a family favorite for many years and we almost always wind up ordering the same dishes when there: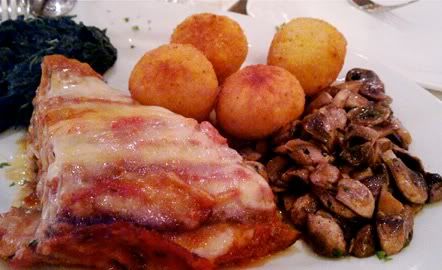 Antipasti Misti
of Spinach, Eggplant Lasagna, Arancini & Mushrooms.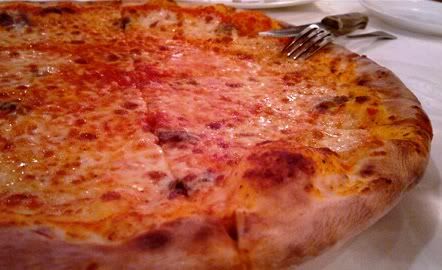 Pizza Napoletana
, my favorite.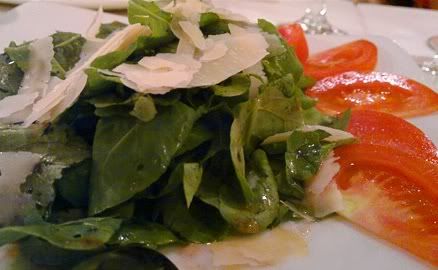 Arugula Salad
(para healthy).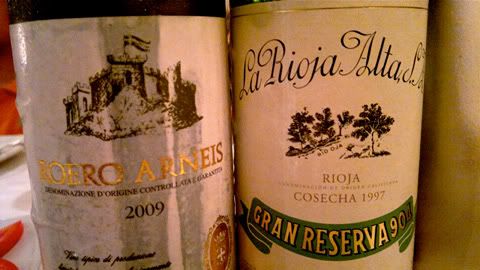 Tad & Chako arrived earlier and had some prosecco. The white for the evening was a bottle of
2009 Bruno Giacosa Roero Arneis
(of course); the red a
1997 La Rioja Alta Gran Reserva 904
.
The youngest had a bit of the
2009 Giacosa Roero Arneis
with the starters and, out of the blue, opined that the wine went well with the arugula salad. He was right as the wine's distinctive slight almond bitterness to its over-all dry character, moderate, rounded fruitiness and precise acid balance both ran with and gave lift to the dish. I felt more than a little proud he could notice that. The waitress who always attends to us said: "Siyempre, parang si papa niya" (Of course, like his father). Love it.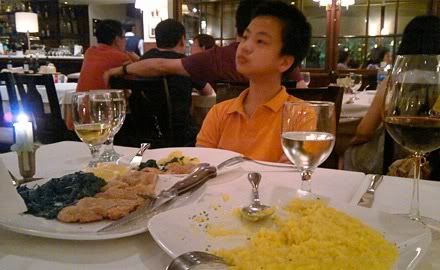 The youngest never seems to tire of Veal Milanese & Saffron Risotto...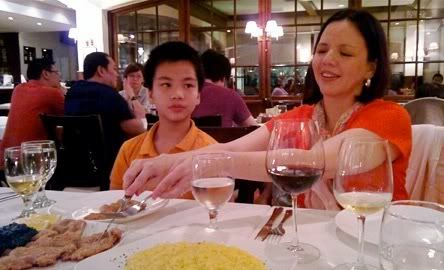 ...and neither does Catha.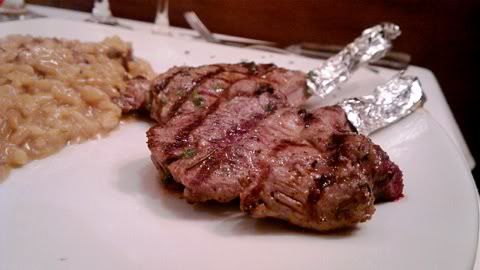 Tad & Chako both had
Grilled Lamb Chops & Risotto
.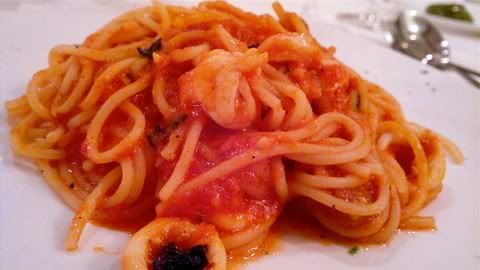 I had my usual
Spaghetti allo Scoglio
. It's been off the menu for quite a while, but they are always happy to make it for me.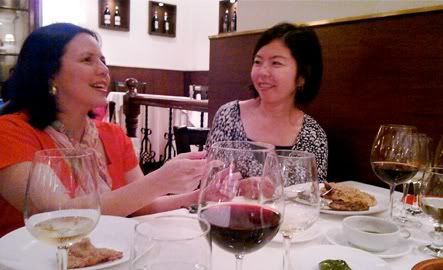 We lingered until almost 11pm over some shared
Panna Cotta
, a cup each of double espresso and lots of stories, skipping the offered
grappa
on the house as Tad & I had to drive. Lovely night of good food & wines with family. Can't really ask for more.