A scheduled dinner at Santi's place was postponed due to family obligations, so we pushed through at my place. We were 4 couples in all: Rene & Aimee Fuentes, Enky & Mayette Rey, Miguel & Ria Vecin and Catha & I, plus 2 of our sons (the eldest was out with his friends). Cocktails started at 6:30pm with Aimee, Rene & Miguel, with Ria, Mayette & Enky following shortly.
The Vecins brought all the pica-picas - cold cuts they brought home from Spain - all absolutely delicious with Rene's bottle of the old reliable
Champagne Billecart-Salmon Brut Reserve NV
(sorry, no photo). I've written about this non-vintage bubbly so many times, I need not repeat myself further. Suffice it to state that, for locally available champagne, it is hard to beat.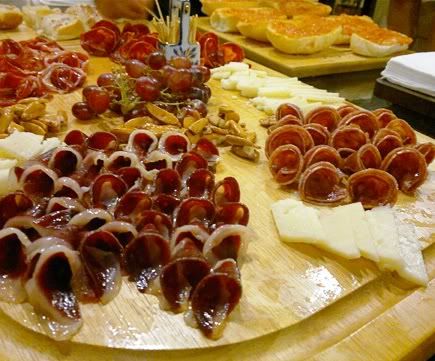 Of the cold cuts, though all were particularly good, but the
Smoked Magret de Canard
stood out (bottom left)...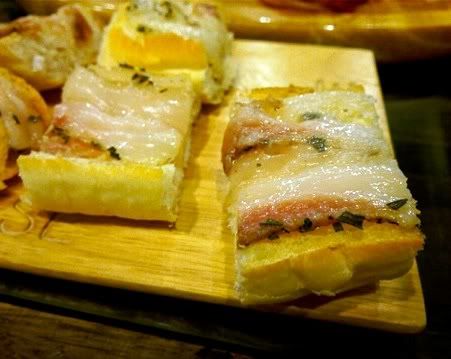 ...as well as the Lardo which Miguel had sliced thinly so it melts on top of the hot baguette slices. Heavenly.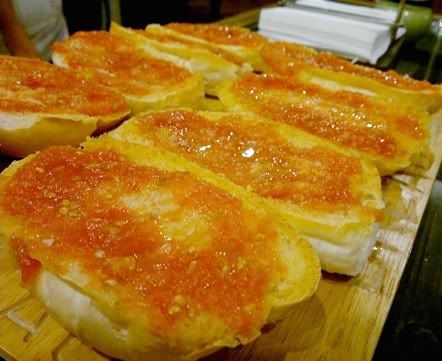 Naturally, with the cold cuts, in typical Spanish style, Mig had served some
Pan con Tomate
.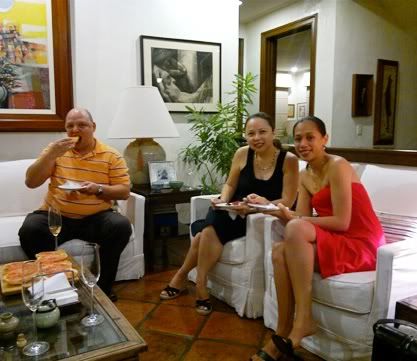 L-R: Enky, Aimee & Mayette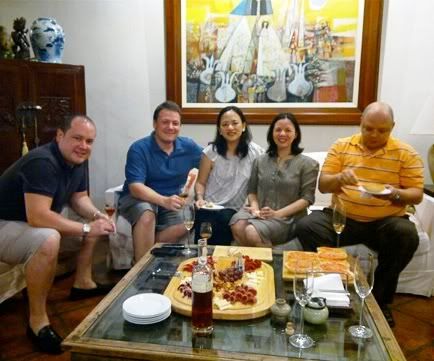 Rene, Miguel, Ria, Catha & Enky (who happens to be Miguel's 1st cousin).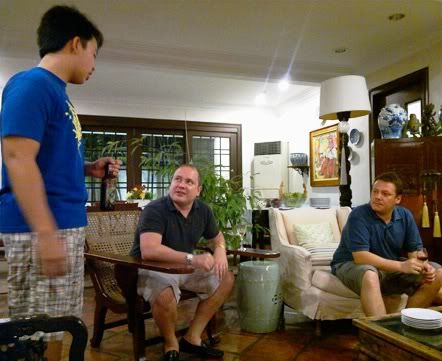 The second must still be working out as the guns look bigger now.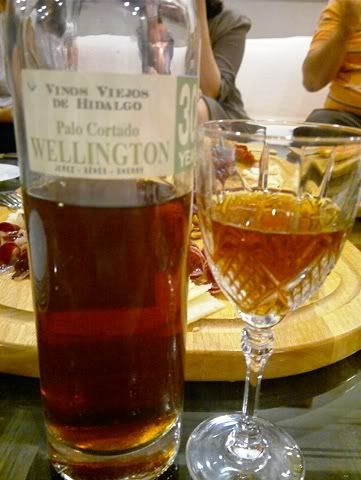 Aside from Rene's bubbly, I opened a bottle of
Bodegas Hidlago Palo Cortado Wellington Sherry 30 Años
- As stated during
my recent Fathers' Day post
, this is a very fragrant and dry, aged palo cortado sherry that displays "walnut, rancio notes to its dry, preserved fruit flavors." Very elegant texture and poise; it glides on the palate. Catha
really
likes the stuff so I have to make sure to keep a regular stock at home. Classy stuff.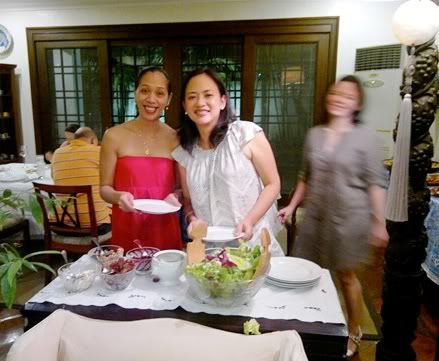 Salad was by Catha:
Assorted Greens with Olives, Feta, Sliced Grapes, Dried Cranberries & Candied Pili Nuts.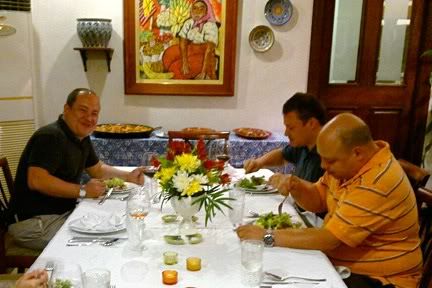 Salad muna para healthy.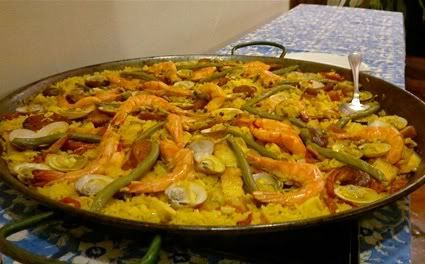 Above is Catha's
Paella
. Really good; the best batch she's made so far, and it was excellent with the 2 bottles of
2009 Domaine Tempier Bandol Rosé
I paired with them. This rosé I've written about so many times across the last 3 vintages. Suffice it to state that, in my opinion, it deserves its reputation as the best rosé in the world.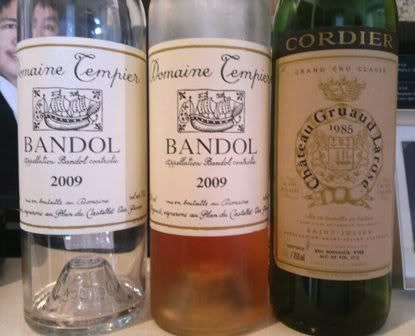 The rosés with a bottle of 1985 Château Gruaud Larose for after the steaks.
In enjoying the company, the wine and having to cook, I totally forgot to take any photos of the steaks. Good thing Miguel did (all steak shots are his). Thanks, Mig!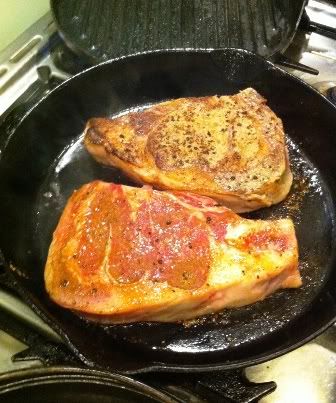 The 4 large
US Prime Grade Rib-Eyes
, I seared and finished in the oven to a medium-rare.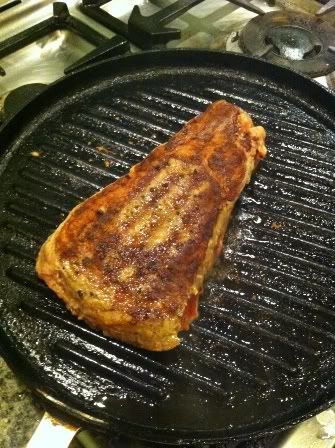 This 5th one was smaller than the others, so I just pan-seared it to a rare. Easier that way.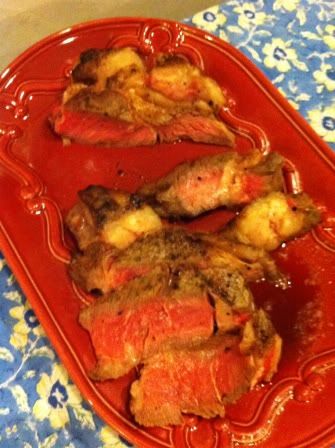 The finished product.
To pair with the steaks, we had two Napa cabs - which were timely for the coming 4th of July: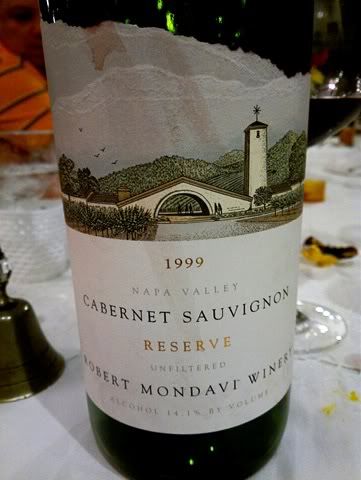 1999 Mondavi Cabernet Sauvignon Reserve (Magnum)
- My bottle. I got a couple of magnums of this during the wine auction of Futuretrade/Forth & Tay. I've always favored Mondavi Cab Sauv Reserves. Full bodied and velvety, the crème de cassis and ripe black cherry were nicely soft, complexed by seamlessly interwoven notes of sweetish pipe tobacco, bit of a minty topnote, anise, cedar, violets and a whisper of chocolate. This reinforced my general fondness for Mondavi's Napa cab reserve (certainly better balanced than the 2003 I had not long ago). I'm glad I have more of this. Definitely nice with the steaks.
1996 Dominus
- Rene's bottle. From the get-go, the nose was Bordeaux-reminiscent with just the merest suggestion of mint above. Comparatively more complex and suaver than the preceding wine, more apparent red fruit (cherry and raspberry) in the cassis, anise notes were comparatively less apparent, generally deeper and firmer in structure too. Bit of smokiness there as well. Very confident wine. Very nice, and also a great pairing for the steaks.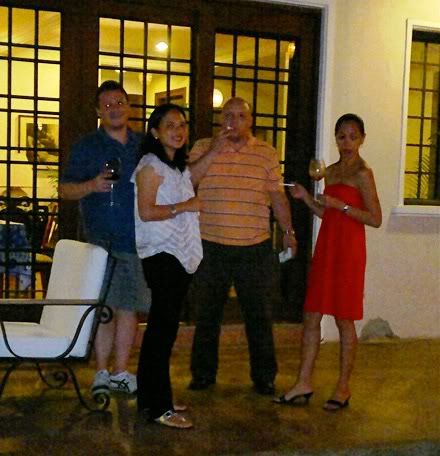 After the dessert of Catha's
Affogato
(I ate it before I remembered to take a photo) and some glasses of
Pacharán
(courtesy of Miguel), some of us went outside for a quick "breather". Thereafter, I thought it high time for some Bordeaux.
I opened a bottle of
1985 Château Gruaud Larose
(in the photo with the bottles of 2009 Tempier Bandol Rosé) and decanted it for around 25 minutes before we weighed in on it. Quite a bit of initial furry, animal funkiness in the nose which significantly eased off after breathing. Thereafter, it was a medium-bodied stream of somewhat linear, sanguine, slightly feral dark fruit, cedar, ceps, bit of underlying asphalt, worn leather, slight violets and anise. "Very St-Julien", noted Rene of the bouquet. Middle was a bit weak; the finish of moderate length.
Good typicity; a more than decent wine, surely, but I expected/wished for a bit more of a mid-mouth statement from a well-respected 1855 2nd growth from St-Julien.
Next, I opened a
1990 Château Ducru-Beaucaillou
, another1855 2nd growth from St-Julien - part of my last batch of orders from the US. I had this last
less than a month ago over dinner at Champêtre
. My notes then are as follows:
A few quick initial sniffs upon opening revealed clean (no hint of being corked) but relatively reticent aromas considering its vintage. I then decanted it and let air for around 30-45 minutes, then poured as the main courses hit the table. The aeration did it good. Although the bouquet was still a bit reserved (not a bad thing for me), in the mouth, it was well-fleshed out.

With a definitive strike, proper mid-mouth breadth and weight and a moderately long finish, this showed off its pedigree in its slightly minty, anise, cedar/violets-infused black fruit and underlying tar/black gravel/asphalt. A notch or two under full-bodiedness, this exuded good, depth, complex layering, precise reserve and good balance. With a bit more time in the glass, dark/bitter chocolate emerged to join the tar and anise notes.

After around an hour more, the wine began to lose its body, sharpen its flavors and the anise and acidity started getting a bit obtrusive. Maybe I should have put it back in bottle after its aeration in the decanter. I think it can't take extended exposure in a decanter. I'll do that next time and see if that extends its performance. It was beautiful while it lasted though.
This time, I took care not to over-aerate it - no decanting, we let it breathe in glass and tracked its progress. This time, it showed more evenly/consistently; pretty much n line with my previous notes, but with marginally less heft. What we all agreed on, however, was that it showed markedly more elegance, refinement and much finer balance than the '85 Gruaud Larose.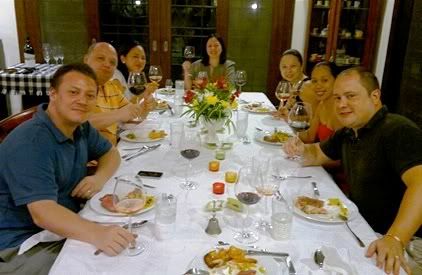 Thanks for sharing your company, wines and food, guys! It was a most enjoyable dinner; one that will, hopefully, be re-enacted sometime in the near future. Until the next!