Just when I thought I'd already gotten over jetlag, I woke up at 4am yesterday morning, the 27th July 2011. Not having anything better to do at the time, I started working and, after a 20 minute break for breakfast, called it quits by 11am. Not bad - around 6 hours of work done before noon - I guess jetlag does have
some
benefits.
Thus, I was able to join the Usual Suspects' lunch at
Va Bene
that day (my first time there). I hadn't had a wine lunch with the guys since
Aaron's birthday lunch at Mamou
over a month ago, and I was really missing these vinous gatherings. Having had to pass by La Tienda first to drop something off for Javi, I got to the lunch past 1pm and the guys were already finishing up their appetizers. We were 8 in all as Miguel is still in Europe on business.
I started off with a very good
Beef Carpaccio w/ Arugula & Summer Truffles
since Johnny'd had it before and heavily recommended it. Excellent with my bottle of
2009 Bruno Giacosa Roero Arneis
. I've written about this dry, medium weight, pleasantly rounded, slightly almond-bitter Piedmontese white many, many times, so I need not repeat myself anew.
Greg, the Stockbroker & Mark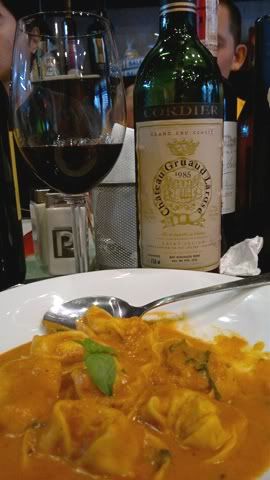 My pasta course was
Crab Capellacci
with my bottle of
1985 Château Gruaud Larose
- I knew it would not at all be a good pairing, but, I figured "What the hell". I opened a bottle of this same wine
during a dinner at home less than 3 weeks ago
and my notes were as follows:
I opened a bottle of 1985 Château Gruaud Larose (in the photo with the bottles of 2009 Tempier Bandol Rosé) and decanted it for around 25 minutes before we weighed in on it. Quite a bit of initial furry, animal funkiness in the nose which significantly eased off after breathing. Thereafter, it was a medium-bodied stream of somewhat linear, sanguine, slightly feral dark fruit, cedar, ceps, bit of underlying asphalt, worn leather, slight violets and anise. "Very St-Julien", noted Rene of the bouquet. Middle was a bit weak; the finish of moderate length.

Good typicity; a more than decent wine, surely, but I expected/wished for a bit more of a mid-mouth statement from a well-respected 1855 2nd growth from St-Julien.
The bottle at the subject lunch was not decanted, just popped and poured and let breath in glass and bottle (while it lasted, anyway). The wine showed more cleanly, with materially less of a feral, animal nature, but, the notes were still there. Still a good, typical St-Julien; though I couldn't help thinking it should have a little more weight on it for what it is. Nice enough, and I still have some at home, but I doubt I'll be buying more of it as I much prefer their 1989 and 1990 (their 1982 is fantastic).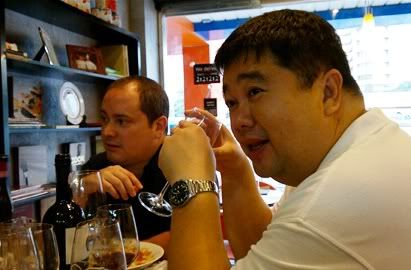 Rene & Arnie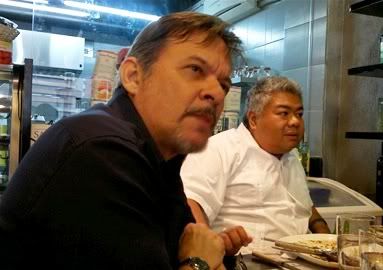 Johnny & J-Lab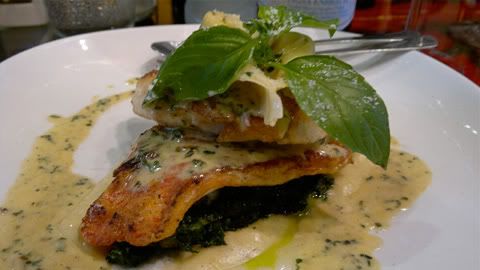 My main course was
Seared Snapper
. The fish was cooked perfectly, the flavors simple, honest, rustic. Enjoyed this a lot. Chef Patron Massimo Veronesi highly recommended it to me, and I , in turn, highly recommend it to all. With this I continued with the 2009 Bruno Giacosa Roero Arneis, and, thereafter, went for a couple of other of the lunch's reds.
1997 Cordero di Montezemolo Barolo Vigna Enrico VI
- from the Stockbroker. Slight roses in the discreetly tar, leather, herb, tea, cedar infused dry black cherry, dark raspberry and violets. A notch or two over medium-bodied, firm enough structure, moderate length. Quite nice.
2004 Clos du Marquis
- This 2nd wine of Léoville las Cases was either Rene's or Greg's bottle, I'm not so sure. Decently structured, firm enough, properly austere St-Julien. Pleasant and a good enough casual lunch red.
Chef Patron Massimo Veronesi (formerly of Mi Piace) & J-Lab.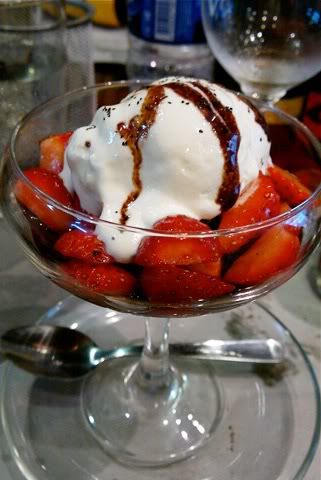 My above dessert was fair enough, the strawberries just a shade too tart for me.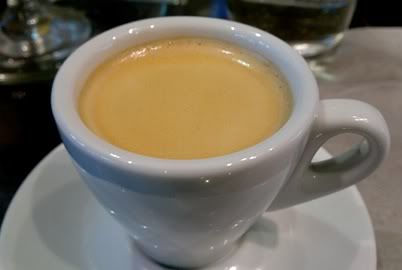 The kitchen was having problems with their coffee machine that day, and it showed in my double espresso - watery and slightly burnt. Very disappointing, but, well, technical difficulties and all...I guess I'll have to return to see what it's really like on a regular day.
Still and all, the food was pretty good and it was great to see, eat and drink with the guys again after over a month. The Stockbroker assured me, though, that it wouldn't be too long...until the next.