After breakfast of the 24th March 2010, the journalists' mission trooped to the popular tourist spot,
El Mercat de Sant Josep de la Boqueria
- an old market where one can buy, aside from lots of fruits, a variety of...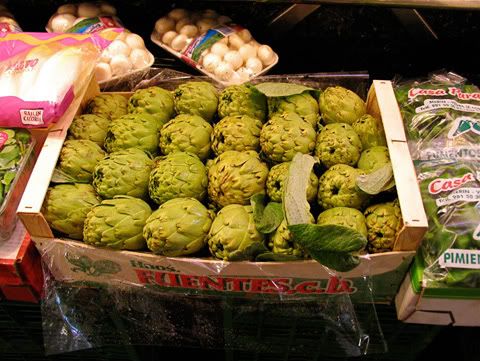 ...fresh, in season vegetables (alcachofas!),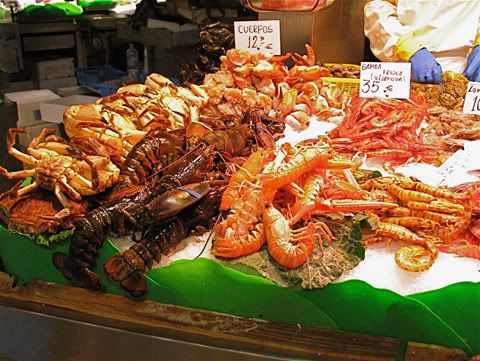 ...crabs, lobsters, prawns, shrimp,
...razor clams,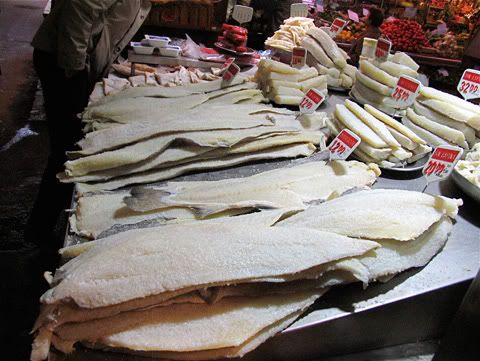 ...dried bacalao,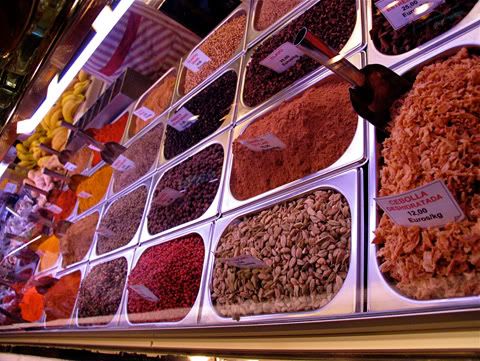 ...spices,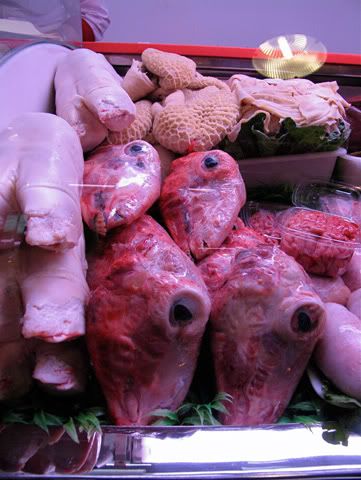 ...as well as meaty bits you don't usually find at home.
Add to these a virtually endless array of embutidos, legs of jamón, etc., the Boqueria is truly a foodie's haven...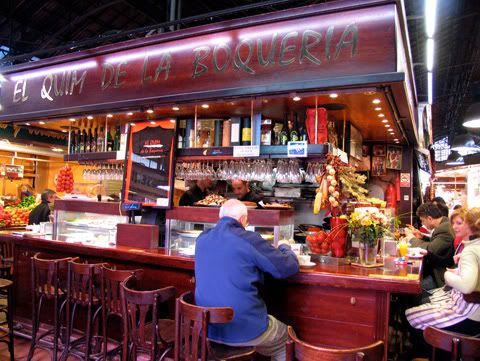 ...where one can get a quick meal and some early morning cava as well.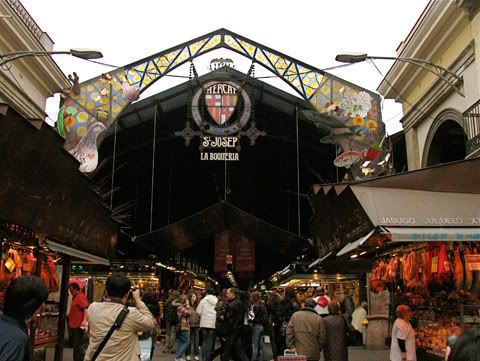 Though construction of the present market began in March 1840, it has been around at least since enterprising meat vendors set up tables to sell their wares in the early 13th century. The photo above is the Las Ramblas entrance. We were repeatedly warned about keeping our wallets and bags safe as the area is notorious for pick-pockets. I jokingly replied that since I'm a lawyer, the locals there had better watch their own wallets around me.
On the way back to the hotel, the group stopped by a Corte Ingles for a bit of shopping. I picked up some Cohiba Siglo IVs and '95 Bodegas La Rioja Alta Rioja Gran Reserva 890. Tempted as I was by the incredible variety of high-end hams, morcillas, chistorras, etc., I thought it best to buy at the end of my trip to avoid having to lug everything around in my luggage for the next two weeks plus.
This was to be our second day at the Alimentaria, but, misfortune struck and, just before we left the hotel, I discovered that I had lost my electronic ID needed for entrance. Thus, the others, including my wife and Rina, proceeded without me. From the sea of thousands the day before, I wasn't about to try to work things out at the venue itself as it would surely have taken well over an hour.
Thus, I stayed at the hotel, uploading my photos and adjusting them on the laptop, waiting for the others to return for our 3pm lunch reservation at
Martín Berasategui's 2 Michelin star Restaurante Lasarte at the Hotel Condes de Barcelona
where we were billeted. I had earlier convinced the group to have lunch there - though they needed no arm-twisting to agree (this was not one of the many MITYC/ICEX sponsored meals, but there was no way I'd leave Barcelona without trying this place out).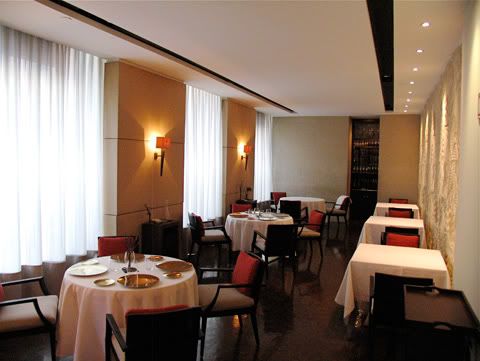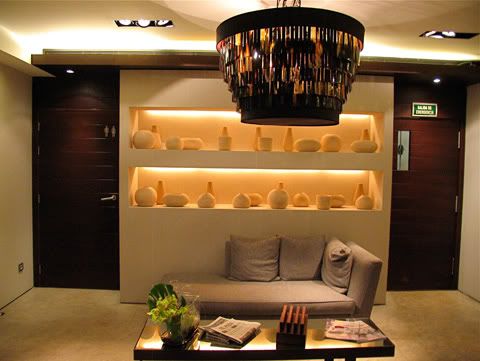 The Mezzanine Sitting Area...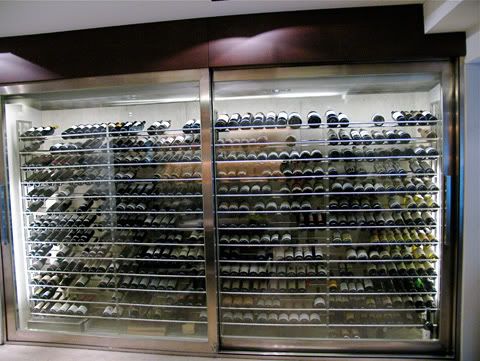 ...where the restaurant's wine cav is situated.
Unfortunately, the Hong Kong contingent (Sandra Chan, Carmel Yip and Jordan Choy) suddenly couldn't join us, so we were just 7 in all at the private dining room through the above-mentioned mezzanine sitting area. When making our reservation that morning, we indicated that we would all be having the current "Menu Classic de Martín 100% Berasategui". The years appearing at the heading of each dish respectively signify the year each dish was created by Berasategui.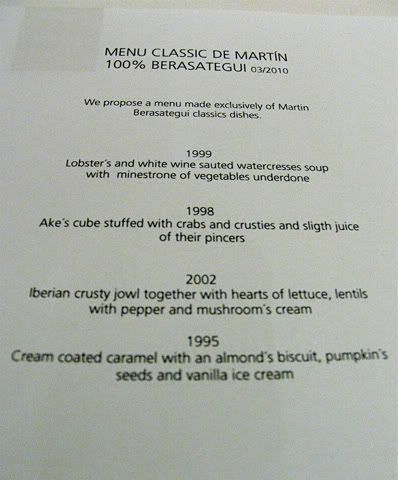 This menu had an optional wine pairing set which most of us went for - my wife and I included, of course.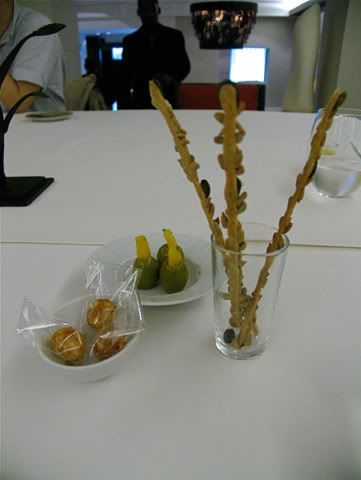 Breadsticks with Pine Nuts, Stuffed Olives and I-Don't-Remember-What-the-Hell-the-Other-Thing-Was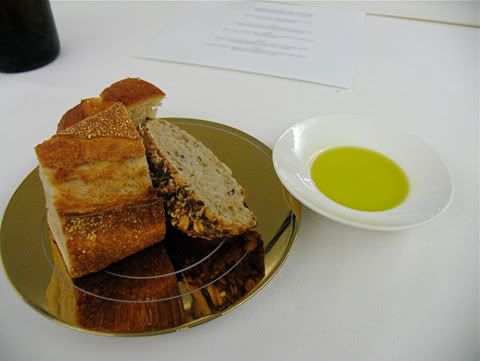 I caught myself from putting my bread on the table.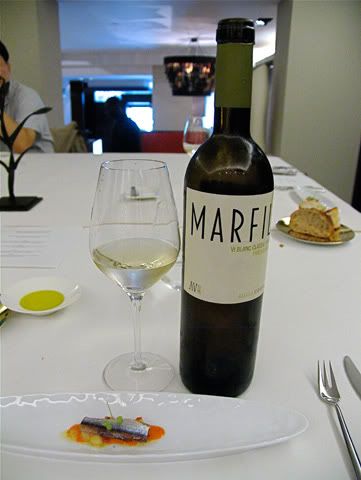 Sardine Amuse Bouche and...
2009 Alella Vinícola Can Jonc Marfil Alella Vi Blanc Sec
- A newly released, unoaked (aged in steel tanks with 3 months on lees) Catalunyan white wine made up of 100% pansa blanca (better known as Xarel-lo) sourced from organic vineyards in the small D.O. Alella. Just a few notches below medium-bodied, the flavors/scents are apple, pear, citrus and banana. This has a decidedly tropical character with very slight minerality and whispers of tangy leesiness. Notable freshness and acid lift. Nothing complex, but quite enjoyable.
Lobster and White Wine Sautéed Watercress Soup with Minestrone of Underdone Vegetables.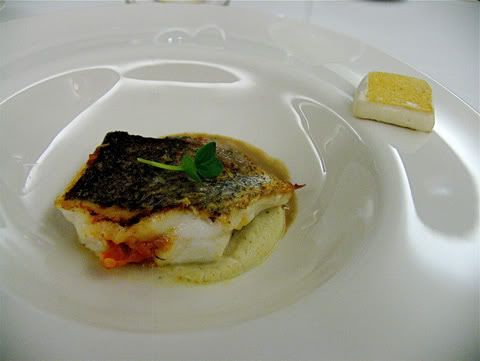 "
Ake's Cube Stuffed with Crabs and Crusties and Slight Juice of their Pincers
" - The menu mentioned "Ake" which we were trying to figure out until someone mentioned that there must have been an error in translation to English. I then remembered that the original Spanish menu included a course of stuffed
merluza
- which is "hake" in English. I figured that an English-speaking staff member just dictated the English name to the typist - dropping the "h" (as the Spaniards do) - hence the spelling error.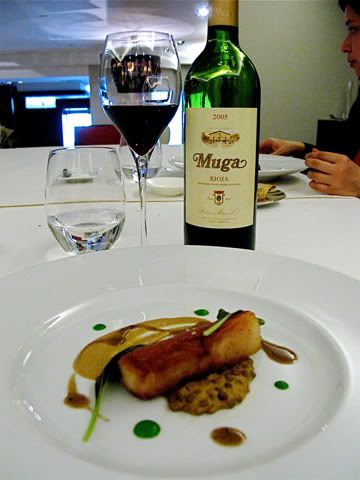 Iberian Crusty Jowl Together with Hearts of Lettuce, Lentils with Pepper and Mushroom Cream
. The wine was a
2005 Muga Rioja
- There was no indication of "reserva" or otherwise on the label. Medium-bodied, smooth, ripely sweetish, well concentrated black cherry, raspberry, licorice, dark minerality with a bit of violets, spice and slight cedar. Slight chewiness as well. Quite nice, really; but the pork jowl was, by far, the star of the show with excellent crustiness outside and tender juiciness inside perfectly complemented by the mushrooms' and lentils' inherent earthiness. This is the only dish that whole lunch that truly impressed me and that I remember well.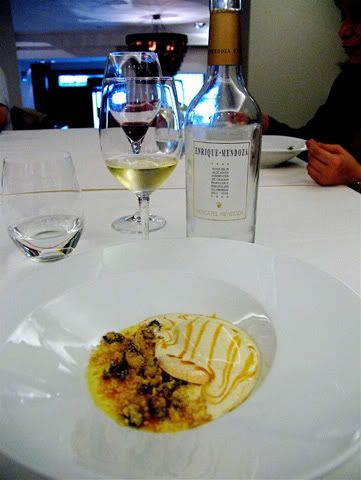 "Cream Coated Caramel with an Almond's Biscuit, Pumpkin's Seeds and Vanilla Ice Cream".
The above dessert course was paired with
2006 Bodegas Enrique Mendoza Moscatel Mendoza
- A 15%abv sweet moscatel from D.O. Alicante, particularly in Alfàs del Pi, near Jumilla, in the Costa Blanca, southeastern Spain. A sweetly floral, honeyed, unmistakably grapey wine. Not terribly complex, but very charming and simply disarming.
Petits Fours
I initially judged this rather harshly, but, now that I think about it, though it did not quite deliver the serene dining experience I was later to have at Echaurren (1 Michelin star, in Ezcaray), looking back, it was actually a pretty good deal for a 100€/person lunch at a 2 Michelin star restaurant in the posh side of Barcelona.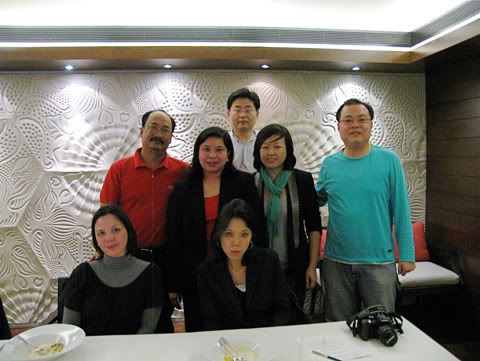 I'd say check it out if you're in the neighborhood just to judge for yourself. Would I eat here again? Offhand, I'd say probably not, but, then, who knows? I did enjoy eating here with my wife and new friends though. That's probably the most memorable part of the lunch.
That lunch easily carried us through to the 8:30pm cocktails for the foreign press and traders hosted by ICEX, MARM & FIAB at the grand
Casa Llotja del Mar
(Plaza del Palau 8) that night.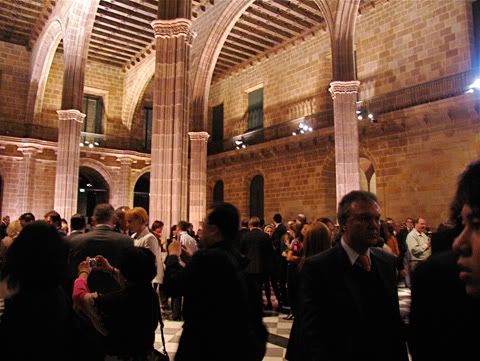 Its ceilings were beautiful.
At the entrance, there was a fellow pouring out fino sherry from Montilla Moriles D.O. in the old-fashioned way.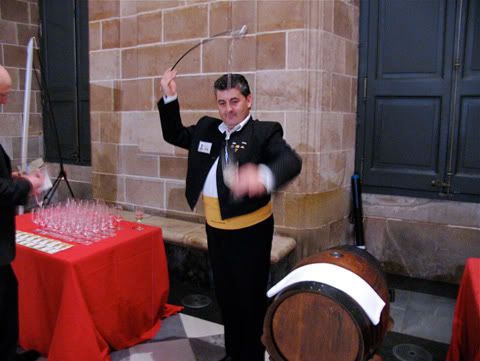 I was barely there for 10 minutes before I met up with
Juan Carlos "JC" de Terry
who briefed me about the fantastic wines (Alvaro Palacios, Vega Sicilia, etc.) that I had missed at the
La Musica i el Ví
(same venue) event the previous night due to my mixing up my schedule.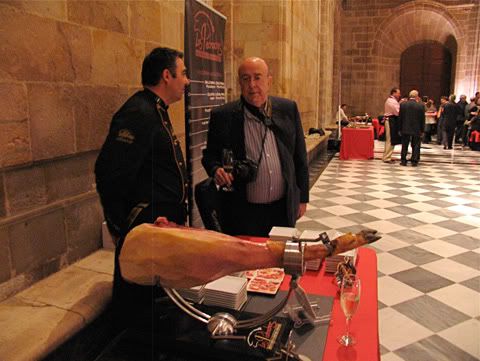 We grabbed a plate of ham, some flutes of cava and took them along as we walked out to the nearby
Vila Viniteca
(Argullers 7, 08003 Barcelona) in the old part of town - the shop being a virtual treasure trove of wines for sale (Miguel also happens to buy wine here).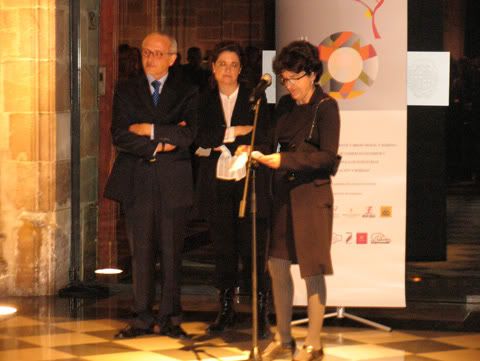 We returned in time for the ICEX officers' speeches, congratulatory remarks and words of thanks to all of us who came from as far as Asia. It was really us who should have been thanking them though.
The bar was endlessly stocked. I stuck to cavas and sherries for all the jamónes - JC teaching me that in drinking sherry de Jerez, the proper way was to drink in reverse: oloroso going down to fino - otherwise, one risks a hangover. As regards food, there were no less than 5 of the top ham producing D.O.s represented, all slicing and serving at separate stations. My two favorites were: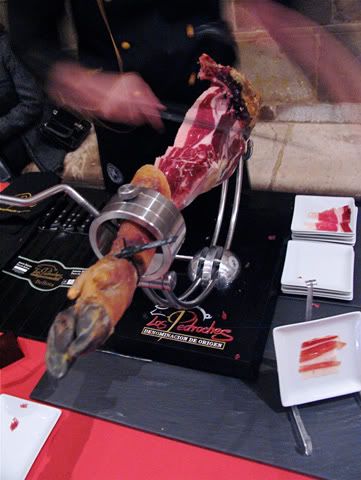 Jamón Calidad Bellota from D.O. Los Pedroches; and,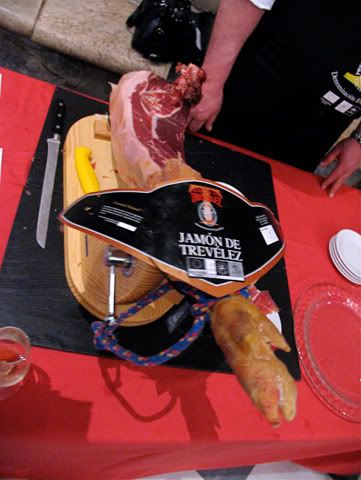 Jamón de Trevélez D.O. (JC made an appointment to visit them).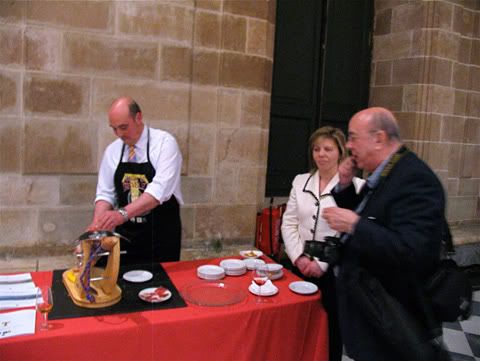 There were, of course many waiters roaming around with assorted croquetas, embutidos, chorizos, foie gras, even mini-burgers, etc., all urging us to have more. We got so overly full that Carmel started hiding every time another waiter bearing a tray of food would approach.
We all went back to the hotel by around midnight. It was a great cocktail party that got me pretty tipsy for a while. The next day, we headed off for La Rioja, visiting Freixenet and Torres along the way. But that's another story.