The evening of Saturday, the 16th February 2013, Catha and I had dinner at old favorite,
Champêtre
. Since Joaqi was tired from basketball, Mauro was home late from a college field trip to Taal Lake, and Renzo attended a prom, dinner turned out to be a belated Valentines/Chinese new Year celebration of sorts. It's been quite a while since we've had dinner out, just the two of us.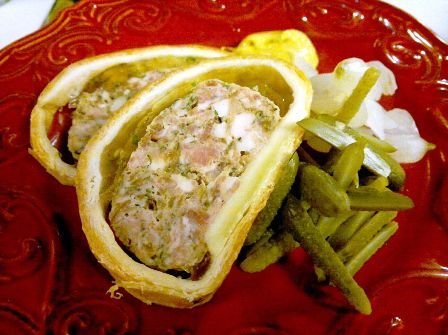 Within minutes from our arrival, Marc sent us a platter of a nice, rustic Pâté de Campagne en Croute with Sliced Gherkins and Pearl Onions on the side. So very French country . Loved it. The place was packed that night, even all the outside tables, with turn-overs until past 9pm. Good to see Marc doing so well.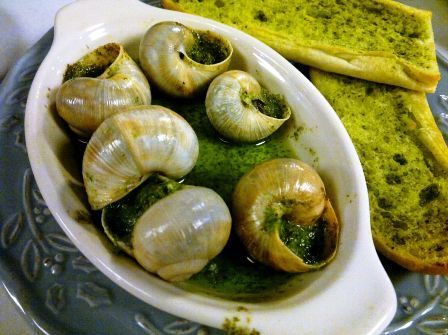 In addition to Marc's little gift, we had some of our usual Escargots à la Bourguignonne...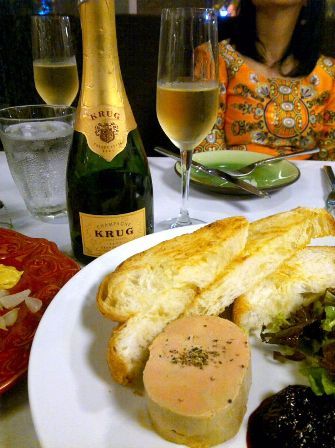 ...and the rich, silken, heavenly Terrine of Goose Foie Gras with Blueberry Compote & Brioche. With the foregoing, we shared a half bottle (375ml) of Champagne Krug Grande Cuvée (NV) - One of the few bottles I brought back from Hong Kong early last month. I've always loved Krug's aromas - alluring honey, ripe apricot, fresh bread, candied ginger, slight nuttiness, complexed with a breath of oxidation - all generously mirrored on the palate in a hefty, yet light-footed body. Not as complex as vintage Krug, of course, but, wonderful in itself nonetheless.
I brought no red that night as we were to proceed to Boozze's & Margarita's house for after-dinner drinks (which surely meant an array of single malt whiskys, among others).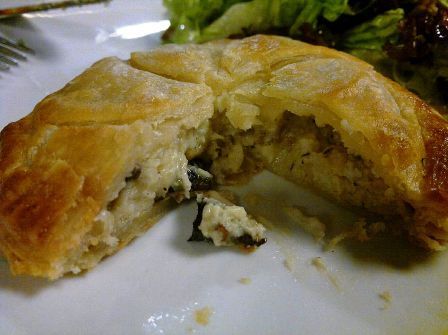 Though Marc's Ris de Veau Pithiviers is listed on the menu as an appetizer, Catha likes it so much that she decided to have it as her main course. It was wonderful as always, and, being quite a hefty serving, I was able to get a few bites from it too.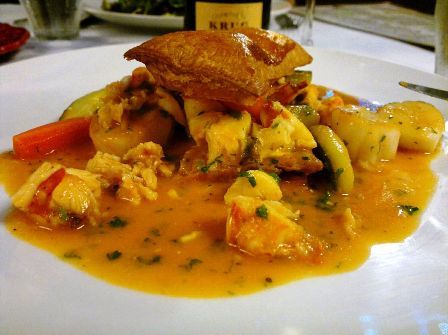 Wanting to eat light, I had as my main course the Roasted Lobster & Scallops with Citrus Sauce, with which the champagne also went quite nicely. Masarap na, healthy pa!
Earlier that evening, while in the car on the way to the restaurant, Catha and I had been discussing dishes we remembered from the '70s, chicken pastel, châteaubriand, baked Alaska, and such, being mentioned. That conversation echoing in my head, I had for dessert...
...Marc's recent addition to the menu - a Nelusko Cake, the likes of which I also remember from the '70s. Super moist and indulgently rich with dark chocolate, it surprisingly doesn't at all come off as dense or cumbersome. It is also not sugary sweet (a good thing to my mind) - one gets all the chocolate without any cloying sugar-sweetness. Even now, I'm planning to have it again next I'm there.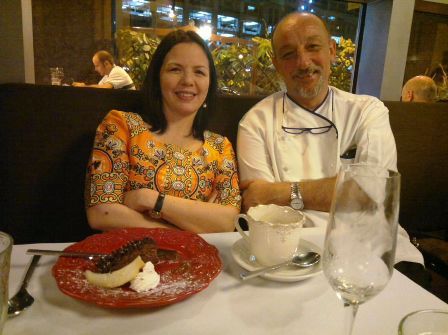 Marc joined us later for a chat, giving me some pointers on where and what to visit in the Champagne region (from where he hails). It was a lovely evening, so relaxed, quiet, and comfortable, not to mention the delicious food and good champagne. We'll surely be back soon. Until the next!