Tuesday the 15th January 2012, I attended a dinner at The Tivoli hosted by Charisse Chuidian, the Mandarin Oriental Manila

's Director of Communications, for

Alicia Sy

, Cyrene dela Rosa,

Sanjeeb Gopaldas, and I. We had the Tivoli's current dégustation menu (which changes quarterly as I understand). As I usually do, I brought my own bottles of wine to dinner.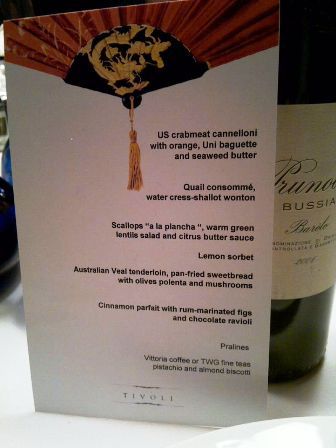 The Menu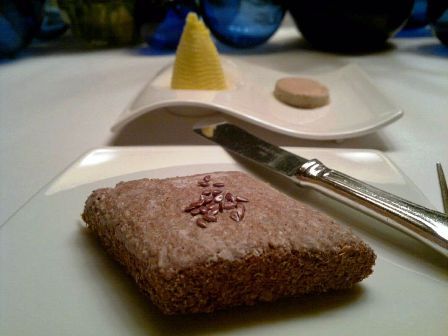 Nice enough bread selection, flavored butters, & creamy liver pâté.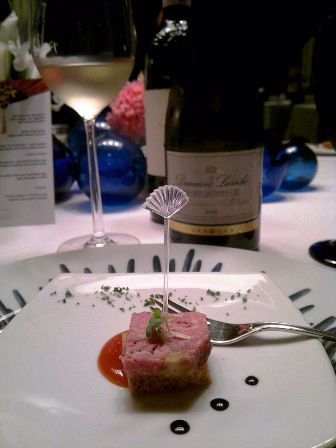 Starting with the rustic Pâté de Campagne amuse bouche, I opened a bottle of 2009 Domaine Laroche Chablis Premier Cru Les Fourchaumes Vieilles Vignes - a bit tight at first from the ice bucket, it fleshed out as it warmed in glass, showing nicely ripe apple and pear with an underlying cold stone theme, citrus and orange rind surfacing just past mid-palate and extending into the moderate finish. Clean, decent purity, moderate steel and mineral profiles. Nicely balanced 1er cru Chablis.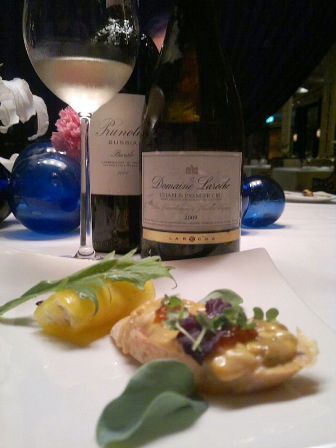 With this wine, we continued through the above depicted 1st course - a duo of seafood - Orange & Crab Meat Canelloni, and, Sea Urchin & Salmon Roe on a Baguette Slice, adorned de riguer with Microgreens. Quite pleasing. The notably fresh sea urchin's creamy nuttiness was nicely cut by the salmon roe's inherent saltiness, the microgreens adding herbaceous complexity. The mentioned Chablis went better with the crab meat canelloni, but was muddled by/with the more complex sea urchin & salmon roe.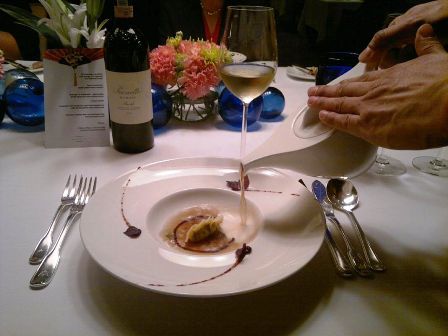 The 2nd course was Quail Consommé with a Watercress & Shallot Wonton, the bowl streaked with concentrated earthy, sweetish Onion Reduction. A graceful soup course, delicate and subtle, yet the flavors made a statement.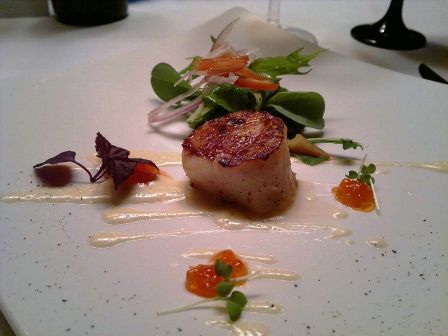 The 3rd course: Scallop "à la Plancha" with a Warm Green Lentil Salad & Citrus Butter Sauce. Very well executed, the microgreens adding nice touches in complexity, not only visually. I only wish the portion was bigger. Other than that, I was quite impressed.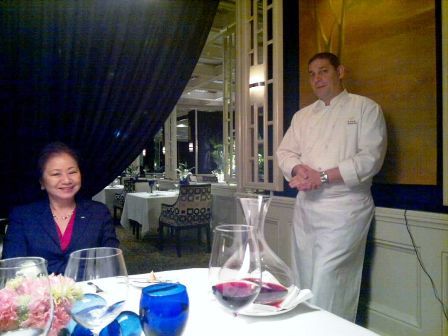 Charisse & Executive Chef Rene Ottlik.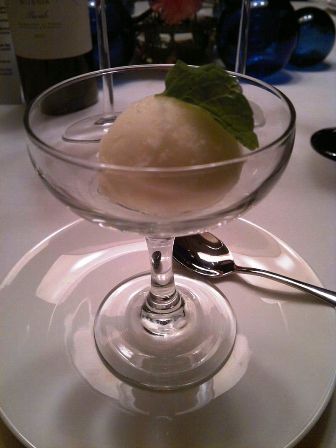 Lemon Sorbet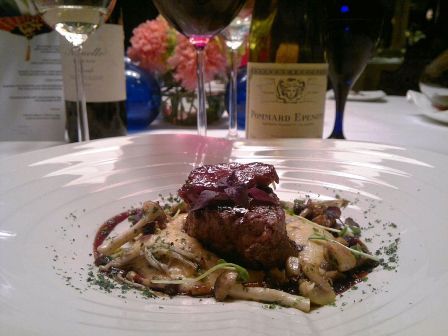 The 4th (main) course was Australian Veal Tenderloin, Pan-Fried Veal Sweetbread, with Olives, Polenta, & Mushrooms, with which I opened a 2002 Louis Jadot Pommard Premier Cru Epenots - decanted for aeration for around 1½ hours by the time it was served. The Epenots lieu dit is a few kilometers west-southwest of the old town of Beaune in the Côte de Beaune, its wines are generally heavier boned, deeper in fruit, and a bit rustic.
The subject wine, after breathing, was a few notches over medium-bodied, displaying moderately smoky, minerally, well-ripened black cherry, dark plum, raspberry, slight tomato topnote, bit of anise, hint of pine needles, cedar, and oak spice. Underlying suggestions of ceps. It's healthy acidity lent good cut to the beef and earthy sweetbreads. Pretty good, though not exciting, it did do its job nicely enough.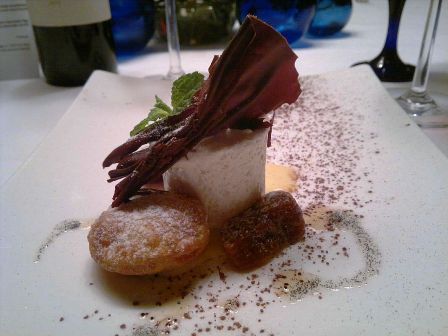 The 5th (dessert) course was Cinnamon Parfait with Rum-Marinated Figs & Chocolate Ravioli.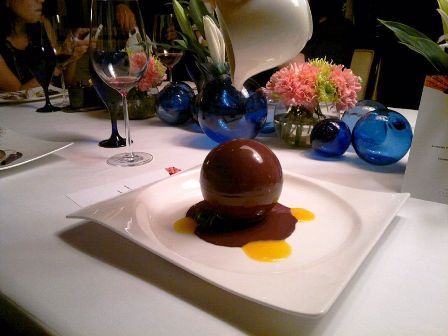 The second dessert was quite entertaining: named "Chocolate Surprise", it is a ball of chocolate generously bathed with chocolate sauce with puddles of passion fruit.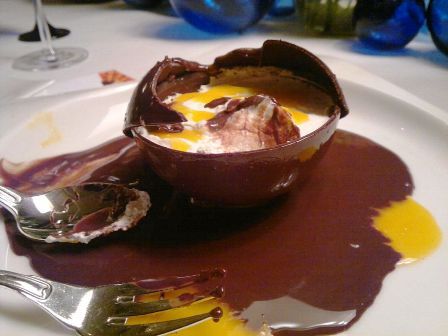 Inside the ball lay passionfruit mousse on a spongecake base. Together with the rich dark chocolate sauce, it was quite delicious. I really enjoyed the chocolate's interplay with the passionfruit/citrus flavors. Loved it. I felt like a kid again.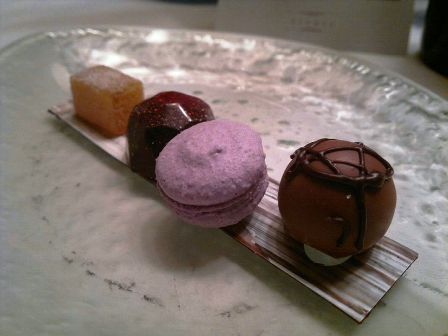 Friandises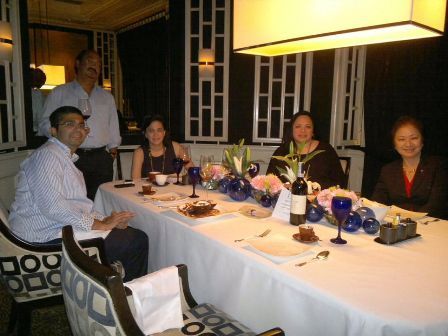 Sanju, myself, Alicia, Cyrene, & Charisse
The above discussed menu is approximately Php3800+ per person and, as I recall, is available only during dinner service - a fair enough price for the dishes, relaxed, elegant ambiance, and crisp, attentive service. For so long as I am allowed to bring my wines, I'm game for another go at this. Thanks again to Charisse for the dinner. Until the next!