This past Tuesday, the 19th February 2013, some of the guys got together to welcome OC, California based fellow wino, Clem Nieto, who is in town for vacation. Knowing well how much Clem enjoys Cyrille Soenen's cooking (he's been to Cyrille's original/eponymous Restaurant CiÇou in Makati, to Impressions as well, and plans to have a meal at Brasserie CiÇou in Greenhills during this trip) I naturally chose
Impressions
for the dinner's venue.
We were six for dinner: (clockwise from left) Miguel, Alex, J-Lab, Vancouver Vince, Clem and (not in the photo) yours truly.
I ran a bit late, so, by the time I arrived, the guys had already started with their grower champagne
apéritif
of...
Champagne Jean Milan Grande Réserve 1864 Grand Cru Blanc de Blancs
- J-Lab's bottle, one he picked up in the USA. Soft, supple, creamily/pillowy fruited, slightly biscuity, with whispers of yeast. Pleasantly rounded in the mouth, decent heft. Very amiable and easy to like. Increasingly jaded when it comes to wine these days, I greatly appreciated having something entirely new.
With said
bubbly, I enjoyed a few of my favorite mini-baguettes (I can get them only at Impressions and Brasserie CiÇou) with some, well, a lot of, good butter.
My niece, Nicole, is the new Pastry Commis Chef I of Impressions (in the past, she did pastry in 1* Michelin La Fermata in Alessandria, and, upon returning to Manila, at Chez Karine in Serendra). She was manning the pastry station all by her lonesome that night, but did a great job at it (really, I'm not just saying that). In the above photo, she makes sure the mini-baguettes are freshly hot from the oven.
Amuse Bouche: Ravioli of Smoked Salmon w/ Sea Urchin Foam and Caviar.
1st Course: French Oysters and Tuna Tartare with Caviar on Aspic of Green Apple, paired with 1995 Champagne Krug - Clem's bottle. Lovely dish, resplendent with clean, pure freshness of the sea, juxtaposed with a cutting green apple tart-sweetness. Clem's '95 Krug was, in a word, captivating, with its deep, ripe, moderately honeyed yellow apricot, ripe pear, candied ginger, brioche, nuts, slight caramel, marzipan, and entertaining hints of oxidation (which added to its already considerable complexity). Beautiful heft. Loved it.
2nd Course: Roasted Scallops, Puree of Cauliflower, Reduction of Court Bouillon and Orange whipped with Butter and adorned with Bacon. Sublime; most everyone's dish of the night. This was paired with 2007 Markus Molitor Zeltinger Sonnenuhr Riesling Spätlese - J-Lab's bottle. N
icely clean, pure, white minerally, slate-infused, prettily balanced, rounded ripe peach, honeyed pear and apricot. Lithe, agile, light-footed. Nice balancing acidity kept things bright enough.
J-Lab opined that it was too sweetly ripe for the dish.
I would have preferred a grand cru Chablis or something nice and white from the Côte de Beaune, but I thought it was a fair enough impromptu pairing.
3rd (Main) Course
:
Pithiviers of French Pigeon, Duck Foie Gras & Mushrooms, with a Fricasée of Morels, Asparagus, Mini Carrot & Périgueux Sauce
. I've written about this new dish of Cyrille several times, so I need not repeat the many reasons I love it so much. As a pairing dish...
...for the above depicted fine line-up of French reds, I was more than confident. Alas, however, due to the heartiness and size of our main courses, not to mention the previous dishes and bottles, we could absorb only so much wine by that point. Thus, what we had for the pithiviers were (in the order I had them):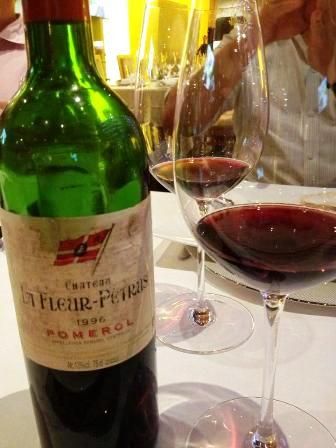 (photo filched from Clem)
1996 Château La Fleur-Pétrus
- My bottle, decanted for aeration for 2½ hours in my cav, then returned to bottle for transport to the restaurant. Whiffs of dustiness came and went in the nose - sometimes there, sometimes absent - distracting me from getting a good handle on it besides a description of cedar, moderately herbaceous dark plum, and kirsch.
In the mouth, it was halfway between medium and full body, deep, smooth and light-footed - belying its darkly brooding visage. Notes of loam, pipe tobacco, cedar, slight oak spice, and violets underneath the quietly powerful, properly reserved cherry, raspberry, dark plum and kirsch. Decent length, but could be longer. Not bad, but not exciting. I doubt I'd buy more of this vintage of La Fleur-Pétrus. For '96 Bordeaux, I've finally decided to keep my purchases within the Haut-Médoc and Graves - well, until/unless something comes along and changes my mind, anyway.
1971 Château Latour
- Alex's bottle (and happens to be a birthyear wine of Miguel); a generous treat.
Somber, serious, deep, masculine. Dry and savory. Midnight blackcurrant and black cherry essence, slight licorice, pencil lead, leather, tobacco, cedar, slight loaminess, ceps, and hints of walnut skin. Red berries and tea leaves (the latter accurately noted by J-Lab) emerge towards the back and continue through the moderately long finish.
Notably heftier than the '96 La Fleur-Pétrus, but not by a whole lot. Good show, thumbing its nose at the vintage and its age, re-emphasizing the near immortality of Latour. Still a good Latour, though I'd not wait much/any longer on it.
1997 Dominique Laurent Clos de la Roche Grand Cru
- Clem's bottle. Rich, deep, earthy. A notably ripe and hefty masculine Burg. Concentrated and ripe, softened fruit, underpinnings of oak-related spice (but not obtrusive). J-Lab exclaimed "chocolate and cherries". Readily pleasing, a bit low on acid, a hedonistic red. I found it delicious with the pithiviers.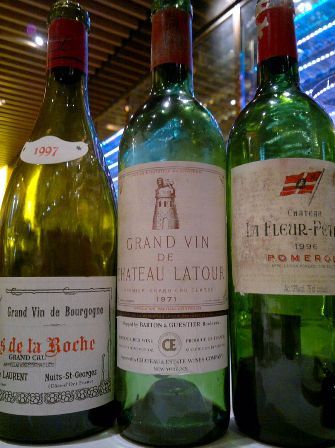 Together, the three reds for the main course.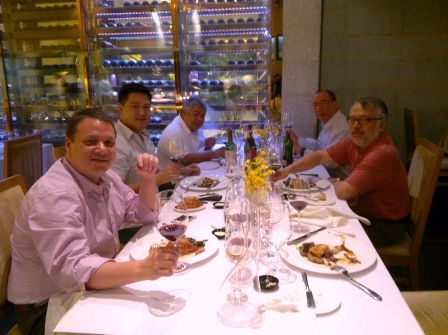 The boys enjoying them.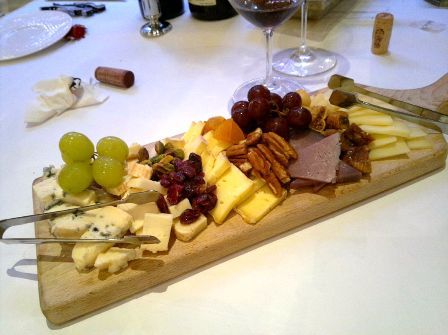 With the Cheese Platter...
1983 Château Cheval Blanc
- Clem's bottle, another generous treat. Popped and poured, it was singing from the get-go. Remarkably structured, perfectly juxtaposed with the merlot's precise ripeness, very round, rich, but not ponderous. Everything in its proper place. Harmonious. Balance, balance, balance. This was probably the best 1983 Bordeaux rouge I've ever had; and, definitely wine of the night for J-lab and I. Maraming salamat, Don Clem!
Dessert Course
:
Chocolate Royale with Vanilla Gelato, Berry Compote, & Hazelnut Crumble
, made and served to us by Nicole. This was absolutely delicious. You don't have to take it from me since she is my niece; J-Lab, certainly no stranger to fine cuisine, wrote glowingly of it as well in his
blog post on this same dinner
. It's no secret that I am a sucker for dark chocolate with berries, so this was perfect for me. I finished every last bit of this.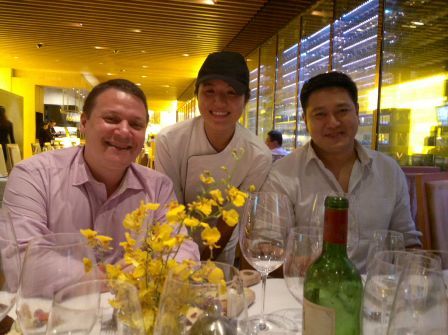 Migs, Nicole, & Alex
Mignardises of Truffles, Macarons, & Hearts of Tequila Rose.
We were all stuffed to the gills by then, even Alex backed off from opening another bottle of red and even J-Lab's half bottle of sweet white.
Thereafter, Alex, Clem, & I moved on to Kipling's at the Mandarin Oriental Manila for some Cuban puros (Partagas Serie "D" No. 4 for me) and some of Alex's bottles of
The Balvenie Port Wood 21 Year-Old Single Malt
. Clem and I called it a night by 1:40am, while Alex stayed on with some other regulars.
Excellent, excellent night of fine food, wine, and friends. Can't ask for much more than that.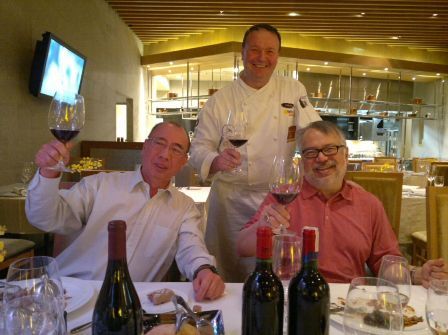 Cheers! from Vince, Cyrille, & Clem. Until the next!