I recall it was

Jim, during one of our nights at The Bottle Shop, who brought up the idea of having an Indian dinner at Kashmir. Since pretty much all of us remembered the excellent l'Ordre Mundial des Gourmets Dégustateurs (OMGD) event that Sanjeeb organized there a few months ago, we all left the arrangements in his capable hands.
Thus, on Tuesday, the 29th January 2013, we reconvened at said venue for another memorable meal.
We southern denizens were some of the early arrivals...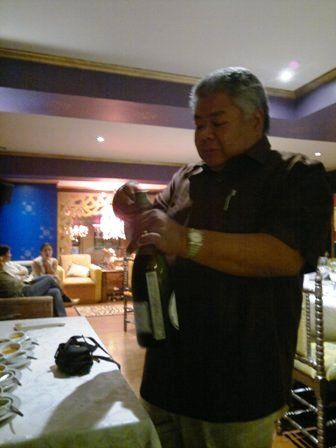 ...so J-Lab lost no time in popping open his bottle of...
2007 Bruno Giacosa Spumante Rosé Extra Brut - A fairly good, appetizingly dry, rather simple rosé spumante of pinot noir from Lombardy growers. Certainly a pleasant enough apéritif, but did not make much of a statement to me. Always good to have a decent bubbly to whet one's appetite though, so I was thankful for it. Available at Premium Wine Exchange for around P2500/bottle at full retail.
Jim eventually arrived so our craft beer bottle count began in earnest, him bringing along Ballast Point Indra Kunindra India-Style Export Stout (2 bombers) and the Unibroue La Fin du Monde (4 bombers) which everyone loves. I purposefully ordered some of the latter recalling vividly how beautifully it paired with the dishes during the previously mentioned Punjabi cuisine event.
Our feast was composed of multiple dishes each of: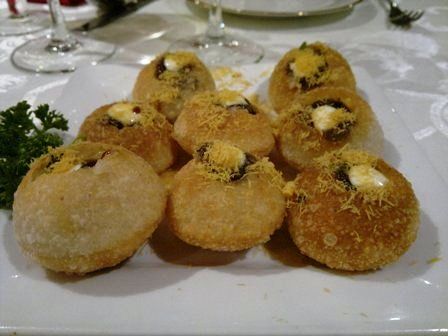 Fukna (pangalan pa lang, masarap na)...
...with which we were treated to several bottles of the not locally available, difficult to source Dogfish Head 90 Minute Imperial IPA - Chinkee's & Matt's bottles which they brought back from their then recent trip to NYC. Lovely, alluringly fragrant nose, I could have sniffed it all night. Its rounded, nicely hefty sweetish malts and moderate hoppiness, and absolutely luscious mid-palate made for a perfect match with the above-mentioned spicy Fukna,...
...and the excellent Bhel Puri. This is currently my favorite Indian appetizer, and I made sure to remind Sanju to arrange for a lot of it. You simply must.
By that time, Sanju had opened and shared his bottle of 2011 Wittmann Riesling Trocken that he had brought back from a recent business trip in Germany. Dry, mild yellow apricot, bit of lemon peel with a permeating limestone theme. Pleasant enough a Rheinhessen trocken, if not very distinctive.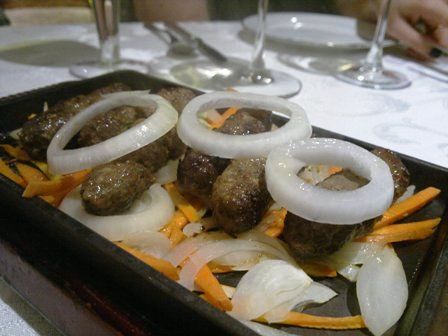 Sekh Kebab followed.
...accompanied by a trio of sauces: I recall the dark one being tamarind sauce, the orange one chili, but I don't recall now what the green one was made out of. All delicious, I made use of the chili most of the three since, in deference to those not fond of a lot of heat, Sanju requested "moderate spiciness" for all our dishes.
We also had platters of excellent Roti Canai which was served with the quick succession of...
...Chola Masala (superb!)...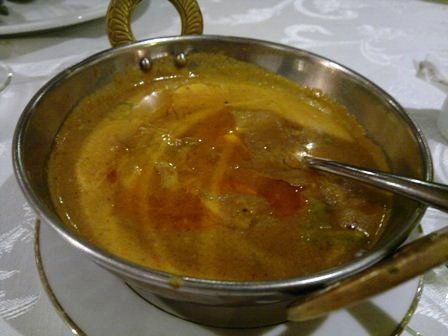 ...Chicken Madras...
There was also some Raita (a cucumber-mint-yogurt relish to help ease the spice), but I forgot to take a photo of it. By this time, I had served my bottle of 2007 Corté Riva Vineyards Viognier - which went over very well with the various dishes.
My previous notes from the IWFS Manila Ladies Branch 11th Anniversary dinner (9th October 2012 at The Goose Station) are still applicable:
2007 Corté Riva Vineyards Viognier

- Jay Labrador's bottle. This was a bit of a revelation to me - the first Californian viognier I've ever had - which I couldn't help but admire. The unabashed nose reminded me of

crème brûlée

and lemon custard with hints of orange blossom; the palate of ripe apricot, orange, with mere hints of lychee and guava. Very fruity, yet nicely dry. Quite forward, but in a charming way. Acidity is just enough to prop up the ripe fruit. This matched especially well with the first course's

foie gras

component.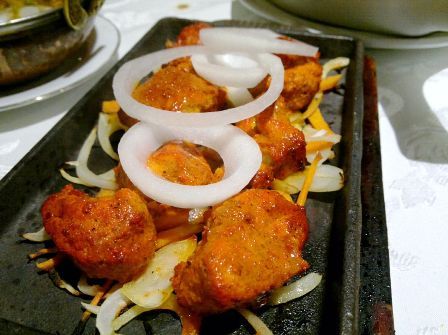 Fish Tandoori (masarap na, para healthy pa)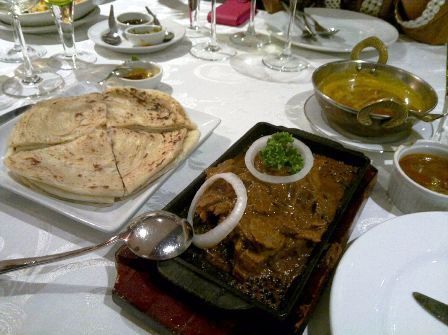 Tender & succulent Raan e Taj...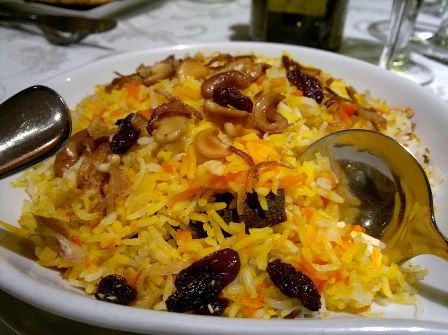 ...served with fragrant, al dente Biryani.
By then, Alex had popped and poured his bottle of 2006 Beringer Chardonnay Sbragia Limited Release - a consistently well-crafted, polished, higher-end Napa chardonnay. This showed good balance and a pleasing, mild minerality in its cold-stony apple and slight pear. Slight butter in it.
I took just a small pour to taste as Catha favors these types of whites, so I asked Alex to give her my share. Anyway, I was greatly enjoying generous glasses of La Fin du Monde throughout the entire meal. I can't emphasize enough how well this Canadian-made Belgian style tripel paired with the subject feast. Try it and see what I mean.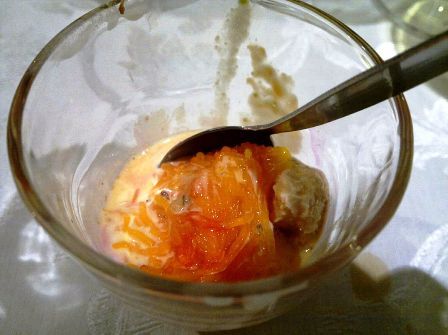 Dessert was a soothingly cool, light-footed, creamy Faluda.
We were all so stuffed, so Sanju poured everyone digestíf shots (multiple for a few of us) of Peter Busch Killeptisch Premium Kräuterlikör - a dark, viscous, sweetish, minty, anise, fennel, and molasses noted herb liqueur he picked up during a business trip to Germany.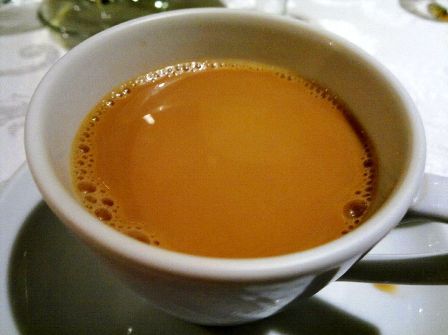 Madras Tea for me in lieu of my usual double espresso.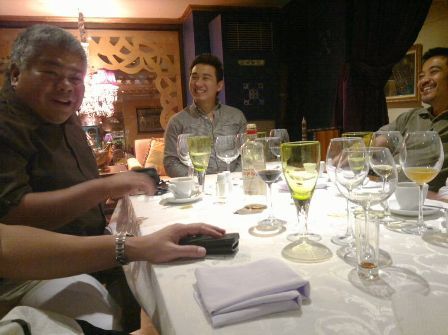 In the meantime, Mags had dropped by for some drinks.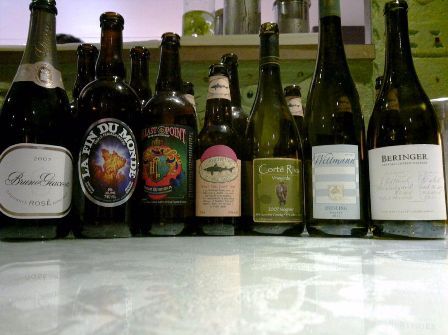 The evening's craft beers and wines.
Truth to tell, growing up, I was never fond of Indian cuisine, but that all changed at Kashmir when Sanju planned the menu. Now, I'm pretty much hooked. Love it - especially with great craft beers, wines, and, of course, the company of friends. Until the next!