The 5th February 2013, was the first Thirsty Tuesday Cocktail Night of Global Beer Exchange's Bottle Shop (Ground Floor, Tritan Ventures Building, Paseo de Magallanes, Makati), the weekly event featuring the concoctions of young DJ-Mixologist, Sammy Bloom.
Though it starts at 6pm, I arrived from work half an hour early and chanced upon old friends/classmates Tony Abad (in blue) and Myron Reyes (in short sleeves) already having a few brews with their friends.
Sammy & the Bottle Shop Crew ready for the night's crush of patrons.
Mon Araneta joined me after a few minutes, followed by Proprietor-Beertender Jim Araneta, Art Rocha (in stripes), and fellow regular Kailash Ramchandani. By then, Mon and I were almost through with our first round of
Stone IPA
(for me) and
Unibroue
La Fin du Monde
(for Mon), which we slugged down with some of Kublai's
Chorizo Sisig
and
Buffalo Chicken Wings
. Several other regulars and some new faces had been trickling in by that time.
My second son, Lorenzo (in blue), joined the fun with a couple of college buddies/carpool mates as well. They didn't stay too long, though, just enough for a brew and a cocktail each with some bar chow - after all, they had classes the next day. Kids who learn early to appreciate the good stuff tend not to binge and know when to stop (or carry on) - well, these kids do anyway.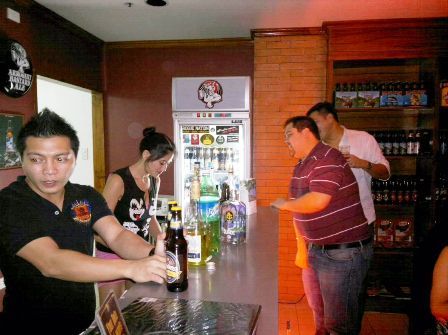 Art checks out the cocktails as Alex thoughtfully "assists".
I tried out everything except the Pink Princess and Gummy Bear, eventually settling on a double of Birthday Sex (with a name like that, how could one not?) and around 5 glasses of Grateful Dead. Yes, I had gotten my second wind by then, was greatly enjoying myself, and "feeling no pain", as it were.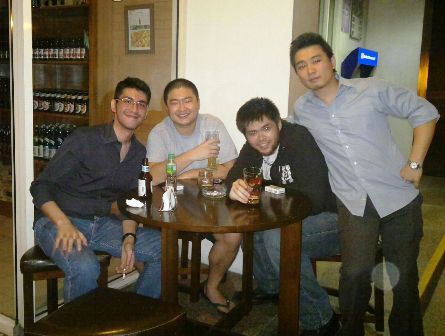 Mags Villafuerte (standing) & crew catching up.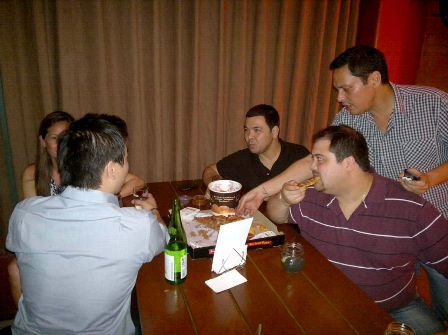 Shakey's Pizza & Mojos time.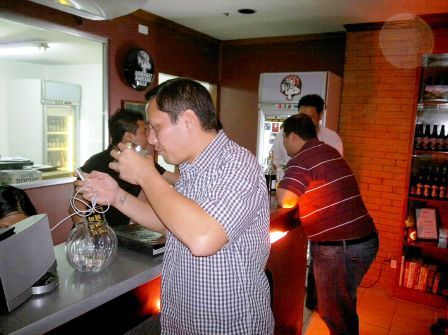 Mon slots '80s dance tunes in...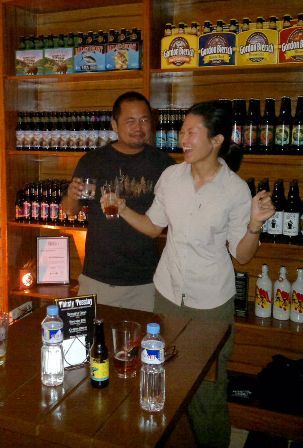 ...getting Tonji & Sylvia off their feet.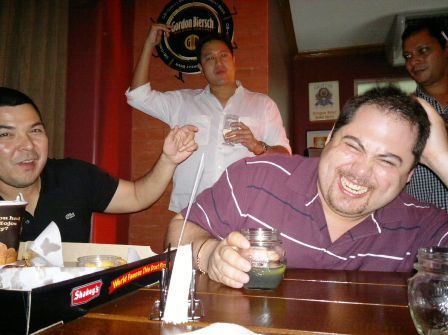 Things get rowdier...
...all in good fun. Mon was surely enjoying himself...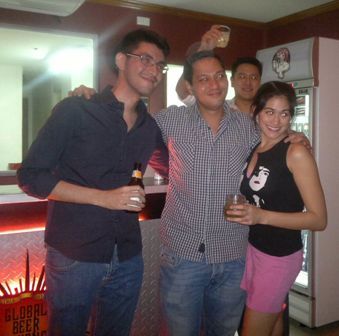 ...a lot.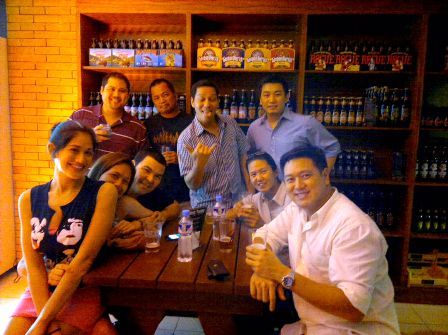 Rock on at The Bottle Shop on Thirsty Tuesdays!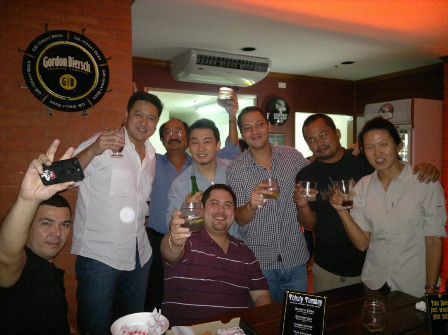 Until the next!