Evening of the 4th April 2010, after an excellent lunch at Restaurante Echaurren, we were, understandably, not hungry until past 10pm. Having not made any dinner reservations, we wandered back to El Rincon del Vino de Logroño in hopes of another great steak and lamb meal with yet another fine aged Rioja - but, unfortunately, it was closed for Easter Sunday.
We trudged along aimlessly around Logroño's
Casco Antiguo
thinking we'd just settle for a lighter meal of tapas, pintxos and blanco in some nearby bar, until we saw that the modernly chic-looking
Asador Restaurante Herventia
still looked pretty lively (Capitán Gallarza 10, esquina Portales, Logroño). They happened to have a free table for 2 (one of the staff told the receptionist they had a no-show), so we sat and ordered.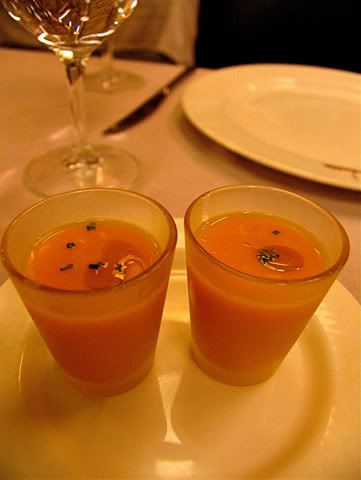 These were complimentary - Very similar to the Andalucian all-tomato version of gazpacho called
Salmorejo
(a little similar to gazpacho but denser, richer and not as "summery"). I believe this also had a bit of roasted pimiento - but no cucumbers, celery, etc. that usually goes into the usual gazpacho.
Since we were not really hungry and just didn't want to wake up in the middle of the night starving to death, Catha requested "
todos los platos para compartir
" (all courses to be shared).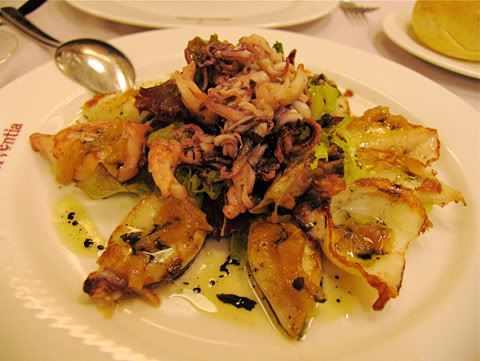 Chipirónes a la Plancha
(Baby Squid Grilled on a Metal Plate)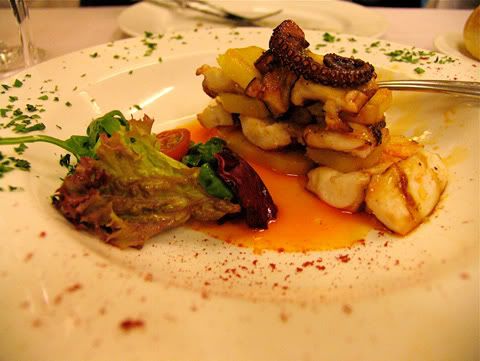 Pulpo a la Gallega
(Octopus in the Galician Style)
I just ordered a glass of their house viura (Catha passed on the blanco) as there was absolutely no way we could have finished 2 bottles (a white and red) over dinner after such a heavy lunch.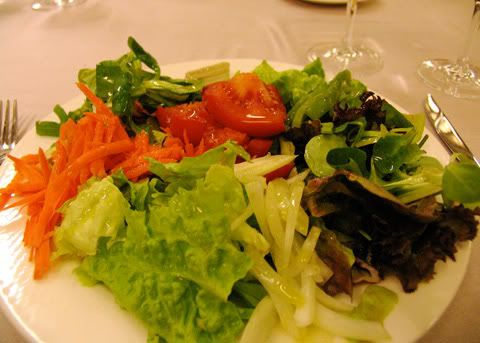 Ensalada de la Huerta con Lechugas Variadas con Crudités
(Garden Salad of Assorted Lettuce with Raw Seasonal Vegetables)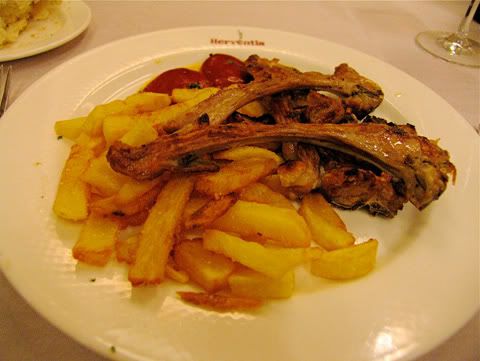 Chuletillas de Cordero a la Braza Asados a la Zona
(Young Lamb Ribs Cooked Over Embers in the Local Style)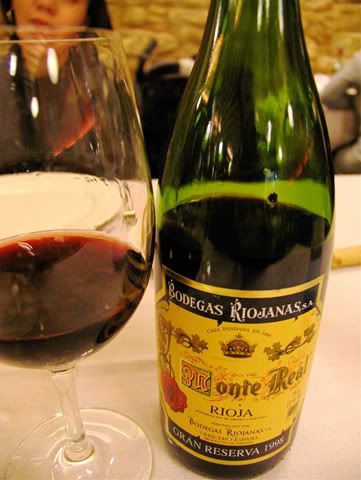 1998 Bodegas Riojanas Monte Real Rioja Gran Reserva
- This was pretty nice for its price - around 30€ off the wine list if I recall properly (give or take a couple). Let's just say the wine list had some good enough makers and decent bottlings but all the better ones except this '98 just seemed
way
too young for me at the time (our lunch's 1991 López de Heredia Viña Tondonia Gran Reserva was likely still too fresh in my mind to drink anything so very young with dinner).
Nicely enough concentrated and extracted, raspberry, cherry, blackberry, candied tamarind, hint of raspberry liqueur, kirsch, violets, new leather, licorice, dill, bit of chocolate, cinnamon and vanilla/oak. Approaching full-body but not quite getting there. Purity was decent, focus could have been better - it was fine for its price, but I just kept feeling everything hadn't quite meshed yet (I hesitate at calling it even slightly muddled).
Commanding drive on the palate, though. Definitely nice enough, but I'd guess it'll come together much better in 2-3 years. I'd never refuse a glass of this now and, given its price, wouldn't hesitate to buy it for current casual meals. Good upside.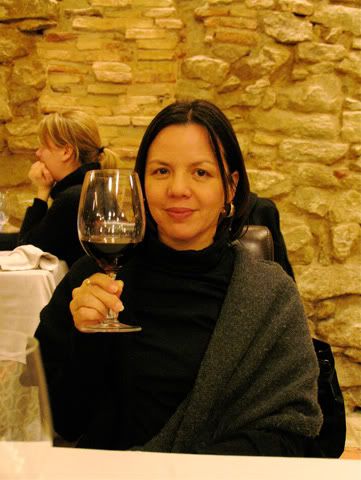 Though we were already full (morseo I, as Catha took but one little rib of the
chuletillas
while I finished it off and shared the salad), we couldn't help but order dessert.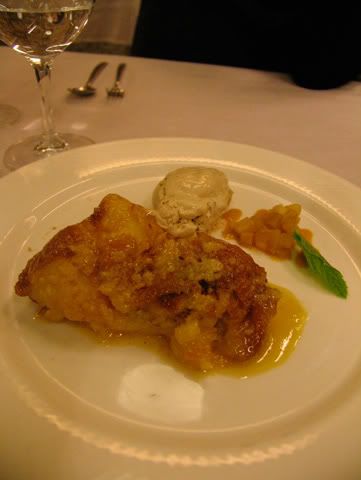 Torrija con Helado de Café
(Spanish Version of "French Toast" with Coffee Ice Cream)
I've loved
torrijas
ever since Javi Lecumberri made us some in one of our earlier Usual Suspects' dinners at La Tienda. I certainly ate a lot of it during this trip. This version, however, was just too rich, sweet and densely custardy for me. Catha told me she's sure the bread they used to make this version was
croissant
or something very similarly butter-rich. She was probably right. She did eat much more of it than I, but it was left unfinished.
Still and all, it was a nice enough dinner. I would have much rather have eaten at El Rincon del Vino logroño again, but was happy enough with Asador Restaurante Herventia.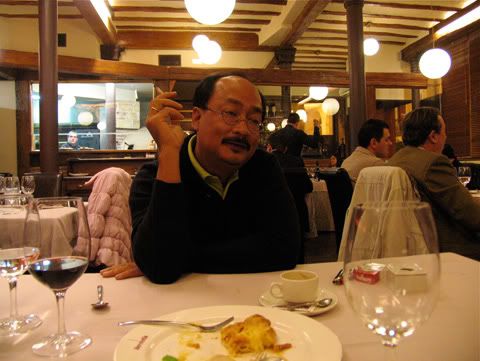 ¡
A
dios otra vez, Logroño
! Back to Barcelona the next day!