Dinner Wednesday, 2nd December 2009, was at
RED
for a special menu featuring Champagne Veuve Clicquot Ponsardin. The Stockbroker organized a long table of friends for the evening.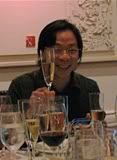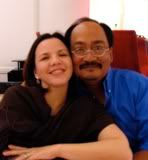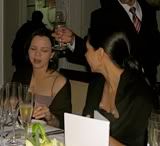 The Stockbroker, Kim Atienza, my wife & I, and her & Mrs. Doc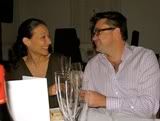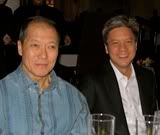 Barbara Aboitiz & the Vigneron, Bernie Sim & the Doc, Lucy Sim & Felicia Atienza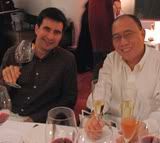 Feli & Mrs. Vigneron, Miguel Aboitiz & Uncle David Lim, Arnie del Rosario & Greg Clavano
Naturally, we brought our own bottles of reds for the evening, mostly Bordeaux, which ever-reliable Ace,
RED's
sommelier, expertly prepared for us.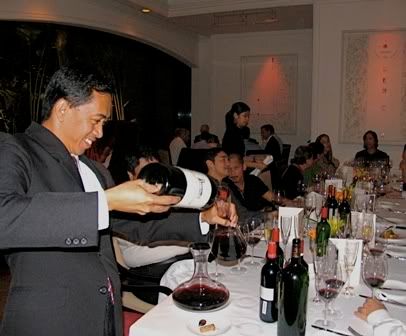 For cocktails/canapés and the initial course involving smoked salmon,...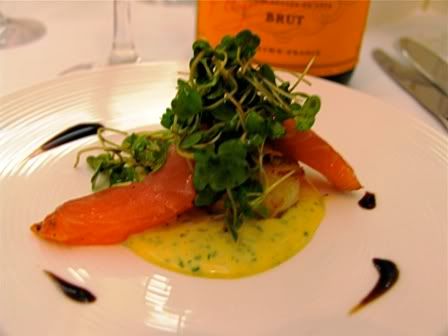 ...we had the
Veuve Clicquot Ponsardin Non-Vintage Brut
(a.k.a., "Yellow Label") - This is the house's basic, signature non-vintage champagne - one of the more popular non-vintage bubblies served in Manila. I have found this consistently fresh, crisp, zesty and bright with telltale rounded lemony slant and slight floral and bready notes on a svelte, lightish-to-medium body.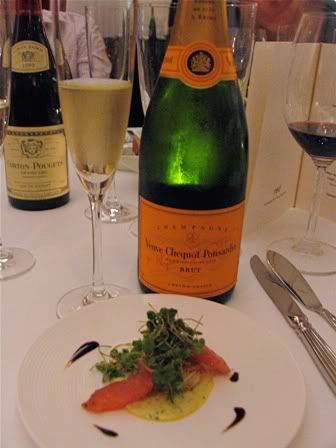 Thereafter, with a bit of seared foie gras...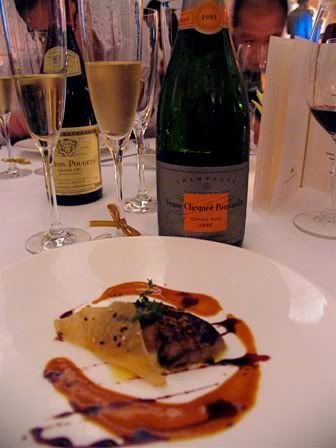 2002 Veuve Clicquot Ponsardin "Vintage Rich"
- The materially higher
dosage
of this vintage bottling makes it evidently sweeter and more complex than the brut, and, as such, a logical bubbly pairing with foie gras. There is more heft and a more rounded, creamy mouthfeel to this (with a more pronounced middle compared to the basic Yellow Label) with almond paste and white chocolate notes that indicate a good amount of fine pinot noir. Quite nice.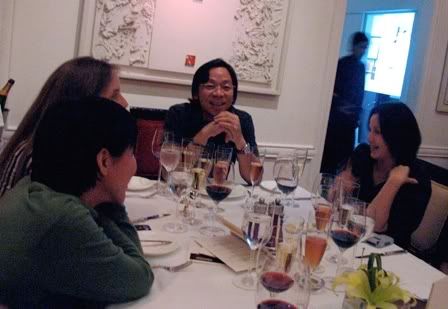 The soup course was a reasonably good pumpkin soup. I noted that this was not overly rich or creamy like many othe versions; it had a nice clean, gracefulness to it. Nice enough.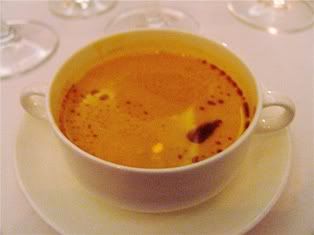 Next was an earthy, mushroom-laced risotto. I and the Stockbroker noted that ours were
a bit
too al dente
, but the flavors were, nonetheless, very good. Though many reds were already opened, I paired this with...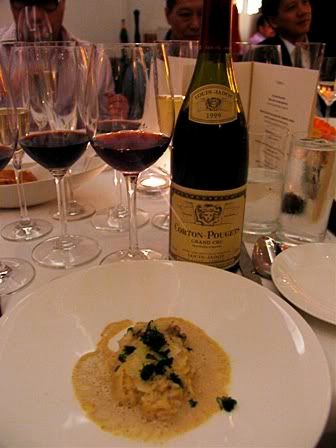 1999 Louis Jadot Corton-Pougets Grand Cru
- My bottle, one I've had a few times, the first being from Vancouver Vince during
a post-golf dinner at the house
back on the 13th May 2009. Although I've had this wine a few times since, my last written notes were
from the 25th June 2009 at Sala
*
:
...My previous
notes
, still applicable, were as follows:

From Jadot's own south-eastern exposed vineyard situated on the Rognon de Corton (literally, the "Corton kidney"), just below the vineyards of Corton-Charlemagne.

A bit reticent, initially, after around 15 minutes in the glass, this attractive dark red wine started opening up with sweetly-spiced raspberry, cherry and fine cedar - eventually developing into a nicely perfumed bouquet.This wine was alluringly, seductively feminine in character, with very notable finesse - from the attack to finish, there is definitiveness, but elegantly understated. In the mouth, notes of dried cranberry, red beet and a whisper of violets are intricately intertwined with the mirrored sweetly spiced red fruit/berry aromas - making for a very enjoyable wine indeed.

I can add now, since the wine had more aeration in bottle and glass this time, that it exhibited more openly the power, breadth, body and push expected of grand cru status and more depth in its deep, pure and well-defined cherry and raspberry flavors - but all in a polished and poised manner.
*
nb
:
With a bottle I opened
on the 27th August 2009
, I noted that the cherry/raspberry were obviously tarter and not as sweetly spiced than the previous two bottles and the bouquet took a longer time to display (around 35-40 minutes), whereas the other bottles displayed almost immediately after being popped and poured.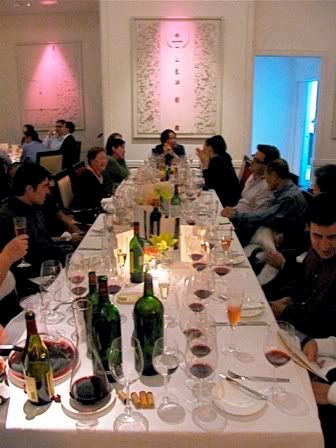 The main course of steak; excellent quality beef; which everyone enjoyed. It was paired with...
2002 Veuve Clicquot Ponsardin Champagne Rosé
- I last had this at
Doc's advanced birthday dinner early September 2009
. My notes were as follows:
2002 Veuve Clicquot Ponsardin Champagne Rosé - Nicely structured, openly displaying dominant flavors of wild strawberry with a bit of citrus and raspberry, floral topnotes and underlying brioche, coffee nuance (past mid-mouth and towards the back) and just a whisper of yeastiness in the finish. Lively yet with good depth. I'm no champagne expert, far from it, but I imagine this will gain added complexity and depth with, say, 3 more years.
With the steak, it was, in all honesty, a barely acceptable pairing for me. I've, in the past, attended a few all champagne pairing events and one I recall paired a similarly young rosé from Champagne Ruinart with roast lamb loin. It was a novel way to have bubbly for me, and I can see why some like pairing rosé champagne with such meat courses, but I, personally, do not see the allure.
Thus, after a couple of experimantal sips with the steak, I enjoyed the rest of this bubbly alone, using it as a palate-primer for the rest of the reds.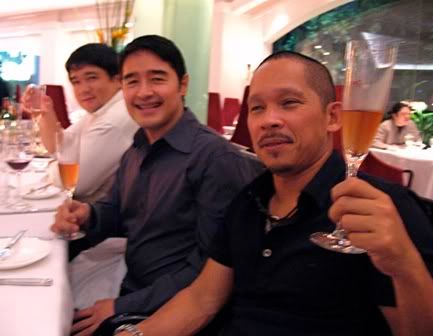 There were a lot of reds opened that night, but I don't think I got to ty them all. My notes on the others I did have are as follows: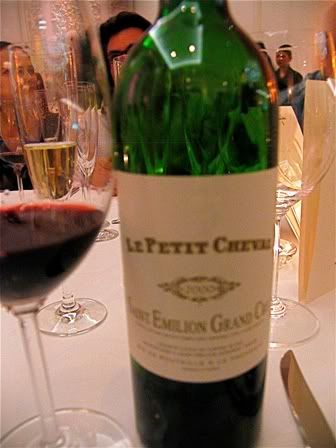 2000 Le Petit Cheval
- Doc's bottle. I tried this strong vintage 2nd wine of Château Cheval Blanc in early September 2006 from Bernie when I bumped into him at Je Suis Gourmand. We were having dinner with our respective families; I sent him a glass of 2004 Château de Puligny Montrachet's Puligny Montrachet 1er
Cru Folatières
I was trying out (to see if I should buy more - and I did) and he sent me a glass of this. I didn't write any notes about it, unfortunately, but I do recall clearly that it was very concentrated, opulent, rich, meaty (hefty doses of espresso, leather and a bit of animal) and definitely full-bodied. Thus, it was great to try it again over 3 years later.
Now, it is notably more calm though still notably concentrated and rich - especially for a 2nd wine. Very ripe plum, cherry/kirsch, chocolate, espresso, dark spice, bit of leather, no more animal. Quietly full-bodied, absolutely no angles, velveteen in texture. This still needs a few years to come together more, but all the materials appear to be there for a most excellent wine. This was my favorite wine of the night.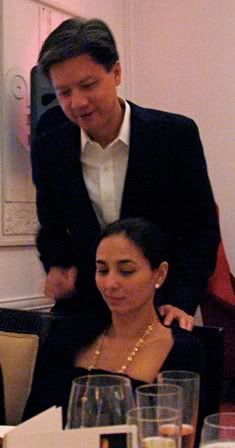 My next favorite wine of the night (together with my '99 Corton-Pougets) was the Stockbroker's...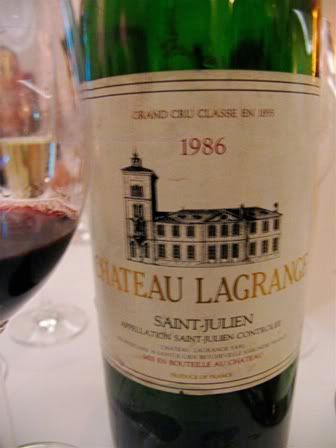 1986 Château Lagrange (in Magnum)
- The Stockbroker's bottle. I've had this a few times before but never in magnum, having opened a few bottles in 2007 - one of which I entered in our
Blind Bordeaux Challenge VII
(where it landed in 3rd place; and I opened another bottle at a farewell dinner for Franck and Françoise Alby a week or so later). My notes at the mentioned Challenge were as follows:
Wine#3 - Nose took longest to open up and show bottle age sweetened blackcurrants/cassis, vaguely smoky cedar, mild dark spice and a bit of toasty oak. Confidently medium-bodied, nice structure in middle, the longest, most confident finish, you could feel the tannins through though.
The magnum tasted fresher than I recall (those in larger formats tend to age more gracefully after all) and seemed heftier and deeper as well. The above noted flavors are consistent, but with discreet, dark gravelly and tar undertones from the subject magnum. Serenely masculine.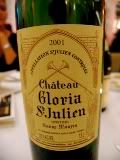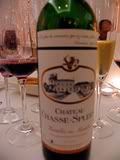 The
2001 Château Gloria (Magnum)
, was ok but was hopelessly overshadowed by the other reds. Its warm, typical St-Julien harmony was not enough to stand out. It's tannins were also a bit hard.
There was also a bottle of
Château Chasse-Spleen
, the vintage of which escapes me, which seemed slightly corked/damaged so I dumped it after a sip.
I wasn't able to take a photo of the
1996 Château Léoville Poyferré
, which I believe was Uncle David's. This has been on my list of favorite, excellent value reds ever since I first tried it from the Doc at a dinner at home sometime in 2006. I bought and consumed several bottles since then, even entering one as a dark horse in our
Blind Bordeaux Challenge VI
where it, tragically, landed in 4th place.
Previous bottles were concentrated and notably extracted, with a distinctive meaty-gaminess to the molten dark, fig, leather, vanilla, chocolate, gravel/minerals, violets and cedar. Now, it is calmer and not as overtly lush and chocolatey/oaky as before. It is coming along very nicely and has many more years to evolve.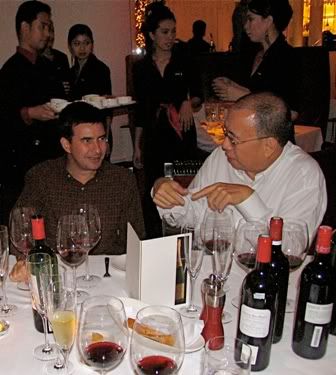 The surprise of the evening for me was the...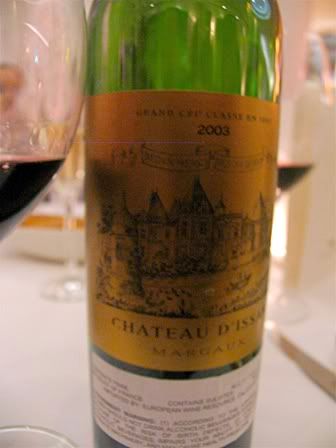 2003 Château d'Issan
- I'm not sure who brought this bottle, probably the Doc since he mentioned he had some bottles of this, or maybe the Vigneron as Emmanuel Cruse is a good friend of his. I am somewhat familiar with this 3rd growth from Margaux, having tried quite a few of their vintages. I am also very fortunate to have attended
a dinner at the château as on 20th June of 2007
.
The last time I had a 6-year-old d'Issan
was over dinner at home with my wife, brother and sis-in-law on the 1st November 2007 - it was vintage 2001 that I decanted 4 hours before serving. It finally opened up beautifully after an additional 45 minutes-1hour breathing and we greatly enjoyed it - my brother, in particular, noting how good it was. Remembering this, I didn't expect too much as the subject 2003 was popped-and-poured.
To my surprise, this seemed quite good to go, showing polished, ripe cherry/raspberry over slightly earthy cassis, ripe plum, cedar, violets and a touch of licorice. Acidity just adequate and I'm no fan of 2003 Bordeaux in general, but I and others found this very nice. There were other 2003 Médocs opened that night, but this was definitely the best/most ready/most approachable of them.
Dessert was eventually served - a quartet of goodies featuring berries, a mousse, a nice chocolate cannoli-esque cylinder and an indulgently rich dark chocolate torte which I ate with the berries.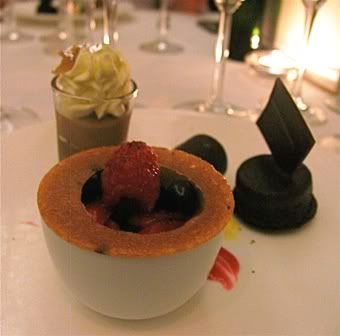 After rounds of coffee and double espressos, most everyone trickled out leaving my wife and I to linger with the Stockbroker, Greg and Arnie. Over a few jokes and stories, I had 2 more wines:
2003 Château Haut-Bailly
which I failed to photograph (and I never found out whose bottle this was); and...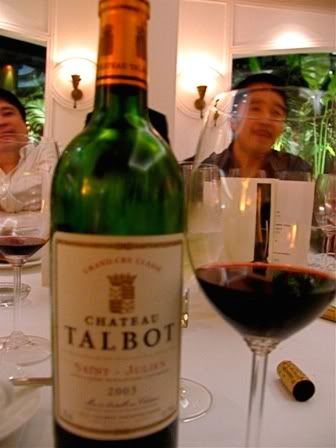 2003 Château Talbot
- Greg's bottle, popped-and-poured. Though still exceedingly young and tannic, I found this much more open than the 2003 Château Haut-Bailly (the latter a favored château of mine from Pessac-Léognan, which, together with Domaine de Chevalier, I consider great value for money from the
appellation
). Though still a little tight and restrained at this point, the 2003 Talbot showed off admirable structure and acid balance for the vintage (another notable in this regard is the 2003 Gruaud Larose) in its sleek, herb-flecked, roasted-ripe cherry/raspberry over cassis, sweetish cedar. The tannins are a bit rough and drying on the finish, but that's most likely its youth - nothing around 4-5 more years ageing shouldn't fix.
The 2003 Haut-Bailly, honestly was far too young, tight and closed for me to make a good assessment - though I did note typical dried herbs, violets and "tar" notes to its black fruit. At this point, the 2003 Talbot was easily more enjoyable for me.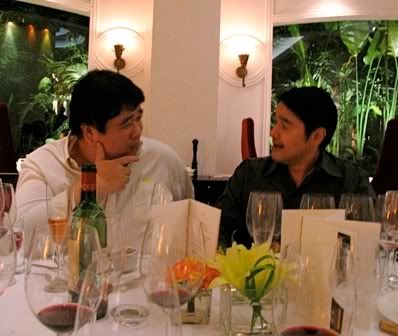 Excellent evening all around with good food, lots of fine wine and good friends. Everyone should have dinners like this all the time. Thanks to all, especially the Stockbroker for spearheading attendance to this event and organizing our table. Until the next!