Around 3pm, the Stockbroker headed for home and J-Lab had something to do at Magallanes. That left Miguel and I with a few hours to kill before a wine-tasting event. Thus, we walked over to GB5 and looked for a wine book that J-Lab showed us earlier which Miguel wanted his own copy of. Thereafter, we saw
Lusso
(Gaita Fores' newly opened champagne bar at the ground floor of GB5, beside Myron's) and decided to stop for some...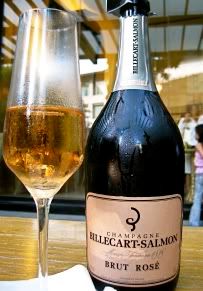 NV Billecart-Salmon Champagne Brut Rosé
- As the name indicates, this is a non-vintage champagne, meaning the grapes used did not all come from the same harvest year. It is composed of a blend of wines of several years of a maker to reflect its own particular style.
The grapes/blend used by Billecart-Salmon for its Brut Rosé are chardonnay, pinot meunier and pinot noir vinified as a white wine and pinot noir vinified as a red wine - I won't get into the difference in vinification as that would take too long and doesn't really matter to casual drinkers anyway).
This usually simple, fresh, charming, playfully light champagne is one of my favorite non-vintage, locally available rosé bubblies (from Bacchus). This particular version presented a sharply clean profile of fresh, large western strawberries, bit of pink grapefruit (more like our local, pink version called "pomelo" or "suhà"). There is a slight breadiness towards the back, but still restrained. There seems to be marginally more heft mid-mouth than those of the past, but it is still quite light in all. Amusing, bright and playful as usual - a nice and simple apéritif or drink to while away time with.
By around 6pm, we left to drop by the Vigneron's place for a few minutes and, then, proceeded to
Sommelier Selection's Tasting of 100 Wines of France
at the White Space along Pasong Tamo Extension (a.k.a., Automotive Row). Wine crusader, Jérome Philippon, was busy holding court, but took some time to welcome, chat with us and make sure we were quickly settled in.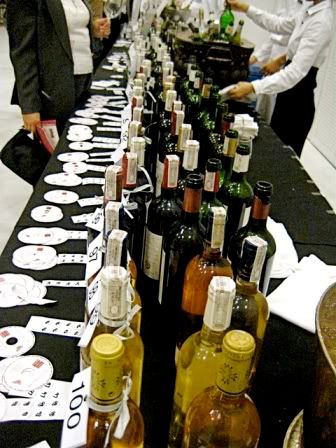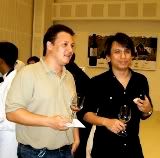 As the event's name promised, there were no less than 100 wines from select producers of different French wine regions. Though there was a good crowd there, Miguel and I almost immediately saw a few friends in attendance: Austrian
bon vivant
and fellow IWFS stalwart Othmar Ober, Chef-Restaurateur Colin Mackay, Elbert "the Steakroom" Cuenca,
Socky Pitargue
and others.
I almost always seem to bump into Othmar at wine-tasting events, he certainly gets around.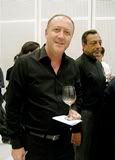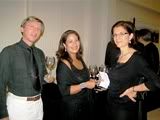 I also immediately noticed the Alsace wines of Bott-Geyl on a nearby table and made a mental note to order some of the
2006 Bott-Geyl Gewürztraminer Les Elements
that my wife and I love, particularly when paired with
tart tatin
and terrine of
foie gras
. At its most reasonable price, it's a definite no-brainer to purchase a lot of.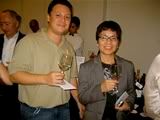 Back to the wine...a quick pass along the two kilometric tables on either side of the pleasantly cool, brightly-lit venue (nice high ceiling) with a Manhattan converted warehouse feel going on, showed many wines I was already familiar with. Good, this meant I didn't have to taste too many and risk getting tipsy for the second time that day.
I zeroed in a few whites, rosés and reds from the Rhône and Beaujolais. Since I already have a good enough grasp of Jérome's Rhône line, I just tasted some more recent vintages thereof, particularly the
Domaine La Roubine Gigondas
which I consider a very good value red that goes well with roast rack of venison and other hearty roast game/meat dishes.
In addition, I tasted and made sure to also order a few of these...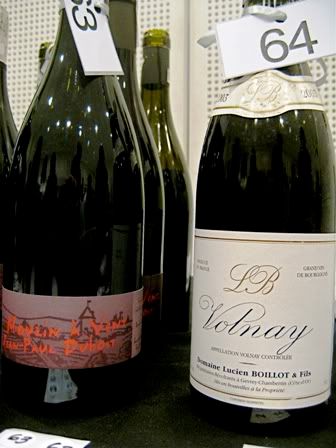 ...as well as some of this (among others)....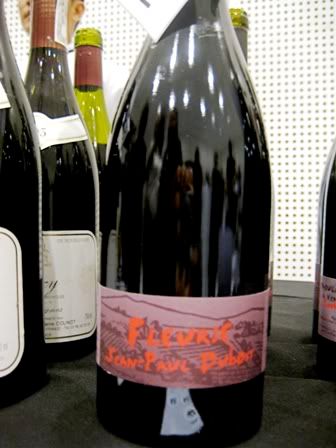 Very briefly (since it had already been a very long wine day, after all)...
2006 Domaine Tracot Jean Paul Dubost Moulin á Vent
- Rich, deeply veined fruit, good potential, poise and harmony, light on its feet, long and graceful finish of violets.
2006 Domaine Tracot Jean Paul Dubost Fleurie
- Lighter in body, more floral and feminine, brighter berries and cherry. I bought these with my wife in mind and to try out on my friends to show them what a good Beaujolais is like.
2003 Lucien Boillot Volnay
-Good drive and earthiness to the ripe-roasted, juicy dark fruit. Some interesting underlying roast meatiness as well. Robust and a bit rustic for a village Volnay, but neither heavy nor ponderous in the least. No-brainer for a good red Burg for the house. I'll pair these with my roast racks of lamb.
By 9:30, we headed back home after a very long, but most enjoyable, wine-colored Friday.