Day 3, 8th July 2009
: our lunch venue was chosen on-the-fly by the wives during that day's shopping spree in the Ocean Terminal area - namely, at a Vietnamese restaurant named "
Rice Paper
" in the Gateway Complex. I'm not overly fond of Vietnamese fare, honestly, so I didn't bring a camera along. Tonji, the group's real shutterbug, didn't attend as he and Johnson went to look for camera gadgets in Mong Kok - so no pictures. Rice Paper looks like a place for tai-tais-who-lunch, but the food was decent enough - the
Butter-Fried Chicken
was pretty darn good.
Because we couldn't stray far from our hotel, dinner was at
Superstar
in the same area. It's known for their seafood and roasted items, but, unfortunately, since we had a late dinner (8:30pm, but the place was jam-packed), a lot of specialties were already sold out (e.g., crab, razor clams, lobster) so we "settled" for 1 whole
Roast Suckling Pig
, 2 whole
Roast Ducks
, 5 orders of
Roast Pigeon
, etc. All were good enough, but the dish that was most memorable was this delicately flavorful dish of
Tofu Skin with 2 kinds of Mushroom and Asparagus
(2 orders).
We moved to nearby
Spasso
(at the rooftop of Harbor City) for a few drinks after dinner, where I took some shots with my phone's camera.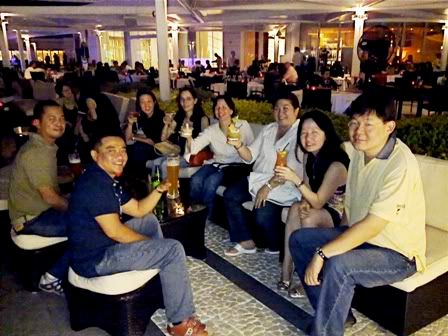 Clockwise from bottom left: Ron (my HK-based bilas who treated us all to drinks that night), Tonji, Sylvia, Margarita, my wife Catha, Minnie, Candy and Johnson. Booze wasn't feeling well and Willy had an early flight back, so they retired to their rooms earlier.
Day 4, 9 July 2009
: Willy had already left by the time we started gathering for breakfast, while Johnson and Candy were on a later afternoon flight and, so, slept in. Since the rest of us 7 were on the 1:20pm flight home, we opted to just have lunch at the airport.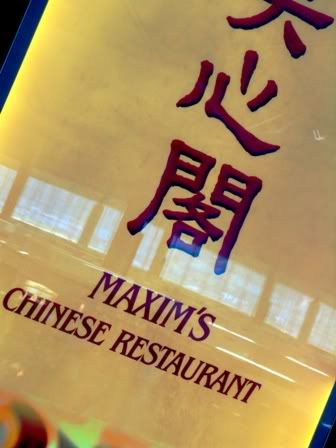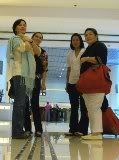 This is Maxim's sit-down, full-service restaurant at the airport, a level up past the check-in counters,
before
one enters immigration/passport control. We always have a final meal here before going back home because the restaurants inside (past immigration) are all fastfood or semi-fastfood and all generally shabby to disgusting.
Since Booze and Margarita missed our Yung Kee dinner this trip, we, naturally had to order a whole
Roast Goose
before we left. It would be a sin for them to leave Hong Kong without a taste of roast goose. It's nowhere near Yung Kee quality, but it was pretty gold-darned good and always a great way to end the annual HK eating trip. Marge was obviously very happy to be able to get a last-minute goose this trip - and rightly so.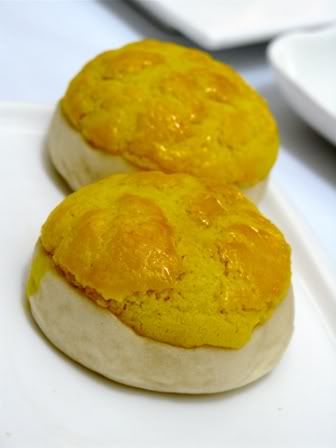 This is
a baked type of
char siu bao
- the dough is obviously the same as our steamed siopao but baked (not steamed) and the filling is a similar sticky-sweetish roast pork. Pretty good.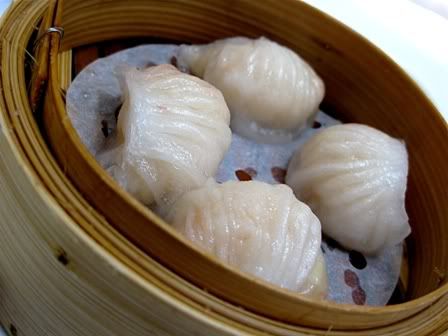 Of course, we had to get some obligatory orders of
Siumai
(no picture),
Har Gaw (above)
...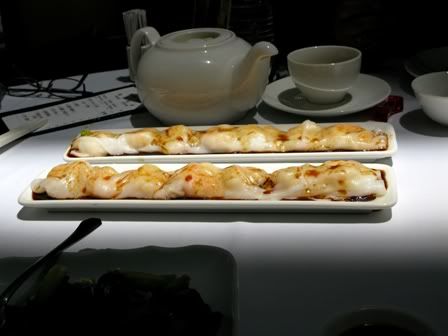 ...a large version of Sin Ha Cheong Fan...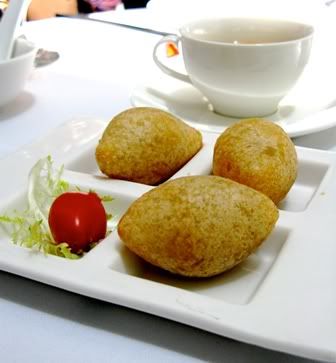 ...Deep Fried Pork Puff...and, the star of the meal...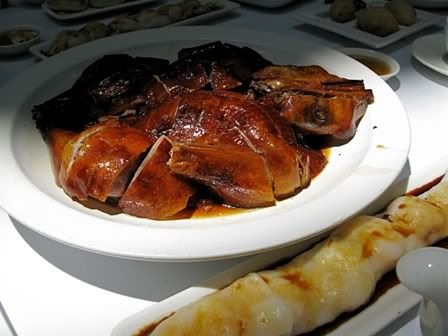 ...One Whole Roast Goose...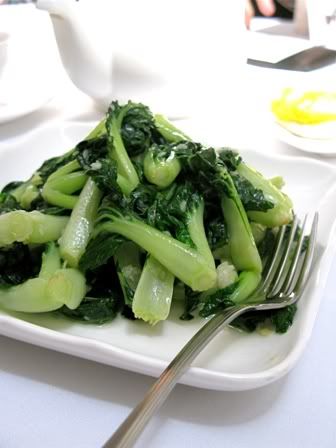 ...and one order of guilt-surpressing Steamed Baby Bok Choi with Garlic, of course.
A few of us ordered some desserts as well, but nothing really worthy of note. That said, it was a delightful close to the group's 2009 HK eating trip. Great fun guys. Next year again.