Day 2 (7 July 2009), Lunch at Maxim's City Hall, Central, HK.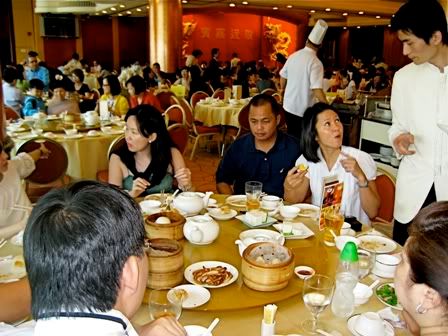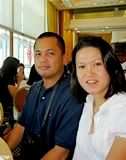 My wife and I started eating dimsum here since sometime in 1996, if I recall correctly. It's not a particularly special dimsum venue (unlike another favorite: Dim Sum at 63 Sing Woo Road, Happy Valley), but very convenient when staying at the Ritz Carlton and more than decent dim sum served the old way - in push carts, with the staff hawking their wares as they pass by the tables. It's a huge place with a nice view of the harbor. The Alabang Group eats here at least once for lunch on every trip. This trip was no different.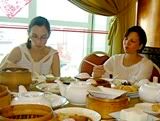 We always order the same things, most of which I don't know the names of since I just point and indicate how many orders of each. 10 in all, we were complete during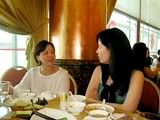 lunch. Willy and Boozze got in first and got us a window table. Tonji and I followed shortly after, so we waited for Johnson and the wives to arrive from shopping. They weren't long behind. Everyone in the group likes having lunch here (my kids do too).

We had multiple orders of each of the following: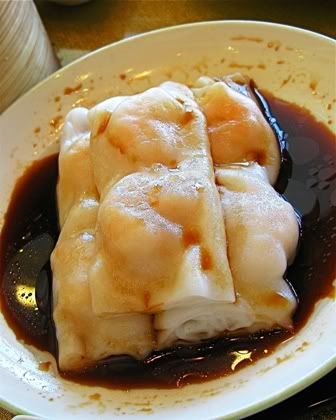 Shrimp Cheong Fan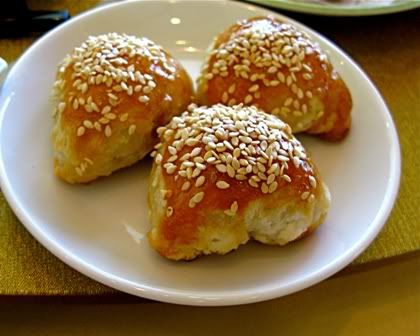 Baked Pork Puff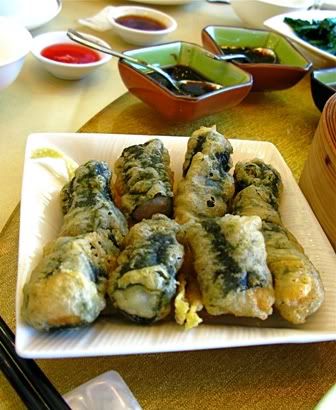 This is a lightly battered, deep-fried dish composed of minced pork and shrimp stuffed into a seaweed wrapper. It looks a little bit like nori, but it isn't nori.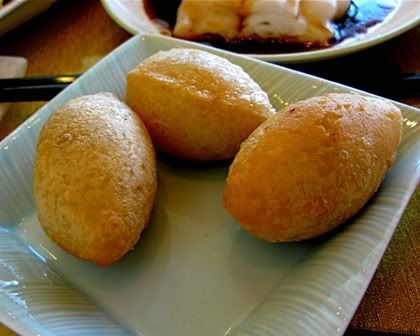 Deep-fried Pork Puff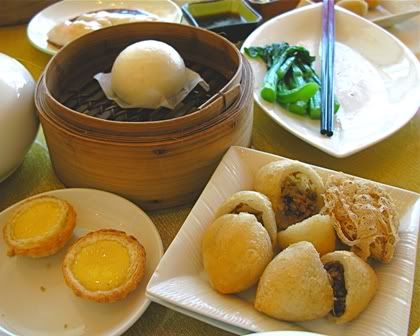 Egg tarts, taro puff, steamed kailan, steamed bun with a sweetish yellow bean paste, etc.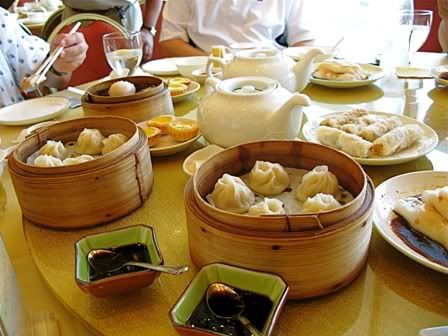 Xiao long bao, har gaw, some cylindrical fried prawn dimsum served with a local mayonnaise.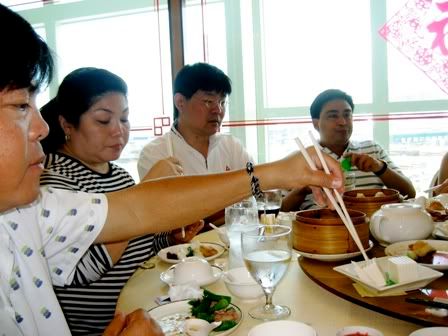 L-R: Willy, Minnie, Johnson and Booze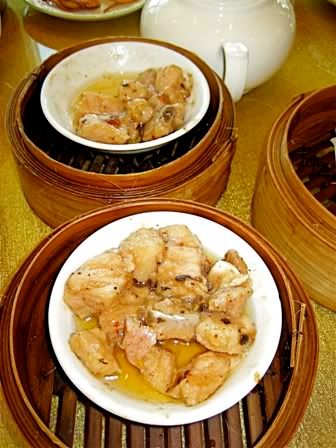 Pork spare ribs, I think I heard Willy ordering it as "Pai Gwat".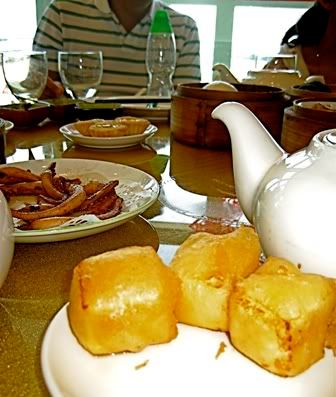 Fried milk in the foreground, cuttlefish tentacles behind on the left.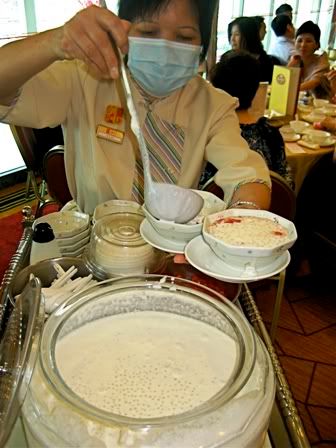 My favorite dessert here, a chilled bowl of taro and coconut cream with sago balls, topped with fresh watermelon bits.
I have no idea what this one was as I didn't try it. It looks like dessert though.
With the girls around, dessert will always have to include some sort of Buchi.
There was a host of other dishes that Tonji and I weren't able to get pictures of, such as the
Lotus Rice
,
Ma-chang
, etc. Our stamp-card of dimsum orders was so full, they had to give us another one and staple them together. The cards reflected 48 orders from the carts, but didn't include a few more dishes ordered "off the carts" by Willy.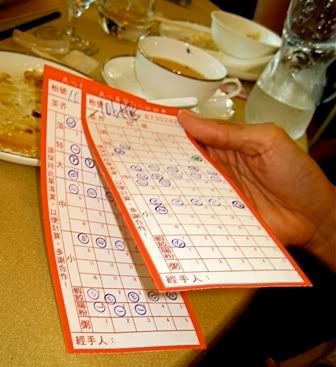 What a fun, heavy, comfortingly familiar lunch, washed down with some Tsing Tao and jasmine tea. Rejuvenated with the meal, the girls resumed shopping while we guys went our own ways. Boozze and I headed back to Kowloon side for some coffee and cigarettes. A nap was definitely in order as well - after all, we needed our strength for dinner that night.