Yung Kee
is a landmark restaurant in Hong Kong (Wellington Road, Central, just around the corner from Lan Kwai Fung), consistently named one of the best restaurants year in and year out. It has recently been awarded a Michelin star, but that doesn't/has never matter(ed) at all to me and the group. It has been a favorite of ours for ages, especially its famous Roast Goose and, for us, the very best Century Eggs (a.k.a., 100 Year Old Eggs) in the planet. No trip to Hong Kong is complete without at least one meal there.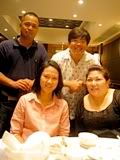 Day 2, 7th July 2009, after a huge dim sum lunch at Maxim's City Hall, our numbers were cut down to 6 for dinner at Yung Kee since Johnson and Candy wanted to try out the 3 Michelin starred
Lung King Heen
at the Four Seasons (anyway, they are in Hong Kong much more often than us and have eaten at Yung Kee so many more times) and Boozze was taken ill so Margarita also stayed behind to tend to him. We made our 8:30pm reservation in good time and got a seat at the 4th floor (note: better chefs cook at this and higher club floors).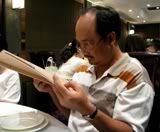 The others let me do the ordering. I looked through their already familiar menus just to see if there was anything new we could try. Tonji kidded me about going through the menu since, said he, I'd surely just order all the old favorites anyway. He knows me too well. I wound up doing just that, save for one dish cooked a different way for a change.
Naturally, to start, their incredibly creamy Century Eggs - one whole egg per person, which is considered a double order per person in the restaurant - together with the refreshingly sweetish/tart red pickled ginger to cut the richness.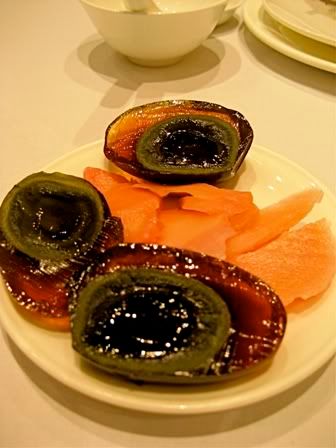 I recounted to the others the
all-Sauternes/Barsac pairing dinner my wife and I attended with the Vigneron at Yung Kee
late last May 2008, courtesy of Judy Leissner of China's Grace Vineyards. In that dinner, the century egg course was paired with 2002 Clos Haut-Peyraguey and it was a great pairing - calling to mind the ubiquitous pairing of Sauternes and foie gras.
Next was the much-anticipated
Roast Goose
. I ordered only half a goose at first because we were just 6, had a huge lunch and had other dishes coming as well.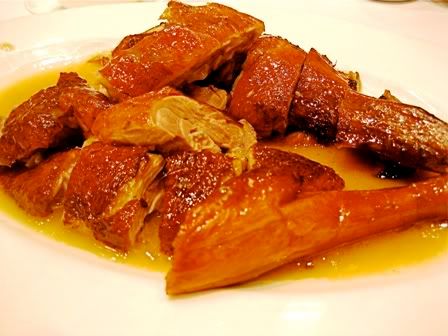 That was very foolish of me. As soon as the platter hit the table, it was halved within a minute. Tonji immediately asked me to order
another
half goose to make the whole. I, of course, happily obliged.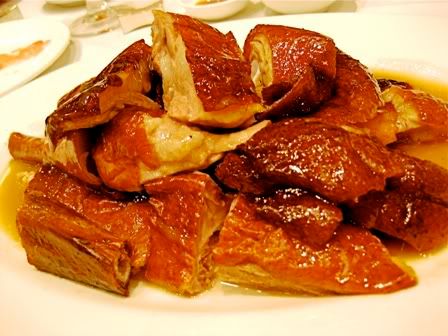 For the next course, I ordered another favorite:
Deep Fried Prawns with Mini Crab Roe
.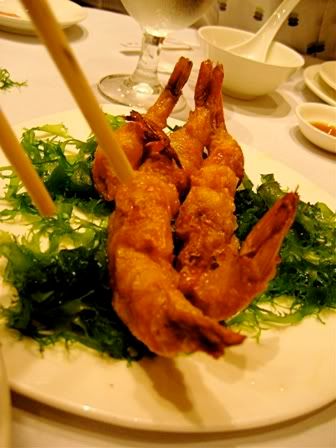 This particular dish received a Gold with Distinction Award in 2001. I can easily understand why. The following dish served was
Deep Fried Scallops
.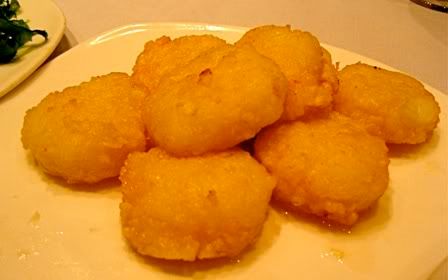 It was pretty good, very juicy inside, but it wasn't exciting - well executed, but a bit boring.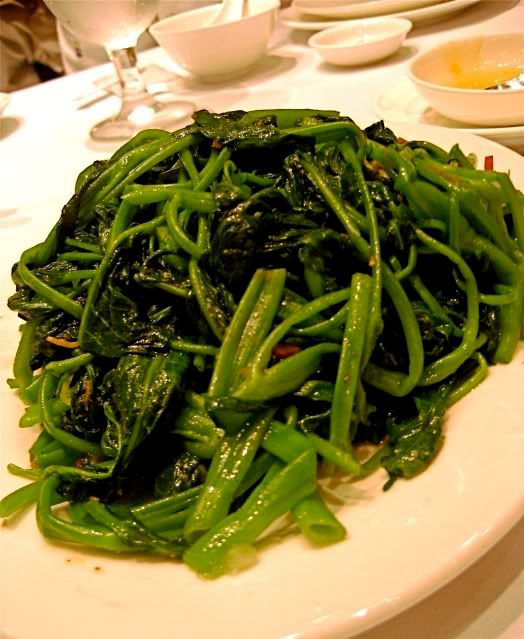 We also had a token vegetable dish, a kind of kangkong (a.k.a., swamp cabbage") with garlic (picture above), to make us feel less guilty for devouring a whole roast goose amongst us, as well as another semi-cardiac dish of...
...Steamed Minced Pork with Salted Fish, a dish Johnson introduced us to in our Hong Kong eating trip of 2005. It also became one of our must-order dishes in Yung Kee, one of Boozze's favorites as well, so it was really most unfortunate he couldn't join us that night.

Thanks again to Tonji and Sylvia for taking some of the food shots at this dinner. They really take better pictures than I.