Dinner last night (1 July 2009) was a quiet one at Sala with Doc and our wives (unfortunately, the spouses Stockbroker couldn't join us). We hadn't had dinner together in a while, so it was really good to be able to catch up with each other. The wine theme was Burgs, and, since we were only four for the evening and the Doc is a very early bird, we limited ourselves to just two bottles that night.
With appetizers of
Trio of Corn and Sweet Shrimp Bisque, Sweet Shrimp Beignette with Corn Purée and Sweet Shrimp and Corn Salad...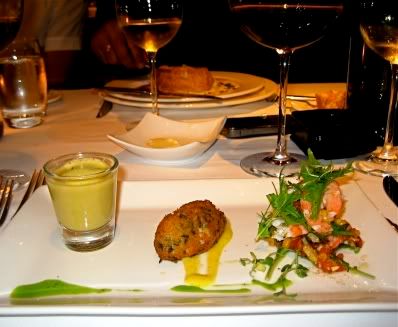 ..and Twice Baked Soufflé of Prawns and Feta Cheese with Dill, we had: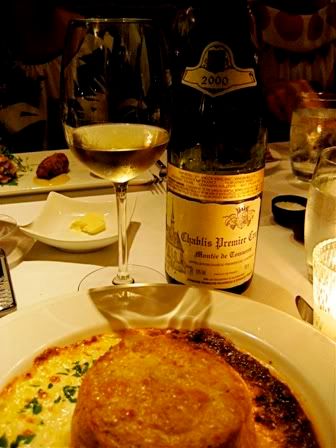 2000 Domaine Raveneau Chablis Premier Cru Montée de Tonnerre - the Doc's bottle, one we enjoyed during our traditional Grand Crew Christmas lunch last December. My notes then were as follows:

Raveneau is, simply put, one of the very best (as well as one of the priciest) makers of Chablis, with an unquestionable and well-deserved reputation. No need to belabor this matter, that's how it is. Montée de Tonnerre, together with Montmains, happen to be two particularly favored premier cru Chablis vineyards of mine.

The wine was a study in typicity and terroir, with hallmark cold, wet stone and steely flintiness seamlessly, subtly, but definitively, permeating its fine green apple and white stone-fruit with whispers of straw, delicately-knit citrus and a very light touch of leesy vanilla. In the bouquet, there is also a slight suggestion of cool (but not sweet) mint (in the cold-stoniness) which was absent on the palate.

Clean, well-focused, poised and precisely balanced, barely medium-bodied. A wine of finesse that matched well with the seared scallops (unsurprisingly)....

Last night, the wine presented a noticeably more minerally character with more apparent notes of cold limestone, steel and nuances of fresh oyster shells. Again, an excellent Chablis of great typicity.

With our main courses of...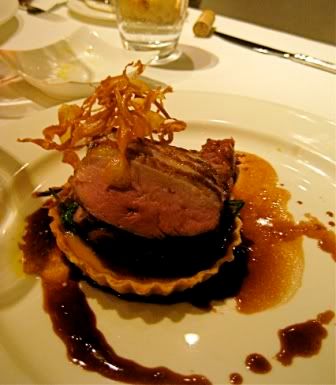 Roast Magret de Canard for the Doc...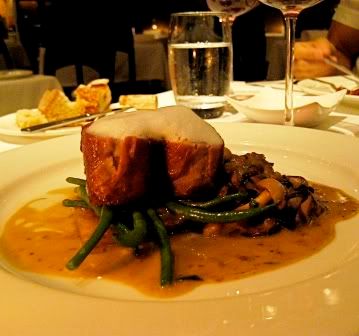 ...Proscuitto Roasted Bobby Veal Tenderloin, Potato and Thyme Pavé, Mixed Mushroom and Veal Cheek Fricasée for Mrs. Doc, and, a dish each of Sous-Vide Squab with Seared Foie Gras, Horseradish Potato Purée and Port Wine Jus for my wife and I, we had...
1990 Marquis d'Angerville Volnay Champans Premier Cru - My bottle, one I had been saving for the Doc to try since he wasn't able to join the Stockbroker and I when I opened one last May. My previous notes state:



Volnay is a red wine producing village in the Côte de Beaune, beside Pommard, the former enjoying favor of Louis XI and le Roi Soleil, Louis XIV. Where Pommard is known to produce relatively hefty, masculine, somewhat rustic reds, Volnay is famous for producing generally refined and graceful reds - often spoken of as the counterpart of the Côte de Nuits' Chambolle-Musigny.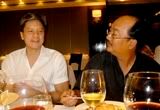 D'Angerville was a pioneer in Volnay for many reasons (they were the first in the area to estate bottle their wines) and, then as now, regarded as one of very best producers of the area. Of the 11.19 hectare 1er cru climat Les Champans, d'Angerville owns 3.8 hectares. Champans wine are known to be comparatively (with regard to other 1er cru Volnay vineyards) richer, fuller, more structured and, in youth, more tannic...
Its bouquet was deeply complex with mixed scents of damp earth, dark red meat, whispers of compost, ripe, dark red fruit, raisined cranberry, dried dates, old/pressed violets and undertones of vanilla cream. On the palate, it was slightly over medium-bodied, discreetly hefty mid-mouth, suavely rounded, lushly fruited, with soft, velvet tannins. Well structured yet, but warmly mellowed with age.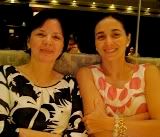 All its flavors were finely laced with the oh-so-difficult to describe meaty/compost-touched Burgundy decay. Exquisitely and seamlessly layered; its depth and complexity lending it a contemplative character. I haven't been this captivated by a wine in a long time..

..

This particular bottle was consistent, with the foregoing notes, save that the cranberry and cherry notes were more dominant and had a slightly sharper edge to them. Still, a very good Volnay for me.

Desserts were shared amongst us.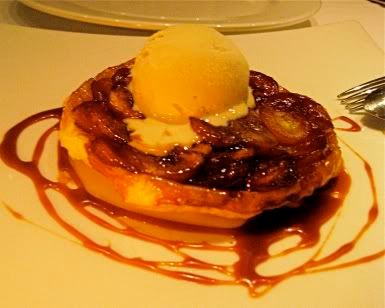 Caramelized Banana Tarte Tatin with Maple Ice Cream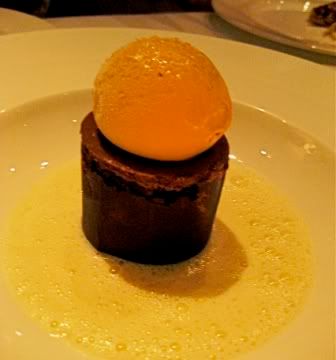 Chocolate Mousse with Salted Caramel Ice Cream


A cup of Irish Coffee rounded off the meal for me - a most enjoyable one with the wives to cut the week nicely in half.